The RNC Is Coming to Cleveland -- Here's What You Need to Know
Jeff J Mitchell/Getty Images News/Getty Images
From July 18th-21st, 50,000 people will descend upon Cleveland, OH for the 2016 Republican National Convention to officially announce the GOP's presidential nominee. Yes, that is a terrifying number, especially factoring in over 15,000 members of the media AND one Donald Trump. What can you do? How can you swim among the sharks without being eaten alive? I guess it's a good thing we're bordering Lake Erie and not an ocean. Luckily, there is a way to make it out of these four days alive.
What do we know?
The 2016 Host Committee announced in late May that "beautification efforts to enhance the experience of convention attendees" were underway. Think large projects like the revitalization of Public Square or the construction on Fleet Avenue in Slavic Village, and smaller initiatives like the RTA litter cleanup along the Red Line. With all of this preparation to impress out-of-towners, specifically Republican delegates from each state and US territory, it leaves some Clevelanders feeling a little left out.
The RNC is closed to the public, but locals are being forced to dive headfirst into this mess. The commute Downtown is expected to be affected by the closure of the Lorain-Carnegie Bridge and the Lakefront Municipal Parking Lot, as well as the barricading of all major streets surrounding Quicken Loans Arena, the RTA reports. The FirstMerit Convention Center will serve as headquarters for media personnel.
Companies headquartered Downtown have asked employees to work from home or to report to temporary remote offices for the week of the convention. A bulk sublease rental program was designed by the RNC committee to deal with the housing shortage, where interested tenants could complete an online form to sublet their property through the Downtown Cleveland Alliance.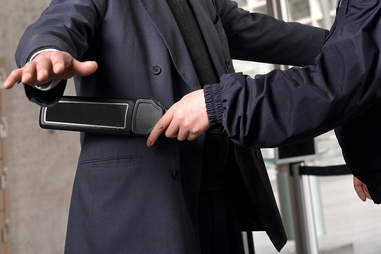 Tifonimages/Shutterstock
Will we be safe?
Major concerns have arisen regarding gun safety and police preparedness in light of recent domestic terrorist activity and police misconduct, specifically in Cleveland. National news outlets are skeptical of local authorities' vigilance, stating that Cleveland's police department is still vastly underprepared for a political gathering of this magnitude (just as it was for the Cavs parade, perhaps?). Equipment, including 2,000 sets of riot gear, collapsible batons, and more than 300 bicycle units, had only been requested as of March.
Mayor Frank Jackson has addressed the issue, assuring us that the city has a "preparedness plan," which includes collaborating with federal agencies and other cities' police teams to provide adequate protection during the RNC. However, some of these auxiliary police departments have pulled out of their agreements due to lack of insurance coverage.
The Cleveland Police Department has reported that officers will be equipped with body cameras if military-style clothing is deemed necessary due to civil unrest. The city plans to dispatch a video unit to record other police interactions.
The good news is that a petition that was circulating around the internet calling for the open carry of guns at the RNC turned out to be a farce in order to draw attention to gun laws. Frighteningly, more than 50,000 people signed the petition on Change.org, which was almost immediately shot down by the Secret Service. All attendees of the convention will have to pass through a metal detector and multiple rounds of security before entering.
Update, 6/14, 11:15am: Apparently, protesters WILL be allowed to carry guns. 
Will people be protesting?
Of course.
The "Stand Together Against Trump" rally is expected to draw 10,000 supporters to march across town, from Ohio City to converge at Erieview Plaza on the last day of the convention. But these types of marches are being heavily restricted: they can only take place during certain hours (between 2pm and 4pm on July 18th; and between 9am and 1pm on the other convention day); groups need to acquire timed permits; and parades can't take any longer than 50 minutes. About 30 different groups have applied, and the ACLU has been in talks with the city to get the only 18 hours of scheduled parade and protest time expanded over the four days of the convention.
The city has been dragging its feet putting protest permits on the back-burner, but will have to get its act together soon with the RNC quickly approaching.
Prophets of Rage, an alternative rock supergroup made up of members of Cypress Hill, Rage Against the Machine, and Public Enemy, will be in town on July 19th with a show at Agora. There's a big possibility for spontaneous performances (we're personally hoping for a rooftop show on East 4th), though they're keeping those plans under wraps in order to dodge police, who they are certain will want to put a stop to their intentions of disrupting the convention. Tom Morello from Rage Against the Machine has done this twice, most notably at the 2008 RNC, where protests and police clashed.
And local hero Michael Symon said he won't let Trump into any of his restaurants -- mostly because of his politics, but also because he finds the guy creepy.
On the other side of the spectrum, Westboro Baptist Church, the infamously anti-gay hate group (believe us, there are so many meaner things we could say about these jerks), have also applied for a permit to use the city's speaker platform in Public Square for July 19th, and have requested a public art display in the Perk Plaza on July 20th.
Where should you avoid?
The RNC has contracted more than 16,000 hotel rooms for the convention within a 35-mile radius of Downtown Cleveland for the event. Nineteen hotels providing approximately 5,000 rooms are within a 15-minute walk of the convention centers. They've also rented out 1,100 dorm rooms and 500 apartments in the Downtown area. Since the date was announced, nearly all hotels in the area, even those farther away in Beachwood, Fairlawn, and Sandusky, have been reserved.
Only a few restaurants have officially announced plans to close to the public and transform into special event headquarters during the RNC (Red, the Steakhouse and Blue Point Grill included), but an official venue guide was released that gives a better idea of the places Clevelanders may have to live without for up to a full week in July. Downtown, the Warehouse District, and the Flats East Bank are areas that will be most affected. Some events, especially those sponsored by media entities like National Journal, may be open to the general public. Mike Miller, vice president of Music Box Supper Club, said to Crain's Cleveland Business that he "thinks Northeast Ohioans will avoid coming downtown that week."
The Cleveland Museum of Art, MOCA, the Rock and Roll Hall of Fame, and the Great Lakes Science Center will most likely be closed to the public but are waiting on the RNC to facilitate "match-making." On July 17th, admission to the Rock and Roll Hall of Fame will be free, and the North Coast Harbor will be the location for a welcome party from 6:30-10:00pm. Seafair, Honeybucket, and Cats on Holiday are some of the local bands scheduled to perform with over 50 restaurants catering.
How can I possibly benefit from the RNC being here?
If you're not already listing your property on Airbnb or through the Host Committee's database, you may want to reconsider. As of now, there are still plenty of Airbnb listings in Cleveland for RNC-goers to take advantage of. Prices are averaging around $200-$1,000 a night for single-occupancy rooms, all the way to fully vacated homes. The city has recently enacted legislation to collect city hotel tax from visitors using such services. Make sure to read what that means for you as a host and double-check your lease to make sure it's kosher with your landlord if you're renting your place out.
If you have a four-door and a clean driving record, Uber is guaranteed to be saturated with riders during the RNC. Price surges mean big bucks for Uber drivers, but only if you can keep up with the constantly changing traffic patterns and have a cool head amidst traffic.
For better or worse, 240 bars have applied for permits to be open until 4am during the Convention days -- see if your favorite bar is on the list. Plan on camping out at Post 1 Vets Alliance in Tremont, where you have to be a member to get in. Tina's Nite Club is almost like a bunker, right?
There are also opportunities for musicians and artists to jump on board the RNC train and reap some rewards for their craft. As we all know, there's nothing more novel to bigwigs than the little guys, so Cuyahoga Arts & Culture is creating "Art Interventions," or pop-up performances that will connect RNC attendees to our local arts communities. Music, dance, and other performance-art opportunists will be provided a stipend to perform at hour-long public events.
Last but not least, if we make it through the whole RNC week without our city being reduced to a pile of rubble, the Cleveland 2016 Host Committee is going to throw Northeast Ohio residents and volunteers a "Community Thank You Party." It will take place July 30th, from 12-6pm on Public Square with free ice cream provided by Mitchell's and a performance by the Cleveland Orchestra of the "Star Spangled Spectacular" with fireworks to follow. Admission to the Rock and Roll Hall of Fame will be free to residents that day. Thanks for throwing us that bone, guys.
Sign up here for our daily Cleveland email and be the first to get all the food/drink/fun in town.
Rachel Hunt is a born & raised Cleveland personality who is planning on hiding out in a bunker for the RNC. Keep up to date with her survival plan at @workinggoth or on Facebook.