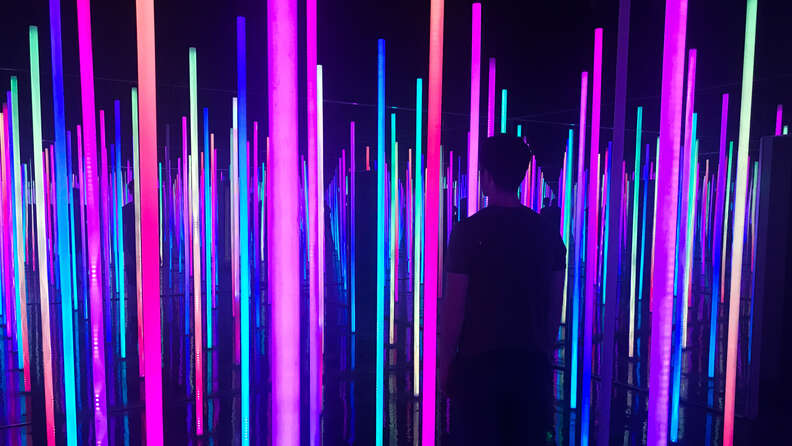 Courtesy of Otherworld
Courtesy of Otherworld
Let's all agree, we don't need to start every discussion of Columbus with how "surprisingly cool" it is. It's not a surprise anymore: Columbus has fully come up from its cow-town roots. It's one of the fastest-growing cities in the nation. It's the most visited city in Ohio. Hell, it even made our list of the best attractions worth traveling for in the entire country.

There's no secret formula to Columbus' success. It's a young city -- go Bucks! -- that's cool without being pretentious. It's a thoroughly American city that takes its culinary and cultural cues from around the country and the world. It has a thriving arts scene, a pulsing nightlife, and natural beauty within city limits. Don't get overwhelmed by all Arch City has to offer: Let us be your guide to the new Capital of the Midwest.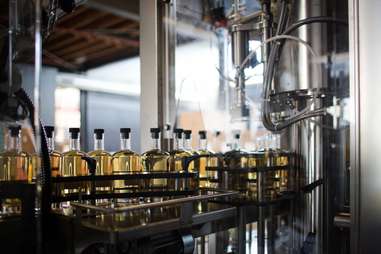 Drink and dine at a distillery
For most of Ohio's fraught history with alcohol, distilleries have been tightly regulated. Thanks to newish restriction rollbacks, the state's nearly 60 craft distilleries are now free to serve up food and cocktails to patrons along with their spirits. Columbus' distilleries have stepped up to the plate in a big way, creating some of the city's most standout bar-restaurants in the process. Middle West Spirit's Service Bar is making waves nationally with its cheeky and adventurous menu, and Watershed Kitchen & Bar has Prohibition style and flair to spare. But those are just the big names-- in Clintonville, you might find pizza-flavored bourbon at up-and-comer 451 Spirits.
Dig the arches and bars of Short North
The name of what might be Columbus' best-known neighborhood came from a pejorative" Law enforcement named the once-impoverished district for falling "just short" of Downtown. Well the Short North is laughing now, fellas! The neighborhood's trajectory is familiar -- from abandoned to artsy, from artsy to yuppie haven. But Short North is set apart by its historic gay-friendliness and its distinctive arches. Kick a stone and you'll hit great food (grilled cheese from Bodega), drink (world-class cocktails at Mouton), and culture (a kick-ass music venue at Skully's). Plus, the neighborhood hasn't totally forgotten its artsy side, as evidenced by the hugely popular Gallery Hop the first Friday of the month.
Get lost in Otherworld
Described by founder Jordan Renda as an "immersive art installation," Otherworld takes "augmented reality" -- real-world art installations enhanced by VR -- to another level. It's like a haunted house, but someone swapped out the creeps in masks for surreal, reality-defying visuals. You can walk into a cartoon, crawl inside an arcade game, or stumble into any number of rooms with jaw-dropping, 2001: A Space Odyssey-style lighting. Some rooms are eerie, some are cute, all are unexpected. It's a place to get your wonder back.
Embark on the Columbus Ale Trail
Cleveland may have started the craft beer trend in Ohio, but Columbus is now leading the way. It's no accident that UK brewing giant BrewDog decided to situate their American brewhouse -- as well as the world's first craft beer hotel -- in this Midwestern hub. While we're grateful to have this Scottish Invasion headquartered in Columbus, it's the local outfits that we get really excited about. Breweries like Wolf's Ridge make clever and eminently sippable brews like Cinnamon Toast Brunch, while Antiques on High and Pretentious offer bold sours to counter a largely hop-forward field. But for the best brews in the city, head to Hoof Hearted. Their dank & funky IPAs are powerful but balanced, and their packaging is just the right amount of weird. Plus, they have a pool!
Take a trek down the Scioto Mile
Lots of cities pay lip service to the idea of green space, but Columbus has set what might be the national standard for them with the Scioto Mile. The city took a dingy river flowing through downtown and restored its natural flow, adding 175 acres of parkland along its banks in the process. Now a connected network of parks, boulevards, biking, and running trails right in the middle of the city, the Scioto Mile plays hosts to community festivals, concerts, and over a million visitors a year. The fountain at Bicentennial Park is a wonder to behold, especially at night, and the river and skyline views at Milestone 229 are hard to beat. In the warmer months, the Mile is unbeatable for riverfront walks -- be sure to grab a scoop of Columbus' own Jeni's Splendid Ice Cream for maximum strolling enjoyment.
Enjoy the visual arts
If you're not willing to brave High Street construction and crowds for the Short North galleries, fear not. The Wexner Center on Ohio State's campus is a sleek home for contemporary art in the city, hosting exhibitions from Warhol to Wegman. If Impressionism or Cubism is more your jam, Columbus Museum of Art has a nationally recognized collection holding the likes of Monet and Picasso. If you're more into Ditko than Rothko, hit Ohio State's main library building for the Billy Ireland Cartoon Museum and Library, host to the world's largest collection of comics- and cartoon-related materials. While you're there, do yourself a favor: Take the elevator to the top floor for a panoramic view of the scenic, classically Midwestern campus.
Stroll through German Village
Every city needs an escape from itself. German Village provides that with a storybook quaintness and a metric ton of preservation-society charm. Its Italianate and Queen Anne homes are largely unchanged since the mid-to-late 1800s, and its cobblestone streets and Victorian-looking lampposts make for one of the best damn walking neighborhoods this side of the Scioto. You can head to the tourist-friendly Schmidt's for some hearty German food, though we recommend Valter's in the historic Maennerchor building for some more elegant Bavarian-style fare. Afterword, grab a coffee and a macaroon at Pistacia Vera, then set aside a few hours for The Book Loft and its wonderfully curated "32 Rooms of Books."
Take the Tour de Mitchell
No doubt, there were people taking food seriously in Columbus before Cameron Mitchell came on the scene. But his commitment to atmosphere and penchant for the dramatic -- those are some big meatballs at Marcella's -- helped the rest of the country take Columbus food seriously. From the elevated comfort food of Cap City to the pan-American pub stylings of The Pearl, Mitchell's hearty, Midwestern approach to a generous variety of cuisines is on prominent display. The master restaurateur is expanding well beyond Columbus, but let's hope he stays committed to elevating the city's cuisine.
Get your late-night eat on
No night out in Columbus is complete without a booze-absorbing gyro and fries from campus mainstay Buckeye Donuts. Its old-school diner layout and tall windows along High Street make it perfect for people-watching as you rub elbows with college kids and town weirdos alike. Or maybe Mikey's Late Night Slice is more your speed, where they go for broke on toppings and don't skimp on offerings like the famed Unicorn Sauce either. If not, there's always Dirty Frank's Hot Dog Palace, which takes an "everything and the kitchen sink" approach to its Vienna beef dogs.
Get real in Old North Columbus
If the shiny newness of Short North and the Arena District aren't your thing, head up High Street to Old North Columbus. This unpretentious district features architecture largely untouched since the last century. To be clear, it's no German Village in terms of scenery, but ONC's charm is in its time-tested establishments. There's variety: old-school fine dining like Alana's and diner-style favorites like Jack and Benny's. Kafe Kerouac is probably the only place in the city where you can go in for a coffee, stay for a reading or concert, and buy a cocktail and a used record before you're through. And you can catch a jazz show six nights a week at Dick's Den, which has one of the best bar mottos we've ever seen: Why Not?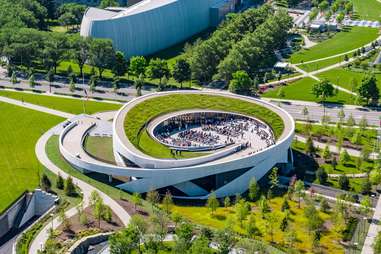 Make a day (and night) of the museums
The aforementioned Wexner Center and Columbus Museum of Art are great options for an afternoon, but they're not all the city has to offer in the way of museums. COSI, the Center of Science and Industry, has a proven commitment to making science fun for more than just your younger cousins. Their interactive exhibits, now including the largest planetarium in Ohio, are immersive enough to entertain kids and grown-ups alike, and their COSI After Dark events offer an enticing mix of scientific inquiry, buffets, and booze. For a more somber experience, the National Veterans Memorial and Museum pays tribute to the armed forces with a beautiful green space and captivating contemporary architecture. Looking for a beer after all that learning and culture? Hit BrewDog's interactive Beer Museum with a can in your hand, because learning is better with beer.
Get your outdoor fix
When it comes to natural beauty, Columbus has an embarrassment of riches. The historic Franklin Park Conservatory and Gardens offers flora and fauna from a staggering variety of biomes, as well as artwork and a supremely Insta-ready butterfly garden. Less well-known but still worth seeing is the Columbus Park of Roses, which houses over 12,000 roses in a ridiculously scenic, 13-acre garden. Like mixing a little arts and culture with your outdoors time? Hit the Topiary Garden near Downtown, which uses sculpted shrubs to depict Georges Seurat's famous painting A Sunday Afternoon on the Island of La Grande Jatte, which, if you're as cultured as your correspondent, you'll recognize from Ferris Bueller's Day Off.
Sign up here for our daily Cleveland email and be the first to get all the food/drink/fun in town.
Billy Hallal is C-L-E till he dies, but he spent some formative years in Columbus. He tweets about Grandpa's Cheesebarn @HillyBallal.