Most Clevelanders make a show of being ambivalent about Columbus. "Sure," we say, "Columbus is fun. But it's NOT AS GOOD AS CLEVELAND" -- and all the while, we're secretly planning our next road trip down 71 for a visit. While Columbus might be our seldom-acknowledged side piece, the state capital's not a bad mistress (mister?) to have, all things considered: the arts, festivals, and abundant food and drink scene elevate what could have just been a college town run amok (O-H!) into a cultural hub of the Midwest. Make the most of your secret road trip with this guide to fun in the Arch City (bonus points for stopping at Grandpa's Cheesebarn on the way back).
Catch a movie with an Ohio beer (or ice cream)
The past few years have seen a trend of movie theaters adding amenities like beer, cocktails, and entrees that aren't $8 hot dogs, but Columbus has been ahead of the game for years. Studio 35, an independent theater in the quietly progressive Clintonville neighborhood, has been open since 1938 and features nearly 40 rotating taps. If you're not a beer drinker, perhaps cocktails at the Gateway Film Center (and its attached restaurant, The Torpedo Room) will entice you; local movie-inspired art adorning the walls makes the Gateway's halls feel like an art gallery run by Quentin Tarantino, which probably helped earn it honors from the Sundance Institute Art House Project. And be sure to catch screenings projected on the side of Ohio State's acclaimed art museum, the Wexner Center, during its Summer Outdoor Film Fest.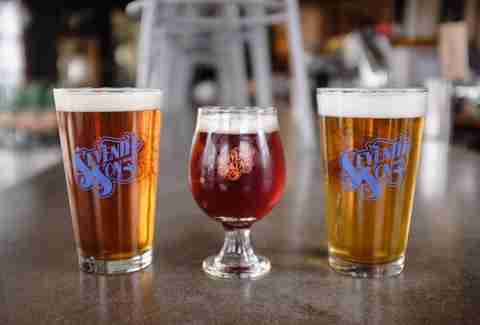 Continue to partake in the flourishing brewery scene…
Columbus' already respectable beer output has, in the past few years, blown up considerably. Wolf's Ridge is adept at producing somewhat-sweet but incredibly balanced beers -- the Cinnamon Toast Brunch and Dire Wolf imperial stout are both essential Columbus drinking (and not just for the names). Seventh Son and Land-Grant are both making great beers in cool spaces (a renovated garage and factory, respectively), and Rockmill Brewery, just outside the city, is housed in a scenic barn with a pond nearby; pack a lunch and some board games, and make a day of it.  
… but don't skip out on the cocktails.
Your correspondent mostly drank jungle juice during his time in Columbus, but Buckeye Country takes its liquor consumption seriously these days. The Rossi is an eternally sophisticated joint that makes classics like the Blood and Sand (if there's still any Cherry Heering left in the state), and Mouton is a cool, minimalist bar run by Cris Dehlavi, an internationally acclaimed bartender who helped bring mescal into the state. After all, this is the city that gave the world OYO whiskey and Watershed Four-Peel gin, the latter of which shows up in many of our favorite Cleveland cocktails.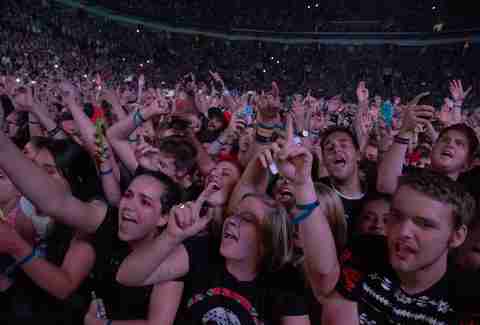 Visit one of Columbus' iconic music venues
There's never a shortage of big concerts in Columbus. Venues like the Express Live and the Schottenstein Center give large touring acts a reason to stop here, but be sure to check out the packed-with-character smaller venues as well. Skully's (and the attached record shop Magnolia Thunderpussy) is a venue with impossible-to-forget design, and smaller bars like Rumba Café and Ace of Cups are great places to catch funkier acts. Dick's Den in Old North Columbus (the sign on the door says "Why Not?") is a great place to escape the campus crowd and catch some jazz.
Uncover central Ohio's impressively varied dining scene
No visit to Columbus is complete without a visit to North Market, the city's last true public market, with over 30 stalls (including the first location of worship-inspiring Jeni's Splendid Ice Creams). Or, maybe it's not complete without a pilgrimage to Katzinger's, a deli-grocery with the largest house-made pickles in Franklin County, and Thurman's, the city's Food Network-approved burger joint. Or maybe it's not complete without patronizing Martini, The Pearl, or another acclaimed Cameron Mitchell restaurant in the city...
Eat after midnight (and before)
Send yourself back to college the old-fashioned way: by staying up late and eating food that's bad for you. Buckeye Donuts, a 24-hour greasy spoon serving gyros and donuts, is an essential people-watching spot on High Street, and Mikey's Late Night Slice is perfect for soaking up your stomach's local beer before bed -- do not skip the Unicorn Sauce. If you find yourself regretting your dining choices the next morning, you can always make amends by ordering the Buddha Bowl at the plant-forward Northstar Cafe.
Attend a Downtown festival
Columbus' range of festivals draws as many people as... well, not as many as a Buckeye football game. But they're still worth checking out. The city takes its shirt off and shakes its hippie hair loose for ComFest, a corporate sponsorship-free summer festival for music and all things righteously crunchy in Goodale Park. Highball in the Short North is a fabulously theatrical costume ball taking place near Halloween every year. And the late summer Jazz & Ribs Fest delivers exactly what it promises.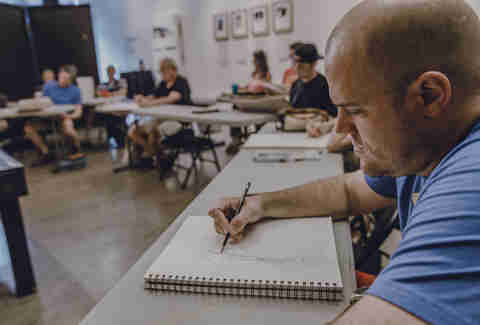 Take in Arch City's art scene
Columbus' Museum of Art is housed in a space that's almost as cool as Cleveland's. It tends to skew a little more toward the contemporary (though there was a Caravaggio on display a few years back, which was pretty dope). For local art, there's nothing like the Gallery Hop, a monthly, booze-fueled art crawl in the now-super-developed Short North arts district. (Fun fact: the neighborhood's arches, first erected to honor the Northwest Territory's centennial, gave the city its nickname.) Wild Goose Creative is an all-purpose arts space that hosts Moth-style storytelling events, improv, and a "Stitch & Bitch" knitting group.
Learn about science (and food)
Some museums are only fun for adults because of the rosy glow of nostalgia, but not COSI (Center of Science and Industry). The interactive exhibits are a blast, and the beer served at monthly COSI After Dark events -- themes include Wizarding School, '80s/'90s nostalgia, and Star Wars -- will help enhance that. Franklin Park Conservatory, located in a massive park just 2 miles east of downtown, also hosts frequent after-dark events featuring food education and beer.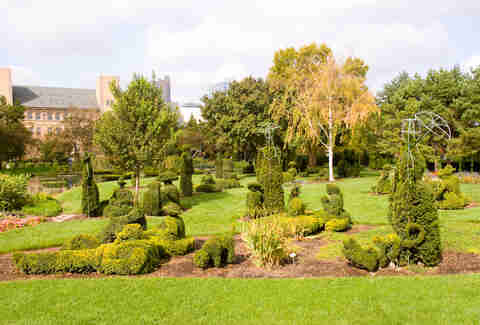 Enjoy Columbus' parks and gardens
Your mother was right -- put down that controller (or craft beer) and enjoy nature for a while. You've got plenty of options: The Topiary Park near Downtown recreates a famous Georges Seurat painting (the one from Ferris Bueller's Day Off) using sculpted bushes, and there's also the 13-acre Park of Roses, if shrubbery people somehow aren't your thing. There are miles of trail to enjoy for running or cycling along the Olentangy River. And thanks to nationally renowned animal guy Jack Hanna, the Columbus Zoo and Aquarium is among the most respected in the country -- hit it up for the pretty Wildlights display in the colder months.
Get out of town
Ohio has a multitude of charming small towns, and several of them are located just outside Columbus. Delaware, a small-town dining mecca of sorts, is a scant 40 minutes away, and Granville, a college town long on charm and Native American history, is about the same distance; so is Westerville, home to Otterbein University and known by some as the birthplace of Prohibition.
Sign up here for our daily Cleveland email and be the first to get all the food/drink/fun in town.