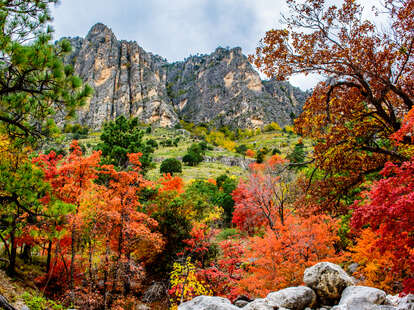 Pine Canyon, Guadalupe Mountains National Park

| Tim Speer
Pine Canyon, Guadalupe Mountains National Park

| Tim Speer
Autumn is an important milestone in Texas, reminding residents that summer cannot, technically, last forever. The cooler weather is joined by a few local favorites, including football season and the State Fair, but perhaps the surest sign that fall is officially here is the confluence of brightly colored trees.
Unlike the Northeast and Pacific Northwest, where leaves begin changing with the first days of fall, most Texas trees don't hit kaleidoscope levels until mid-October, while others don't peak until mid-November. So, you've got some time. But it's a big state, with varying temperatures and topographies, so plan accordingly and you'll never be too far from a good-looking grove. These are 10 of the best places to see fall foliage in Texas.
Hike around, camp next to, or drop a line into the 26,810-acre Caddo Lake, which is stocked with 70 species of fish—and a few alligators. Visit during the fall, and the area's maple, oak, cypress, sweetgum, and hickory trees will be in full effect, ready to improve your views along hiking trails or stationed outside one of the park's 46 campsites.
When to go: Mid-to late November
This 9,000-acre lake in Northeast Texas is the convergence point for two ecological regions: the Pineywoods and the Post Oak Savannah. That means huge trees and tall grasses abound. Fish for largemouth bass and catfish, hike the trails, and spend the night at one of the many campsites or cabins. All the while, keep your head on a swivel for the colorful trees, including hickories and red maples.
When to go: Mid-October to mid-November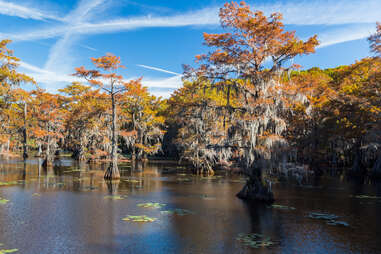 Head two hours northwest of San Antonio, and you'll enter the Lost Maples State Natural Area, with plenty of hikes, campsites, wildlife, and stargazing opportunities. In summer, Lost Maples is renowned for its wildflowers, but in fall, visitors flock to see the lush fall foliage. Bigtooth maples turn red and orange, providing a gorgeous backdrop for nature walks—there are 10 miles of trails, including a loop that ends in a prime vantage point above the park on a 2,200-foot cliff. When to go: Early to mid-November
This Hill Country park is a year-round favorite. Visitors float down the Frio River during summer months and explore the 16 miles of trails during spring and fall. Autumn brings the added benefit of colorful forests, as the cypress, oak, mesquite, and persimmon trees change from their usual greens to bright yellow, red, and orange. If you want to float and peep simultaneously, bring a kayak and take it down the river.
When to go: Late October through November
This national park sits on the border of West Texas and Southern New Mexico, drawing visitors from both states, who gather for the area's unique mix of mountains, canyons, and deserts. The nights are cool and clear, making this park a popular spot for stargazing. The next morning, take a stroll and enjoy the brightly colored maples and other deciduous trees. For a good time, hike the McKittrick Canyon—it's flush with beautiful landscapes and fall foliage.
When to go: The last two weeks of October into early November
The Palo Duro Canyon may not be the Grand Canyon, but it's still a pretty great canyon, and the second largest in the country. You'll find it in its eponymous state park, which is located a short drive south of Amarillo. It's loaded with more than 30 miles of hiking, biking, and equestrian trails, so there's always something to explore. Time your trip with the changing leaves, and you'll see the local cottonwoods turn bright yellow against the blue skies and red rocks. And when the day's over, you can bunk down at one of the park's many campsites or luxury tents.
When to go: Mid- to late October
This Piney Woods park is a lush and scenic destination all year, drawing visitors for its hiking trails and fishing-friendly spring-fed lake. But autumn is when it really shows off, as its trees—many stretching over 100 feet tall—turn shades of yellow, orange, and red, providing a full color palette for all your leaf-peeping adventures.
When to go: Mid-October through mid-November
You don't have to venture far from the city to see leaves. McKinney Falls State Park is located about 10 miles south of Downtown Austin, and it's a popular stop for its day-hikes and mountain bike trails. Nine miles of paths wind through cypress trees and red oaks, and secluded waterfalls and pools run down from Onion Creek. The best time to visit is during the fall, when temperatures are cooler and trees brighten the sky with their changing colors.
When to go: Late October through early November
Another Piney Woods gem, Daingerfield State Park covers 507 acres of this scenic Northeast Texas region. You can hike, bike, and bird-watch, or paddle your way across the 80-acre lake. The Rustling Leaves Trail is an easy trek around that lake, or for even better views, take the Mountain View Trail up to the highest point in the park. Once fall hits, the oak, maple, sweetgum, and sassafras trees change colors and turn heads, with rich red, orange, and yellow hues set against a backdrop of evergreen pines.
When to go: Mid-October to mid-November
See that massive mound of pink granite? That's Enchanted Rock. It was here before us—circa one billion years ago—and it will be here after us. Think about that permanence as you climb your way to the top, or explore one of the nearby trails, which cover 11 total miles. As you stroll, keep your eyes peeled for the painter's palette of orange and yellow colors dotting the area's oak trees.
When to go: November
Kevin Gray is a freelance writer and editor covering food, drinks, and travel. He's written for publications including the
Dallas Morning News
,
Eater, Forbes, InsideHook
and
Travel + Leisure
, and if he's slow replying to your email it's probably because he's off exploring a new country. Follow him on social media @kevinrgray.