Photo courtesy of Spinster Records
As Record Store Day approaches on April 22, you're going to want to keep some of Dallas-Fort Worth's best vinyl shops on your docket. Vinyls are all the rage right now, as listeners find themselves trapped inside the smooth grooves and nostalgic sounds. Sure, we may be in an era when we can stream our favorite music anytime we want, but nothing beats being able to physically touch and hold your favorite album. So skip Target and Urban Outfitters, check out our favorite vinyl shops and keep these stores on rotation.
Bishop Arts
This is a staple for crate diggers in Dallas. Spinster Records is always stocked with the latest vinyl releases, as well as DJ singles, B-sides, rarities, and record-playing systems. Not to mention, you can get an early listen at some of the most anticipated new releases at Spinster's listening parties, which often take place just days before the album's release date. While this may be a little shop, you can easily spend hours sifting through boxes, and you may just leave discovering your new favorite record.
Bishop Arts
Coffee, cocktails, books, and vinyl all in one place. You'll find an eclectic mix of music at the Wild Detectives, especially its collection of global and international sounds. But the store still highlights local and independent acts. On any given night, shoppers can hear live music on the store's back patio stage. Plus, you can order a special cocktail called the Texas Sun, named after the collaborative album by Khurangbin and Fort Worth's own Leon Bridges.
Oak Cliff
Not only is Top Ten a cozy little record store on Jefferson Boulevard, this groovy setting is also a media library preserving music history within Dallas and beyond. Guests can check out or purchase from a wide selection of discs, vinyl, and VHS tapes of their favorite music films or most cherished concerts. Plus, on some nights, shoppers can enjoy live music and DJ sets.
White Rock
As its name suggests, Good Records offers nothing but good records. But you better arrive here with a mission. Per its website, they discourage window shopping and killing time—within reason. Good Records supports local artists as well as some of the most highly anticipated record releases. If you live in Dallas, you can order from Good Records which will deliver your precious cargo at no additional charge.
Farmers Branch
Spend your entire day at Josey Records—with claim to the largest record store in Texas, it'd be easy to do. This massive shop has the feel of a classic record store with CDs, 45s, cassette tapes, and vinyls galore. A favorite of local musicians and global acts alike, Josey has hosted listening events and album signing for Yungblud, NF, Joe P, and other artists.
Fort Worth
Not only does Doc's have one of the largest record selections in Fort Worth, but fans can also shop from a variety of band shirt's and other merch. This store carries a variety of genres, but mostly spotlights indie and rock releases. If you're looking for collectors items and indie exclusives, look no further than Doc's.
Fort Worth
Each Record Store Day gets a bit chaotic, but Panther City Vinyl has a plan in place to create an equal playing field. Across its large selection of vinyl, discs, tapes, DVDs, VHSs, and any sort of music media you can imagine, Panther City has instilled a no-holds policy, and is only allowing shoppers to purchase one of each title this RSD. But on any given day, shoppers can load up on all the music their hearts desire and are encouraged to do so by way of the store's frequent sales.
Grand Prairie
If it's ever been printed on vinyl, Forever Young is more than likely to have it. Inside Forever Young, it feels like the store goes on for miles, as it carries over 250,000 items at any moment. If you're willing to make the trek, finding rarities and out-of-print vinyls, eight-tracks, and tapes make it worth all your while.
Arlington
Discover your new favorite band at GROWL. Vinylheads come to this little Arlington shop for records, but stay for the live music. GROWL maintains a stacked calendar of shows on a weekly basis. Not only do they platform local artists, but they bring in acts from other cities as well. So celebrate music at GROWL all year long.
Downtown McKinney
This woman-owned record shop always has good music on rotation. If you don't leave the shop with a vinyl record, you can express your fandom by snagging a prayer candle of your favorite artist, including Prince, Cardi B, and, of course, the Queen Bey herself, Beyoncé. In addition to carrying great records, owner Katie Scott has also launched a label called Red Zeppelin Records, with the mission to uplift independent artists in their music careers.
Far North Dallas
There are two good ways to get to know someone: ask how they like their coffee and what their favorite albums are. The Spin cuts out the middlemen and marries these two elements in a sleek little coffee-record shop hybrid. It's as nice a place for an intimate date as it is to sit back and work remotely. You can enjoy coffee and baked treats, listen to good music, and leave with a new record.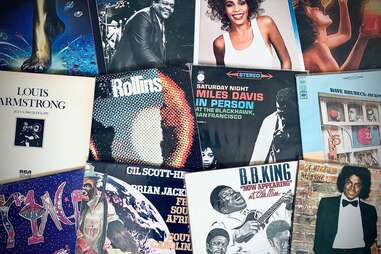 Highland Village, Frisco, and North Richland Hills
On top of three brick and mortar stores, NTX Vinyl also has a vast online collection, as well as a YouTube channel. So whether you're new to the crate-digging game, or a vinyl veteran, NTX can help you brush up your knowledge on music, both old and new.