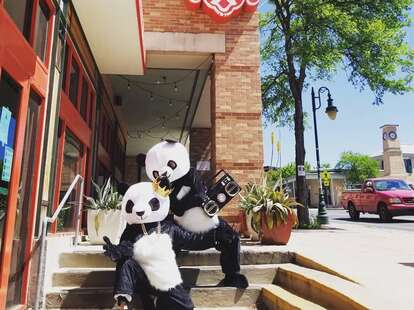 Old Thousand Facebook

| Old Thousand Facebook
Old Thousand Facebook

| Old Thousand Facebook
What's the first thing that pops into mind when you think of Lunar New Year? If you're a Texan, it's probably Chinese food, right? Well, we don't blame you. The Lone Star state (bar Houston) has never really gone all out for the celebrated Chinese festival, not like people over on the West Coast. But thankfully, times are changing that. In recent years we've seen more and more festivity in the big cities, and even the smaller towns now have at least some kind of 'red and gold' situation going on, though sparsely. If you're looking to embrace the year of the rabbit like never before, peruse our handy guide and get the lowdown before taking to one of Texas' best cities to fill your belly up with Asian delights. Gong hei fat choy, y'all.
What is Lunar New Year?
Commonly known as 'Chinese New Year', the holiday marks the beginning of the lunar-solar Chinese calendar. It's an occasion celebrated by billions, not just in China but also in Vietnam, South Korea, Singapore, Indonesia, Malaysia, and countries with a significant overseas Chinese population. Today, in the west, it is referred to as Lunar New Year, and in 2023 the official date is Sunday, January 22 (the second New Moon after the winter solstice).
What's with the animals?
Just as we're all about Capricorn and Taurus; the Chinese calendar can pull out a horse and a bull too. Rather here, zodiac signs are separated by year, instead of month. There are 12 signs, each named after an animal, and each with its own unique characteristics. 2023 is the year of the rabbit, a tame and tender creature. Those born in 2023 (and in 2011, 1999, 1987, and so forth) are said to have similar soft and tender traits, with a modest attitude and the ability to avoid dispute.
Are we supposed to eat rabbit on the year of the rabbit?
Um, no. The most popular foods enjoyed on Lunar New Year are the things you'll find at your typical Asian banquet: steamed fish, dim sum, crispy pork, and roasted duck. In terms of cake, Nian Gao is a must—a sweet sticky rice cake representing prosperity. It's often gifted and can be found at most Asian supermarkets during this time.
Phew! What should we be picking up at 99 Ranch?
99 Ranch Market and all the other Asian groceries statewide will no doubt have all the must-tries on proud display throughout the festive period, but if you really want to increase your chances of good fortune, then be sure to stock up on 'lucky' new year foods including spring rolls and deep-filled dumplings, lots of colorful fruit for the dining table centerpiece (mangos, oranges, kumquat, and Asian pears), and of course, Nian Gao. You'll also want to get some Longevity Noodles for added New Years' goodness—these are long, thin, wheat flour noodles that are usually cooked with vegetables in a broth.

What other traditions are there?
This is a whole other article. But in a nutshell, traditions can vary by country and even family. Some folks prep two weeks out, giving their entire house a thorough clean (i.e. sweeping away bad luck of the preceding year), and many see it as a time for family gatherings in a similar style to Christmas. Houses are often decorated with red lanterns, and this year, with rabbit-themed images, and then there are those lucky red envelopes filled with cash. But don't get too excited—these are usually only given to children. Boo.
What's the CCTV New Years Gala?
It's only the most-watched TV show in the entire world! The four-hour China Central Television (CCTV) variety show pulls in around 700 million viewers each year—that's EIGHT TIMES more viewers than the Superbowl, and you can totally watch it right here in Texas. Not on KXAN but on their live streaming page here.
Finally, where can I celebrate Lunar Year in Texas IRL?
Okay, we admit, there won't be city-wide fireworks displays and dragon dancers running through the streets of Fort Worth (too much longhorn traffic), but your best bet in Texas is to hit up the Asian neighborhoods, restaurants, and temples. Here's where to do it in the major cities.
Houston
Hands down the best city to experience Lunar New Year is H-town. It's really the only place in the entire state that really goes all out, and this year's celebration at the Viet Hoa Center is set to be an extravaganza with lion dances, a million lucky red firecrackers, martial arts, and vendors galore. Also worth a gander is Discovery Green Park, which will be hosting a celebration on January 22nd with performances by Dance of Asian America; and the Museum District's Asia Society of Texas (only one of five in the US) will be hosting a free family-orientated experience with lion dancers, arts, and crafts—and there will even be a limited quantity of red envelopes for the little ones. Last but not least, Houston's Asiatown is where to feast year-round, but especially so during Lunar New Year.
Dallas-Fort Worth
For Dallas and Fort Worth residents, the best place to celebrate Lunar New Year is slap bang in the middle—at Grand Prairie. The Asia Times Square Development is one of the biggest Asian Markets in Texas, filled with shops and restaurants to fuel Lunar fun to the nines. Its events page is lined with treats including lion and dragon dance, sumo demonstrations, cosplay contests, and of course lots of food. The Firecracker show on January 21 - 22 is not to be missed. When you've worked up an appetite, head toward DFW Chinatown for your fix of dumplings and more, or work through our list of best Lunar New Year eats in Dallas.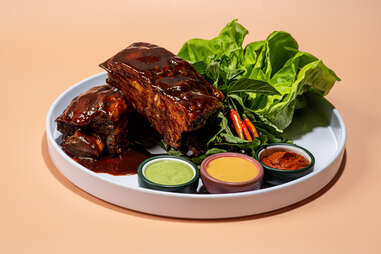 San Antonio
San Antonio's famed attraction, the River Walk, is always a place to celebrate any occasion, and as with previous years, a boat parade carrying lanterns in the shapes of animals in homage to the zodiac signs will float along the river on select nights over the course of two weeks. Walk along to the end of the River Walk to Pearl, where Best Quality Daughter awaits. The Asian-American restaurant is the hippest place in town for cocktails and a dripping-with-sauces char siu. You'll most definitely need help to eat it, but that's what dinner parties are for.
Austin
Though Austin has no Chinatown per se, you'll find a bulk of the Asian businesses sit north of the city. Head to Airport Blvd where happenings are expected around 99 Ranch and farther up at MT Supermarket. Back down in East Austin, Old Thousand will be running specials and a special dragon dance performance at both locations over the whole Lunar weekend (January 21 - 22). Keen to teach the kiddos something? Austin Public Library will run educational activity stations themed to Chinese culture on January 21.
New Orleans
We're fully aware that New Orleans isn't in Texas, but faced with recommending P.F. Changs in New Braunfels or a short drive across the state marker to glitter and gold, NOLA is a no-brainer for Texan festive cheer. The Mary Queen of Vietnam Church will host its annual Tet Fest, a free Vietnamese New Year celebration starring dancers, live musicians, acrobats, and more. All your Vietnamese treats will be served, and note that in the Vietnamese Zodiac this is the year of the cat, so switch those bunny ear headbands for something more feline. The big event will be held January 27 - 29.
James Wong is a Libra who spends his time pretending to be a vegan, watching wildlife clips, and booking plane tickets. Born in London, lived in Tokyo, and now residing in Austin, his greatest achievement is giving Posh Spice a hug in 2016.