How to Make Sure Your Vote Counts in Dallas-Fort Worth This November
Everything you need to know including key deadlines, registration details, and how to vote by mail.
It's almost Midterm Election Day, one of the most lighthearted times of the year when people come together, controversies are set aside, and people sing in the streets because they're so happy to be part of the democratic process. If only.
Tuesday, November 8, 2022 will feature some of the most pivotal political matchups across the nation, plus the most significant for the State of Texas, making it vitally important that registered voters get out to make their voices heard. Of course, to participate in the election and get one of those cool "I Voted" stickers, you have to be registered to vote in the first place. Don't worry if you're not. We've got all the details on how, when, and where to register, how to find your polling place, info on voting by mail, and pretty much everything you could ever need to perform your duty as a citizen of the United States of America.
What's on the ballot:
If you've watched commercial television in the past few weeks, you know all too well that the biggest race for Texans this November will be the battle for the Governor's Mansion in Austin. That heated race finds Democrat Beto O'Rourke attempting to unseat Republican incumbent Greg Abbott.
Lower down the ballot, races include Libertarian Shanna Steele, Democrat Mike Collier, and Republican incumbent Dan Patrick vying for Lieutenant Governor of Texas.
For the office of Texas Attorney General, it's Republican incumbent Ken Paxton versus Democrat Rochelle Garza and Libertarian Mark Ash.
The State House, State Senate, State Supreme Court, and Texas Railroad Commissioner seats will also be decided during this midterm cycle.
On a national level, Congress could be in for a major shakeup with all 435 seats in the House of Representatives and 35 of the 100 Senate seats on the ballot.
Review a sample ballot before casting your vote by locating the county you're registered to vote in via the Texas Association of Counties website. You can also find that information and a list of all the offices up for grabs at Ballotpedia.org.
And for Dallas County specifically, refer to DallasCountyVotes.org. For Tarrant County, visit the Tarrant County Elections page. For Collin County, go to CollinCountyVotes.com. And refer to your county government website if you live in a North Texas county not listed above. Each jurisdiction should have a sample ballot posted closer to Election Day on Tuesday, November 8.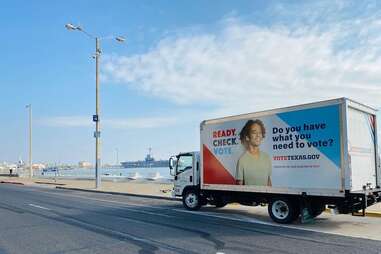 What's the deadline to register to vote in DFW?
According to Texas law, eligible voters must be registered by the 30th day in advance of Election Day. That makes this year's deadline Tuesday, October 11, 2022.
Who's eligible to vote in this election?
Visit the Texas Secretary of State's website or VoteTexas.gov to verify your eligibility to vote after referring to the five basics here:

You're a U.S. citizen
You're a resident of the county where you submit your application
You'll be at least 18 years old on Election Day
You're not a convicted felon (though some exclusions may allow you to)
You've not been declared by a court to be either totally or partially mentally incapacitated
How to register to vote in Dallas-Fort Worth:
Register here. After you submit your application, you should receive your voter registration certificate by mail within 30 days.
To check on your registration status, or confirm your existing status, visit the "Am I Registered?" section of the Texas Secretary of State's site by entering identifying information such as your Texas Driver's License. You can also contact County Voter Registration Officials based on where you live.
If you've recently changed your name or moved to a new address, you should also update your voter registration online by the Tuesday, October 11, 2022 deadline.
Can I vote early?
Yes! Any registered voter may vote early in person with the First Day of Early Voting falling on Monday, October 24, 2022 and going through Friday, November 4, 2022. For anyone who's voting for the first time, it's worth noting that wait times are generally far less during early voting than waiting until Election Day and you will have the option to cast your vote at more polling places, too.
Can I vote by mail?
Also yes. As long as you're eligible, you can apply to vote by mail. The last day to apply is Friday, October 28, 2022. If you do not meet the very specific criteria for mail-in voting, you must appear in person during early voting or on Election Day.
All mailed-in ballots must be received by Election Day (Tuesday, November 8, 2022) at 7 pm Central Standard Time or by Wednesday, November 8, 2022 by 5 pm CST if the envelope is postmarked by 7 pm CST on Election Day. Overseas and military voter deadlines may differ.
Track the status of your ballot by mail application or your actual ballot by entering your necessary personal information on the Ballot by Mail Tracker.
How to find your polling place:
Visit the "Am I Registered?" section of the Texas Secretary of State's site by entering identifying information such as your Texas Driver's License a few days prior to the election for your specific voting site. You can also contact County Voter Registration Officials based on where you live.
For Dallas County residents, visit DallasCountyVotes.org and scroll down to Vote Centers for both a PDF version and a searchable database. Early voting places are listed currently and Election Day locations will be added closer to Tuesday, November 8, 2022. The same information can be found on this page of the Tarrant County website and this page of the Collin County website.
When are the polls open on Election Day?
Polls are open from 7 am to 7 pm on Tuesday, November 8, 2022.
How can I volunteer as a poll worker?
To volunteer your time as a poll worker, you must take the Texas Online Poll Worker Training program, available free of charge, 24/7, for all poll workers. You must self-register for the course, complete it before Election Day, and present your printed certificate of completion to the presiding judge at the polling place in order to take part on Election Day.
You can also help register voters in the State of Texas by becoming a Volunteer Deputy Registrar. Contact the voter registrar in your county for info and training.
Some additional Dallas-Fort Worth Metroplex voting resources
For anything and everything you could ever want to know about elections in Texas, visit the Texas Secretary of State's Elections Division page for official information; or contact the Elections Division of the Office of the Texas Secretary of State at 1-800-252-VOTE (8683) or via email at elections@sos.texas.gov.
The Vote Texas website has tons of great information, too, including a Voting by Mail guide, Voting in Person information, information for military and overseas voters, and even a (fun?) game about the types of ID you can use to vote. Links to state political parties and other resources are also available here.
Steven Lindsey is an enthusiastic eater who's never turned down a craft cocktail, glass of wine, or cold beer. He thinks dogs are the greatest creation ever and anxiously awaits his Covid hair growing long enough to finally donate to a children's charity. But when it comes to travel, he prefers people leave their kids at home and that's why he founded Travel Like An Adult.