Dallas' Best First Date Ideas This Winter, According to Matchmakers
Because we could all use some professional help.
Fern Connections

| Fern Connections
Fern Connections

| Fern Connections
The season of love is upon us—in case you somehow haven't noticed heart-shaped everything inside every place from the corner gas station to the aisles of Trader Joe's. Much like Santa Claus, Cupid comes out of hibernation earlier and earlier each year, so it wouldn't be a big surprise if you picked up a few Valentine-themed boxes of chocolate truffles the same day you grabbed the ol' Thanksgiving turkey. But as anyone who shares a bed, living expenses, and taking-out-the-trash duties with another human being knows, love can happen without the help of greeting card companies and florists looking to make their yearly income in a single month.
Of course, a memorable first date can make all the difference between happily ever after and happily never again. So, we turned to Daphney Poyser, Matchmaker & CEO of Fern Connections, Date and Relationship Coach, and all-around Wing Woman for anyone who's been looking for love in all the wrong places.
Poyser specializes in matchmaking for people who may have had trouble finding love in mainstream society because of their race or sexual orientation. Yet even though her focus is on the LGBTQIA+ community and its allies, her insights can help anyone with a pulse looking for someone to journey through life by their side.
"In my mind, the new normal is open for people to date someone outside of their race, someone of the same sex, someone who is much younger or older, or even someone who has different viewpoints, religious beliefs, and backgrounds," she says. "Whatever that is, it is someone's normal, and we are here to help create a new social norm for everyone to love whoever and however they please."
So, if you're looking for a fun place for a memorable first date—or 5,000th—Poyser has given us a list of eight favorite spots around Dallas-Fort Worth to get to know somebody better. Because who knows, a night of axe-throwing could end up with Cupid's arrow through the heart, as well.
Downtown Dallas
Since the doors first opened seven years ago, Café Momentum has taught on-the-job skills to young people aged 15 - 19 who are coming out of the criminal justice system. During a 12-month paid internship, they learn every aspect of the restaurant business, from cooking and other back-of-the-house duties to waiting tables and interacting with guests. The high-end menu features creatively executed dishes such as braised rabbit pasta, coffee-rubbed steaks, and smoked fried chicken in a casually elegant setting in the heart of downtown.
What the matchmaker says: "This is dating with a purpose/cause and I love the entire concept of this restaurant."
How to book: Call 214-303-1234 or reserve a table via Resy.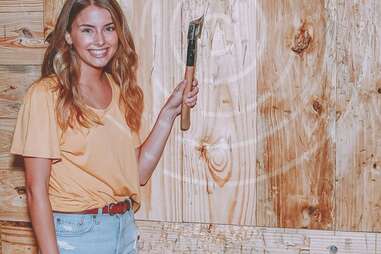 East Dallas; Fort Worth; Grapevine
Pat Benatar sings about love being a battlefield, so why not embrace the concept and book a date night that centers around a deadly weapon? Bad Axe has a nice beer and wine menu to get the conversation free-flowing and because it's bring-your-own food, you could always surprise your date with a nice little picnic of goodies to nibble on between throws. Over at Corky's, you can extend your date night with an escape room experience, time in the classic arcade, or a full meal of sandwiches, tacos, pizzas, and shareables that increase the likelihood your hands will touch while reaching for that last fried mac-and-cheese bite.
What the matchmaker says: "This is still a fairly new date idea and tons of fun. It's extremely interactive and humiliating at the same time, which allows you to see how your date handles various situations. Also allows for some friendly competition."
How to book: Walk in or reserve lanes in advance at Bad Axe; Book in advance at Corky's Gaming Bistro.
Downtown Fort Worth
Catch a classic movie (perhaps a rom-com for good measure) at the newest location of Rooftop Cinema Club, located on the terrace at The Worthington Rennaissance Fort Worth Hotel. Book an Adirondack chair for two, grab some cocktails and food before the show starts, then feed each other popcorn as Julia Roberts or Sandra Bullock get into hijinx on the big screen. Best of all, screenings after 4:30 pm are 18-and-over so you don't have to worry about crying children ruining the romantic vibe. And speaking of romantic vibes, if things really click you're only an elevator ride away from a beautifully appointed hotel room. (You can even bet on a positive outcome by pre-booking a special room package, A Night of Cocktails & Cinema—but you probably want to wait a few dates in before doing so.)
What the matchmaker says: "The rooftop is outdoor-sexy and you have your own personal headphones, deck chairs, and awesome food and drinks."
How to book: Purchase advance tickets online.
Plano
Chocolate. Champagne. Menu names bursting with double-entendres. There's no better ice-breaker on a first date than giggling as you ponder whether to share sweets including Peanut Butter Perversion, Missionary Crisp, or Caress My Carrot. Cocktails follow a similar suit with Love Potion 69, Minty Moaner, and G-Spot among the tantalizing options, along with a nice list of virgin options, too.
What the matchmaker says: "This is a sexy date idea and it gives an option other than just going to dinner."
How to book: Reserve a table via ZomatoBook.
The Colony
Once the requisite jokes involving balls and holes are out of the way, miniature golf remains a perennial date-night favorite for people of all ages. Plus, with indoor courses, mini golf becomes a year-round, all-weather option. The Puttery also boasts three on-site bars and you can take your drinks with you from one hole to the next. And if all goes well, stick around for appetizers, pizza, and another round of drinks.
What the matchmaker says: "This is a fairly new spot and a great first-date idea because like axe-throwing, it's both interactive and humiliating, giving great insight into the personality of the person you're with."
How to book: Reserve a round online.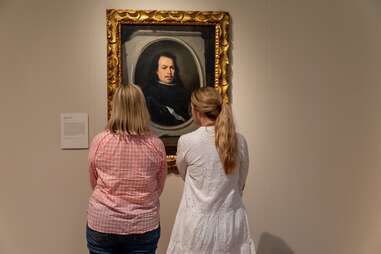 Fort Worth Museum District
Meet up after work on Fridays from 5 - 7 pm for live music and discounted beverages at one Texas' most renowned museums. The Kimbell stays open until 8 pm every Friday, too, so even if you spend the whole 120 minutes of Happy Hour chatting it up, you'll still have an hour to explore the incredible works of art—possibly while holding hands.
What the matchmaker says: "This allows for daters to take their time viewing art while casually getting to know each other."
How to book: The Kimbell Collection is free to everyone and special exhibitions are $18 per adult non-member and can be purchased online.
Multiple locations
Whether boiling water presents a challenge or you mastered the art of culinary creativity during those long pandemic lockdown days, there's nothing like the bond that can develop (or quickly dissolve) between two people when learning to cook something new. Courses include Souffles, Steak and Lobster Dinner, Sushi & Sake Party, and the ideal-for-dates Couples Cook classes. Perhaps don't temp fate and skip the Night Up in Flames option.
What the matchmaker says: "This is a fun, entertaining, and interactive date that allows for creativity and great conversation. And you actually get to sit down and have dinner with your date afterward."
How to book: Reserve your spots at your nearest Central Market location online.
Plano
Make a date with Texas' wild west past by dining in a tent. Okay, not an actual tent where you'd be sitting on the ground, but a cozy booth inside an actual tent. Sup on a chef-curated appetizer platter of queso blanco, mini elk tacos, fried green tomatoes, and onion rings before diving into a massive Tomahawk steak perfect for sharing, and a chipotle chocolate layer cake for dessert. If things go swimmingly, the tent flaps close for complete privacy—while fueling gossip for those seated nearby.
What the matchmaker says: "The tent concept allows for privacy in a unique setting and the food is great."
How to book: Reserve via Opentable.