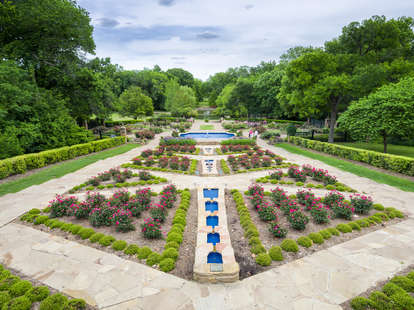 It's a good thing money doesn't grow on trees -- mostly because of inflation, but also because we'd lose the extra sweetness of stuff that's totally free. Rake and bag those loose bills for a rainy day: here are 28 ways to have fun in Fort Worth that, much like J. Lo's love, don't cost a thing.
This year's celebration of good ol' fashioned 'Merican air superiority stars the Navy's Blue Angels, the Army's Golden Knights, AND a rocket-powered school bus! Take that, Ms. Frizzle.

Fort Worth has a ton of nationally renowned museums; this is the one with famous Frederic Remington cowboy paintings. Also worth noting: this is the AMON Carter museum, not the one for the kid who beat Shaq.

Actually, there are famous turn-of-the-century cowboy paintings here, too.

If you've seen one contemporary art gallery, you definitely haven't seen them all. There's more to modern art than Jackson Pollock and soup cans -- there's also mixed media paintings about the painting process itself!
The always-free permanent collection ranges from pre-Christian-era Egyptian artifacts, to the Italian Renaissance paintings, to mid-20th-century sculpture. It's like a History Channel show, minus the insurance commercials.

The Modern's free on Sunday, which is helpful for when your brunch conversation turns into a discussion of Abstract Expressionism and you're sober enough to do something else later.

From visual exhibitions to theater performances, there's always something artsy (and fun) going down here.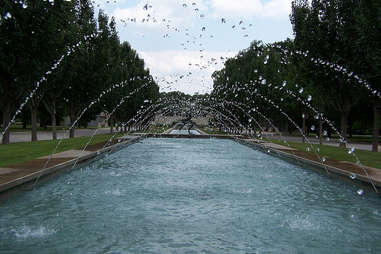 Need a little serenity in your life? Stroll through 110 acres of curated flower and gardens, ponds, and park space.

While hitting the gallery circuit twice a year is good for personal enrichment and supporting the arts, it's also basically a pub crawl for free beer and cheese.

These artifacts from America's 20th-century conflicts will get your red, white, and blue blood stirring. It's free, but you'll probably want to leave a donation -- unless you hate America.

Contemplate your place in the universe while viewing an actual object from outer space -- and without some spray-tanned TV personality blaming everything on aliens.
Because if you have to cosplay the dénouement of a '70s sci-fi movie, it helps to do it in its actual filming location.

Sorry, stoners: the BRIT's herbarium isn't what you think it is, but you'll still find this collection of preserved plant specimens from across the globe pretty damn interesting.

Running for over 40 miles along the Trinity River and its tributaries, the Trinity Trails are great for walking, jogging, and cycling; you can even ride a horse on them, too.

Follow the Trinity Trails north and west into Westworth Village, and you'll find this great spot to get your feet wet and cool off -- your horse will love it!

While you hike and bike the eight miles of trails in this North Arlington nature area, be sure to look for the one that called Hell's Gate: it's supposedly haunted by dead Civil War soldiers, arguably the spookiest of all ghosts.

This spot edges out all other public spaces for Independence Day fireworks celebrations, mainly because it includes a jet ski show.
Pack your swimsuit, because after you get done blasting the bike trail, you can cool off in the waterfall near the spot where the park abuts Lake Worth.

Drive around the lake and take in the sights. Sure there's an allegedly haunted castle on Lake Worth (trespassers beware -- of the cops), but the real draw here is the flora and fauna, which actually includes the occasional alligator. And potentially the legendary Goat Man, too.

Nothing says L-I-V-I-N like lakeside partying. Just dispose of your empties -- it's not 1986, no matter what your cut-off jorts say.

Or rather, try not to eat it -- with 20,000sqft of skateable ground to cover, there's bound to be at least one spot you can nail a trick here. Alternatively, if you're not a skater, stop by to watch other people eat it.

Kick your weekend off once a month from April through November with free outdoor concerts from the best local bands in Fort Worth, Dallas, and parts in-between. Bring a blanket and stake your patch of lawn, because these shows get packed!

Some people won't set a toe in the Trinity (let alone their butts), but that just leaves more room for the rest of us to chill at these weekly summer concerts.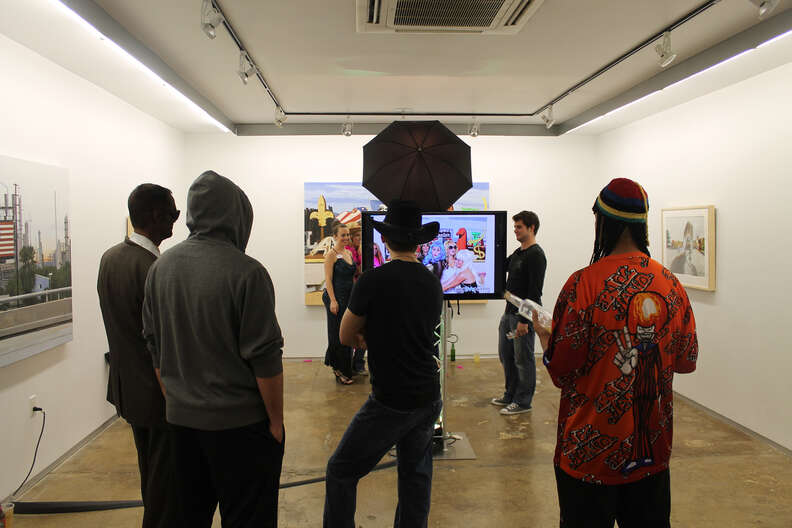 Check out monthly exhibitions of Texas' top working artists at this gallery on the eastern edge of Downtown. Chances are you'll end up seeing them anyway, because someone you know will inevitably get married there.

Put on your dancin' shoes and head to Billy Bob's on Thursdays at 7pm to learn the basic steps -- then you can join the crowd when they inevitably line dance to "The Wobble."

Get a ride to West-o-Plex's giant flea market (because parking's $4), where gawking at people buying weed leaf T-shirts and Pantera blankets is totally free.

Every Friday evening, the little tape & vinyl shop housed in the Fairmount Community Library presents live music and free beer courtesy of Community Brewing Project.

Now, of course, it would be cool if you bought a drink, but Barcadia's arcade games are free on Monday and Tuesday nights, giving you infinite chances to show M. Bison who's boss.
Sign up here for our daily Dallas email and be the first to get all the food/drink/fun DFW has to offer.
Steve Steward is a writer, musician, and bartender from Fort Worth who would love to tell you more about Logan's Run if you have time. Follow his journey to Carousel here.