Whether it's the first date or your life partner, we all need good ideas on where to take that special person. Even if, as Eddie Money once sang, you only want to take them home tonight. Here's a handy guide to the best Dallas date spots based on just how serious you are about the other person.
As the kids say, "Netflix and Chill?"
When you are simply looking to hook up, the ol' "Netflix and Chill" is the gold standard. Everyone knows what it means, or at least at this point they should. They could just ask you to "hang out" too. It probably still means the same thing.
Hotel? Motel? Holiday Inn?
If you are looking to go on a date and potentially have sex with this mystery person, a hotel bar may be the best possible spot. Sure, you are going to have to spring for a room but if you are willing to go through all this just to hook up, that might even be considered a compliment. At least a compliment to the kind of person who is looking to hook up with some stranger they just swiped on Tinder. Just don't make it a sleazy hotel. Be a little classy. Try places like the Omni, The Anatole, The Joule, or Hotel ZaZa. With the nice bars and hotel rooms readily available, you can put a classy spin on your skeezy hookup holiday.
Go all in
You've probably noticed Dallas-Fort Worth has a great deal of strip clubs. Some of them are pretty nice. For, you know, it being a strip club. It's a good option if you're looking to send your date a direct message along the lines of, "yes, we are going to do it" and "yes, things will get weird." Try taking your "special" lady to The Lodge, Spearmint Rhino, or The Men's Club. If male nakedness is what you're looking for, you can't go wrong with Tallywackers.
Dinner? Movie? Why not both?
It's a classic first date idea but at the Alamo Drafthouse, you can get dinner while watching a movie which is pretty neat. Plus, they have a full bar for all your social lubrication needs. So you can show up early to grab some drinks and actually talk to your date. Before you sit next to this near stranger for two hours hoping that they don't have some super embarrassing laugh and you will have to sneak out the fire exit and ignore any further correspondence with them forever.
Books and booze
The Wild Detectives is a perfect place to take that smarty pants Tinderella or Bumblebro. Why? Well, it's quiet, they have books you could talk about, a coffee bar, and, best of all, a bar bar. Grab some drinks and talk about what you're reading or impress them by picking up a book on your way out that you will pretend you're super interested in reading but really you mostly just read those books with titles like "1001 Jokes for the John."
Coffee date
Another classic date idea and for good reason. Coffee houses are generally quiet and esoteric enough that you can actually have a conversation with your love interest. But don't be a basic bitch and go to Starbucks. Show your date that you know the cool coffee spots by suggesting you meet at Mudsmith, Ascension, Oak Lawn Coffee, or The Crooked Tree.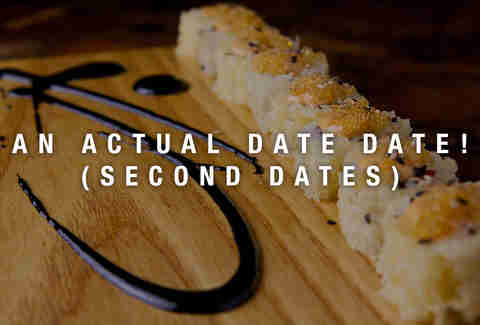 Grab dinner somewhere nice
You know, time to use that "buy one Whopper, get one free" coupon that you've kept sandwiched between an expired condom and a picture of your ex that you're still hung up on. No, don't do that. Razzle dazzle this new companion with dinner somewhere swanky like Nobu, Uchi, Al Biernet's or The Mansion.
Go for a more unique dining experience
If you're going to make the social commitment to eat in front of other humans, why not make it as offbeat as possible? And since shelling out on splashy five star dinners might not be in your budget, go for interesting over flashy. Raise the flag at Pancho's or eat Ethiopian with your bare hands at Gojo.
Make it an event
You live in a real city so use it to your advantage. Instead of planning some elaborate dinner and drinks, let the many free events and festivals do your date planning for you. With festivals like Untapped, Wildflower Arts, Index, and Homegrown, all you have to do is show up and hope your date thinks your Cartman impression is charming and not off-putting.
Find a place to walk and talk
So you don't hate the person. In fact, you somehow enjoy hearing words come out of this person's mouth hole. Check the forecast and take them to some place like the Arboretum, the Farmers Market, Dallas Museum of Art, or pack a picnic and head to White Rock Lake. Again, this is all also free if you're still trying to woo on the cheap.
Cook for them
Are you a Gordon Ramsay without all the yelling obscenities and threatening violence? Now is a good time to show that off. And while I'm sure those ramen hacks that you saw on the internet are really great, spring for some quality fresh ingredients from someplace like Central Market, Whole Foods, Farmers Market or, hell, even Trader Joe's. After all, you're trying to make this Facebook official, right?
Take me out to the something game
At this point, you should probably pull back the curtain and let them know that you are the kind of person who sports screams and sports cries when your team wins or loses. Take them to a Stars or Rangers game to prepare them for this. Maybe you secretly like metal bands who growl lyrics about goat sacrifices, maybe see if they'd like to take in a show with you? Now's the time you gotta get the weird stuff on the record.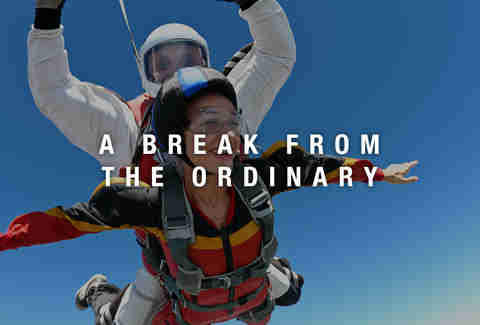 City swap
You live in Dallas proper? You should head to Fort Worth. You live in Fort Worth? Go to Dallas. You live in Arlington? Go literally anywhere else. Let's break the habit. Also, if you ride the Trinity Railway Express between Dallas and Fort Worth, you get to ride on those rad double decker trains like you're in a real metropolitan city.
Do something you've always wanted to do but were too scared
Have you always wanted to go skydiving or learn to snorkel? Well then what's more romantic than flinging yourselves out of a plane together? If you conquer your fears in front of this person you are starting to really like, they will be impressed. If you pee your pants in fear, just do a Billy Madison and try to pretend that it's what all the cool kids do.
Be a tourist
You've lived in this city for how long now but I bet you haven't even been in Reunion Tower. What about the creepy tunnels that run under downtown? Have you actually ever been to the Sixth Floor Museum? Going on a date is a convenient excuse for you to act like a touristy goober and maybe even buy a souvenir baseball cap for your special friend.
In front of this whole city
You want to do this? YOU REALLY WANT TO DO THIS? Alright, your funeral. Really, if you're pot committed and willing to go all in at this point, why not do it on the giant TV at the giant football stadium in front of people who have been tailgating in Arlington for 6 hours already?
From the best view of Dallas
Hands down, it's the Belmont Hotel. Go there. Stand by the pool at night. Look at the skyline. Get down on one knee. Fireworks. A clean shirt. The whole nine yards. Yeah. Love is a glorious thing. Besides, we've got a good feeling about you crazy kids.
Sign up here for our daily Dallas email and be the first to get all the food/drink/fun DFW has to offer.
Amanda Cobra wants to hear about your totally non-awkward dates. Get at her @amandacobra.