Dallas-Fort Worth has become one of the fastest-growing metropolitan areas in the US. Turns out we're really accessible -- with two major airports and multiple interstate highways running through town -- and we have the proper characteristics to charm visitors, with our Southern hospitality, beautiful skyline, and smorgasbord of restaurants & bars, many of 'em on the cheap. However, let's see if we can't make the trip a little cheaper, and the wait times a bit shorter, with this list that still offers a Big D welcome.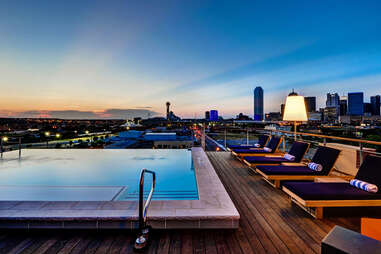 Skyline view
Skip: Reunion Tower
Instead visit:NYLO Hotel SODA Bar
After waiting for a reservation and dropping hundreds of dollars for a single meal, sitting atop Reunion Tower eating dinner isn't going to suffice for the best view of Dallas or the best experience you can have looking at our beautiful skyline.
So, head down to the Cedars and find the NYLO hotel. Its rooftop bar gives the FULL view of downtown, serves fairly priced drinks, and comes with an infinite pool for the heat and a fire pit for when it gets cold. You'll be helping your wallet exponentially. You could probably book a room at the NYLO, too, and spend the same amount of money that you would have at Reunion Tower.

Brunch
Skip:Oddfellows
Instead visit:Ten Bells Tavern
When family and friends come to visit on the weekends, it's only a right of passage to brunch. In Dallas, coming to the Bishop Arts District has become that destination to end your week and begin the next. But if you're going to do brunch right, you'll have to avoid the long waits and make sure the day drinks are cheap.
Ten Bells Tavern is that spot. It has $3 Bloody Marys, screwdrivers, and mimosas, and even $10 mimosa carafes from 11am until 3pm. The chicken and waffles may even be the reason that Roscoe's Chicken and Waffles filed for bankruptcy recently. It's just that good!
BBQ
Skip:Pecan Lodge
Instead visit:Cattleack Barbeque
It's no lie that saying one place's barbecue in Dallas is better than another is the segue to fisticuffs. While Pecan Lodge is rightly upheld by pitmasters as the best barbecue in the land, if you're looking to avoid the long lines and still get a true Texan barbecue experience, Cattleack has your back. It announced on its website that between 1-2pm is the best time to avoid long waits and get savory smoked goods. Cattleack even has a hotline that you can call to see what meats are still available. Eat it there or take it on the road with you, but don't miss the chance to get great barbecue without the long wait. But be sure to take a post 'cue nap before heading out to go...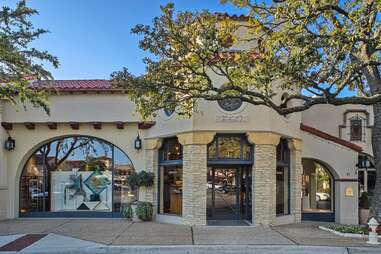 Shopping
Skip:NorthPark Center
Instead visit: Highland Park Village
Dallas' flashy lifestyle and expensive shops are a big draw for visitors from all over. However, parking, driving, and walking all over NorthPark Center can take a full day in and of themslves. If you want the glitz and glamour of Dallas shopping without the feeling of high school hallways, your best bet is to head to Highland Park Village.
Highland Park Village is full of shops that most only hear about in hip-hop songs, or see worn on the red carpet. There's even the chance you'll run into some celebrities on your own quest there. Once you're done spending a pretty penny, find a flick to catch at the movie theatre.
Parks & recreation
Skip: Klyde Warren Park
Instead visit:White Rock Lake
If Leslie Knope taught us anything, it's that parks are something to be treasured and loved. They're useful as an escape from everything, and a chance to be at peace with nature. If you're needing a bit of nature with more privacy and some comforting shade, while avoiding Downtown parking and the sound of a highway beneath your feet, then you have to go to White Rock Lake. You'll have over 1,000 acres of open space and a stunning view of Downtown. There's even a dog park and events year-round that are family friendly, or even solo fun.
Live music
Skip:House of Blues
Instead visit:Trees
Don't waste your time in Dallas by going to a chain venue with overpriced beverages! You aren't going to get the authentic Dallas nightlife and music vibe that way. Head to Deep Ellum, where there are stacks of venues all down the street, and constant live music.
You're bound to throw a rock in Deep Ellum and hit somebody that will tell you they were at Trees in '91 when the infamous Nirvana incident took place. You're also bound to hit someone who has seen some other hardcore rock 'n' roll shit happen that wasn't Nirvana. Trees has been a Deep Ellum staple since the early '90s, reopened in the late 2000s, and still offers a wide array of acts from different genres, generations, and geographies. Be sure to ask about what happened.
JFK
Skip: Taking a JFK tour
Instead: Take the DART around Downtown and then to Oak Cliff
Let the conspiracies unfold, and save your money. Instead of paying your hard-earned dollar on an expensive JFK tour, pull up a Wikipedia page, and when you're done reading, purchase an all-day pass for the DART for $5. Getting to Downtown and accessing the grassy knoll is only the beginning of it all. You can see the infamous sixth floor and postulate your magic bullet theories all on your own; try to relive and reshoot that notorious Erykah Badu music video; and then jump on the tram down to Oak Cliff for cheap. Hulu and James Franco's take on Stephen King's take of the JFK assassination gives you clear-cut locations that public transportation will take you past. After you've seen Lee Harvey Oswald's house, you can head to the Texas Theatre -- where Oswald ran post-assassination -- to catch a kitschy film and a stiff drink!
Festivals
Skip:Index Fest
Instead visit:Untapped Festival
The main reason to skip Index Fest: they cancelled it recently. So get your need for great live music and carefully curated craft beer from Untapped Festivals. Both of the fest's locations (either Fort Worth or Dallas) come with a great backdrop of their respective skylines. Visiting Untapped allows you to choose 1) the location, 2) the time of year you'd want to go to a festival, and 3) the lineup that you'd prefer. What more could you ask for? Oh? Beer SAMPLES? Well, they've got you covered there, too.
Sign up here for our daily Dallas email and be the first to get all the food/drink/fun DFW has to offer.
Lucas Buckels is a freelance writer in Dallas, TX, with a love for brunch and conspiracy theories. Follow him for more updates on his next round of mimosa carafes and theories on why they're so cheap: @lcsbckls.