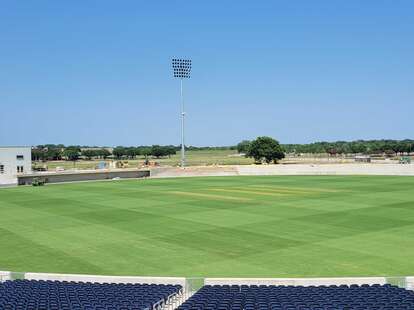 Grand Prairie Stadium, home of the Texas Super Kings roster.

| Courtesy Major League Cricket.
Grand Prairie Stadium, home of the Texas Super Kings roster.

| Courtesy Major League Cricket.
Baseball may be America's national pastime, but globally its popularity doesn't come close to cricket. The other—and much older—game with bats and balls has origins dating back to the 16th century, and estimates put its fanbase at more than 2.5 billion people, second only to soccer. Major League Cricket debuts July 13 in Dallas, er, Grand Prairie technically. With this newly formed US pro league, fans in North Texas and around the country will have a chance to cheer on local teams in person.
The new league features six teams, including the Texas Super Kings, which will play its games in Grand Prairie. Other teams are based in Los Angeles, New York, San Francisco, Seattle, and Washington DC.
"The Dallas area has one of the largest groups of cricket fans in the country, with hundreds of thousands of expats from countries such as India and Pakistan in the area who love the game," says Tom Dumore, VP of Marketing for Major League Cricket.
All matches take on the Twenty20 (or "T20") format, which is a shortened version of the traditional game that was introduced professionally about two decades ago.
Here's what you need to know.
First, a (very brief) primer on cricket
"Cricket dates back to the 16th century, and sometimes the perception of it in the general population in the US is that it's a stuffy game for British men in top hats, but nothing could be further from the truth," says Dunmore. The T20 format, especially, is known for its fast-paced play, big hits, music, and fireworks. Matches clock in around two and a half hours, and the ball's in play a lot more than in baseball, where abundant strikeouts can keep fans waiting multiple innings for action. For more on the rules, check out this helpful explainer from Vox.
Meet the Texas Super Kings
Earlier this year, MLC hosted a draft that allowed each team to select nine domestic players—most plucked from the Minor League Cricket circuit—and round out their rosters with international signings. Captain Faf du Plessis hails from South Africa and has enjoyed a successful career there as well as in the Indian Premier League (IPL).
The Super Kings are coached by Stephen Fleming, a former captain of New Zealand's national cricket team and the current head coach of IPL team the Chennai Super Kings. That's not just a coincidence. The Texas team is co-owned by the Chennai Super Kings along with Ross Perot Jr. and businessman Anurag Jain.
The first season is a quick one
The inaugural season is more like a tournament, with 19 matches played July 13 through July 30, when the championship takes place in Grand Prairie. Dunmore explains that next year is likely to enlist a similar format, especially as the T20 Men's Cricket World Cup will also host games in the US. But as the league grows and stadiums are built in the home cities for each team, we can expect the season to expand in length and matches to occur in more markets.
How to watch Major League Cricket in Dallas
The Super Kings have taken over the old AirHogs baseball stadium in Grand Prairie, renovating the space to accommodate 7,000 fans and a professional cricket pitch. The majority of games will be played in Grand Prairie this season, with additional games held at a dedicated cricket pitch in Morrisville, North Carolina, outside of Raleigh.
The first match is Thursday, July 13, when the Texas Super Kings take on the Los Angeles Knight Riders.
If you can't attend in person, no worries, matches will also be available to watch on TV. Live matches will be shown on Willow TV, a dedicated cricket channel, and available to stream on Sling TV.
"There's a reason the IPL now rivals the NFL and the English Premier League for media rights revenue," adds Dunmore. "It's a fantastic experience to watch live on TV or in person."
Kevin Gray is a freelance writer and editor covering food, drinks, and travel. He's written for publications including the Dallas Morning News,
Eater
, Forbes,
InsideHook
and Travel + Leisure. Follow him @kevinrgray.