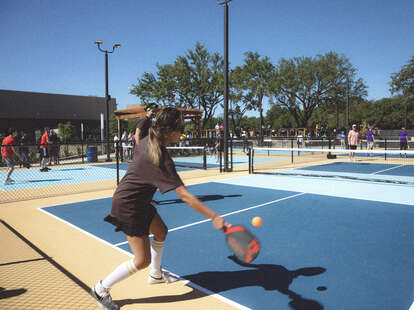 Courtesy of The Sandy Pickle at The Village
Courtesy of The Sandy Pickle at The Village
If it seems like everyone and literally your mom is playing pickleball right now, that's because it's true. Pickleball is the fastest growing sport in the US—as anyone who plays is quick to tell you—and courts are popping up all over the metroplex. Often that means temporary nets on tennis courts, much to tennis players' collective chagrin. But increasingly we're seeing complexes dedicated to pickleball, like Chicken N Pickle with locations in Grapevine and Grand Prairie. The latest spot to enter the pickleball fray is The Sandy Pickle, a leisure sports paradise that opened October 21 in the Village.
The Sandy Pickle was built into the Village Country Club space, which already housed two golf simulators, an 18-hole putting green, and a bar. Now you'll also find six pickleball courts, six sand volleyball courts, a food truck, and more common areas to gather between games. The pickleball and volleyball areas are separated by an elevated wooden deck that's stocked with tables and chairs and looks out over the facilities. It's a great perch for watching your friends play if you're more interested in drinking than dinking.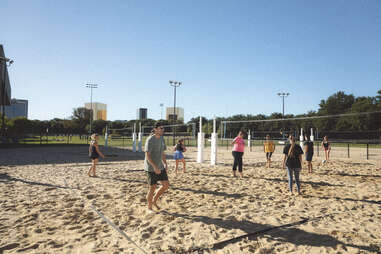 Courts can be reserved online or via a corresponding app, then once you arrive to play, check in at the front desk for your court assignment and to rent equipment if you didn't bring your own.
If you're just there to eat and drink, head straight to the outdoor bar or the food truck. The bar serves local beers, seltzers, wines, and straightforward cocktails, like the Aperol Spritz and Old Fashioned, plus a couple of frozen bevs that might taste better when summer rolls around again. In keeping with the theme, there are also three Picklebacks on the menu: one with Jameson, one with vodka, and one that combines tequila with pickled jalapeño and pineapple juice.
The truck is slinging burgers, fries, a chicken wrap, and Luscher's hot dogs, plus fried pickles. Since The Sandy Pickle opens early, it will also begin serving a few breakfast options, along with coffee, juice and Mimosas.
Weekly drink specials will keep your bar tab manageable. Tuesday is Bumps and Brews, which means $2 drafts all night, and Wednesday is Dink n' Drink, with half-price "nostalgia" cocktails—their term for classics.
On opening day around 1 pm, all six pickleball courts were occupied, and four of the six volleyball courts were in use. A few people hung at the bar, sipping drinks. It was lively, but not crowded, and live music played from just off the bar's patio.
The Sandy Pickle will host leagues and tournaments, for anyone who's feeling competitive, and there are clinics for those who are new to the sport. The venue is family friendly, and even features kids' clinics during the day, explains Tricia Sereno, the Director of Community Engagement at The Village. But she expects it to transition to a primarily adult hangout after 8 pm.
The Sandy Pickle is open Sunday through Thursday from 7 am to 10 pm and Friday and Saturday from 7 am to midnight. Pickleball and volleyball courts can be reserved online or via the app. It's $40 per hour during peak hours, and $30 per hour during off peak hours.
Kevin Gray is a freelance writer and editor covering food, drinks, and travel. He's written for publications including the
Dallas Morning News
, Eater, Forbes, InsideHook and
Travel + Leisure
, and if he's slow replying to your email it's probably because he's off exploring a new country. Follow him on social media @kevinrgray.