Growing up in Plano wasn't much different from growing up in any other American suburb. Aside from the heroin epidemic in the late '90s and the plethora of BMWs and Mercedes parked in my high school parking lot, life was pretty normal. There aren't too many bad things that can be said about the city, yet somehow it still doesn't get the respect it deserves.
It doesn't matter how many "10 Best Suburbs in America" lists it's on or how many awards its schools win, people will always think of us as Dallas' bratty, nouveau-riche little stepchild. Of course, when Toyota Corporate chose Plano over Dallas as its headquarters people started to take notice... Why? Because Plano is much more than just a bunch of rich kids running amuck with daddy's money, MUCH more in fact. Here are the 11 things that make Plano amazing.
1. We are consistently rated the best place to live
Plano is consistently rated as one of the best suburbs in America to live in. All of those lists couldn't be wrong could they? Of course not, things like jobs, affordability, good schools, and parks are taken into account, and Plano excels in all of those areas.
 
2. Plano is a shopper's dream
Good luck finding a Target, Walmart, Costco, and mall all within a mile radius in Dallas. You know you've made it when you have an IKEA.
3. We have money
A lot of it. When there are jobs, there's money. When there's money, people spend it. When people spend it, they build things -- things like The Shops at Legacy and the newish West Plano Village. There's also a few luxury residential high-rises headed in Plano's direction in the next few years. Needless to say, life in Plano is good. Really good.
 
4. We have to be the cougar capital of the world
Maybe it's the demographics, maybe it's the money, maybe it's because their husbands work too much, who knows? But visit The Shops at Legacy on any weekend, and there are cougars on every corner sipping chilled rieslings and frozen margaritas. The best part about all of this is these women can actually buy you a drink for once. Pro tip: be sure to check for a wedding ring before you accept that drink from Stifler's mom.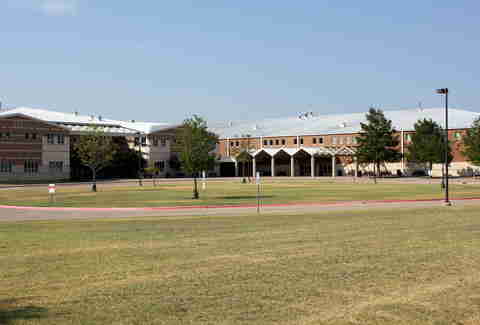 5. Our schools are pretty amazing
Plano has one of the best school systems in the nation. Whether it's test scores, numerous accolades, or sports programs, Plano means business when it comes to education. To top it all off, these are public schools, not private. Take that Dallas.
 
6. Corporations love us
From Toyota and JCPenney to Dr Pepper and Frito-Lay, corporations love Plano. Maybe it's the tax breaks, maybe it's the abundance of cougars.
7. Downtown Plano > your Downtown
Downtown Plano is wholly underrated. Checkout Urban Crust for mouth-watering wood-fired pizza or The Fillmore Pub for a frothing, ice-cold craft beer. There are cozy sidewalks with outdoor cafes, monthly Downtown events, live music, and it's close to the DART if you need to zip up to Dallas. But why do Downtown Dallas when you can enjoy yourself right here?
 
8. You'll be pretty safe
We are one of the safest cities in America. Sure there's crime everywhere but it's less likely to happen here. A lot less likely.
9. We have a hot-air balloon festival
Forget New Mexico, every September 23rd-25th hot-air balloons gather at Oak Point Park, and there's a huge festival with live music, fireworks, and even a special kids' zone. Hot-air balloons are fun; hot-air balloon festivals are even more fun.
 
10. We have two top-notch parks
Despite being in the heart of suburbia, we still have two epic parks. Arbor Hills Nature Preserve is a 200-acre park with trails, a playground, a picnic pavilion, and lots of wild animals. There's also Oak Point Park & Nature Preserve with over 800 acres of bike & hike trails, creek & lake views, and picnic tables. Who said you can't find nature in the suburbs?
 
11. It's surprisingly affordable
Sure, there are plenty of luxury homes here, but on average our real estate is very affordable. When you factor in all of the other great things Plano has to offer, it's a bargain. So whenever people turn their noses up at Plano, they'll be doing it from a condo, and you'll be relaxing in your large green backyard with your feet up.
Sign up here for our daily Dallas email and be the first to get all the food/drink/fun DFW has to offer.
David Maez is a regular contributor to Thrillist, marketing and social media ninja, caffeine junkie, hustler, and overall righteous dude. If you like music, Porsches, Guinness, or Martin Scorsese movies you will probably hit it off pretty well with him.