<a href="http://www.shutterstock.com/gallery-69090p1.html?cr=00&pl=edit-00">Philip Lange</a> / <a href="http://www.shutterstock.com/editorial?cr=00&pl=edit-00">Shutterstock.com</a>
To the unschooled and insular citified masses who live in the heart of Dallas, there's a whole world of communities outside of the boundary that is "the loop": they're known as the suburbs. Suburbanites, you aren't that much different than the folks in the city center, yet a handful of telltale signs exist that differentiate you from, say, downtown dwellers. Here are a few surefire ways to tell if you (or someone you love) is a suburbanite.
You think Dallas is "far"
Come on -- thanks to our car-happy local culture, highways and tollways are plentiful, and you can jet from downtown to McKinney in less than a half-hour. Get off your duff and drive!

Your Dallas friends never come to visit
Because "far." Friends: see the above. Or, you: get better friends.

You cheer the arrival of a non-chain restaurant
Seriously -- bust out the good champagne when a non-Shenanigan's comes to town. Because as one of the biggest restaurant concept test markets in the country, the Dallas area scores a heap of chains, and a lot of them land in the 'burbs. That said, they keep landing in the 'burbs for a reason -- you only have yourself to blame 'burbanites!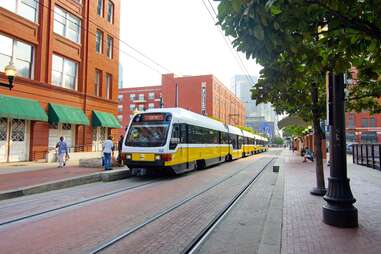 You have no clue how to navigate DART Rail
Alas, you're too far to partake of light rail. Don't feel so bad: The Dallas Area Rapid Transit's scattered rail system barely helps those of us in the loop, either. But the suburbs really, truly get a raw deal.

You're single... and the exception
Hey, everyone moves to Plano and Frisco for the schools, so we hope you weren't expecting a sizzling-hot nightlife or that you don't wonder why it might be hard to meet other singles out there.

Your high school could not have been less DARE friendly
And you thought you were being totally hardcore sipping a malt liquor or wine cooler once a quarter until you saw your school on the evening or national news. Feel free to gloat to your parents that you were one of the good kids all along.
You're not used to walking anywhere
Unless you're mall-hiking, nothing's really close to anything else, or your home. Face it, your city planners were all about housing and retail acreage. Walkability and greenspaces? Not so much. While it's not a ton better in Dallas, we at least have a few walkable portions of popular neighborhoods.

Those one-direction streets in Downtown Dallas terrify you
Oh, we've seen you cluelessly trying to hang the wrong right onto Elm St (we were the ones honking). It's OK if you wonder how average civilians effortlessly remember which streets go which way -- but next time, take Uber.

The rampancy of valets baffles you
The phenomenon of valet service everywhere is definitely spreading northward, but if you're from the Mid-Cities or the exurbs, you might ponder the necessity of valet at the mall, the coffeehouse, or the corner taco joint.

You work for a major corporation
If your work badge reads Dell, Frito-Lay, or HP, chances are you live a stone's throw from your company's gigantic suburban digs. Can't blame you -- who needs that commute?

You drink (and enjoy) crappy beer
This one's a sad one, because really great microbreweries are choosing to root themselves in the suburbs of late, so there's really no excuse to sip bad suds. But we've heard time and again from some damn good restaurateurs that they can't fathom opening an outpost in the suburbs without offering bottles of... er, cans of... well, you know the ones. (Note: this does not apply to non-hipster/unironic drinkers of the stuff.)
You host all of the barbecues and parties
All hail the mighty backyard. No more scraping off years of gummy char from the grill at your apartment's community pool. Or getting busted for keeping a baby Weber on your wooden balcony. You've got your own grill (and smoker!) taking up a prime corner of your yard -- plus, with all the street parking out front, you can invite all of your buds.

You've seen the end of the George Bush Turnpike
Where the hell DOES that thing end, anyway?

Sign up here for our daily Dallas email and be the first to get all the food/drink/fun DFW has to offer.
Farah Fleurima is a Dallas-based food writer who is known to wave at the suburbs when she drives past. Find her local musings at The Dallas Diva and on Twitter at @TheDallasDiva.