Leena Robinson/Shutterstock (edited) | Jennifer Bui/Thrillist 
Leena Robinson/Shutterstock (edited) | Jennifer Bui/Thrillist 
Do you find your mother and other loved ones often saying, "You darn kids these days with your hip lingo and cellphones and texting and the Facebooks! I can never understand what you're saying!" Just me? OK, great. Regardless, folks in Dallas have developed a language all their own, in large part, to give the lay of the land and make giving directions somewhat less confusing. These are the terms we've all used to get by.
DFW nicknames

Big D
Obviously one of the best-known, it was first used in the Dallas Morning News in 1976, and has been popularized ever since. Nationally -- and even internationally -- any time Big D is uttered, there's no need for clarification. Unless you count that one Mark Chesnutt song.
Triple D
While it's more likely that this is a reference to the city of Dallas' logo being comprised of three Ds, I'm still holding out for it to be about Debbie Does Dallas. Call me an optimist.
City of Hate
This one stems back to that whole "JFK dying in our city" thing. After the assassination, the country -- and likely the world -- turned against Dallas and hated us for getting the President killed. I'd like to point out the hypocrisy! No one called Washington DC the City of Hate after Lincoln's evening at Ford's Theatre.
Aggtown
Does anybody have any clue how Arlington became known as Aggtown? We've read and heard different urban legends, from drugs to UTA being associated with A&M, to DVDs of fights that happened at a high school in Arlington. Regardless where it started, if you hear someone mention Aggtown, they're referring to that place near JerryWorld that's halfway between the Big D and...
FunkyTown/CowTown/Where the West Begins
All monikers for Fort Worth. Don't really need to go into detail here.
Metroplex
It took me too long in my adult life to realize that Metroplex is a term exclusive to DFW. It was created due to Dallas and Fort Worth having such a large metropolitan area that they overlap, creating a "plex," whatever the hell that means.
Jerry World/Death Star
If you ever find yourself in Aggtown and it's a Sunday, chances are Jerry World is packed. Despite the huuuuuuuuge love/hate relationship with the Cowboys that varies week to week, and even more so as it relates to Dallas and Jerry Jones, the latter has earned the popular nomenclature for the new Cowboys Stadium.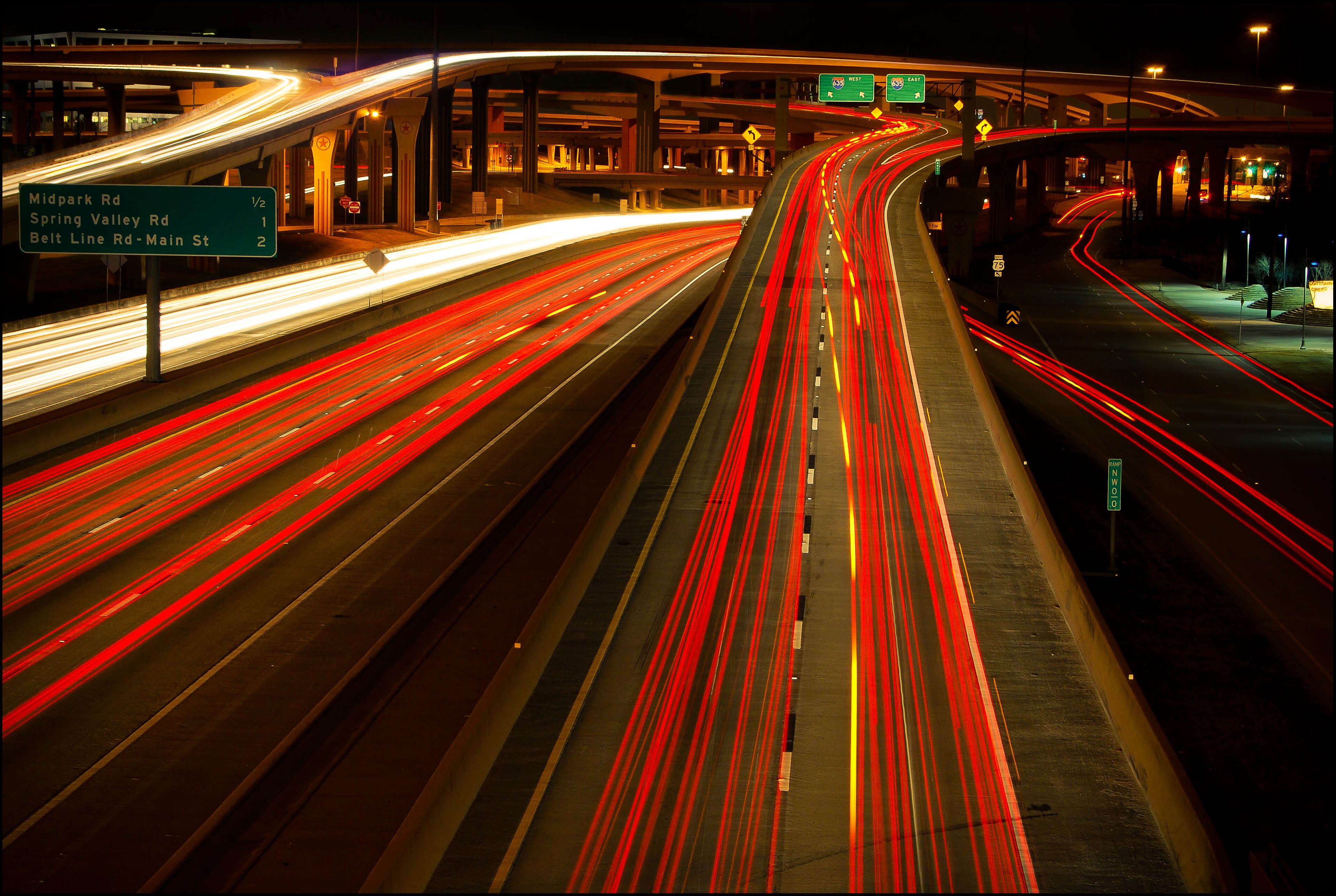 Roads and the like

Large Marge
You know that gorgeous bridge that fills your Instagram feed multiple times a week (more if it's a streak of beautiful days)? Many people refer to good ol' Margaret Hunt Hill as Large Marge. This is the beautiful beast to which they are referring, and not your loud bigoted aunt at family holidays.
Central Distressway
Even though this is referring to Hwy 75, or Central Expressway, you're more likely to find distress if you go a little farther north on 75 and hit 635.
High-5
That whole five-tiered, jumbled mess where 635 and 75 meet.
Mixmaster
You've certainly heard the traffic reports on the radio telling you to avoid the mixmaster. If you're unfamiliar and confused about what it is, it's where Interstate 30 and Interstate 35 split off of each other. The main problem with the mixmaster NOW is that, for the first time in 30+ years, the lanes and exits are changing sides and directions. If you were already confused by the mixmaster, be prepared to be even more confused.
Neighborhoods

Deep Ellum/Central Track
Little-known fact: Deep Ellum actually started out as Deep Elm. But the southern drawl and lazy saying of "elm" changed the whole way we refer to one of the most vivacious areas in Dallas. Also, Pete Freedman's online news alternative Central Track makes a lot more sense after reading that Deep Ellum was called Central Track due to its proximity to the Houston and Texas Central railroad. (Insert "The More You Know" .gif from NBC here.)
The Cliff/OC
While you may think you're sounding hip/cool by referring to Oak Cliff in this manner, you're more likely being obnoxious.
HPV
I swear on Tom Landry himself, I've heard (on multiple occasions) High Park Village referred to as HPV. Not entirely sure if it's in an ironic effort to be edgy, or just complete absentmindedness. Granted, if you hear that someone with a lot of money is going to HPV, this may be their reference point, and not that venereal disease.
Any more common Dallas slang come to mind for you? Feel free to leave it in the comments. In the meantime, I have to go over Large Marge, leave the cliff, head up Central Distressway, and get a Tony Blomo jersey.
Sign up here for our daily Dallas email and be the first to get all the food/drink/fun DFW has to offer.
Lucas Buckels is a freelance writer who's still waiting on TIDAL to send him the download link to Kanye's new album. Follow @lcsbckls to figure out when he gets The Life of Pablo.