Not all career paths are filled with adorable puppies or backstage rock 'n' roll parties. But some are. These 14 Dallasites are doing some damn cool stuff in jobs that you may want to consider beefing up your resume to get.
Julie McCullough, Producer, Designer and Maker, Folksie/Event Coordinator - The Pin Show
From designing clothes for hit-makers to wear when walking the red carpet at the Grammys to renovating the inside of an Airstream, each project she takes on is a one of a kind unique.
How she got the job: I taught myself to sew to open my first business, MAKE, back in 2005. It has evolved over the years from classes to designing, consulting, producing events, and now running a garment and furniture small batch manufacture.
The best part of the job: I love that I do different things throughout the year. I wouldn't survive if I had to do the same thing all the time so I create opportunities where I get to be a part of things outside my studio. I am a part of so many amazing teams like Art Conspiracy, Bonnaroo, Dallas Arts District, and The Pin Show. I also have built-in a travel schedule for my brand, so I can get out and be inspired.

Isaiah Evans, Director of Vintage Guitars - Heritage Auctions
Jamming with your musical heroes isn't just another day at work for most people but it is for this guy.
How he got the job: Right place at the right time. An old friend from college recommended me for a job with the company in the Vintage Movie Posters department. That was a specialty of mine, along with vintage guitars and old cars. A few years later, I was offered a position with the then newly formed Vintage Guitars department. I guess it pays to be a nerd about old stuff.
The best part of the job: The diversity of the people that contact me about their guitar collections. I've rubbed shoulders with everyone from Rock and Roll Hall of Famers to literally a little old lady from Pasadena. That's the cool part, the people I meet and the stories they tell. Getting to play some of the rarest and greatest guitars on the planet isn't half bad either.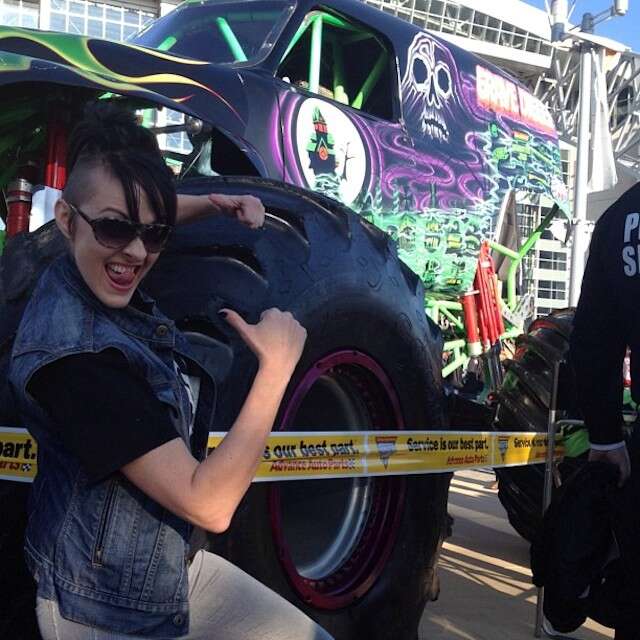 Kim Finch, Owner - Double Wide and Single Wide
If you've ever thrown back one of their Yoohoo Yeehaw cocktails under the shadow of a rotating prop tornado, you know the trashy appeal of these beloved Dallas watering holes.
How she got the job: Almost 11 years ago, I was working at Double Wide as my second job. One day it just closed with no notice, doors locked. I had a day job working for a designer, remodeling showrooms and houses so I wasn't completely out of a job. But I ended up buying Double Wide the next day to keep it open, which is funny because I was trying to get out of the bar business at the time. But it was Double Wide! It reminded me of home state of Oklahoma. Then six years later, Single Wide was born.
The best part of the job: Coming up with new parties and events is always fun. Creating a space to see people smile, laugh and have a good time. Yeah, I'd say that's a damn cool job. Our parking lot parties are quite unique. I think one of the first ones was an after-party for Warped Tour party that all the bands and crew came over for. That one was probably the craziest. People partying, doing very interesting and wacky things and that is an everyday occurrence here so the crazy stuff is now my normal.

Richard "Cash" Sirois, President - The Well Creative Productions
Do you get to make viral videos with one of the Top 10 highest scorers in NBA history whenever you want as part of your job? Because he does.
How he got the job: Man, I have no idea. Looking back I feel like I've been making all of this up as I went along. I was a sports reporter for years, which lead me into production at Fox Sports Southwest and then the position of Creative Director for the Mavs. There's no amount of work ethic that can get you a gig with an NBA team two years before they win a championship. So, when it came time to create The Well, there wasn't a whole lot of looking back.
The best part of the job: There are these moments, and we are lucky to have them all the time, that no words can describe. I'm nothing without the people I work with. Literally nothing. They are more talented than me, smarter than me, and obviously, better looking than me. Not to mention the fact that we've gotten to turn Dirk into a rapper, The Jerk, Donald Trump, The GEICO camel, Christopher Walken, and Batman over the last seven years. And we've sent his bobble head into space!
Gordon Keith, Talk Show Radio Host - The Ticket
From being arrested for yelling "Bart Starr was not that great" into an empty Lambeau Field to creating a Fake Jerry Jones so convincing that the real Jones makes him do at parties, it's all bits with this one.
How he got the job: I started as an unpaid intern in January of 1994, two weeks before the station went on the air. I started off doing funny bits and characters for the morning drive show, which at the time was hosted by the eternally affable, loyal, and humorous Skip Bayless*. That lasted about two weeks. Then I sort of hung around making jokes until The Hardline and The Musers brought me on the air. When The Musers moved to morning drive in October of 1996, I became their partner. Luckily, due to divine providence and uncorrected clerical errors, I've worked decades at a sports station without knowing anything about sports.
The best part of the job: This job saved my life. Before the Ticket, I was an unemployed and undirected soul with a poor work ethic. Now, I'm employed. But more than that, it gives me utility. It is a wonderful thing to feel useful. Our show helps people burn the dreary hours of their morning commute to Very Real Jobs. I've said it before: we may not be curing cancer but we might be entertaining the person who will cure cancer as she makes her way to the lab and that's worth something.

David Burrows, Co-Founder - Laundri
A tech and startup veteran wants to dig through all your actual dirty laundry. But not in a weird way.
How he got the job: My partner, John Sanchez, and I worked together in a previous company where I had hired him to help with digital marketing. One evening, he accidentally texted me about an app he was working on. The next day at work, I asked him about it. He was quite worried about being fired. To make it worse, I asked him to come in my office and shut the door to talk about it. I told him about looking at similar business opportunities and we decided to work together on the concept. By August 2015, we launched Laundri, a mobile, on-demand dry cleaning and laundry business."
The best part of the job: "One minute, I'm presenting the business to a downtown tech group and an hour later, I'm delivering 30 freshly pressed uniforms to a school or 50 sheets and towels to a spa in Highland Park. Not to mention, we've cleaned everything from soiled dog beds to a one of a kind $20,000 Donna Karen runway dress. Startups require a 'do whatever it takes' mentality and that's actually what makes it fun.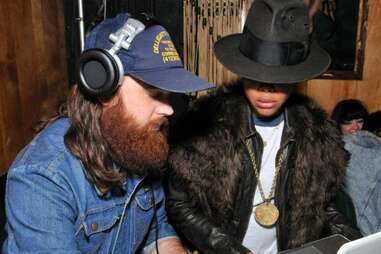 DJ Josh Hammertimez, Founder and host - The Original Good Luck Karaoke
Who says that you need a special occasion to get dressed up in costume and sing passionate but off-key karaoke? These guys just call that "Thursday".
How he got the job: My friend Oliver Peck (Dallas native and star of Spike TV's Ink Masters) and I founded Good Luck Karaoke on the premise that we loved karaoke and Halloween costumes. Over the last five years, I've been a rodeo clown, a beekeeper, a personal injury attorney, a New Year's Eve baby, and a TSA Agent to name a few. We've found enough support to take Good Luck Karaoke to New York in the past; we'll be in Austin this month and California at the end of February. Since Oliver's job has him traveling a lot, George Quartz has also proven to be a very complimentary factor in our weirdness as one of our co-hosts.
The best part of the job: The wackiest part of what I do is leaving my house in drag, or let's say, a Kimono with full Kabuki makeup to drive downtown to the gig. Every time, I can't help but think of a hypothetical conversation I'd have if I were pulled over by a traffic cop. Pulling that kind of thing off every week with my good friends, many of whom don't even sing karaoke, makes this kind of work very social and for a guy like me, it's hard to call that a job.
Agustin Gonzalez, Founder and CEO - Paranoid Fan
Instead of spilling your beer on the person next to you and then apologizing profusely, maybe next time try making friends at a sporting event by finding fellow like minded fans via the Paranoid Fan app.
How he got the job: Prior to starting Paranoid Fan, I was a money manager at Merrill Lynch in Dallas. I raised a round of $500k worth of seed money from local investors to get Paranoid Fan off the ground. And now we've been featured by CNBC, Buzzfeed, Yahoo, TechCrunch, and more.
The best part of the job: We are building a product with an uncertain demand with investment capital. So the stakes are very high. For instance, our team is moving to Silicon Valley tomorrow for a month to pitch to venture capitalists and media.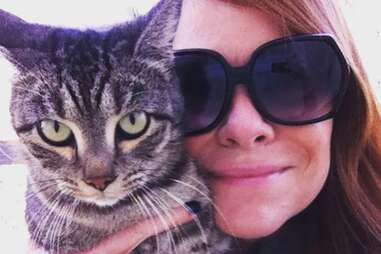 Meri Dahlke, Co-owner and cat herder - Ten Bells Tavern and Eight Bells Alehouse
The owner of this popular Oak Cliff neighborhood tavern known for the bar cats who hang out on the patio is proud to use her business to help out her furry friends.
How she got the job: My family owned taverns in Wisconsin so I grew up behind a bar. I always thought owning one would be fun but I knew I wasn't smart enough to do it on my own. I met Michael (Hickey, co-owner) and the rest is history.
The best part of the job: Doing the animal rescue fundraisers. We've done way over a dozen now and I'm always proud of the money we raise. I also enjoy my mornings with the kitties of Ten Bells.

Dan Glaser, Dog Trainer and Behavioral Specialist
From reigning in the instincts of a new pet to helping abused animals overcome trauma, it's not a bad day when you get paid to play with puppies.
How he got the job: I got into this because my family were champion breeders and show dog handlers back in the 1970's. So my love and understanding of dogs came natural to me. I started volunteering for dog rescues and adoption events and always got compliments on how good I was with the dog and how they listen to me and respected me. Someone suggested that I get into training so I started watching every television dog show and video I could get my hands on and watching my six dogs interact with each other; their natural instinct and the way they interacted, taught and reacted to each other. And now I am one of the most popular and busiest dog trainers in DFW.
The best part of the job: My favorite part of the job is being able to make people's lives less stressful and their bonds with their dogs stronger. I get to meet and love on hundreds of dogs every year. I consider every new dog that I train to be part of my pack. Nothing beats being able to help dogs, play with puppies and meet a lot of really nice people.
Katherine Clapner, Chef/Co-Owner - Dude, Sweet Chocolate
Spending every day tasting and coming up with unique, small-batch chocolate concoctions and treats is a dirty job but somebody's gotta do it.
How she got the job: Through a collaboration with my business partner, Redding, while he was with Merrill Lynch.
The best part of the job: It's a toss-up between when a recipe idea comes out better than you ever imagined or hearing the laughter from my crew in the kitchen every day. I have the best crew ever. My job rocks. I make chocolate with the sweetest and hardest working kitchen crew around.

Scott Beggs, Co-Owner, Three Links
You might know Three Links as Deep Ellum's Little Music Venue That Could. You also probably know them for the live music blasting from their open garage doors nearly every night of the week.
How he got the job: I decided I'd probably never make it as a musician (I played bass) so in 1995, I was managing a band from East Texas and going to school in Commerce. After an internship, Dale Brock (now Kirtland Records) hired me as his assistant at Alliance Entertainment. In addition to a roster of a dozen bands or so, we also booked Club Clearview. I knew pretty soon that I'd prefer to be a talent buyer and when Trees assistant buyer position opened, I got the job around 1997.
The best part of the job: The part I love most about my life is the people I'm surrounded by on a daily basis. I actually enjoy the business side of music. In regards to Three Links specifically, I'm proudest of the fact that even though we are considered by many to be a "punk" bar, people from all walks of life can feel welcome and enjoy themselves at Three Links even though they may have next to nothing in common with the person sitting next to them.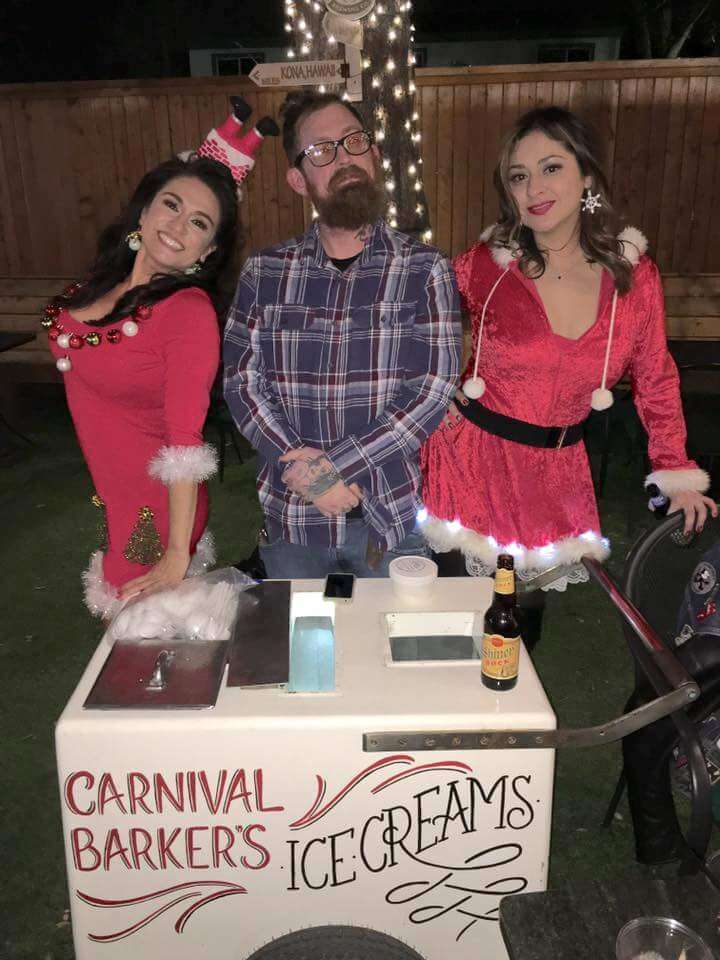 Aaron Barker, Founder and Owner - Carnival Barker's Ice Cream
Flavor experimentation and a punk rock approach to everyone's favorite sweet treat has set this dessert expert apart from the pack
How he got the job: I was working for fat cats in suits making them rich at a major retail clothing store headquartered here in Dallas. When they laid me off, I decided never again and I burnt all my button up shirts, slacks and patent leather belts and shoes. About the same time, I was in Austin for the July 4th weekend and I was trapped in a cheap motel room because of not having an air conditioner in my truck and it was well over 100 degrees outside. I was watching a three-hour documentary on ice cream and they had a 20 minute section on the Ice Cream College at Penn State. I had a eureka moment and made up my mind right then to attend that ice cream college. I couldn't think of anything more fun and interesting.
The best part of the job: What I like most is the freedom to be creative in my marketing and flavor concepts. Also, I don't have to answer to anyone but my customers, landlord and the taxman. That's pretty cool to me.
Gavin Mulloy, Creative Director - The Bomb Factory & Trees
If you're excited about one of your favorite bands coming to town and playing at a cool, resurrected Deep Ellum venue, you probably should thank this guy.
How he got the job: Clint & Whitney Barlow decided to ore-open the Bomb Factory in Deep Ellum and I was fortunate to join them at The Bomb Factory & Trees.
The best part of the job: Honestly, seeing local artists get off stage after they played a set that really resonated with the audience. But also I see concerts for a living. Ha!
Sign up here for our daily Dallas email and be the first to get all the food/drink/fun DFW has to offer.
Amanda Cobra is a highly venomous snake native to Africa and Asia that spreads the skin of its neck into a hood when disturbed. She is also sometimes known as a "Shelby Cobra", a British sports car with an American Ford V8, produced intermittently in both the US and UK since 1962. Follow her reptilian and gearhead exploits on Twitter @amandacobra