The Best Free Places to Work Out in Dallas
We know, you've already broken your New Year's resolution. In fact, you're reading this as you eat raw cookie dough, washed down with cheap gin, and in a break between online shopping binges. But here's the thing, all hope isn't lost. Don't start waving the white flag or burning all pants that don't start with the words "sweat" or "elasticated waist."
And for God's sake, don't shell out tons of money trying to look like The Rock trying to fit into his prom tux. Mostly because The Rock's high protein, low carb diet includes eating over 800lb of cod per year and unless you are a seal (in which case, welcome new marine-based readers!) you don't want to eat 800lb of cod a year. So instead, why don't you save some money and check out all these free workout options around town that are available to you year-round.
Courtesy of Equinox (edited)
This gym offers newbies a free seven-day trial via their website. However, if you're willing to log in with your social media information, you can upgrade to a 14-day trial membership. Much better than the Facebook spam you still get from that time you clicked the like button on the
Step Up 2
page after three glasses of wine.
After giving up just a few fields worth of information, LA Fitness will email you a three-day pass to any of their clubs. Known for spacious clubs, many of which have pools, LA Fitness is kind of the Super Target of fitness clubs. But just be prepared for the extremely hard sell on personal training services during those three free days.
If LA Fitness is the Super Target of gyms, Equinox is the "I own my own Gulfstream jet and don't know what Super Target even means" of gyms. If you know a member here, suck up to them for a free guest day pass. Otherwise, with a little internet sleuthing, you can score a free three-day pass with only having to possibly give up your firstborn.
The appeal of this gym can be found in the name. Whether you're a graveyard shift worker, night owl or just don't like fighting with people over machines at 6pm, this is the choice for the flexible fitness fans (say that three times fast). Three-day trial passes are available just by signing up with your email on their website.
Fun fact: Gold's Gym started as an iron pumping hotspot on Venice Beach frequented by the Arnold Schwarzenegger himself. The logo for the chain may have given that away a little. Either way, if you would like to do your own
Pumping Iron
impression, check out their website for a free seven-day trial membership.
We cannot personally vouch as to whether or not it is indeed fun to stay at the YMCA but we can verify that the YMCA facilities in the Dallas area rival those of any slickly advertised gym chain. The downtown T. Boone Pickens and brand-new White Rock facilities are particular faves. A seven-day trial membership is yours for the asking via their website.
OK, listen. Let's make a deal here. We will tell you where to go and how to go about getting a free CrossFit trial class as long as you make us one promise. Under no circumstances will you become one of those obnoxious people who talks incessantly about CrossFit and CrossFit only. Pinky swear? If so, head to their website to check out the location nearest you and when their next free trial class will be.
Leave it to a gym on the outskirts of Deep Ellum to name itself Psycho Gym. But the only thing that should be afraid are your love handles. One of Psycho Gym's many specialties is kettlebells, and they'd be more than glad to show you how to work 'em. Just head to their website to check out how to get a free trial class.
If tough love is what you crave, boot camp is most certainly your style. This Coppell-based boot camp, with training session also available in Dallas, is the kick in the pants that you might need to get those goals met. Visit their website to sign up for one free fitness consultation and training session to see if it is for you.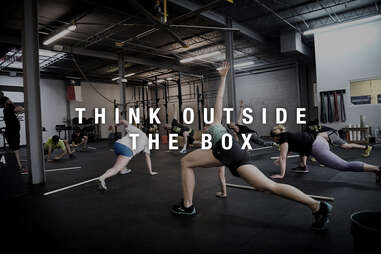 Courtesy of Crossfit (edited)
Easily winning the award for Most Fun Fitness Class on this list, this Deep Ellum based center can show the ropes on everything from burlesque to pole dancing to barre to drag. And your first class is free, no reservation required. Their website gives a quick overview of what to expect at your first free class.
Sandbar is the best place to do cardio while pretending that you're in that one scene from
Top Gun
. Located between Deep Ellum and Expo Park, this bar and restaurant is best known for the massive beach volleyball courts. They don't play around with this beach volleyball thing either. There's leagues and everything. So throw on your dog tags, practice your best air bite, and get on down here to set and spike it, Iceman.
Last year saw the reopening of the White Rock Lake Dog Park. All the old favorites are here and upgraded, including separate play areas for smaller and larger dogs. But the star attraction is what's known as Doggy Beach, an area of the lake set aside for pooches to fetch, swim, doggy paddle, or just cool down on the shore. Just remember: if you don't pick up after your dog, you are going to a firey hot hell.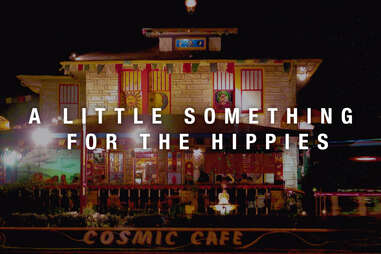 Courtesy of Cosmic Cafe (edited)
Technically, KWP is for everyone: hippies, kids, parents with weekend custody, dog lovers and their furry friends. You get the idea. The park features an almost-daily (weather permitting) schedule of free fitness classes from boot camp to yoga to tai chi to Zumba and even ballroom dancing. And then you can gain back all the calories at the park's food trucks!
Again, this is one of those weather permitting things and you may want to bookmark this one for Spring. But once the weather is good to go, the Nasher features plenty of free activities such as yoga, all set amongst the beauty that is the sculpture garden. Make sure to check for yoga on Free Thursdays, when admission to the entire museum is free.
A beloved Dallas landmark founded by Kumar Pallana of
Bottle Rocket, Rushmore,
The Royal Tenenbaums
, and
The Darjeeling Limited
fame (RIP), this vegetarian restaurant hosts yoga classes five days a week. There is a suggested $5 donation (come on, don't be THAT cheap!), and the even better suggestion is that you order a Buddha's delight entree and thank us later.
Don't know your Downward Facing Dog from your Sun Salutation? Sunstone can help you sort your sad, yoga-less life out. They also offer pilates, fitness, and barre classes. Your first class is free but you must register on their website and check the class schedule. They also ask that first time attendees arrive 30 minutes prior to the start of their first class.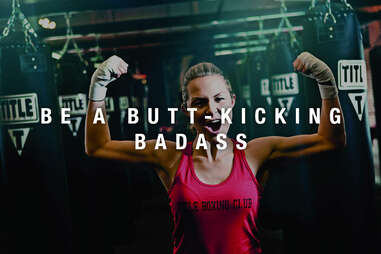 Courtesy of Title Boxing (edited)
Ever wanted to wear silky shorts, stand face to face with your competitors, and get weighed in public at a press conference? If so, you're in luck! Most likely, those are not life goals of yours and you would just like to, I don't know, get in better shape. Title Boxing Club can help you there, too. First classes are free. Just don't bite anyone's ear off. We feel like we shouldn't have to tell you that.
Krav Maga; the fitness class that also teaches you super useful things like how to go HAM on someone trying to steal your purse in a parking garage. Self-defense isn't just for little old ladies or Bobby Hill. With locations in Uptown/Design District and North Dallas/Addison, you'll be screaming, "KRAV MAGA!" at the top of your lungs in no time. Free trial classes available.
Want to unleash your inner Ronda Rousey? This place specializes in personal training, boxing, and mixed-martial arts conditioning for women. They offer sessions at their Arlington location or can come to wherever you like to work out. Enroll on their website for two free training sessions and climb into the octagon.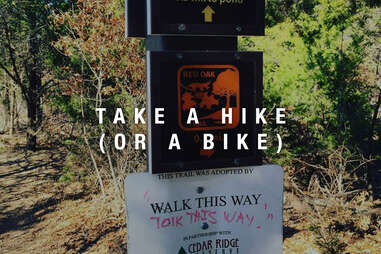 Amanda Mann/Thrillist (edited)
Located in Cedar Hill, just 10 minutes south of downtown Dallas, this hiking trail just off of Joe Pool Lake offers over seven miles of workouts with a view. Trails range from kid-friendly beginner trails to medium-advance trails. Dogs are not only welcomed but will meet plenty of other four legged hiking friends on the trail.
For those northern suburb dwellers, Arbor Hills Nature Preserve in Plano offers the same amenities that the hillier South Dallas trails offer. Hiking trails plus an almost 3 mile off-road biking trail, with the observation deck payoff for both, are part of the allure of this oasis of the suburbs.
Did you know that the Great Trinity Forest is the largest hardwood forest in the United States? It's true! Around it, and as part of the preservation of that forest, has sprung the Audubon Center and along with it, the five miles of hiking and biking trails that take you through the spectacular Blackland Prairie landscape. Watch out for snakes or stumbling wedding guests from the Audubon Center.
This nearly eight mile trail is one of the closest hiking trails to downtown and is regularly used by hikers and casual strollers alike. It is particularly popular with mountain bikers so though dogs are allowed, unless you like seeing who wins the war of dog v. mountain bike, probably best to leave Fido at home for this one.
Courtesy of Katy Trail (edited)
You didn't really think that we were going to write all of this without ever mentioning Katy Trail, did you? The perennially popular fitness corridor that runs from the southern end of Highland Park, through Uptown and ends at the front door of the American Airlines Center in Victory Park, even a rash of muggings late last year hasn't dampened the appeal of the "see and be seen" outdoor fitness spot in Dallas.
The undisputed champion of free fitness options in Dallas, White Rock Lake has something for everyone and every activity level. Saturday mornings, don't be surprised to see packs of Tour de France-esque cyclists or hordes of hardcore marathoners. But even at the busiest times of the year, White Rock Lake never feels crowded. Truly the jewel in the Dallas free workouts crown.
White not "technically" a fitness trail, you will have plenty of company if you decide to head down to Swiss Avenue for a sunrise jog. The street, which was home to the city's first millionaires and has the beautiful historic mansions to prove it, has wide sidewalks and grassy medians to allow for lots of people who like to combine cardio with luxury home gawking.
With 9.5 miles sometimes running alongside the lake's shore, this trail is the suburban sister trail to White Rock Lake. Located in Grapevine and frequented by the well-heeled residents of nearby Southlake, this trail is a good place to work out while also seeing how new money likes to get their pulses elevated.
Sign up here for our daily Dallas email and be the first to get all the food/drink/fun DFW has to offer.
Amanda Cobra eats approximately 800lb of cod per year. She got her start in show business as a wrestler in the WWE before making the jump to feature films. She is excited to start filming on the newest installment in the Fast and Furious franchise. Tweet her cod recipes at @amandacobra.