Embrace the thrill of the chase at thrift stores in Dallas and, of course, all over North Texas, too. There's something satisfying about combing through racks of clothing or thumbing through stacks of used goods (vinyl, perhaps) and scoring a rare gem. So have at these secondhand shops for cool, new threads, housewares, artwork, and other gently used items. Thrift stores often have a charitable bent, so supporting them—by shopping or donating things you no longer need—keeps perfectly nice stuff out of landfills and helps good causes, such as AIDS prevention and domestic violence survivors. Head to our favorite Dallas thrift stores and vintage shops for all sorts of wonderful treasures.
Deep Ellum
Formerly Deep Ellum Denim, this brick storefront on Commerce Street is brimming with predominantly men's vintage wear. Daniel Brown, who used to manage the denim shop where his vintage finds populated the shelves and racks, took over the space that now houses all of his well-hunted goods, from embroidered women's blouses to too-cool bomber jackets, and even a few kids' pieces. The store feels like a Wes Anderson film set in a Texas town in the '70s.
Oak Cliff; Richardson
As of April 21, Oak Cliff's Thrift Town has a new sibling store in Richardson. This means you can be the first to see all the items they've gathered in advance of the grand opening. At both locations, thousands of new items are brought out daily, so you can visit often and always find new stuff. A VIP club lets you earn points toward discounts, too.
Deep Ellum
On the outskirts of Deep Ellum near the Baylor Medical campus resides this vintage shop with a little coffee bar tucked inside. Once housed in the same space of Koneko Studio—its sister tattoo parlor, piercing salon, and actual salon—now ceramic housewares, and well-loved threads for men, women, and anyone live just around the corner in a roomier space. Amongst the bygone items, find some scented candles and incense, vintage jewelry, rugs, and new-but-curated clothing as well.
Oak Lawn
Genesis Women's Shelter & Support operates this thrift store to serve the community, but more importantly its clients. Women who are in the process of escaping an abusive situation have the opportunity to shop for everything they need, from clothing to furniture, 100% free of charge. And all the proceeds from purchases made by non-clients go directly back to the organization to help women and their families start a new chapter. A drive-thru donation service makes it easy to drop off your unwanted items, too.
Deep Ellum
Come here for an oversize, slouchy big T-shirt from your favorite band or a new-to-you outfit you'll sport at a punky show at Deep Ellum Art Company. This small but mighty shop has an eclectic mix of finds for the younger set, but you never know what you'll score when you swish clothes hangers across the rod—a shrunken, donated band tee or a leopard print jumpsuit, perhaps.
Oak Lawn
Located in the heart of Dallas' LGBTQ entertainment district, Out of the Closet gives back to AIDS Healthcare Foundation's HIV prevention and treatment services. In fact, 96 cents of every dollar spent on items in their store goes to this organization. We love the way this store merchandises its products, making it feel like a more traditional retail experience. Plus, while you're there to shop, customers can also access free HIV testing each weekday.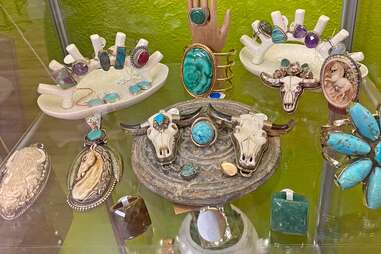 Lake Highlands
If fuzzy-wuzzy animals tug at your heartstrings, you can help thousands of cats, dogs, and pocket pets get adopted from East Lake Pet Orphanage when you shop at this thrift store. You can also make monetary donations directly to help homeless pets find a home, or sign up to volunteer your time and talents.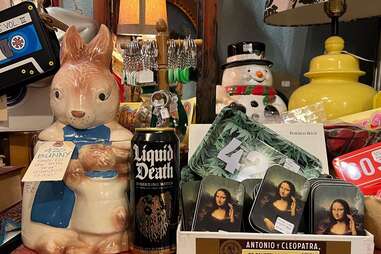 Old East Dallas; Bishop Arts District
For one of the most carefully curated collections of vintage goods from more than 30 different consignors and antique dealers, head to either location of Dolly Python. Clothing from the 1940s through the '80s and a huge selection of vintage boots (from cowboy to motorcycle) represent two of the biggest draws. Additionally, vintage music is a specialty, whether you're looking for a cool piece of vinyl, a record player, or a poster of your favorite artist.
Lake Highlands
Located within walking distance of Second Chance Treasures, you can maximize your thrifting time in East Dallas by popping into this shop. Proceeds from the sales of their gently used merchandise go toward the services of White Rock Center of Hope, which provides basic needs assistance, including a food pantry, clothing closet, and financial assistance to those facing potential eviction or utility shut-off, to those in the community.
Multiple locations
While most of the thrift stores on this list directly support one specific organization or cause, Thrift Giant works with multiple organizations across DFW to spread the love. Among the local charities benefiting from your purchases and donations are Operation Kindness, Little Elm Area Food Bank, and both the Dallas and Fort Worth locations of Ronald McDonald House. Thrift Giant also offers a VIP program where members can get 25% off their purchases on Sundays.
North Dallas
Family-owned and operated Thrift World offers its customers a vast selection of merchandise, but it pays to follow its Facebook page for ways to save big bucks. Nearly every day, you can find deep discounts on merchandise, including Thrifty Thursdays when most everything in the store can be snatched up for 50% off.
East Dallas
Since 1984, this family-run thrift store has been a top destination for thrifters looking to acquire incredible items in a clean and well-organized environment. Unlike most thrift stores, you can also occasionally find used large appliances at major savings. Each week, merchandise featuring two different colored tags drops to half-price and the colors change every Tuesday. A rewards program also offers ways to save even more.
Design District; Oak Cliff
For some of the best mid-century modern furniture and accessories this side of Palm Springs, Lula B's handpicks a variety of groovy finds. Deck out your home with a vintage bar cart and glassware or spruce up any room with a conversation-piece lamp or quirky object d'art. Apparel and fashion accessories also hail mostly from the same 1945–1969 era.
Denton
It's worth driving north to Denton for an eclectic variety of vintage merchandise for sale from multiple vendors who spend much of their time collecting cool and unusual stuff. Holiday decor and decorative art pieces are a specialty, as are toys, games, dolls, and action figures to appease the most ardent pop culture enthusiasts. Even when individual sellers aren't on site, the full-time employees work earnestly to help you find exactly what you're seeking.