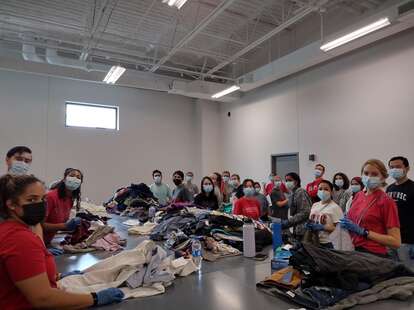 Gone are the days when the holidays centered around wish lists for all the material things we wanted to receive—at least we hope that's the case for most people reading this. During this time of year, the needs of those less fortunate increase dramatically and there are scores of ways to give back to the community, by volunteering directly with organizations working to make the lives of DFW citizens better. It would take a long time to list every opportunity, so if you want the full selection of nonprofits serving the community, you can reach out directly to nearly any of the more than 3,000 local groups in the North Texas Giving Day database that address every possible type of concern and need. Below, we've created a short list of ways to help 11 different non-profit organizations, whether you want to help feed people, make the lives of animals better, or clean up the local community. We've listed holiday-specific events, as well as ways to give once all the twinkle lights have been taken down, too.
The Austin Street Center needs volunteers to help with meal service, from preparing food to delivering meals and drinks to clients in the dining room. Shifts are two hours in duration and many dates are available through the end of the year to fit anyone's schedule, helping up to 250 people per meal. Other opportunities arise throughout the year, so reach out to a volunteer coordinator to express your interest in other areas of service.
Oak Cliff's Metropolitan Dream Center needs volunteers for a variety of tasks to help local citizens in need. On Saturday, December 17, they need help distributing free gifts to families. They also need donations of food, clothing, and personal items if you want to organize a drive in time for holiday drop-off. You can also donate money or purchase items off of Dream Center Dallas' Amazon Wishlist to be distributed at the December 17 event or for use at other times of the year.
Join Brother Bill's Helping Hand this holiday season to bring holiday gifts to 4,500 children and their families through a dedicated Christmas volunteer program. Volunteers are needed to help between December 9 - 17, and you can also purchase items from the Amazon wish list and other needs spelled out on the event page. Year-round they need volunteers to help with food delivery prep, lunch packing, after-school programs, and many more services.
The North Texas Food Bank is a major operation in DFW and they're in constant need of dedicated volunteers to spend time helping serve their clients. Work in the distribution center, distribute food to seniors, assist people at pop-up grocery sites, volunteer in one of the organization's gardens, teach a cooking class, or even donate your time virtually. The volunteering possibilities are practically endless.
The SPCA of Texas, like many shelters across the nation, is bursting at the seams with adoptable cats, dogs, and other furry critters. Become a foster, or fill out an application with your specific skill sets to find out about all sorts of volunteer opportunities, from photography and social media work to dog training and companionship programs. If you love animals, you'll find a way to help here for sure. Right now, they specifically need help with their Home for the Holidays event taking place through December 23 at NorthPark Center.
Mercy Street cultivates relationships between volunteers and at-risk youth through mentorship programs in both afterschool programs and a one-on-one basis. They also need coaches to lead kids through basketball, soccer, and baseball games throughout the year, as well as people to help provide, prepare, and serve meals as part of the organization's street team.
Not My Son is a grassroots non-profit founded by Black women to provide community outreach, support community activism, and promote civic engagement. Volunteers are needed year-round in the areas of graphic design, fundraising, voter registration, and assistance on event day for a variety of programs. Specific to the holiday season, they're looking for donations of gifts and other support efforts for their Christmas Eve Project Care event.
White Rock Lake in East Dallas has long been one of the best places in the city to retreat into nature. Help keep the lake, parks, and trails clean by volunteering with For the Love of the Lake every second Saturday of the month for spruce-up initiatives along the shore and in the lake (bring your own canoe or kayak or use one of the nine vessels owned by FTLOTL as part of their Padillac program). You can even team up with a group from work, church, or another outside organization to ensure a slice of the beach stays beautiful all year long via Adopt-A-Shoreline.
The Trinity River Audubon Center hosts Habitat Work Days most third Saturdays, where you can clear and expand existing trails, remove invasive species, or work to restore prairie, forest, and wetland habitats for local critters. They also need volunteers to work the front desk, become Eco Investigations Program Docents, and perform daily maintenance tasks such as sweeping decks, dusting the exhibit hall, or putting together educational packets.
Spend some time grooming pathways with Friends of Santa Fe Trail, which always needs volunteers to help plant trees and wildflowers, too. If you weren't already familiar, the Santa Fe Trail is a 4.2-mile, wheelchair-accessible paved path for walking, running, cycling, and skating.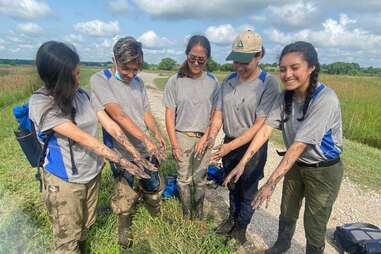 Over at the Trinity Park Conservancy, you can sign up for monthly volunteer events dedicated to beautifying the Trinity River and stripping it clean of invasive plants. In 2020 (the most recent data year), volunteers pledged a combined 586 hours to remove 2,137 pounds of trash and debris, so you know they're doing something right.