This time of year, nonprofits see some of the biggest demand from the clients they serve. And just because the holidays end doesn't mean their needs don't continue. So in the spirit of the season, we figured it was the perfect opportunity to share a few ways you can volunteer your time and talents to make the lives of a neighbor better—at any time of year, but particularly into the coldest months of 2022.
Help is needed in a variety of ways to organize and distribute food, clean barns for therapy horses, load and unload stage equipment for a youth theater troupe, and show love for the great outdoors to tidying up the environment. Visit each website to learn more about being part of the change for a better North Texas. And remember, if you don't have time to volunteer right away, direct donations are the best way to maximize the impact these important organizations make on the daily.
Fight local food insecurity
Oak Cliff & Farmers Branch
Oak Cliff's Metropolitan Dream Center has just opened up volunteer shifts throughout January to help with food distributions for the community. Over in Farmers Branch, volunteers are currently needed at Metrocrest Services to sort and categorize canned food donations, check expiration dates, and re-box items for future distribution within several neighborhoods. They also need help assembling food boxes, and sorting through any toys that might be leftover from holiday distribution programs.
South Dallas
Equest needs volunteers for their Barn Helpers program over both upcoming holiday weekends as well as throughout January to maintain a clean, orderly, and functional barn. This includes working in individual horse stalls, paddocks, and arenas used by the therapy horse herd, and can also involve direct interaction with the majestic beasts if you're fond of equine friends.
Dallas Arts District
Junior Players provides free arts programming to North Texas youth, and for their upcoming musical, Be More Chill, they're seeking volunteers the first few days of January to help load everything into Moody Performance Hall in the Dallas Arts District, then back out when the production is over. You'll even get a free ticket to see the show as a thank you for your hard work.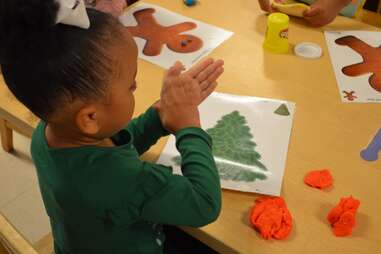 Park Cities
ChildCareGroup helps educate the most vulnerable children in our community from birth to age five, while supporting their families via several programs. Volunteers are currently needed to create Emotion Blocks, Let's Get Moving Kits, and Teacher Appreciation Kits. Families can work together on these projects over the holiday break, coming together to support the often thankless work of teachers while helping kids achieve more, too.
Irving
Big Brothers Big Sisters Greater Dallas is always looking for mentors to serve young people in Dallas and Tarrant Counties, as well as throughout the state. Currently, there are more than 400 Littles waiting on a Big to help them realize their full potential, all while building their future through skills and concepts only you can pass along.
Get your hands dirty
The most satisfying way to feel like you're making a difference will always be through hands-on work and a little old-fashioned sweat. EarthX, founded right here in Dallas, works as a member of IUCN (International Union for Conservation of Nature) to combine the resources and efforts of more than 1,300 organizations around the globe. You'll always find volunteer events on their website, whether that means getting out in a canoe and collecting debris from the water near Frasier Dam, or removing branches and debris from hiking trailsevery Saturday in partnership with Groundwork Dallas, a nonprofit continuously working to keep North Texas beautiful. Get this—EarthX volunteers have removed more than 130,000 pounds of trash in the past two years alone.
Help maintain one of Dallas' most popular environmental gems, White Rock Lake, by volunteering with For the Love of the Lake every second Saturday of the month for spruce-up initiatives along the shore and in the lake (bring your own canoe or kayak or use one of the nine vessels owned by FTLOTL as part of their Padillac program). You can even team up with a group from work, church, or another organization to ensure a slice of the beach stays beautiful all year long with Adopt-A-Shoreline.
You can also help restore wildlife habitats with the Trinity River Audubon Center, or spend some time maintaining pathways with Friends of Santa Fe Trail, which always needs volunteers to help plant trees and wildflowers. And over at the Trinity Park Conservancy, you can sign up for monthly volunteer events to keep the Trinity River clean and help remove invasive plants.