Every April, we all try to be a little more eco-conscious in celebration of Earth Day. Of course, taking care of Mother Nature in her old age is a wonderful thing to do every day of the year and, let's face it—the lady needs a lot of love. But April also happens to be National Volunteer Month, so there's no better time to roll up your sleeves, ready your hands for a few calluses, and give back to the North Texas community by lending a hand around town. Here are the best places to volunteer in DFW this season.
The most satisfying way to feel like you're making a difference will always be through hands-on fun and a little old-fashioned sweat. EarthX, founded right here in Dallas, works as a member of IUCN (International Union for Conservation of Nature) to combine the resources and efforts of more than 1,300 organizations around the globe. You'll always find volunteer events on their website, or learn more at this year's EarthX2022 Expo, taking place at the Kay Bailey Hutchison Convention Center Dallas from April 22 to 24.
One day you might be in a canoe cleaning up a river, the next weekend helping to clear trails of debris off a beloved running path. It's never a dull moment with Groundwork Dallas, a nonprofit dedicated to improving the natural surroundings we enjoy throughout the region. Hop on one of their popular Saturday volunteer opportunities to see for yourself.
White Rock Lake in East Dallas has long been one of the best places in the city to retreat into nature. Help keep the lake and its parks and trails clean by volunteering with For the Love of the Lake every second Saturday of the month for spruce-up initiatives along the shore and in the lake (bring your own canoe or kayak or use one of the nine vessels owned by FTLOTL as part of their Padillac program). You can even team up with a group from work, church, or another outside organization to ensure a slice of the beach stays beautiful all year long via Adopt-A-Shoreline.
The Trinity River Audubon Center hosts Habitat Work Days most third Saturdays, where you can clear and expand existing trails, remove invasive species, or work to restore prairie, forest, and wetland habitats for local critters. They also need volunteers to work the front desk, become Eco Investigations Program Docents, and perform daily maintenance tasks such as sweeping decks, dusting the exhibit hall, or putting together educational packets.
Spend some time grooming pathways with Friends of Santa Fe Trail, which always needs volunteers to help plant trees and wildflowers, too. If you weren't already familiar, the Santa Fe Trail is a 4.2-mile, wheelchair-accessible paved path for walking, running, cycling, and skating.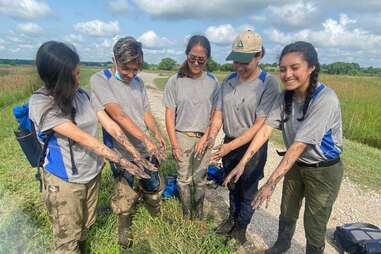 Over at the Trinity Park Conservancy, you can sign up for monthly volunteer events dedicated to beautifying the Trinity River and stripping it clean of invasive plants. In 2020 (the most recent data year), volunteers pledged a combined 586 hours to remove 2,137 pounds of trash and debris, so you know they're doing something right.
In addition to participating in the City of Dallas' robust recycling program, there are numerous ways you can help contribute to a more sustainable world without directly mingling with the masses. Avoid using single-use and other disposable plastic products, buy acrylic or metal reusable straws, look into wind- or solar-powered electricity options, compost your kitchen scraps, plant a tree (or several), consider incorporating more plant-based proteins into your diet, and educate yourself by reading articles and watching documentaries on the impacts of climate change and the myriad ways we can help slow its devastating roll.