What People in Dallas Say, and What They Actually Mean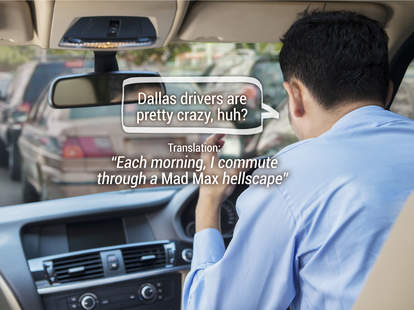 Creativa Images/Shutterstock (Edited)
Dallas is growing rapidly, and with all these new people moving to our city, we figured we would give them a handy guide to what they're gonna hear us say half the time and what those phrases really mean. We may be a city full of straight shooters but sometimes you gotta read between the lines.
 
"Dallas drivers are pretty crazy, huh?"
Translation: "Did you like that Mad Max movie because if so, why not live it every single day on Woodall Rodgers or any of the 250 other highways in the metroplex on which people enjoy driving 90mph while texting and eating a bowl of pho all at the same time?"
 
"Hot enough for ya?"
Translation: "We live in Dallas, where the temperature in August reaches levels that allows us to be able to cook a chicken breast in the back seat of our car. We all know this and accept this but I'm going to break the awkward silence in this elevator by making a pithy comment about how it's hot outside."
  
"They're almost done with the construction on 635."
Translation: "The never ending road construction nightmare that is Dallas is going to get the smallest, almost imperceptibly bit better when they finish one small section of the LBJ Freeway project which has no definitive end in sight and the goal of which no one actually knows."
 
"I remember when Lower Greenville was dangerous, not the place where Trader Joe's is."
Translation: "I like to romanticize the days when underage dance clubs and $1 pitchers of Everclear lead to parking lot stabbings but I still am more than happy to be able to buy Cookie Butter in my pajamas at 10pm on a Saturday night."
 "How 'bout them Cowboys?"
Translation: "Why are we, as a city, cursed with a football franchise that is the laughing stock of the NFL, and why do we still pay 'bucket list vacation' prices for tickets to go to that dumb stadium in the middle of a bunch of pawn shops in Arlington?"
  
 "It was bound to happen but did you hear that there's going to be a Real Housewives of Dallas this year?"
Translation: "We are the kind of city that the foundation for shows like the Real Housewives franchise was built upon but sometimes I like to pretend otherwise."
 
"Dude, I'm totally buddies with Mark Cuban."
Translation: "I was at a bar once that Mark Cuban showed up to and I took a selfie near him and you could kind of see him in the very far corner of the picture and then I semi-coherently pitched him my Shark Tank idea which he kindly listened to for 30 seconds, patted me on the back and then left the bar."
"I liked the old Deep Ellum better."
Translation: "Even though Deep Ellum is now filled with tree lined streets, ample parking and a wide variety of live music venues, upscale eateries and bars for grown ups, I really miss those days when you would sit in traffic on Elm for an hour while lewd underaged kids spilled out of Cafe Brazil and vomited on the side of your car."
 
"I don't go north of 635."
Translation: "I try to prove my dedication to the urban core lifestyle by pretending that a beltway is some Mason-Dixon line dividing those cultured people with good taste from the lobotomized suburb dwellers to the North. But my parents do live up there and I grew up there and I go up there every other weekend and there's actually some pretty cool restaurants but I can't blow my cover."
  
"I don't even need a car in Dallas."
Translation: "My friends give me rides a lot."
  
"Did you know that Addison has more restaurants per capita than any other city in the United States?"
Translation: "I count every Olive Garden, Subway, and the cafe at the front of Sam's Club where you can get a slice of pizza and a soda for $1.50 in that statistic so it sounds way more impressive."
"Hey, wanna day trip to Ikea?"
Translation: "Frisco is a weird, foreign world to me but they have Swedish meatballs and cheap furniture there so let's pretend like we are going on a strange journey to explore distant cultures and also eat something called Lingonberry before we get back on the Tollway and get the hell out of there."
  
"I've never been to a strip club."
Translation: "I've never started off the night intending to go to a strip club. But stuff happens, man"
   
"I think the Trinity Toll Road might be a good idea."
Translation: "Hi, my name is Mayor Mike Rawlings and I really do think that you should give this whole Trinity Toll Road thing another chance. Sure, no one in town wants it and it has become a punchline but who wants some Pizza Hut coupons?"
  
"Maybe I'll have one Mambo Taxi at Mi Cocina's then get the rest of this shopping list taken care of."
Translation: "Who knows a good divorce lawyer?"
Sign up here for our daily New Orleans email and be the first to get all the food/drink/fun in the Big Easy.
Amanda Cobra is the kind of Dallasite who says, "Netflix and chill" and actually just wants to watch Netflix and chill. Give her ideas of stuff to add to her queue on Twitter @amandacobra.