Because there's nothing quite like a good old-fashioned fight, it's Rivalry Week. Keep tabs on simmering feuds across the country right here.
Houston, we have a problem. You, you're the problem. For years, our rivalry has gone back and forth and it's about time again for the City of Hate to put Space City to shame, and for all of the right reasons. In fact, here are 12 reasons why Dallas wins 100% of the time.

It doesn't feel like we're being waterboarded just by going outside
In Dante's unabridged version of The Inferno, Houston was the 10th circle of hell. You can hardly breathe there, let alone muster a good hair day. At least in Dallas, you have a better chance of not feeling like you're drowning the second you step outdoors.

Houston is the armpit of Texas for a reason
Oh, you proudly parade the fact that you're close to the beach? Your beach is the Gulf of Mexico, it smells terrible and makes the ghost wave of fish and petroleum byproduct wash over your city with no remorse. Dallas is definitely not the stinky kid in class.
Public transportation
This is one of the things that makes a good city great. In New York, Chicago, and typically anywhere else that you'd want to live outside of Texas, there's a great public transportation system. It's also just another reason why we beat Houston. They have roughly 22 miles of light rail compared to Dallas' whopping 90+ miles. We definitely cut down on commuter times (speaking of which...).

Traaaaaaaffic
Traffic in Houston is insurmountably worse than in Dallas. So much so, that Houston is ranked second in worst commuter time behind Atlanta. It'll take a Dallasite 26.6 minutes on average to go the same distance compared to a Houstonian taking 45 minutes. Let's just say there won't be any Fast and Furious movies set in Houston anytime soon.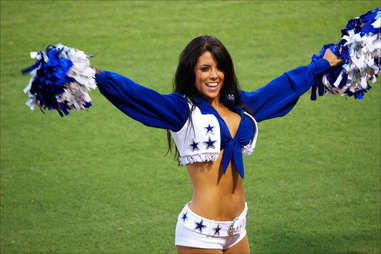 Because people dress up as Houston Texans and their cheerleaders for Halloween, right? HA!
Of course, we've got America's Team, we've won Super Bowls, an NBA championship, a Stanley Cup, and we actually won a few games when we were in the World Series (ROGER!).

There's an appropriate place for everything in Dallas; solution: ZONING!
Proper zoning (like refereeing) is something you won't notice unless it's all screwed up. It's almost like Houston is a messy teenager with stuff everywhere in their room -- "Let's put pawn shops next to schools and churches!" -- but somehow it's OK because they know where everything is. No, Houston. Clean your junk up. Organize it. Dallas' zoning laws have produced wonderful neighborhoods with diverse cultures in and of themselves. It's time to grow up, Houston. Dallas isn't type A. We're type A+!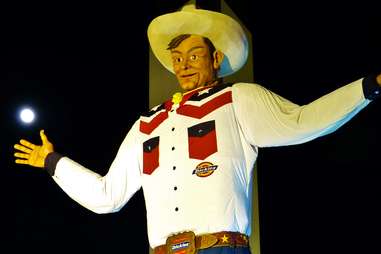 State fair is fair game
We have Big Tex and anything you could want fried ever! And have you seen that Ferris wheel? It's ungodly and almost as big as the state itself! The whole state flocks here for the infamy that is the State Fair of TEXAS. It's recognized as the best and most-visited state fair in America. Oh, did I mention that our public transportation drops you off right at the gates?

Put your money where your mouth is (aka tax dollars)
I know, Houston. I know. You have NASA. I get it. Space is cool. But cool doesn't win the nation's tax dollars. You know what does? Military defense. You know where those tax dollars for military defense go? You guessed it. Dallas! Oh, and where would NASA be without Texas Instruments (ahem Dallas ahem) and the semi-conductor? Side note: NASA is also in Florida, and who the hell would even want to live there too?
Our skyline is actually memorable
Don't think Houston's skyline had its own intro in a TV show, did it? Nationwide, Dallas' skyline beats out Houston's year after year.

We weren't responsible for Enron
So there's that.
Much better musicians
I'm ready for what you've got to say, Houston. "BEYONCÉ." Where does Queen Bee live though? Not Houston. But I'll concede your argument and raise you that Dallas has Stevie Ray Vaughan, Erykah Badu, RC & the Gritz, Elliott Smith, Lead Belly, Meat Loaf, Kelly Clarkson, Usher, St. Vincent, and many many, more. Your references from Drake and Lil Wayne don't count either.

Houston is full of cheaters
Ladies, look no further than these damning stats from the Ashley Madison hack showing Houston sitting at #7 of number of accounts per city. The odds are ever in your favor if you're looking for a more faithful husband from Dallas (or at least slightly better).
Sign up here for our daily Dallas email and be the first to get all the food/drink/fun DFW has to offer.
Lucas Buckels is a freelance writer in Dallas, he STILL has "Pride and Joy" stuck in his head (happily).