Let's just get this out of the way: Colorado isn't the most strict state around. In fact, it's pretty much your cool uncle when it comes to doling out consequences. Sure, if you really mess up, you're getting in serious trouble, but there's plenty of tolerance when it comes to generally non-dangerous behavior. HOWEVER, there are a few ways you can push the legal envelope if you and your next date are up for some unauthorized fun -- not that we'd ever endorse that kind of behavior...
Sneak your way to a free Red Rocks show
How to pull it off despite the fact that we do not condone this: OK, it's not really the same as watching from inside the amphitheater, but if you park in the upper south lot, jump a small fence, and climb the hill to the west, you'll find a whole new way to experience a Red Rocks concert. This is a pretty popular option though, so be sure to respect the order of the unofficial line that tends to form at the fence.
Laws you'd be breaking: Unlike other illicit Red Rocks activities that can actually be lethal (seriously, DO NOT climb the rocks!), this one will basically just get you a trespassing charge and a dose of bad concert karma. Oh, and a bonus open-container violation if you opt to bring some booze on this outing.
Get doubly high
How to pull it off despite our unwavering disapproval: Everyone knows that legal marijuana in Denver is plentiful these days, but actually indulging in public is still a no-go. If you're gonna risk it, you may as well really go for it. Snag a joint and light it up while taking in the city views from the top of the Elitch's Ferris wheel.
Laws you'd be breaking: A ticket for public consumption of marijuana awaits those that aren't stealthy enough to keep the puffing on the down-low.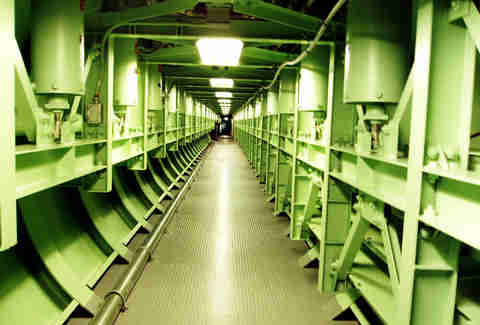 Explore one of the Titan missile silos
How to pull it off despite us very clearly advising against it: As far as abandoned places go, this one doesn't exactly scream romance. But if your date is adventurous (and a fan of dark abysses), wear your best stealthy spy gear and dust masks and head about four miles north-northeast of the town of Deer Trail. The entrance is a rounded, graffiti-covered hole in the side of a small hill. We hear these are the coordinates: 39°40′06″N 104°01′41″W.
Laws you'd be breaking: Trespassing on private property, although beware: you're more likely to have an encounter with the angry property owner than the cops.
Enjoy a boozy park picnic
How to pull it off despite the fact that we've said we'll call your parents if you actually do it: 3.2% is beer's boring cousin. Sold in gas stations and grocery stores in the Mile High, it's basically only purchased by Colorado newbies who don't know that what they're getting is far from the real deal. It's also the only booze legally allowed in Denver parks. Pack your picnic with any beverage that's got more alcohol than this glorified water and you're on your way to illicit picnic bliss.
Laws you'd be breaking: Public consumption of alcohol and -- if you've really indulged -- disorderly conduct and eviction from the park
Get busy while watching the sunrise
How to pull it off despite us desperately wishing you'd stop all illegal behavior this minute: One of the best parts of living in Colorado is the easy access to epic views, and one of the best parts of life is, of course, sex. Combine the two with an early-morning drive up to Golden's Lookout Mountain. Then find a cozy spot to pull over and, well, you probably know what to do from there.
Laws you'd be breaking: Public indecency along with indecent exposure if any other early-morning explorers catch you in the act
Sneak in a swim at the Warwick
How to pull it off despite us repeatedly begging you not to do this: Three words are your motivation here: heated rooftop pool -- a rarity in Denver. To get some quality swim time in with your date, head to the Warwick already wearing your suits, grab a drink at the hotel bar, and head to the top floor. Once there, you've got a few options. The door to the pool requires a room key for entry, but it's been known to malfunction from time to time so first, just push really hard. Not opening? Maybe you'll luck out and be able to sneak in behind a legit guest. As a last resort, put on an Oscar-worthy "we forgot our key in our room" act and hope for the best.
Laws you'd be breaking: Trespassing, though most hotels won't actually involve the cops if you're caught as long as you stick to just swimming and not, say, stealing all the towels and robes on your way out too.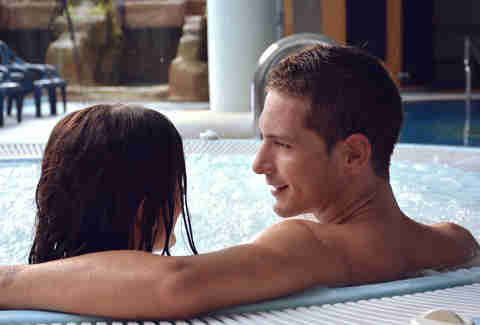 Find an apartment complex hot tub, skinny dip in it
How to pull it off despite our disappointment in the person you've turned into: For those that think the last idea is too tame, go for a classic: skinny dipping. Pick one of the city's numerous apartment complexes and plop in. The key here is keeping things quiet and low-key -- so maybe skip the naked cannonballs.
Laws you'd be breaking: Trespassing again -- because you probably don't want to try this at an apartment complex where either of you actually live. Oh, and the requisite public indecency and indecent exposure risks are there too.
Reel in some contraband fish
How to pull it off despite our disapproval and repeated withering looks: You don't need to leave the city to find good fishing spots (Sloan's Lake is a popular one), but you do need a state fishing license. If you or your date don't have one, you could still drop in your lines somewhere far from any crowds -- but be sure to keep your gear nearby for a quick getaway, just in case.
Laws you'd be breaking: Fishing without a license won't land you in jail, but the fines are pricier than the license itself.
Take a Sunday drive down Colfax in a black car
How to pull it off (we don't care, you can do this one): Already own a black car? Then this one's easy. Otherwise, rent the snazziest black automobile you can find and cruise down all 26 glorious miles of Colfax Ave, aka the longest continuous street in America.
Laws you'd be breaking: At one time, driving a black car in Denver on a Sunday was illegal. This is no longer enforced, but we're still wondering why it ever was.
Get your girl a red dress and head out for a nighttime stroll Downtown
How to pull it off (seriously, this one's also totally cool with us): It may be kind of an old-school romantic gesture, but if you can pull it off, surprising someone with a new red-hot outfit is definitely one way to spice up your next date night. Just be sure to check the tags on some stuff you've seen her wear recently to avoid any awkward size-related issues.
Laws you'd be breaking: Another random, color-related rule from Denver's weird-laws past states that women in red dresses cannot be on the streets after 7pm. C'mon, Denver.
Sign up here for our daily Denver email and be the first to get all the food/drink/fun in town.
Molly Martin is a freelance writer in Denver, Colorado whose criminal record really isn't that long... Follow all the trouble she may or may not be getting into at @mollydbu on Twitter and Instagram.