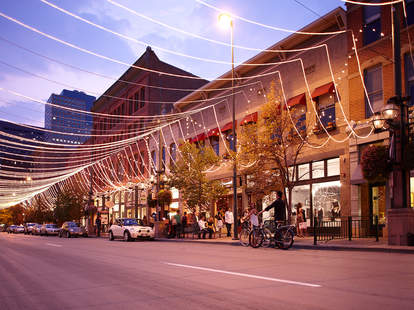 The holidays are a time where tradition reigns supreme. You watch the same Christmas movies, go to the same annual holiday parties, and wear the same ugly sweaters. But variety, as they say, is the spice of life. And no offense, but doing the same things over and over again sounds mad boring. So for 2019, we've got the perfect ways for you to celebrate the most wonderful time of the year, but with a new twist. From going on cookie and beer tours to hitting up insanely fun Christmas movie parties, here's how to shake up your Denver holiday traditions.
Instead of: Watching a Christmas movie
Through December 19
The Alamo Drafthouse is hands-down the most fun place to see a movie on planet Earth. If you've never been to one of its screenings of classic flicks, it's equal parts party and movie-watching experience. And no matter what your favorite Christmas movie is, the Drafthouse is probably showing it as part of their holiday movie party series, including Elf, A Christmas Story, Scrooged, Gremlins, and way more. (Expect to have "snowball" fights, be covered in confetti, and participate in fun contests before the movie starts.) If you like your holiday movies a little darker, they're also screening bizarre horror movies like Dial Code Santa Claus and Silent Night, Deadly Night. 
Stocksy
Instead of: Sipping on something boozy by a fireplace
Ongoing
When it's cold outside, there's nothing better than cozying up to a fireplace with an alcoholic beverage that warms you from the inside. The folks at the LoDo-based German-style beer hall Rhein Haus know that well, which is why they go all out for the holidays. They've imported a fireplace from Austria that sits on the second floor, and it's the perfect place to enjoy a glass of Glühwein, the country's version of mulled wine. The Haus' liquid echoes a traditional recipe and includes (*deep breath*) red wine, Asbach German brandy, lemon and orange peels, fresh orange juice, sugar, baking spices, juniper berries, and a brandy-based orange liqueur for warmth and aromatics. 
Instead of: Decorating homemade cookies
December 4 & 7
If you're looking to swing by a brewery, you can't do much better than taking a trip to RiNo. The folks at the Denver Microbrew Tour know this quite well, so they've organized a walking tour of the neighborhood that takes you to four breweries, where they've paired four huge cookies with beer and cider. Sure beats making cookies in your cramped kitchen! Even better, the last stop on the tour is a cookie-decorating workshop, where it's inevitable you'll find an artistic groove as you're beautifying cookies to look as festive as possible. After all, drinking up to 10 beer and cider samples has a tendency to unleash everyone's creativity.
Courtesy of Steuben's
Instead of: Attending a holiday house party
Thursday, December 5
Everyone loves a holiday party -- all the guests are in a good mood, there's gallons of warm apple cider and boozy eggnog to drink, and sometimes you get gifts. But the real secret is that giving feels better than receiving. All the more reason to get dressed up, go to a fun-as-hell party and have a drink or two, but for a good cause. The comfort food experts at Steuben's Uptown location throw a blowout toy drive every year that's basically like if Halloween and a holiday party got married. This year's theme is Quentin Tarantino movies, so put on your best Gimp costume, bring a toy valued $10 or more to donate (you'll get your first drink free!), and party the night away.
Instead of: Seeing The Nutcracker at the Colorado Ballet
Thursday, December 5
The Nutcracker is a classic holiday ballet, performed with grace and masterful technique by professionally trained dancers. A Drag Queen Christmas is exactly the same, except it's not a ballet. Nina West hosts a show with plenty of holiday-themed performances by a number of drag queens you might know from VH1's RuPaul's Drag Race. Or, let's be real, from Instagram -- they're all very popular! If you want to meet the performers, be sure to snag a VIP ticket for the pre-show meet and greet.  
Take your pooch to Paws & Claus
Instead of: Getting your photo with Santa at the Cherry Creek Mall
Saturday, December 7 
If you live in Denver and don't have a pet, do you even truly live in Denver? (That's rhetorical… but the answer is no.) Skip the throngs of families waiting for Santa photos at the Cherry Creek Mall, scoop up your non-human child, and go take a picture with Santa at Paws & Claus in Larimer Square (10am-4pm). You have nothing to lose -- literally, it's free for you and your pet to take a pic with Ol' Saint Nick. But if you're feeling generous (and we hope you are) all donations that day go to the Denver Animal Shelter. 
Instead of: Fancy-as-hell Sunday brunch at The Brown Palace
Sunday, December 22
Upscale holiday brunches can be boring affairs. Sure, the food's great, but the atmosphere can be a bit stuffy. ViewHouse Centennial, as you may know, has never been accused of that. In fact, this Sunday brunch (10am-2pm) allows you to watch the many football games playing on multiple TVs while indulging in a top-notch, all-you-can-eat buffet that includes meat carving stations and seafood towers. The tons of other dishes being served include leg of lamb and carnitas chilaquiles, along with desserts like apple pie and rum & raisin bread pudding. You're going to eat a significant amount, so make sure to take photos with Santa and Mrs. Claus while you still feel svelte. Oh, and it may be a good idea to call and make a reservation before it's fully booked.
Courtesy of Melted/Rocky Mountain Brew Runs
Instead of: Eating sweets non-stop for a month
Ongoing
 With all the stress and obligations that come with the holidays, it's understandable that you'll indulge in some junk food. But push aside the sugar cookies shaped like a tree for just a moment and go to Melted. Newly opened inside the beloved food hall/marketplace/hotel The Source, Bryan Dayton (the guy who's also behind the restaurant next door, Acorn) is giving you a reason to eat a ton of soft serve all December long. That's because they're (soft) serving up new-school holiday flavors like pomegranate and chartreuse, which will look fantastic for Instagram as a red and green swirl. Everyone who's lived in Denver long enough knows that ice cream is perfectly delicious year-round. And on a sunny December day, there's no better holiday treat than seasonal soft-serve.
Instead of: Wearing an ugly Christmas sweater
Sunday, December 22
Ugly Christmas sweaters: perfect to wear to a holiday party, horrible to wear to go for a run. Seriously, don't do it, it'll itch and you'll look weird… unless you join a big ol' group of fun runners also wearing ugly Christmas sweaters. Then it's hella fun. Join the dedicated athletes at Rocky Mountain Brew Runs for what they're billing as a "5kish" run along the Platte River. If you couldn't tell from the whole ugly sweater thing, they don't take running too seriously -- it'll be fun. At the end of the run, you'll get to kick back and enjoy a Breckenridge brew, a free coaster, and the ability to participate in giveaways from their sponsors. And you're welcome to bring your dog! (For the running part, not the beer one.)