Denver is the fastest growing city in the US. This means people from all across the states are flocking here to drink our award-winning beers, eat our amazing food, and spend their hard-earned money at our local shops. Right now, we're here to tell you about the latter. In a year sure to be filled with unpredictabilities, there's at least one constant: Our local artisans are doing impeccable work that should definitely be on your radar. To help get you pointed in the right direction, here are eight small businesses you can feel great supporting.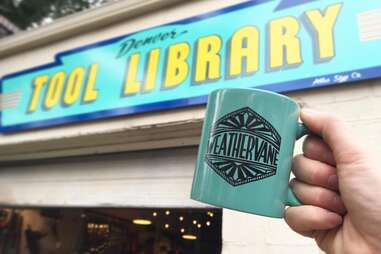 Baker
There's nothing quite as satisfying as building something with your own two hands. Become a member of this recent addition to the Mile High and you'll be able to borrow whatever you need to make that dream project a reality this year. And it's not only tools you get access to. Through their community of makers, you can connect with others to share space, skills, and ideas. And look out for events throughout the year including creative classes -- last year they hosted one where you got to destroy furniture in the name of art!
Berkeley
Playing with kittens is a proven stress reducer, but what if you don't have a furry friend to purr away your troubles? Just head to Denver's own cat cafe (which was the second to open in the US). You can pay for a daily, monthly, or annual membership pass for access to unlimited cats. Yeah, that's all the cats you can pet. Plus, all of the cats are up for adoption, so you may just find yourself with a new family member -- or seven if you want to be the crazy cat person on your block.
Based online
If you're in search of a unique gift -- or just want to treat yourself to some new handcrafted bling -- look no further than this local shop. Lux & Luca is the work of one woman, Cassie Herzog, whose creative designs include stamped items like money clips, metal cuffs, and bar necklaces sporting phrases like "bad hombre," "nasty woman," "5280," and our favorite, "fuck it." Lux & Luca can be found at many of Denver's popular markets including the Denver Flea, or you can order pre-made and custom pieces through her website.
Platt Park
Sometimes you need a beer. And sometimes you need a really, really, really good beer. For the latter, Black Project is your answer. This endeavor from the husband and wife team of James and Sarah Howat stands out even in the beer-saturated Denver market. The brews here are all created through experiments with spontaneous fermentation. We'll save you the long-winded explanation of what all that entails and just tell you the brass tax: It results in complex, completely unique beers that you won't be able to find anywhere else.
Highland
This past year one of Denver's oldest Italian joints, Patsy's, closed it's doors. And in 2017, more and more old favorites will face mounting pressure with rising rents and new developments. Right across from Patsy's former location is this 158 seat theatre where Colorado creatives can be found putting on offbeat productions like the recent annual 50 First Jokes, where local comedians gather to tell their first joke of the year. The space may be small but it boasts a lauded history and a large personality. Follow them on Facebook to see upcoming shows and make sure to bring cash (it's cash only).
Speer
Supporting a local business that also supports charitable causes is a win-win. And that's exactly what you get with Hope Tank. The store is stocked with gifts made by artists and makers from Denver and beyond that each give a portion of proceeds to a charity of their choosing. The Tank was initially started by Erika Righter who saw an opportunity to educate the community about giving back -- in a more creative way and engaging way. All of the products are ones that Erika would get as a gift or buy for herself, so if you have any questions... simply ask.
City Park West
Bikes. Beer. Coffee. DBC was founded in 2011 and combines three of Denver's favorite things. It's a spot that definitely has staying power in Mile High, and we can make sure of that. Pop by to try the latest addition to their Denver-focused tap list, spend an afternoon caffeinating your way through some work on your laptop, or check out their selection of bikes. Or, you know, do all three. You can snag coffee until 8pm, beer and wine until 12am, and bike service until 7pm.
Berkeley
At this eclectic gallery, you can get some answers to life's tough questions along with a dose of art from around the world. Along with curating a selection of pieces that qualify as treasures, owner Silvana Mondo also offers Turkish coffee cup readings. Like reading tea leaves, this tasseomancy is meant to tap into your unconscious. If you're looking for some perspective on what's happening in your life... or just need to take a break from the present to recalibrate for the future, this under-the-radar spot is the sanctuary to help guide you on the best path.
Sign up here for our daily Denver email and be the first to get all the food/drink/fun in town.
Molly Martin is a freelance writer in Denver, Colorado who want to build a coffee table in 2017. Follow her on Twitter and Instagram to see if she can manage to accomplish this lofty goal.