Twin Peaks Campground

| Courtesy of Erica Buehler
Twin Peaks Campground

| Courtesy of Erica Buehler
Even with the wacky weather phenomena this year, there's still nothing quite like camping in Colorado. And while there's no shortage of fun things to do in Denver, there's something endlessly enticing about packing up for a weekend and spending a few days and nights among the trees and under the stars.
If you think all the best campsites are several hours away from the Mile High City, think again: more than a few of the best camping spots in the state are just a podcast episode away from your humble metropolitan abode. So, if you've been wanting to test out that new grill or have been feeling too stifled by the brick and cement, we suggest checking out this list of the best places to go camping near Denver. You'll get the full, immersive experience of camping in the Colorado wilderness, yet you'll be home in plenty of time to resume your workweek routine. Bust out the tent, bear spray, and biodegradable wipes—it's camping season in Denver.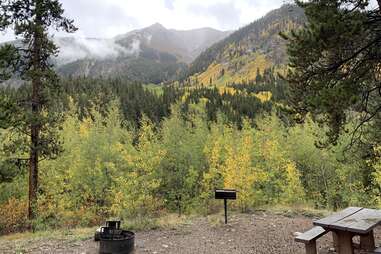 Distance from Denver: 2 hours, 25 minutes; 152 miles
If Hunger Games-esque camping is what you're into—that is, risking a trip to a first-come, first-serve, no-reservations site—this is for you. But don't be discouraged; the views (at least for half of the available sites) are well-worth going up during the week for, especially if you're looking for a good fall foliage base. Camp cliffside with a rushing river below and gaze up at mountain peaks and stars for miles, with 14ers La Plata, Mount Massive, and Mount Elbert and the Twin Lakes just a few minutes down the road. It's easily accessible by car (RV camping is allowed), and you can even purchase firewood on-site based on an honor system.
Distance from Denver: 1 hour, 25 minutes; 58 miles
A little over 50 miles from Denver is Buffalo Campground, part of the larger network of campsites in the Buffalo Creek Recreation Area. The area boasts 40 miles of trails for hikers, bikers, and horseback riders—of which many of the trailheads are steps away from camp—plus the flowing Buffalo Creek, which is popular for those fishing for brook trout. This site is open for dispersed camping year-round (though summer is, of course, the busiest season), gives you access to The Colorado Trail, and allows dogs, so Fido can stay for the weekend, too.
Distance from Denver: 1 hour, 13 minutes; 53.5 miles
If dispersed camping seems a little too wild for you, try your hand at camping off Jones Pass Road. While still technically a dispersed camping site, Jones Pass Road is far more accessible by car. Located towards Henderson mine, which is on the way to Winter Park, Jones Pass Road has many sites off a small parking lot that are lined with Aspen trees and outlets for gorgeous mountain vistas and picturesque views of St. Mary's Glacier. If you did bring the 4x4, continue down the road, which leads towards Vasquez Peak and even more isolation.
Distance from Denver: 3 hours, 30 minutes; 182 minutes
Colorado is home to 42 State Parks so it's highly likely that you haven't visited most of them, even if you've spent a lot of time outdoors. Exhibit A: This lakeside park north of Steamboat Springs, which offers serene wilderness and water activities like wakeless boating and trout fishing in the 167 acre reservoir. It's a bit of a drive to get here from Denver, but you don't need to worry about setting up a tent if you opt for one of their yurts which sleep up to six people and have electricity and heat (although you will need to bring your own bedding and campfire cookware). If you're new to camping or just want a slightly easier set up on arrival, this $90/night option is ideal.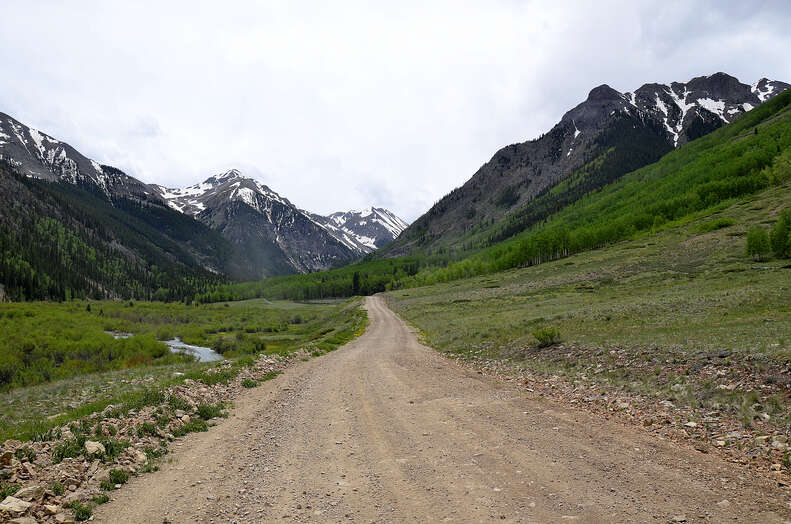 Distance from Denver: 1 hour, 18 minutes; 45.2 miles
The short drive up to Empire will gain you access to the Empire Loop, a lightly used trail that ends at the serene Bill Moore Lake, which is prime dispersed-camping real estate. The area is also a haven for those who like to tear up dirt via 4x4, ATV, or mountain bike. The trail is rated "very difficult" and requires technical skill that goes beyond YouTubing "how to 4x4 like a boss." For those who prefer to explore on foot, the area's also home to plenty of trails to occupy a weekend that vary from easy to difficult once you actually get up to Bill Moore Lake.
Distance from Denver: 1 hour, 32 minutes; 56.7 miles.
Beartracks Lake Trail is another site offering up the kind of beauty that follows forest fires. Two of them struck this land -- the Resthouse Meadow Fire burned over 1,000 acres in the late 1960s, and was followed by the more recent Beartracks Fire in 1998. Getting to the trailheads requires high-clearance vehicles, so your Dodge Stratus is out, as wash-outs and infrequent trail maintenance leave the roads in poor conditions. But as the saying goes, "fortune favors the bold," and once you brave the bumpy road, you'll experience some of the finest off-trail camping in Colorado.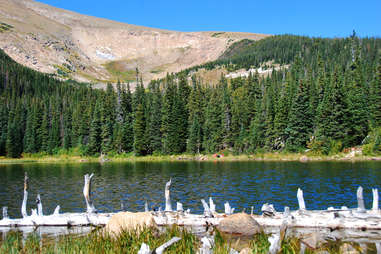 Distance from Denver: 1 hour, 50 minutes; 56 miles
If you want to stay kinda close to civilization, but don't want to "rough it" in your backyard, head up to the Rainbow Lakes Campground just west of Boulder, where you can experience camping but also be comforted by a 7-Eleven less than an hour away. The campground's underrated-ness comes from its proximity to Indian Peaks Wilderness, which is home to some of the best backcountry hiking in the US. Once you've done a trek like the Rainbow Lake Trail, a moderate, 1.9-mile hike that offers up postcard views from the nine chain lakes that occupy the trail, you'll be able to hang the boots high and kick it by a fire rather than make the trip back to Mile High. Pro tip: Campsites 15-18 offer up a more primitive camping experience and will be less populated by the kind of "campers" who pull up in an RV.
Distance from Denver: 1 hour, 53 minutes; 103 miles
Turquoise Lake near Leadville is a popular summer destination for fishing, boating, and high elevation beach days, and many of the campgrounds in the area get booked out quickly. But you can beat the reservation system at the Belle of Colorado campground, a first come, first served tent-only option that's $24/night for up to two vehicles per spot. It's popular on the weekends, but if you can show up midweek, you may even be able to secure one of the coveted lakeside sites. Bonus: This area's also known for having some of the best stargazing in the state.
Distance from Denver: 2 hours, 12 minutes; 121 miles
You yearn for the wilderness, but you haven't owned a tent since the little pop-up you got for your eighth birthday. Don't worry, the rustic (and unquestionably cool) Bassam Guardstation cabin outside Buena Vista is for you. The guardstation, formerly occupied by a forest guard that documented forest conditions as early as 1911, boasts a full-sized bed, chairs, a table, propane tanks, a hand pump for water, and a very Jack Kerouac aesthetic. The place goes for $50 a night, allows stays up to two weeks, and even permits extra tents on the premises to accommodate your beatnik friends.
Distance from Denver: 2 hours, 40 minutes; 70 miles
Goose Creek Campground is a diamond in the rough, meaning it's the only surviving campsite from the Hayman fire that ravaged the land two hours southwest of Denver back in 2002. It offers a sort of solemn experience, showcasing half-burned trees and, in some areas, a post-apocalyptic feel Mad Max might dig. But it's not all dull and dreary, as wildflowers litter the surrounding valleys and meadows during the spring and summer seasons, and offer a stunningly stark contrast to the burn-scarred land. The main site is first-come, first-served, so it's best to arrive mid-week to guarantee a spot for the whole weekend. Those who trek further down the Goose Creek Trail will almost always find open sites, especially by Refrigerator Gulch, which unfortunately does not come stocked with beer.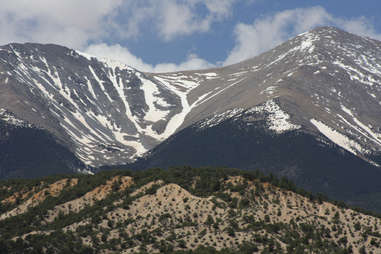 Distance from Denver: 2 hours, 47 minutes; 149 miles
The Angel of Shavano Campground sits in the shadow of Mount Shavano and is one of the best-kept secrets in the area, which is rich in Ute history. According to legend, the angel that forms in the snow melt on the southeast couloir of Mount Shavano, where the site gets its name, is the spirit of a little girl the gods turned into ice. If you're lucky, you might also make out the face of The Grinch, which has no connection to Ute history. The site's hike-in nature and low number of campsites make for few visitors, but even if the other sites are occupied, each plot is secluded, and boasts so many Aspens and spruce trees you'll still feel like you're all alone. Except for the girl in the ice, obviously.
Molly Martin is a Denver-based freelance writer. Follow her @mollydbu on Instagram and Twitter for more updates on food, fun, and life in the Mile High
.