Shhh, do you hear that? "Dude, what pass do you have?" Ah, yes. The call of the slope shredder. If your reaction to that question is somewhere in the realm of, "What?", then this list is for you. Just because you live in Colorado and don't ski or snowboard, doesn't mean you need to spend the entire winter living in secluded shame. We live in a f*cking winter wonderland -- get out there and enjoy it, dammit all!
Break out the sleds
Anywhere with an incline
Every neighborhood in Denver has a sledding hill. Find yours, grab a cheap sled, and you've got the makings of a classic snow day. Just watch out for those jumps: they actually do seem to hurt a bit more now than they did when you were a kid.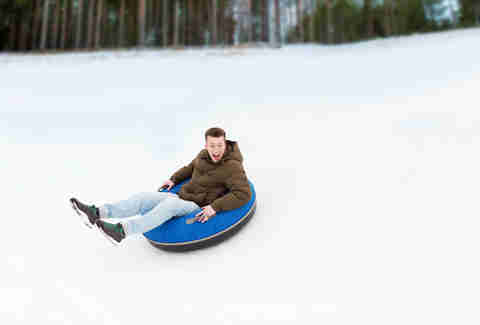 Fraser
It's like sledding but... well, incrementally better. Just you on a soft, bouncy tube barreling down a giant hill. If you want the sensation of speeding on snow without the need for any real skill, this is the winter activity for you. There's even a lift to bring your lazy ass and your tube back to the top.
Lace up some skates
Various locations
Even if you've never mastered the double axel, you shouldn't pass up the chance to try out your best Brian Boitano impression. Rinks are easy to find in the winter months. Near Denver, Southwest Rink at Skyline Park and Evergreen Lake both offer skate rentals on site.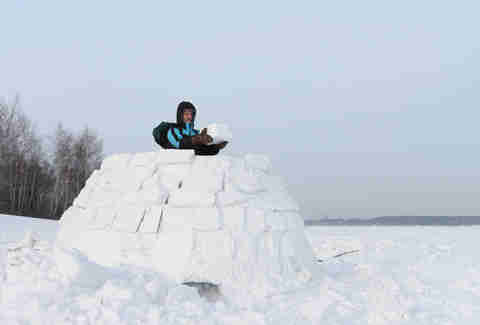 Construct an impenetrable snow fortress
Anywhere with more than a foot of snow on the ground
Didn't grow up in a snowy climate? Or you did, but the snow forts of your imagination never quite made it to reality? Well, guess what? You're (kind of) a grown up now, and if you want to spend an entire weekend making a three-room snow castle with built-in seating and haul in an extension cord to plug in some appliances, we're definitely not going to stop you.
Day drink by the fireplace in ultimate comfort
Your house (or your neighbor's house)
What's better than day drinking? Night drinking! No wait... snow day drinking! Your friends who ski and board may spend the winter waiting for fresh powder just so they can sit on 1-70 for a few hours, but a bottle of whiskey and a warm fireplace can be just as satisfying as a day on the slopes.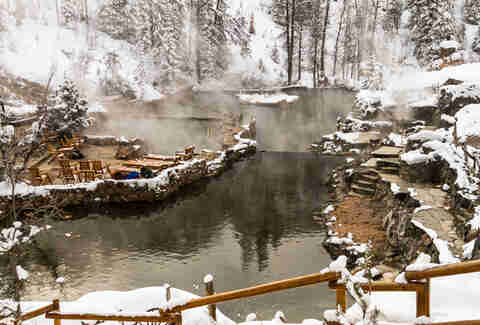 Soak the cold away in hot springs
Steamboat Springs
So your buddies have a great slopeside condo for the weekend in Steamboat. What do you do? Go along for the ride, of course. Because instead of freezing all day on the lifts, you can spend a steamy day relaxing in the warm, soothing waters of Strawberry Park Hot Springs.
Hook a big one
Various Locations
Prefer the idea of staying still while on the ice and snow? Then head out for a day of ice fishing. You'll need a state fishing license, and you can rent equipment near the most popular spots, or even book a guided trip if you're a total newbie.
Copper Mountain
It's no secret that Coloradans love hiking, so why not try out winter's version: snowshoeing. As a bonus, the tours at Copper Mountain are free, so you can get a feel for this snowy activity without having to dish out the big bucks your skiing and boarding friends did.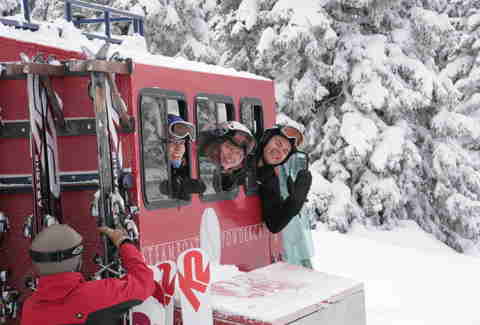 Take a ride in a snowcat
Winter Park Resort
Ok, all this winter fun sounds pretty good, but you're still kind of curious about what is actually up on those "slopes" that everyone seems to love so much. Don't go barreling down a black diamond just yet, because you can explore the trails at Winter Park from inside a snowcat instead.
Hangout with huskies
Leadville
Get started on your Iditarod training... or just spend a fun day enjoying winter scenery on the back of a sled powered by dogs at Alpine Adventures Dogsledding.
Ride the rails
Various Locations
No, not in the terrain park. You don't want to spend all winter wearing a cast, do you? Instead head out for a day on one of Colorado's railways -- like the Pike's Peak Cog Railway or the Georgetown Loop Railroad where you'll get access to the epitome of pristine winter views.
Scale some gigantic icicles
Ouray
So now you're ready for all kinds of cold-weather fun, but what you really want is to one-up your skiing and snowboarding friends, right? Nothing will say, "I'm a badass who also does really cool things and lives an interesting life" quite like ice climbing at the Ouray Ice Park, a man-made, ice-filled gorge where beginners and experts alike flock all season long for some of the best ice climbing conditions in the world.
Sign up here for our daily Denver email and be the first to get all the food/drink/fun in town.