Denver is full of singular experiences. And green chile. And breweries. And... well, you get the picture. Anyways, before you die (or leave Denver, which... is the same thing?), make sure you check off these essentials -- in no particular order. 
1. See absolutely anything at Red Rocks
Whatever you're planning -- a concert, Film on the Rocks, a hardcore workout -- you absolutely must go. Actually, this item should probably require a minimum of five visits before it's complete, with some kind of punch-card system.
Lie, beg, or cheat your way in if you have to -- it lives up to the hype and is a must for any beer fan... which, if you're living in Denver, probably describes you. 
Recommended Video
You Can Fit This Grill In Your Backpack
3. Declare a favorite green chile
You would be hard-pressed to find a Mexican restaurant that doesn't coat something in its signature green chile. Everybody has his/her own opinion on who has the best, so it's on you to consume enough to confidently declare yours. Everything from eggs to burritos to burgers are better with it, so you'll have no shortage of opportunities to indulge.
This historic theater has been around since 1930 and is only one of three in the US designed in the Art Deco Mayan style. The Mayan is on South Broadway, a fitting locale for a theater that only shows independent and foreign films. Important: The theater also has a full bar, so the moviegoing experience will be top-notch no matter what.
During the summer, jazz bands set up in City Park every Sunday afternoon to play a live show. People come from all over the city to sit in the sun, play volleyball, picnic with their dogs, and enjoy the free music. If you can't be bothered with packing a picnic, there's a load of food trucks at your disposal as well.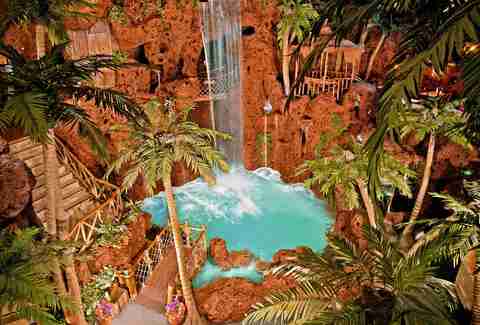 Any restaurant that inspired such rabid devotion from Eric Cartman is worthy of your ironic patronage at least once.
7. Brave an absurdly long line at Snooze
These's a reason the assorted Snooze locations are perpetually packed. Denver loves its breakfast foods, and Snooze reliably nails them. The food tastes even better when you've had to endure a wait that made you almost consider giving up.
8. Go all out on Cruiser Night
This event draws big crowds, and in 2016 the organizers added a membership fee (starting at $15/season) to help cover the costs. If biking, costumes, and booze happen to be your thing, it's well worth dropping a few bucks to be able to join this ride that has a different theme every week.
9. Have a Champagne brunch at Brown Palace
The Brown Palace is a historic building which has hosted lots of famous people, like presidents and The Beatles. Every Sunday, it hosts a brunch buffet, with a breakfast station, rotating meats sliced fresh (like rack of lamb and prime rib), and seafood. The best part of brunch is the huge chocolate fondue fountain that pours a steady stream of dark, milk, and white chocolate with plenty of treats to dip it in. Well, unless you opt for unlimited Champagne. Then that's the best part.
10. Make a purchase at a dispensary
It's your right as a Coloradan! 
11. Amuse yourself at Lakeside
Every major city has an amusement park, but not everyone has a Lakeside. This retro theme park has been around since 1908. Sure, you might get whiplash from the ancient rides, but you'll definitely have good times and good stories.
12. Explore Confluence Park
There are plenty of cool parks in the city, but Confluence is right downtown, with bike trails, a mini-beach, a flowing river, and, of course, sunshine. It's great for picnics, walking dogs, and even wading in the water -- if you're brave enough to get in the Platte.
It may not look like much from the outside, this little hole-in-the-wall in a nondescript shopping mall on South Federal, but if you know Denver, you already know that this is where you'll find the best Asian food. The only two servers here are the owners: an elderly couple that serve up their own authentic Chinese recipes, like their famous soup dumplings. BONUS: Their son is the founder of CAUTION: Brewing Co. and brews a special award-winning beer for his parents, the Lao Wang Lager.
If you like music (who doesn't?) you'll want to check out this awesome record store. It's independently owned and has a huge selection of vinyl, CDs, and movies. No matter what obscure (or decidedly mainstream) title you seek, chances are this place has it.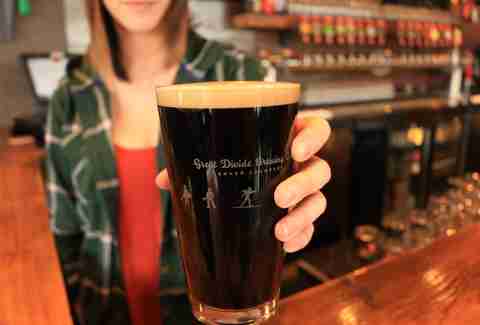 Yes, craft breweries are a dime a dozen these days. And yes, Great Divide is one of them, but it's been brewing since 1994, long before the craft beer scene was even a thing in Denver. Winning 18 awards from Great American Beer Fest means it's still doing it right, so you owe it to yourself to get an up-close-and-personal look.
What, you thought Denver could only make beer? Stranahan's has made a name for itself as Colorado's first whiskey distillery and the demand is so high, it sometimes has a hard time making enough of it to go around. 
It's not just an old, dusty train station anymore; it's a super-hot destination with cool restaurants and a very modern vibe. Grab a beer at the Terminal Bar, play some shuffleboard, have a fancy dinner... whatever you're feeling!
The unassuming brick building on the corner of 15th and Platte is rumored to be Denver's oldest bar. The no-frills attitude and menu, coupled with cold beers and delicious, cheap burgers, are what make this place a great Denver staple. It really is that place where everybody knows your name.
Originally designed to show silent movies in the '30s, this majestic theater is now a historical landmark. It is still in use today as a venue and now does live music, dance shows, comedy acts, and lectures. It also has a full bar that serves food, which you are usually allowed to bring into the actual theater. 
20. Eat family style at White Fence Farm
Even though this country homestyle restaurant that caters primarily to families and kids now has a few fast-casual outposts around town, a stop by the original farm location in Lakewood is essential. Come for the incredibly juicy fried chicken and all-you-can-eat sides (corn fritters!), stay for the kitschy decor, old-fashioned candy, farm animals, and even a treehouse.
21. Sit rinkside for an Avs game
Maybe you know a guy. Maybe you had to pony up for the tickets. You can't put a price on being able to pound the glass when they score a goal.
22. Experience ice cream perfection at Little Man
Dulce de leche? Salted Oreo? Figure out your order beforehand, the line's long enough!
23. Sit in the cheap seats at Coors Field
Tickets to what's affectionately known as the Rockpile (the centerfield bleacher section) start at just $4, so put on some purple, drink a few beers, watch the mountains change colors as the sun sets, and maybe hum a few bars of "America the Beautiful" during a night game.
This funky hippie cafe has something going on every night of the week, along with organic, locally sourced food from the kitchen. It also hosts live performances of music, poetry, dance, and theater. So whether you're coming for swing-dancing lessons, The Vagina Monologues, or just brunch, you shouldn't miss this unique spot.
25. Frequent a First Friday Art Walk
The Santa Fe Art District is full of cool and eclectic galleries that participate in the Art Walk on the first Friday of every month. There are always a ton of people and art installations of all mediums, plus plenty of dive bars and restaurants to duck into when you need a break from the inevitable crowds.
26. Summit a 14er
If your first thought right now is, "What's a 14er?", welcome to Colorado! If you know what it means and you haven't conquered one yet, what are you waiting for? The easiest option for getting more than 14,000ft above sea level is a drive up Mount Evans followed by a quick hike to the summit, but you can do better than that. Get outside, fill your lungs with fresh air, and earn one of the best views you can get in Colorado on top of one of the state's 53 14er peaks.
27. Go out for a Colfax bar crawl
This street's changed a lot since Playboy called it the "longest, wickedest street in America" in the 1970s, but it's still dotted with many of the city's best dives and you can definitely still have a damn good (and usually weird) time here. Bonus points if you end up taking the 15 bus at any point during your odyssey.
28. Cheer on the Broncos
Even if you're not a Broncos fan -- or even a football fan -- a trip to Mile High (what the stadium will forever be affectionately called no matter what its official name is) is a must for anyone with even a shred of Denver pride.
29. Eat a burger at Duffy's Cherry Cricket
Cherry Creek may be known mostly for pricey shopping and a difficult parking situation, but the Cricket's been serving up burgers since 1945. A recent fire shut it down temporarily, giving everyone who appreciates this haven for low-key hospitality a brief panic attack, but it's back to business as usual so get in there and order your dream burger. Topping varieties include green chile strips, guacamole, peanut butter, and corned beef. And don't forget a side of frings!
30. Be a leaf peeper
In the fall the roads to the mountains fill with tourists snapping photos of the swaths of golden aspens. And yes, the traffic congestion sucks. But you know what else sucks? Never seeing this seasonal treat for the eyes firsthand. So bring along a little extra patience and get yourself to the hills when September rolls around.
Sign up here for our daily Denver email and be the first to get all the food/drink/fun in town.