The mountains are calling. And we totally get it -- the snow-covered slopes beckon you this time of year. But sometimes you need to break free from your skis or board for a good old fashioned beer fest. Or a sip from the world's largest shot-ski. Or hear some bluegrass with a side of -- you guessed it -- more beer. Winter in the Mile High is no time to hibernate. From snowy adventures in the Rockies to cozy beer-fueled fun in town, this season is packed with options beyond spending all your time in front of a fireplace or hitting the slopes (though you should definitely be doing those things too, obviously).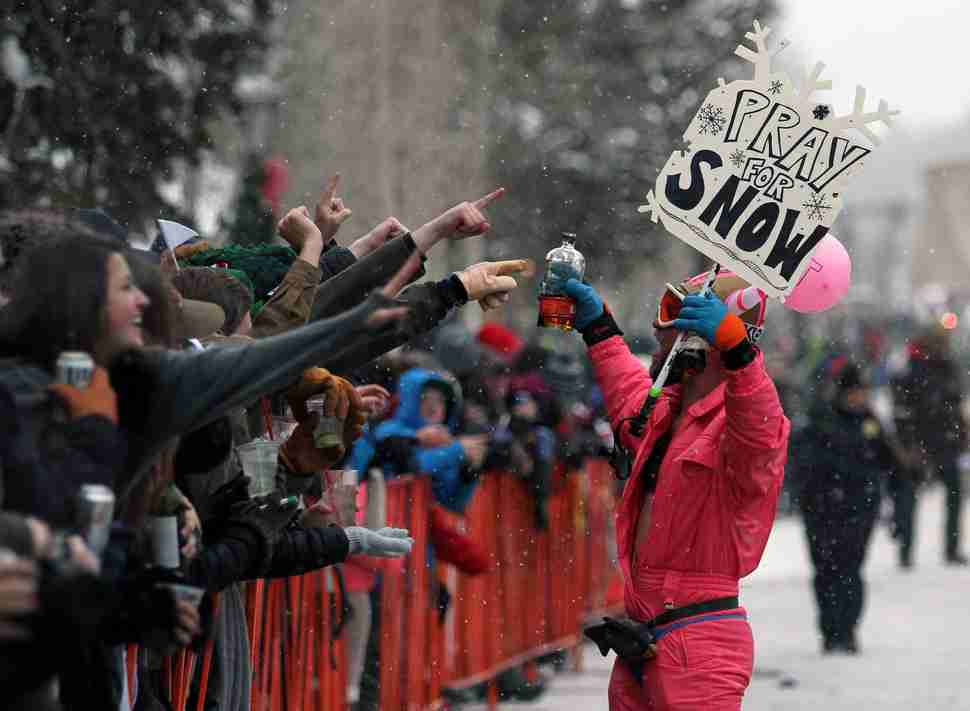 Wednesday, December 11 - Sunday, December 15
Breckenridge
This annual weekend of debauchery in the name of the Norse god of winter features non-stop fun. Come for the fat bike race, ice plunge, local talent show, parade complete with ski jumps on main street, and bonfire. Stay for a historic event -- the (unofficial) World's Longest Shot Ski. 
Cost: Most events are free to attend but book your lodging early. Registration to be a part of the shot ski is $10. 
Saturday, December 14
3881 Steele St
Air your grievances while enjoying beers brewed right here in the Mile High. Part ode to Seinfeld and the strange traditions of Festivus, part celebration of local beer achievements, this is your excuse to drink great beers (and wear that ugly Christmas sweater).
Cost: General admission tickets are $45
Opens late December; dates dependent on weather
Dillon
This unique frozen wonderland is coming to life once again in Dillion -- as soon as the temperatures get cold enough. Explore the archways, tunnels, slides, and fountains, all made from massive amounts of ice. 
Cost: Ticket prices to be announced
Monday, December 31
McNichols Building
The Resolution NYE party not only gets you close to Downtown for the midnight fireworks, but it also features unlimited booze. There will also be DJ's, live bands, and theatrical performances spread across three stories of decked-out party space along with a midnight countdown balloon drop.  
Cost: Tickets start at $99
Thursday, January 9 - Saturday, January 11
Breckenridge
This specialty beer fest focuses more on education so if you're a true beer connoisseur, this is the place to be. Over 120 breweries will be at the event sharing not only their brews, but also their knowledge. 
Cost: Commercial tasting tickets are $75
Thursday, January 9 - Sunday, January 12
Colorado Convention Center
With over 500 exhibitors, this massive yearly event is jam-packed with free seminars, contests, and the latest news and innovations from big name outdoor sports companies. From the fly fishing pavillion to an archery experience, you'll learn some new tips and skills for the spring and summer adventures to come in 2020.
Cost: $16
Friday, January 11-Sunday, January 26
This annual event kicks off with a parade of longhorns through Downtown Denver followed by two weeks of rodeos, mutton busting, horse shows, the ever-popular catch a calf competition, and more. The Stock Show's been around since 1906 and is a big part of Denver's history, so dig out that giant belt buckle and get in touch with your Wild West side. 
Cost: Ground admission starts at $10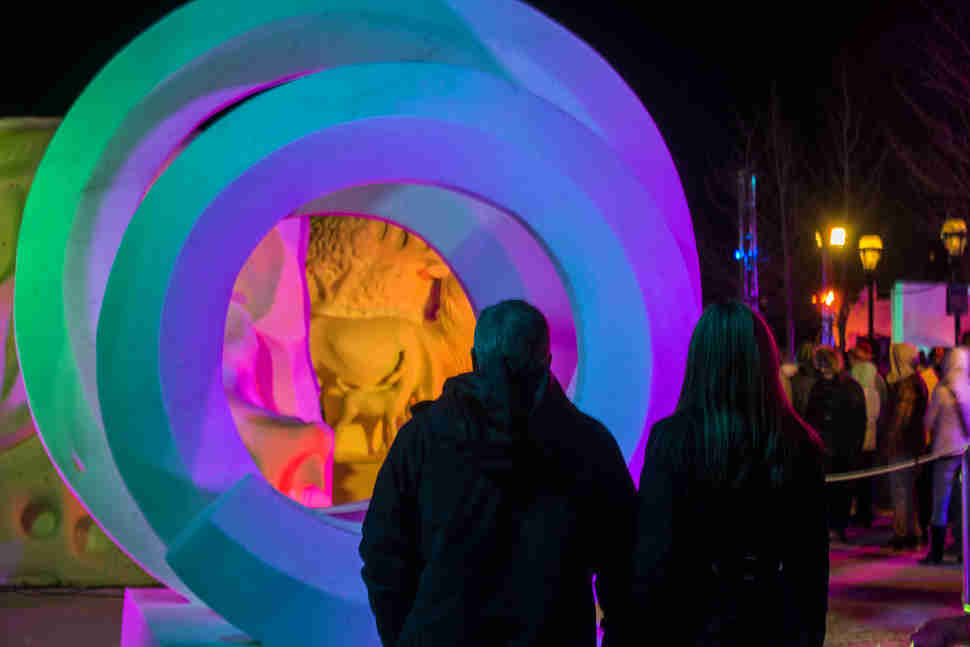 Monday, January 20 - Wednesday, January 29
Breckenridge
Global competitors from 16 teams will compete at this annual event. Browse the creations made from 20 ton blocks of snow that are hand-carved with expertise.  
Cost: Free to attend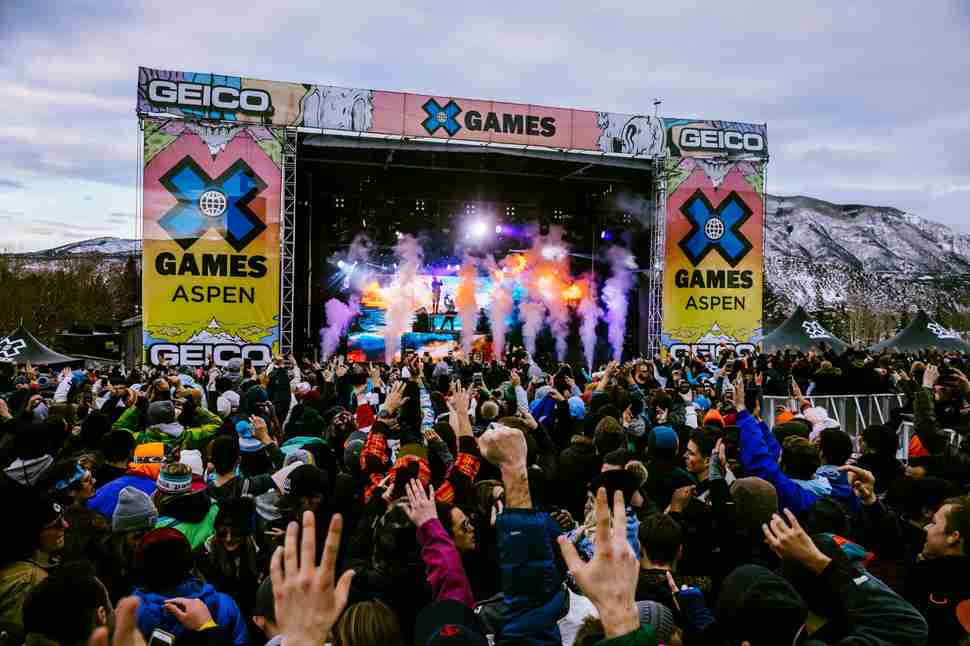 Thursday, January 23 - Sunday, January 26
Aspen
The extreme sports competitions may be the main reason for this annual event, but the music has become a big draw for the crowds. This year, jam out to acts like Rae Sremmurd, Alesso, Bazzi, and Illenium, then explore the festival village and watch some of the head-to-head competition. 
Cost: General admission tickets for all music are $120
Saturday, January 25
Mile High Station
Beer fest season lasts all year long in Denver and winter is no exception. The Denver Winter Brew Fest is back with plenty of beer on-hand to sample from both local and national breweries along with live music, food trucks, and more. Plus drinking for a good cause always feels extra nice and proceeds from this event benefits Swallow Hill Music. 
Cost: General admission tickets start at $35 
Saturday, January 25
Location to be announced
What's your favorite whiskey? Are you into Scotch? Prefer rye? Have no idea? Well, you will after sampling all the whiskey you can handle at this fest that's sure to warm you up fast.
Cost: General admission tickets are $35
Friday, January 24 - Sunday, January 26
Golden
This music and beer festival in the foothills outside of Denver is the perfect mid-winter getaway. Plus there's an optional beer fest along with a costume contest (think beards and fur, Game of Thrones-style).
Cost: Weekend passes start at $60
Saturday, January 25
Location to be announced
Whiskey reps will be on-hand to walk you through a tasting (which includes tasting tickets each good for a .25 oz pour). Sample as many as you can handle then vote for your favorite brand.   
Cost: Tickets start at $35
Wednesday, January 29
Vine Street Pub & Brewery
Stout month is (almost) back but you can be among the first to taste this years special brews. Vine Street's brewers will be on hand to talk you through the seven styles of stouts that will be featured this year. You'll also get to enjoy appetizers created specially for the event using the featured brews. You'll also get a free pint when you stop in to buy your tickets.
Cost: $50
Friday, January 31
Red Rocks Park & Amphitheatre
This world renowned venue is a summertime destination, but thanks to Icelantic's Winter on the Rocks, you don't have to wait until warm weather returns to enjoy some live music here. This year's line up includes THEY., SNBRN, Channel Tres, and DJ Cassidy.
Cost: Tickets start at $49.95
Sunday, February 2
Washington Park
You're not going to be watching the Broncos in the Super Bowl this year, but you can still show your team spirit at this run. Go ahead and do something productive before downing all those brews and nachos. 
Cost: Adult pre-registration is $35
Thursday, February 6 - Sunday, February 9
Copper Mountain
Featuring some of the best extreme winter sports athletes, this event is also a weekend party and the perfect excuse for a mountain escape.
Cost: Competitions are free to attend
Saturday, February 15
Runway 35, 8863 E 47th Ave
Bread, butter, cheese, and heat. This classic combo may be one of the best foods ever created, and if you agree, do not miss this celebration of ooey gooey melted cheesy excellence. Local chefs will bring their best grilled cheese creations for your sampling pleasure. The event will also feature beers from local breweries, entertainment, games, and more.
Cost: General admission tickets are $54
Wednesday, February 19
The Ramble Hotel
If you need a post-Valentine's come down, then come listen to comedians tell their funniest stories about love and dating. The lineup includes Christie Buchele from the High Plains Comedy Fest, Nick Ross from The Moth, James Lopez, Sammy Anzer, and Lizzy Wolfson (along with a matchmaker from Its Just Lunch and a dating coach from A Little Nudge).
Cost: $15
Friday, February 21 - Sunday, February 23
Steamboat Springs
This epic mountain music festival returns to Steamboat once again with a jam packed lineup. Featured artists this year include Greensky Bluegrass, Billy Strings, and Margo Price.
Cost: General admission three-day passes start at $199
Friday, February 21 - Sunday, March 1
Various locations
Explore the Mile High's booming restaurant scene during this weeklong celebration of the city's culinary culture. Many of Denver's best restaurants will offer special prix fixe menus designed to give you a taste of what they do best. 
Cost: Multi-course dinners are priced at $25, $25, or $45/person
Saturday, February 22
Stoney's
It's gonna be cold but that's no excuse to miss out on this "brief" fun run for a good cause. The annual Undie Run raises funds to find a cure for neurofibromatosis (NF). 
Cost: Registration is $30
Thursday, March 5 - Sunday, March 8
Various locations
The 16th annual edition of this fest features a red carpet opening night, a culinary battle of the sexes, filmmaker happy hours, and more. Tickets to individual screenings will be available closer to the festival dates.
Cost: Early bird festival passes are $395
Saturday, March 14
Downtown Denver
Don your best green attire for this annual tradition. Get there early for a prime viewing spot then enjoy the marching bands, Irish dancers, and the sound of bagpipes echoing in the street. And yes, plenty of bars along the route will be slinging green beers and offering drink specials. 
Cost: Free to attend
Sign up here for our daily Denver email and be the first to get all the food/drink/fun in town.