Winter in Denver is seriously awesome. While the East Coast hunkers down to escape the sleet and winds, we ready our gear to hit the slopes or make our way into one of our hundreds of cozy bars to meet friends for a drink.
Want more? Of course you do. There are also so many festivals, concerts, and cat conventions (well, one cat convention) coming up. From snowy adventures in the Rockies to cordial beer-fueled fun in town, this season is packed with options beyond spending all your time in front of a fireplace or hitting the slopes (although, again, you should be doing both of those things too).
Wednesday, December 5
Comal Heritage Food Incubator
Executive Chef Tim Bender and guest chef Rosa Landa from Michoacan, Mexico will serve up a five course meal showing off the flavors Michoacan with dishes like sopa tarasca and pipian de pollo frito. The Impact Dinner series supports Focus Points Family Resource Center, the nonprofit behind Comal, and the The Colorado Village Collaborative.
Cost: General admission tickets are $75
Saturday-Sunday, December 8-9
EXDO Event Center
All things cat-related will converge at this feline-centric event featuring art, music, vendors, and a bar where you can sip on MeowMosas and Meowgaritas. There will even be appearances by some fuzzy celebs like Lil Bub and Baloo the Adventure Cat along with an on-site cat cafe.
Cost: General admission tickets are $15
Thursday-Sunday, December 13-16
Breckenridge
Featuring some of the best extreme winter sports athletes, this event is also a weekend party complete with a headlining show from The Motet.
Cost: Competitions are free to attend; General admission tickets to see The Motet are $40
Saturday, December 15
Denver Sports Castle
Air your grievances whilst enjoying beers brewed right here in the Mile High. Part ode to Seinfeld and the strange traditions of Festivus, part celebration of local beer achievements, this your excuse to drink great beers (and wear that ugly Christmas sweater).
Cost: General admission tickets are $40
Opens late December; dates dependent on weather
Dillon
This unique frozen wonderland is coming to life once again in Dillion… as soon as the temperatures get cold enough. Explore the archways, tunnels, and slides and fountains, all made from massive amounts of ice.
Cost: General admission tickets are $15.95
Monday, December 31
McNichols Building
The Resolution NYE party not only gets you close to Downtown for the midnight fireworks, it also features unlimited booze. There will also be DJ's, live bands, and theatrical performances spread across two stories of decked out party space along with a midnight countdown and balloon drop.  
Cost: Tickets are $99
Advertisement
Between the holidays and finishing out the year at work, your calendar can fill up fast in the colder months. But whether your winter plans involve heading out to a new bar opening, onto the open road, or to the office, Wrangler has new styles and comfortable fits made for wherever life takes you -- so you won't have to think twice about what to wear.
Wednesday-Saturday, January 9-12
Breckenridge
This annual weekend of debauchery in the name of the Norse god of winter features non-stop fun. Come for the fat bike race, ice plunge, local talent show, parade complete with ski jumps on Main Street, and bonfire. Stay for a historic event: the World's Longest Shot Ski.
Cost: Most events are free to attend but book your lodging early. Registration to be a part of the shot ski is $10.
Thursday, January 10-Saturday, January 12
Breckenridge
This specialty beer fest focuses more on education, so if you're a true beer connoisseur, this is the place to be. Over 120 breweries will be at the event sharing not only their brews but also their knowledge.
Cost: Commercial tasting tickets are $75
Friday-Sunday, January 12-27
This annual event kicks off with a parade of longhorns through downtown Denver followed by two weeks of rodeos, mutton busting, horse shows, the ever popular catch a calf competition, and more. The Stock Show's been around since 1906 and is a big part of Denver's history, so dig up that giant belt buckle and get in touch with your Wild West side.
Cost: Ground admission starts at $10
Saturday-Sunday, January 19-20
Estes Park
This annual event combines a few of your favorite things including chili tastings, local beer, barbecue, live entertainment, and more. There will also be plenty of kids' activities at this family-friendly event.
Cost: Adult tickets that include entry and beers are $30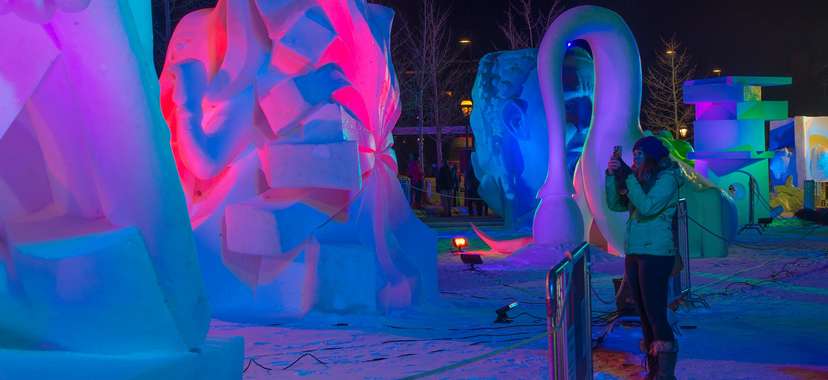 Monday, January 21-Wednesday, January 30
Breckenridge
Global competitors from 16 teams will compete at this annual event. Browse the creations made from 25-ton blocks of snow that are hand carved with expertise.  
Cost: Free to attend
Thursday-Sunday, January 24-27
Aspen
The extreme sports competitions may be the main reason for this annual event, but the music has become a big draw for the crowds. This year jam out to acts like Lil Wayne, Louis The Child, The Chainsmokers and Kygo, then explore the festival village and watch some of the head to head competition.
Cost: General admission tickets for all music are $120
Friday-Saturday, January 25-26
Mile High Station
Beer fest season lasts all year long in Denver and winter is no exception. The Denver Winter Brew Fest is back with plenty of beer on hand to samples from both local and national breweries along with live music, food trucks, and more. Plus drinking for a good cause always feels extra nice and proceeds from this event benefits Swallow Hill Music.
Cost: General admission tickets start at $35
Friday-Sunday, January 25-27
Golden
This music and beer festival in the foothills outside of Denver is the perfect mid-winter getaway. The lineup this year features The Same Bush Band, Drew Emmitt and the UllrGrass Allstars, New Orleans Suspects, and more.
Cost: Weekend passes are $100; single day tickets are also available 
Saturday, January 26
Improper City
Whiskey reps will be on hand to walk you through a two hour tasting that includes 15 tasting tickets each good for a .25-ounce pour. Sample as many as you can handle then vote for your favorite brand.   
Cost: General admission tickets are $35
Friday, February 1
Red Rocks Park & Amphitheatre
This world-renowned venue is a summertime destination, but thanks to Icelantic's Winter on the Rocks, you don't have to wait until warm weather returns to enjoy some live music here. This year's line up includes De La Soul, Living Legends, Watsky, and more.  
Cost: Tickets start at $49.95
Sunday, February 3
Washington Park
You're not going to be watching the Broncos in the Super Bowl this year, but you can still show your team spirit at this run. Go ahead, do something productive before downing all those brews and nachos.
Cost: Adult pre-registration is $35
Sunday, February 17
EXDO Event Center
This isn't a time for good behavior. Embrace your dark side at a "seven deadly sins" themed bash complete with live music, New Orleans-style drinks, and plenty of colorful beads.
Cost: General admission is $39 and tickets go on sale in January
Friday-Sunday, February 22-24
Steamboat Springs
This epic mountain music festival returns to Steamboat once again with a jam packed lineup. Featured artists this year include Trampled by Turtles, Railroad Earth, and The Infamous Stringdusters.
Cost: General admission tickets start at $189
Friday, February 22-Sunday, March 3
Various locations
Explore Denver's booming restaurant scene during this week-long celebration of the city's culinary culture. Many of Denver's best restaurants will offer special prix fixe menus designed to give you a taste of what they do best.
Cost: Multi-course dinners are priced at $25, $25, or $45/person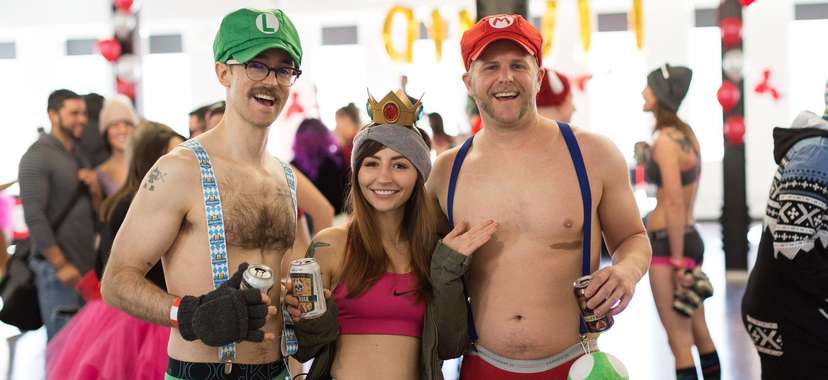 Saturday, February 23
Stoney's
It's gonna be cold but that's no excuse to miss out on this "brief" fun run for a good cause. The annual Undie Run raises funds to find a cure for neurofibromatosis (NF).
Cost: Registration is $30 until December 10; prices increase as the event gets closer
Saturday-Sunday, February 23-24
Boulder County Fairgrounds
Enjoy hands on alpaca experiences at this event that also includes demos, educational activities, alpaca product for you to browse.
Cost: Free to attend
Thursday, February 28-Sunday, March 3
Various locations
The 15th annual edition of this fest features a red carpet opening night, the Noir Party, film maker happy hours, food events, and more. Tickets to individual screenings will be available closer to the festival dates
Cost: Early bird festival passes are $375
Sign up here for our daily Denver email and be the first to get all the food/drink/fun in town.