Sure, you could totally spend the next few months frequenting Denver's best sports bars and watching the Broncos try to get back to the playoffs. But autumn in the Mile-High City has got a hell of a lot more to offer than that, so get off the barstool and make your way through these essential fall activities.
Drink beer all over town
Literally. Yeah, scoring tickets to the Great American Beer Festival on September 24th-26th was tough. But the Denver Beer Fest is bringing plenty of beer tastings, firkin tappings, beer pairing dinners, and more to the city through September 26th, so break out that pretzel necklace and get ready for plenty of brews.
Show off your stein-holding skills
You might be able to drink beer like a champ, but how long can you keep one hoisted in the air? Find out at the Denver Oktoberfest's final weekend September 25th-27th or head to one of the many other Oktoberfest celebrations in the state this fall for beer, beer, and more beer (oh, and bratwurst, too).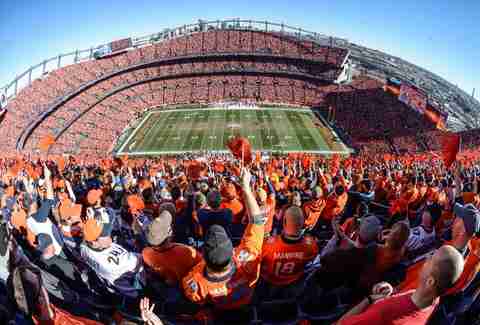 Cheer on PFM in person
Go Broncos! Enough said.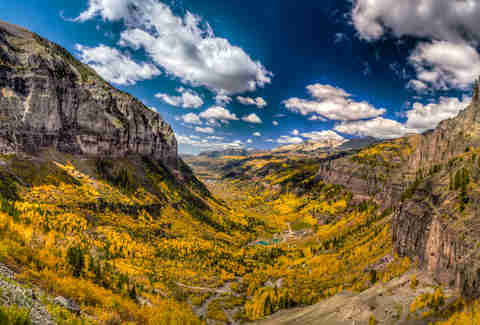 Get high
About 10,000ft high to be exact, where you can catch amazing views of the fall foliage. Colors usually peak the last week of September -- a fact that isn't exactly secret -- so plan on heading out early in the day to avoid crowds at the better-known mountain passes.
Practice your bugling
Ever heard an elk call? If not, you need to study up before heading to the Elk Fest October 3rd-4th, where you can compete in the bugling contest, among other elk-related activities. Just watch out for elk in the road -- they basically take over the town of Estes Park in the fall.
Skip the pumpkin spice latte and drink even more beer
Because after going out and drinking, what you really need to do is… go home and drink all the pumpkin beers, of course. From New Belgium's cranberry-laced Pumpkick to Avery's heaving-hitting 18% ABV Rumpkin, Colorado breweries will keep you sipping fall flavors all season long.
Get scared
Denver's got plenty of haunted houses, but at Elitch Gardens' annual end-of-the-season Fright Fest, which takes over the park every weekend in October, you'll get your fill of creepy Halloween action, plus roller coasters, making this tradition a must-do.
Work off all that beer
Despite all the beer drinking, Colorado is still one of the nation's healthiest states. Do your part to keep it that way by hitting Run the Rocks on October 11th. This annual 5k benefits the American Lung Association in Colorado, so you can feel good while you do good. Then you can have another beer.
Get in your first run
Still trying to say goodbye to summer? Get over it. Powder days are coming soon with resorts planning to open as early as October 17th, so be ready to get your ass to the mountains stat if you want to be first in line at the lifts.
Eat something new
Stop going to all the same restaurants! Denver's teeming with new restaurants -- over 60 so far in 2015 -- so get out there and start sampling eats like the beef tartare with salt and vinegar chips from Cafe Marmotte, or get really adventurous and order the whole roasted animal head from Rebel Restaurant.
Stock up on fake blood
The Zombie Crawl will bring hordes of the undead to the 16th Street Mall on October ​17th. Head down to be a part of the goriest parade in Denver.
Find your way out
Not from any kind of existential crisis or anything (you can save that for wintertime). Instead, spend time getting lost in one of the many area corn mazes like the Haunted Field of Screams in Thornton, or the more tame eight-acre maze at the Denver Botanic Gardens at Chatfield.
Hang with real ghosts
Haunted houses and scary mazes aren't the only ways to get creeped out in Colorado. The Stanley Hotel is best known as the real life place that inspired Stephen King to write The Shining, and plenty of visitors have reported their own ghost sightings around this historic building. During the month of October, the hotel hosts seasonal events that are ideal for anyone looking to get a dose of the paranormal.
Go to a museum… for free
As part of Denver Arts Week (Nov. 6th-14th), many local museums are waiving admission fees from 5-10pm on November 7th. They'll even have free shuttles, making it super easy for you to get a big dose of culture.
Surrender to the holiday madness
There's no escaping it, so you might as well embrace it. Head Downtown on November 27th at 6pm for the Grand Illumination, the annual lighting of the capitol building where you can bask in the glow of the holiday spirit and pretend like the rest of Black Friday never happened.
Sign up here for our daily Denver email and be the first to get all the food/drink/fun in town.
Molly Martin is a Denver-based freelance who's drinking pumpkin beers right now. Follow @mollydbu on Instagram and Twitter.