LOFTFLOW/Shutterstock
LOFTFLOW/Shutterstock
You could spend all day Instagramming mountain views and thoughtfully arranged images of the most recent craft beer you've tried... but you're smart enough to know that there's more to life than that, right? And by more to life, we mean more apps. Now you can try them all, 'cause we've got all the phone apps you'll ever need to make living in the Mile High even better.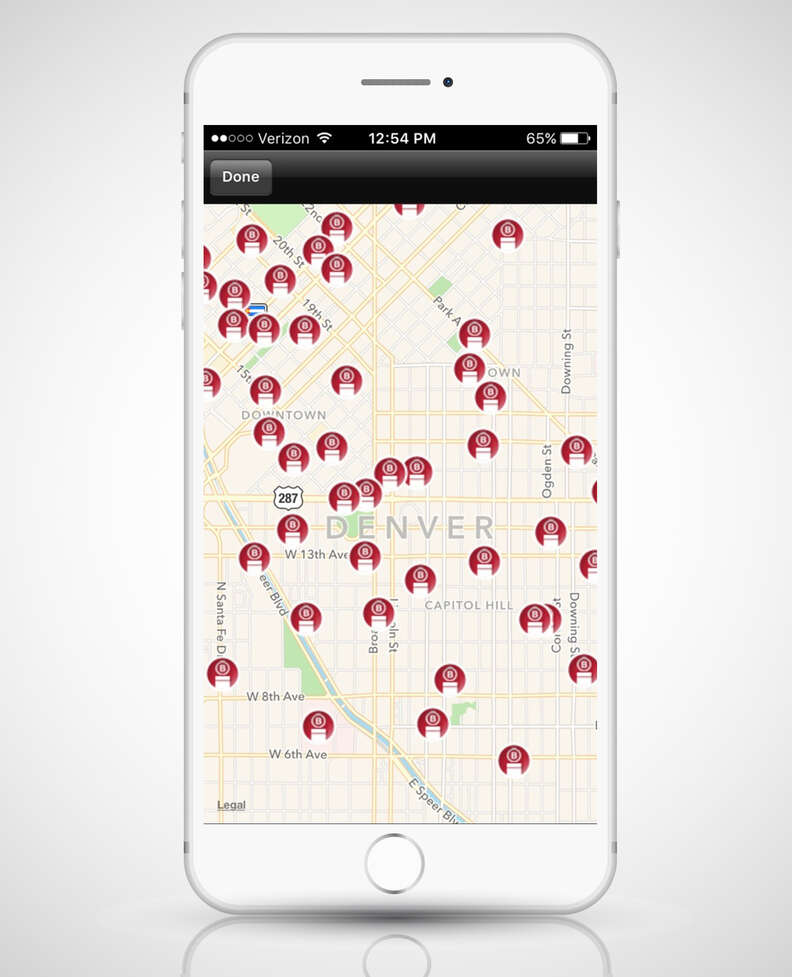 Getting around
B-cycle Now
Free
iOS/Android
What it does: Locates the nearest B-cycle stations, tells you how to get there, and shows bike availability.
With paths that run to every part of the city (and suburbs) and ample bike lanes, Denver is the definition of bikable. But what if you need, you know, an actual bike? B-cycle Now's got 87 stations and 700 bikes in town, and with this app, you'll have easy access.
Parkmobile
Free
Android/iPhone/Blackberry
What it does: Allows you to pay for parking with no cash or coins and no need to display a sticker, plus you can refill your meter if needed.
Check it out: you went to run a quick errand, but stumbled upon an awesome cafe... and now you need to leave to pay your meter. NOPE, not you, because you use this app, which also prevents all of those separate charges every time you run your card.
Loopr
Free
Android/iPhone
What it does: Offers a safe, cannabis-friendly ride on a route that hits some of the city's best bars, restaurants, dispensaries, breweries, and more.
This has been called the Uber for weed lovers, but that's not exactly right. You can't go from somewhere to anywhere on it, but with your one-, three-, or seven-day pass, you can hop on and off its route around Downtown as much as you'd like, toking (or dabbing, or vaping, or whatever your preferred method of indulging is) along the way in the high-tech, party bus-style transport.
Waze
Free
Android/iPhone
What it does: Helps you navigate traffic by finding the fastest routes around town.
You've likely heard at least one person complain about the traffic in Denver today, right? With this app, you won't be that person, because it'll help you avoid traffic jams, give you a heads up on accidents and delays, and let you contribute info to help other users get where they're going faster.
WalkScore
Free
Andoid/iPhone
What it does: Gives you insider insight into any Denver neighborhood.
Maybe you recently moved or you're just spending the day in a new 'hood. Either way, this app can tell you about all businesses within walking distance, the best routes to find places nearby, and lets you access info about crime and safety along with user recommendations so you can explore, no guesswork needed.
Go Denver
Free
Andoid/iPhone
What it does: Tells you how to get where you're going, no matter what mode of transportation you prefer.
Whether you're biking, walking, driving, or want to use public transportation, plan your best route using this app that makes getting where you need to go simple.
ParkMe
Free
Android/iPhone
What it does: Helps you find parking lots and tells you how full they are.
No more driving around desperately searching for available spots or getting surprised by expensive parking fees. This app uses real-time traffic data to make the never-fun task of dealing with paid parking at least a little less stressful.
car2go
Free
Android/iPhone/Blackberry/Windows
What it does: Gives you access to a fleet of smart cars that you can drive from point A to point B.
Denver's got trails, public transportation, and, of course, Uber and Lyft, so lots of people really don't need a car in this town. If you decide to go vehicle-free, though, there may be times when you really need another option. Enter this app, which lets you sign up for a membership so you can locate nearby car2go vehicles, unlock them, and give yourself a ride anywhere you need to be. No need to return the car, just park it and go on your way.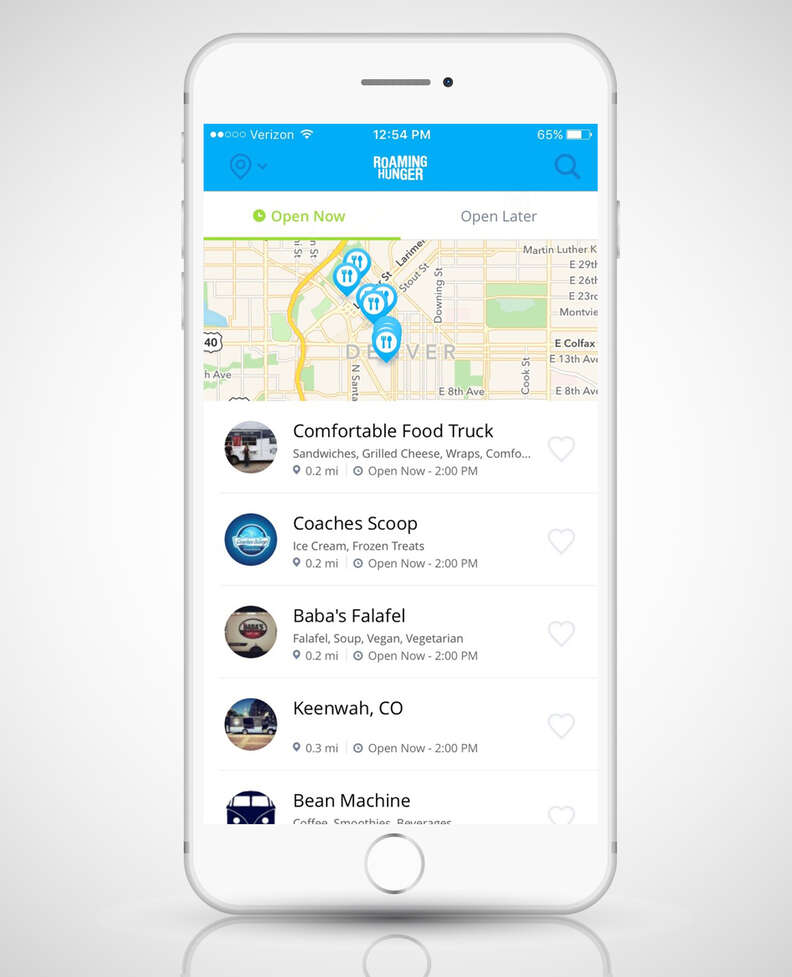 Eating & drinking
Roaming Hunger
Free
Android/iPhone
What it does: Gives you the current and future locations of some of Denver's best food trucks.
Food trucks are awesome, that's fact. But finding them when you're craving some mobile munchies can be a pain. This app does the heavy lifting for you, so there's no need to scour Twitter to figure out where you need to be to get eats from trucks like Churn & Burn and Mauna Snoa Shave Ice.
Grubhub
Free
Android/iPhone
What it does: Gives you access to food delivery from a large variety of Denver restaurants.
The days of Chinese and pizza being your only delivery options are definitely over. There are tons of apps in Denver that will deliver from traditionally non-delivery joints, but we like this one because the service is fast and simple, letting you track your order from the time it's placed 'til they're knocking on your door. Plus, the delivery fees are generally low (and sometimes even free).
OrderUp
Free
Android/iPhone
What it does: Gives you access to food delivery by even more of Denver's restaurants.
This app also lets you track your order, and has a large selection to choose from. We're never going to be mad about having more options when it comes to finding that perfect meal that we don't need get out of our PJs to enjoy.
Favor
Free
Android/iPhone
What it does: Lets you get anything delivered in under an hour.
So you checked all the other food delivery apps and they simply don't have what you're craving. Then this is the app for you. They'll go wherever your stomach desires, and if you need some paper towels and a bottle of mustard, use their Anything buttons and they'll pick that up on the way, too.
Instacart
Free
Android/iPhone
What it does: Takes care of the grocery shopping for you fast.
Skip the checkout lines and let this app do your grocery shopping for you. Order from places like Whole Foods and Costco and your shopping list will be delivered to your door in an hour, which is probably less time than it takes you to get motivated to get off the couch and head to the store yourself.
Drizly
Free
Android/iPhone
What it does: Saves you a run to the liquor store. Kinda sounds like Drake.
Tapped that keg earlier than you thought you would? No worries. Use this app to get practically any kind of booze delivered right to your door.
TapHunter
Free
Android/iPhone
What it does: Tells you what's on tap at nearby bars and restaurants.
Craving a certain fruity sour or super-hoppy IPA? Use this app to find it so you can spend less time looking for that perfect brew and more time drinking it.
Untappd
Free
Android/iPhone
What it does: This one also lets you know what's on tap where, but will additionally allow you to connect with others to see what they're drinking, read and write reviews, and track what you've tried and what you thought of it.
It's like Facebook for craft beer. There's a social element so you can connect with your fellow beer fanatics and exchange notes, and you'll never forget the name of that amazing saison you tried last week again.
Essential info
TrailLink
Free
Android/iPhone
What it does: Gives you access to trails in the area, including offline maps, user reviews, and photos, and you get the ability to track your favorites.
Whether you're looking for somewhere to hike, bike, or run, this app can help you find the best routes in the area. Now get out there and enjoy the outdoors already!
Colorado Public Radio
Free
Android/iPhone
What it does: Lets you get the latest Colorado-centric news and on-demand access to music, stories, and interviews.
Go ahead, get a little culture on the go. Access CPR News, CPR Classical, and OpenAir anytime with this app that will have you starting the interesting conversations at the next group get-together.
The Weather Channel
Free
Android/iPhone
What it does: Keeps you informed of incoming storms and other weather alerts.
Colorado is beautiful, but we still deal with weather that's moodier than Jon Snow. Winter could literally be coming at any moment in the form of sudden hailstorms, not to mention tornadoes, flash flooding, and a whole lot of lightning. Don't be caught off guard.
Weedmaps
Free
Android/iPhone
What it does: Locates dispensaries and give you access to reviews, menus, and current deals.
It's Yelp for the dispensary scene. In Denver, you're never far from some legal marijuana, but this makes it easier to figure out exactly where to go for whatever strain, edible, or other green goodie you're looking for.
Leafly
Free
Android/iPhone
What it does: This one helps you find dispensaries along with information about each, but it also keeps you updated on any marijuana-related news and events.
Denver's still in the minority when it comes to cities that have legalized it, but recreational marijuana isn't going anywhere anytime soon, so you might as well keep up on the latest about this ever-changing industry.

Sign up here for our daily Denver email and be the first to get all the food/drink/fun in town.
Molly Martin is a freelance writer in Denver, Colorado who ordered Thai food using an app while she wrote this. Keep up with her latest discoveries @mollydbu on Twitter and Instagram.