So you moved to Colorado, congratulations! You're not the only one: The state's seen a record number of new residents in the last few years, but some transplants are easier to spot than others. If you want to mix in with the locals, there are some essential experiences to tackle before you can lose your newbie status. Yes, craft beer is involved, and so is plenty of time outside. So start planning your weekend getaways now because these rites of passage are the key to becoming a bona fide Coloradan.
Manitou Springs
The phrase, "the last time I did the Incline..." is a guaranteed way to earn knowing nods of respect from your fellow Coloradans. This former cable car track is total #fitnessgoals for locals, and summiting it is no easy task, especially if you're still adjusting to the high elevation. But in this state, street cred is replaced by mountain cred, and this is one way to really earn it. Don't be deceived by the Incline's length, however. It may be less than a mile, but you'll gain nearly 2,000 feet in elevation before making it to the top (a feat that takes 30 minutes to an hour, depending on your fitness level), where you'll be rewarded with sweeping views of the Colorado Springs below. And if you really want to live like a local, you can reward yourself with a cold post-hike beer back in town.
DRINK LOCAL BEER
Various locations
Yes, post-hike beers are totally a thing. In fact, most activities here are typically capped off with a cold one -- but not just any beer will do. You might have heard that Colorado is pretty proud of its craft beer scene. The state is home to over 150 craft breweries, and one of the most popular pastimes is finding reasons to sample them. Even casual beer drinkers can spout off a list of their local favorites, so no matter where you find yourself, be sure to save time for a brewery stop. On your first visit, ordering a tasting flight is the best way to avoid getting stuck with a full pint of a hoppy IPA before you've learned that sours are more your style. Be brave, sip often, and soon you, too, will be able to direct visitors who want to know where to go for a beer.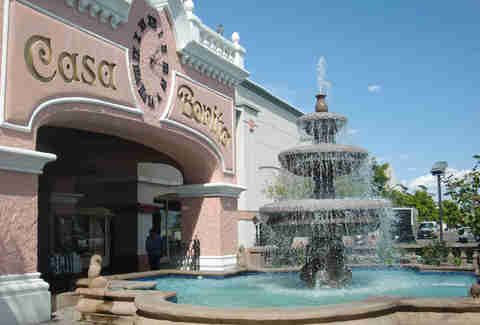 Lakewood
You've seen the South Park episode, and yes, it's real. The cliff divers, Black Bart's Cave, the skee ball room, the roving mariachi band… it's all there, and has been since 1974. And every local's been at least once. It's a rite of passage despite the mostly terrible food, and be warned -- you have to purchase that food for entry. The spectacle that awaits is worth it, though, as this place really does need to be seen to be believed. But for your own good, eat before going and stick with the margaritas and sopapillas while you're there.  
CLAIM YOUR FAVORITE GREEN CHILI
Various locations
If you happen to be a Colorado transplant from New Mexico, then you definitely already have plenty of opinions on this matter. But the fact remains that green chili is a Colorado staple. You'll find it all over menus -- served in bowls, as toppings on burritos & burgers, and ladled onto piles of fries & tater tots. And every local's got a favorite. Some are pork-studded stew-like concoctions, others are thinner, saucy versions; some have tomatillos or tomatoes added, and sometimes the chili will look more orange than green. But they all capture that essential, roasted chile flavor. Not sure where to start? Get a bowlful at Denver's El Taco De Mexico, snag a smothered burrito at Chubby's, and head to Pueblo for a slopper (a smothered burger) at Gray's Coors Tavern. If you haven't developed a taste for this beloved dish after all that, well, you should probably consider relocating.
In need of a new bank to go with your new home? FirstBank is based in Colorado and deeply rooted in the community through efforts like sponsoring 2017's Colorado Gives Day, which raised $36.5 million for nonprofits in the state. Plus, when you open a new Anywhere Account and follow the qualifying steps, you'll receive $300* to save for whatever you want -- like that mid-century modern coffee table you've had your eye on.
*Certain requirements and restrictions apply. Member FDIC.
Denver
Denver is a sports-loving city. We've got seven major sports teams (including lacrosse and rugby) and while cheering on any of them is a great way to spend a day, nothing ignites more passion in the Mile High than the orange and blue. The start of the 2018-2019 season brings new quarterback Case Keenum, who will attempt to lead the team back to their Peyton Manning-era Super Bowl glory. But whether they're winning or losing, this is Broncos country and paying homage to the home team is the holy grail of sports experiences here. So embrace the football fervor, get yourself some orange and blue gear, and remember that no matter what name the stadium officially touts, you should always refer to it as Mile High.
EAT THE REGION'S BEST-KNOWN PRODUCE
Various locations
From farmers markets to restaurants touting locally-grown produce, Coloradans are proud of their homegrown crops. But the best way to get a taste of the state is by sampling its best-known fruits and veggies straight from the source. In western Colorado, near Grand Junction, is the town of Olathe, where Olathe "sweet, sweet corn" (as you'll hear on commercials over the summer months) is grown, harvested, and shipped nationwide. In southeast Colorado, Rocky Ford cantaloupes develop their signature sweetness thanks to the area's hot days. (That also means a healthy number of wineries along Route 50 from Cañon City to Pueblo, making this region a popular late-summer destination.) And in Pueblo, their green chiles rival the more famous Hatch variety from New Mexico.
RIDE THE RAILS
Various locations
Railroads have a deep history in Colorado. Even in the most remote locations, it's not rare to come across remains of ancient tracks from the state's Old West glory days. And there are plenty of railroads still in operation here that give you access to views that would be impossible to see on foot or by car. The iconic Rio Grande railroad, originally completed in 1878, will transport you from Alamosa over La Veta Pass and back as you take in the same views that miners and farmers saw 140 years ago. In Colorado Springs, you can ride the Cog Railway to the top of Pikes Peak, one of Colorado's 53 "fourteeners" (that's what we call mountains with an elevation over 14,000 feet, and it's a term you need to know). In the winter, grab your gear and take the Winter Park Express, aka the "ski train," to the slopes while avoiding I-70 traffic (another thing you should get used to hearing about). And in Cañon City, you can take a two-hour trek on another portion of the Rio Grande, the Royal Gorge Route Railroad, where you'll dine on first-class worthy food as the train winds through the Colorado Rockies with 1,000-foot cliffs looming above.
Morrison
Whenever someone mentions that they haven't seen a show at this world-famous venue, it's usually snarkily followed by, "How long have you lived here?" Don't be that person. There is nothing quite like experiencing live music at this naturally-formed rock amphitheatre with sweeping views of Denver in the background and the open night sky above. The first shows here were performed on a temporary platform in 1906, and after the city of Denver acquired it, they built a permanent stage and opened to the public in 1941. Since then, a seemingly endless list of legends including The Beatles, Tom Petty, and The Grateful Dead have played the stage. The summer concert schedule release is a highly anticipated annual event and the lineup is always jam-packed with options, so really, you've got no excuse for not having a "my first Red Rocks show" story yet.
Steamboat Springs
Being active is second nature in Colorado, but so is enjoying some well-earned relaxation after a day of hiking, biking, or skiing. That's why the state's natural hot springs are such a draw. And while you've got over two dozen to choose from, you can't claim true local status until you've experienced this picturesque destination tucked in the mountains outside of Steamboat Springs. The rustic creekside setting is quintessentially Colorado and even on a busy day, it feels like you're in on one of the best secrets in the state. Heads up, it's clothing optional after dark, but that 104-degree mineral water will melt away all your worries no matter what you are (or aren't) wearing.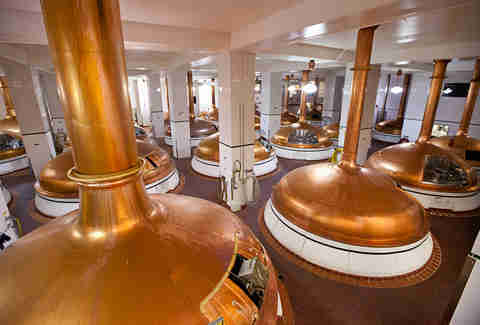 Golden
Though craft breweries get all the glory now, Coors was a pioneer of Colorado-made beer. The company got its start in Golden in 1873, and during their free, self-guided tour, you'll learn all about the history of the company and how it's grown to be the world's largest single-site brewery. The experience includes a firsthand look at the brewing and bottling process, plus you'll get a mid-tour taster in the fresh beer room, followed by three brews of your choice in the lounge at the end. Did we mention this is all free? Insider tip: You can totally opt to head straight to the tasting room, so if you find yourself in Golden and you've already checked the full tour off your list, remember, there are free beers awaiting anytime.
South-Central Colorado
When you think of nature in Colorado, epic mountain vistas typically come to mind. But locals know that one of the most impressive natural sights in the state is one that's totally unexpected: this desert-like landscape, home to the tallest dunes in North America. Formed by winds, the dunes sit at the foot of the Sangre de Cristo Mountains with the expanse of the San Luis Valley beyond. Head out early in the summer to climb (more like clamor) your way up the massive sand hills and channel childhood by rolling (or sledding) back down them. If you don't get at least one photo of your sand-covered face while you're visiting, you're doing it wrong. Once temperatures at the top start to heat up, head back down to cool your feet in Medano Creek and explore the forests and wetlands that surround the dunes.
Estes Park/Grand Lake
The dunes are a must-see because they're one of a kind, but this is where you need to go for that essential Rocky Mountain moment. That one when you wonder why the hell you are still driving up when you're already two miles above sea level. If you haven't been on a road with views that make your palms sweaty, you haven't really experienced Colorado yet. And there's no better choice than Rocky Mountain National Park's 48-mile "highway to the sky" that will take you above the tree line to over 12,000 feet in elevation as you travel from one side of the park to the other. At high altitudes, the weather can be unpredictable, so don't be surprised if you get caught in flurries in the middle of July, and be sure to look out for wildlife like elk, marmots, bighorn sheep, moose, and bears. (But maybe don't look too hard while you're driving, 'cause seriously, you should keep your eyes on the road.)
HIT THE SLOPES
Various locations
You may have caught on by now that getting outside is a prerequisite for anyone living in Colorado. But mid-October through mid-April marks a special time for locals as they make their weekly pilgrimage to the ski resorts. There are 23 to choose from all over the state and if you plan on going often, snagging a multi-mountain lift pass during the off-season is your best (read: most cost-effective) bet. Whether you become a ski regular or only go once or twice a year, living here without having personal horror stories of I-70 traffic makes it obvious that you just got to town.