18 Essential AAPI-Owned Businesses to Support in Denver
For AAPI Month and beyond, here's how to support Asian American and Pacific Islander businesses, restaurants, nonprofits, and more in the Mile High.
Sadly, the last two years saw much more turmoil than from COVID-19 alone. Colorado (and the world) saw a concerning uptick in racism and violence, particularly targeting Asian American and Pacific Islander communities. Anti-Asian hate crimes rose drastically last year—by 339 percent, actually—compared to 2020, and tragedies like the Atlanta spa shooting completely rocked the AAPI community and its allies.
According to the July 2021 US census, Asians make up about 4.1 percent of Denver's population and Native Hawaiians and Pacific Islanders .2 percent (though those numbers could certainly be higher in actuality). Regularly supporting AAPI-owned businesses is crucial to ensuring the protection of this culture and history and celebrating those who make the Mile High an amazing place to live. While this list doesn't capture every incredible AAPI-owned business, restaurant, and nonprofit that you can support in Denver, it's a good place to start. You're encouraged to check out each and every listing and to research for yourself what other businesses could use your help, especially now.
Multiple locations
Chef Penelope Wong is not only a force in the kitchen—hand-pinching some of the best dumplings this side of the Mississippi—but also a fierce advocate for the AAPI community, always keeping the conversation around stopping Asian hate alive. You can support her small business by ordering her signature Chili-Garlic Wontons, dumplings, noodles, and anything else that pops up on the menu—every single item Wong makes is 10/10.
How to support: Follow the truck on Instagram and definitely pre-order for pickup if you can.
Athmar Park
This is your spot for crave-worthy banh mi and sweet, freshly baked mooncakes, among other fluffy pastries. Parched? Wash down one of Denver's best sandwiches with locally and sustainably sourced iced teas, milk teas, or some seriously memorable Vietnamese iced coffee.
How to support: Stop in and take a seat or take some lunch to-go.
Multiple locations
Think: fluffy, buttery naan, rich, saag paneer, and delightfully steamed momo with chutney for dipping. All that and more (much more) is waiting for you at any one of Yak & Yeti's locations. And aside from offering some of the most intense and flavorful Indian dishes in all of Colorado, this place is a vegan or gluten-free diner's dream.
How to support: Dine in or order takeout.
Platt Park
Arguably the most popular sushi spot in the city, Sushi Den is known for its incredibly fresh fish, mesmerizing dishes, and opulent atmosphere. Of course, any one of Den Corner's restaurants (including neighbor and sister restaurants Ototo Den and Izakaya Den) are impressive lunch and dinner destinations. You'll just have to visit all three.
How to support: Book a table or order food to-go.
Five Points
Included in the list of best Chinese restaurants in Denver is this concept from restaurateur Tommy Lee, who also owns one of the most profitable ramen spots in the city: Uncle. Hop Alley has some of the most interesting and diverse dishes and flavors you'll find when it comes to Denver Chinese food, including Cumin Lamb Buns, Bone Marrow Fried Rice, and the spicy La Zi Ji (fried chicken thigh). The bonus? The drinks here are just as on point and pair excellently with pretty much everything.
How to support: Book a table or order takeout.
LoHi
You won't just find tasty Chinese food here—you'll find family-inspired recipes and unique takes on blending Cantonese and American flavors. The Avanti stall features favorites like scallion pancakes, spicy Sichuan mozzarella sticks, bao buns, and noodle dishes to write home about, and everything is meticulously taste-tested by owners Chef Ken Wan and Doris Yuen's family.
How to support: Head on into Avanti F&B and make a beeline for Meta's stall.
Capitol Hill
Anise is a restaurant you can always feel comfortable in. Owner and executive chef Quyen Trinh, a Saigon native, is passionate about offering authentic and eclectic Vietnamese eats that guests can't find elsewhere in Denver, and menu sections (at least online) are thoroughly explained for customers to have the most informative ordering experience possible. Choose from a wide array of appetizers, curries, stir fry, and plenty of specialty dishes that make follow-up visits a must.
How to support: Book a table or order takeout.
Multiple locations
Shuang Crossland is one busy entrepreneur. Her restaurant group comprises many names you've likely heard of, including Go Fish sushi, The Bronze Empire, Poké Concept, and Makizushico, to name a few. While the dishes range from freshly rolled sushi to steaming hot pot to flavorful poke, any one of the places beneath One Concept's umbrella is worth visiting (but you should definitely check them all out).
How to support: Pick a concept and book a table or order takeout.
Aurora
Voted best hot pot in Asian Avenue Magazine's Best of 2021, this place is definitely where you want to go if you've never had hot pot (and if you haven't, where have you been?) and are looking to treat your tastebuds. Sure, there are a few tasty appetizers, but you're here for the (regular or spicy) main attraction: Choose your preferred soup base and all the goodies you'd like to cook in it (meats, veggies, seafood, noodles) and enjoy a night out with anyone you don't mind sharing with.
How to support: Stopping in is really the only way to experience hot pot. No reservations.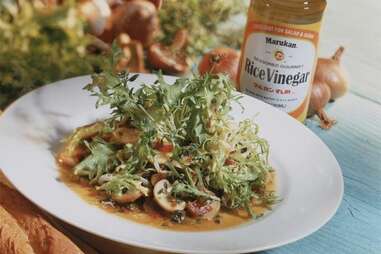 LoDo
On the edge of LoDo is this shop where you can find specialty Asian groceries plus a few extras too. Sauces, snacks, and single-serve noodle varieties can be found here, alongside cookware essentials and goods by way of home decor and gifts.
How to support: Order online or stop in for in-person shopping.
Westwood
A trip to Far East Center is always a good idea, but especially so if you're looking for a sentimental gift—or just a little something for yourself. This place has everything. Like, everything. Tea sets, bamboo, jewelry, clothes, home decor, hard-to-find snacks… you name it, you'll find it at Truong An.
How to support: Stop in whenever you can and add them to your list of holiday shopping stops this year.
Aurora
While we hope most people's experiences don't involve any crying, there is something special about H Mart's vast selection and dedication to its consumer base that makes it feel like a playground for some and a home-away-from-home for others. Whether you strictly cook family-passed-down Korean dishes or if you are an amateur chef dabbling in Asian recipes, this is the place to find the biggest and best array of options for whatever you need.
How to support: Stop in for just a few items or an entire grocery haul.
Multiple locations
The CAPU is a collection of "leaders, creatives, and allies" devoted to lifting up Colorado's AAPI community by preserving its cultures and histories, celebrating its members, and creating a stronger, more inclusive future. The group is still in its early stages (having just celebrated its first anniversary) but has already done impressive work, including launching a GoFundMe to fund education about Denver's historic Chinatown and facilitating the recent formal apology from the City of Denver, which addressed historic anti-Asian hate.
How to support: Stay connected and sign up to volunteer.
Speer
Looking to support a local, Asian-owned business? Want to attend an upcoming event supporting the AAPI community? Looking for a job somewhere that recognizes, welcomes, and supports Asian Americans and Pacific Islanders? This is an all-encompassing resource for whatever you're looking for.
How to support: Apply to be a member, sign up for e-newsletters, or become a sponsor.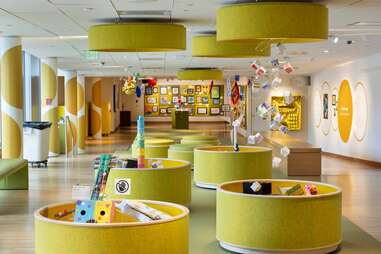 Golden Triangle
Founded in 1915, this collection features over 7,000 artworks ranging from bamboo sculptures to textile art, representing a huge number of Asian artists, various countries, and pieces that may date back some 6,000 years.
How to support: Purchase a ticket or membership to DAM.
Multiple locations
Denver's no stranger to public art and many of the eye-catching works around the city are a result of AAPI artists' efforts. This list not only details the locations of public works by AAPI artists but provides a backstory for each, offering the chance for an informative self-guided tour.
How to support: Create your own self-guided tour with help from Denver Public Art.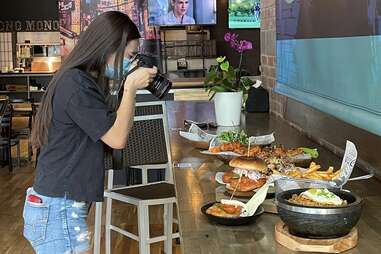 Multiple locations
Similar to the Asian Chamber of Commerce, this publication acts as a great resource but with the addition of highlighting stories and experiences of Asian Americans throughout the state. Discover nonprofit initiatives, local authors, and so much more by checking their website or better yet—subscribing to the print mag.
How to support: Subscribe to or advertise with the magazine.
Sloan's Lake
Whether you're an annual Dragon Boat Festival attendee or have absolutely no idea what this is, making time to visit is a summer essential. Watch teams compete by paddling long, ornate wooden boats, and, after the races are over, peruse handmade goods in the Asian Marketplace, sample the best local eats at the Taste of Asia Food Court, then stick around for live performances and other immersive experiences. The Dragon Boat Festival is a fantastic way to get to know and help celebrate your AAPI neighbors. This year's festival will be July 23-24 and is set to be the biggest and best yet, with the theme being #representASIAN.
How to support: Mark your calendars, sign up to volunteer, or apply to race!
Erica Buehler is a Denver-based freelance writer. Follow her @e_buehler on Instagram and @e_buehler_ on Twitter for more updates on Denver food and other Mile High shenanigans.