Matt Inden/Miles/Courtesy of the Colorado Tourism Office
Matt Inden/Miles/Courtesy of the Colorado Tourism Office
When you live in a state that's filled with as many gorgeous places as Colorado, getting outside as much as possible is essential. And since our beautiful state also boasts snow six months a year, doing it as soon as you can is essential. To help you make the most of your remaining snow-free time, we assembled this list of the best fall hikes near Denver. Lace up your boots this weekend before you're trading them in for skis.
Roxborough State Park
Distance from Denver: 20 miles; 35-minute drive
So you were too busy eating your way through the Denver food bucket list and missed out on seeing the golden aspens in the high country? You're in luck. Fall colors come later at lower elevations, so you'll be able to catch some autumn foliage at this state park right outside of Denver through October. Head for the Lyons Overlook Trail for a fall view complete with the distant city skyline and the red rock outcroppings that fill the valley.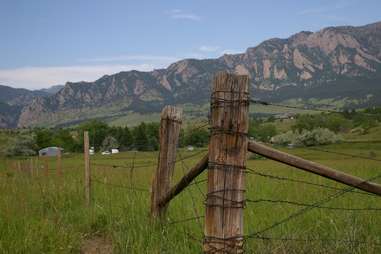 Marshall Mesa
Distance from Denver: 26 miles; 30-minute drive
Colorado weather can get weird fast -- especially in the fall when a beautiful, clear day can turn into a barrage of hail, lightning, or snow in no time. Get a clear view of the sky and stay ahead of unpredictable weather by hiking in this area in Boulder where you can explore the plains east of the Flatirons. These trails are used heavily by bikers on weekends, but it's close enough to Denver to make for an ideal evening adventure on the weekdays.
North Table Mountain
Distance from Denver: 18 miles; 25-minute drive
Challenging yourself can be a reward unto itself. But let's be serious, an actual reward is better. Head up the steep slopes of this mesa in Golden and you'll earn sweeping views of the city below (including the massive Coors Brewery complex), and catch the autumn colors if you do it soon. Pro tip: for an extra-vibrant experience, head up in time for sunrise.
Paint Mines Interpretive Park
Distance from Denver: 87 miles; 1.5-hour drive
We can all agree that the Rocky Mountains are pretty great, right? But there's more to see than just those tall peaks. On the Eastern plains outside of Colorado Springs, you'll find this area filled with colorful geologic features formed out of rainbow-hued clay. In the summer, this place can feel like a gigantic tandoori oven, but in the fall, you can explore the four miles of trails without feeling like you're on the verge of heatstroke.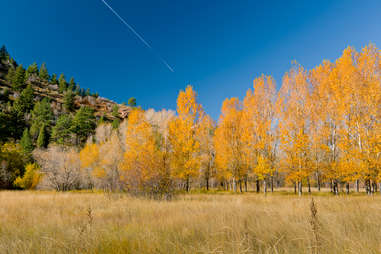 Lair o' the Bear
Distance from Denver: 22 miles; 30-minute drive
This spot's got the recipe for a fall day-trip down. Getting there from town is quick and easy, and since it's not too far into the foothills, the autumn temperatures stay pretty mild. There's also a variety of trails to explore, from the easier route that takes you along the banks of Bear Creek to steeper climbs that lead to views of the valley below.
St. Vrain State Park
Distance from Denver: 34 miles; 30-minute drive
Climbing season for 14ers typically ends in mid-to-late September, so instead of summiting one now, head here for an amazing view of one. With Longs Peak, and the slightly under 14,000ft Mount Meeker as the backdrop, this state park's trails bring you close to the many ponds in the area that are home to pelicans, egrets, and herons -- you may even spot a bald eagle soaring over the scenic landscape.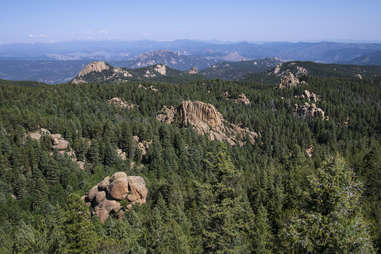 Devil's Head Lookout Trail
Distance from Denver: 50 miles; 1.5-hour drive
There's no better way to experience autumn in Colorado than getting high... above the trees. At the end of this almost-three-mile-long trail is the only remaining original front range lookout tower that's still in use. There's a steady climb to get there, and then 143 stairs to ascend on the final push to the top, where you'll get a 360-degree view of the Pike National Forest.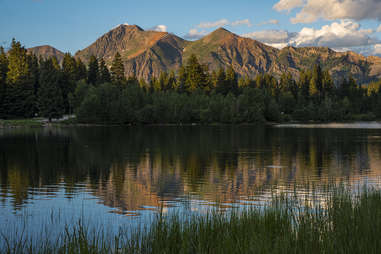 Lost Lake Trail
Distance from Denver: 51 miles; one-hour drive
Nederland is a small town west of Boulder that's home to the infamous Frozen Dead Guy Days festival. But you (hopefully) won't find any dead guys (frozen or otherwise) on this nearby hike that takes you past a small waterfall, and finally to Lost Lake, where you'll get waterfront views of the Indian Peaks. It gets chilly here in the fall, so layer up and you might even be rewarded with a moose sighting.
Sign up here for our daily Denver email and be the first to get all the food/drink/fun in town.
Molly Martin is a Denver-based freelance writer who doesn't miss the summer heat. Follow @mollydbu on Instagram and Twitter.