By now, it's no secret that the Mile High's options are virtually endless when it comes time to take care of all your THC and CBD needs. With more than 500 recreational dispensaries vying for your hard-earned cash, it can definitely seem a bit overwhelming when trying to find a dispensary that meets your exact specifications. 
But whether you're seeking organic flower or terpene-rich concentrates, we've done the legwork to highlight the top 14 recreational dispensaries in Denver. Browse the best outposts, along with their current deals, so you can get to legally sparking up, scarfing down edibles, or dabbing the finest extracts the city has to offer.
Recommended Video
Please Don't Hang Up: The Best Things to See, Eat, and Do in Seattle, WA
Cheeseman Park/LoDo/Golden Triangle
Award-winning, exclusive strains and steal-worthy daily deals
This award-winning brand (currently holding an impressive 77 accolades) serves up exceptional flower, concentrates, and vapes. With success attributed to all-natural growing methods and attention to detail, High Level Health (HLH) seeks to give high-quality cannabis the recognition it deserves. With the overall wellness and satisfaction of clientele always at the forefront, HLH utilizes its own breeding program, ensuring exclusivity when it comes to strains. Papa Smurph and Platinum Valley are two highly sought proprietary strains, while the HLH GG#4 (a non-proprietary strain) has gone through significant in-house work, making it a popular one for recreational and medical consumers alike. When it comes to shopping for out-of-house products, you'll find Wana, CODA and Stillwater's Ripple Dissolvables regularly in stock. Daily deals run the gamete here. Joints are priced $10 for one, $18 for two and $24 for three, half-ounces are $100 (and you can even break them down into four, different eighths), and HLH sugar, shatter, wax, and butter is $25 per gram or 4 grams for $80. You can also take advantage of 2% back by joining the Passport Program as a thanks for your reefer loyalty. 
Broadway
Denver's first concentrate-focused dispensary for dab connoisseurs
This concentrate-driven hot spot serves up exceptional varietals with terpene-rich, high-cannabinoid extracts. Specializing in terpene preservation (for all you flavor snobs), Apothecary Farms uses refined extraction techniques, including cryo freezers and climate-controlled transport. You can expect unique and exotic tasting notes from in-house strains like Raspberry Lychee, Watermelon Gelato, Blue Lemon Thai, and Tropicana Cookies. An advanced lab that follows standard operating procedures ensures consistent, clean product through every extraction batch. For dab enthusiasts looking to keep consumption affordable, there are $15 grams of shatter and wax daily and $25 daily deals on live resin. If you are seeking flower, fret not; there are about 10 strains on hand at a time sourced from Bonsai Cultivation and 14er Boulder, and you can cop a $20 eighth on top-shelf buds.
Broadway/Wash Park/E. Hampden/Federal
Where education comes first, so you know exactly what's right for you
Lucy Sky goes the extra mile to deliver a rewarding customer experience. They seek to ensure a lasting bond between 'cannabis advisor' and consumer, so education is key for this four-outpost brand. Hand-picked, top-shelf flower is available at all times, and notable strains to stock up on include Moonshine Haze, Purple Champagne, and Blueberry Headband. Consistency is key when it comes to outsourced product lines, and you can find Viola, Harmony Extracts, CODA, and Dadirri on a regular basis. Deals are in play every single day of the week, from daily eighths for $25 to top-shelf live resin and all other concentrates prices 10% off on Wednesdays. If you're an early riser, stop in between 8 and 9am to score 15% off -- the early bird special. Additionally, Lucy Bucks up for grabs (get $5 off $30 the following week), throw a few extra coins in the meter, and take your time at this lit shopping spree.
Baker
Colorado's first -- and only -- third-party, certified-organic grow, and first Clean Green-certified dispensary
L'Eagle applies sustainable, environmentally friendly practices brand-wide. Unsure which cannabis product is right for you? A passionate, knowledgeable staff ensures you will find exactly what you need. When it comes to flower, L'Eagle's grow staff features two degreed horticulturists and nearly 40 years of commercial cannabis techniques, which produces buds that are cured properly for 60 days prior to sale. A large selection of 25 to 30 organic flower strains keeps the regulars lining up, from L'Eagle Eagle, with sweet pine and lemon notes and uplifting effects, to the award-winning Austin Hash Plant. With plants that eat better than most people, this 10-year-old company utilizes only the best nutrients available. The ethics carry into L'Eagle's concentrate creation, as well, where in-house offerings feature the cleanest rosin (using only heat and pressure; no chemicals or solvents) and caviar (featuring Girl Scout Cookies flower, dipped in freshly pressed, 100% solventless rosin, and rolled in freshly sifted kief), which are crafted away from the shop and grow. But don't let the organic nature fool you; L'Eagle serves up deals for an affordable green smoking experience. Sign up for text message blasts for the skinny on half-price specials, random $10 eighths on a snow day, $15 grams of live resin and more. On a regular day, you can still cop a $99 ounce and a $16 eighth, and feel great about blazing up in sustainable style.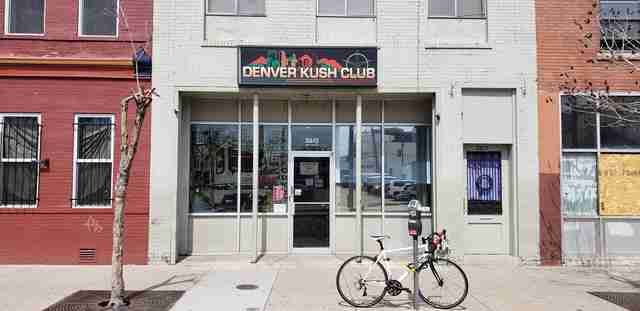 Five Points
More than your average weed club with a ton of in-house concentrates
Homegrown bud that leads to concentrates is at the core of this 10-year-old Five Points staple located next door to the famed Cervantes' Masterpiece Ballroom. With a whopping 40 individual flavors of concentrate gracing the rec case, you can find crumble, high-terpene sugar, shatter, rosin, live resin, sauce, THC diamonds and Denver Nuggetz (Kush Concentrates Caviar). Vape enthusiasts can grab oils and distillates in 1-gram cartridges, or syringes for at-home refills (including beneficial CBD:THC infusions). DKC also carries a wide variety of its house-filled Kush Concentrates PAX pods.
For those who prefer traditional flower, DKC grows up to 25 strains at a time, including signature kush (duh!) buds -- Denver Kush (hybrid) and White Fire OG (indica), in addition to popular strains like Strawberry Cough (sativa) and Grape Ape (indica). Over the course of the past year, DKC has joined forces with several musical acts with large Denver followings to collaborate on signature strains. Be sure to try Lettuce Funk (from Lettuce), Squabtrain (from Sunsquabi) and Bio Science (from Break Science), while supplies last!
Washington Park
A mom and pop shop where newcomers get 25% off their first purchase
Known for connoisseur flower and exceptional customer service, art installations aren't the only component that welcome all to this mom and pop shop, which hosts an on-site grow for aromatherapy. With vapes from Binske, Green Dot Labs and Aliviar, concentrate selections via Lazercat, 710 Labs and Viola and edibles courtesy of Cloud 9, Wana, and Robhots, this full-spectrum operation has a flavor for every indulger to savor. Shelving 100% Herbal Cure flower, customers can expect nothing but consistency and quality from harvest to harvest. Top-selling flowers range from Grape Cola to Frankenberry and Pucker to Papaya Punch. Still haven't found the Cure? New customers get hooked up with 25% off their first purchases, along with $22 eighths, every day.
River North (RiNo)
A great place for newbies to learn about the best buds for them
Botanico's two on-site consultation/shopping rooms provide easy access to knowledgeable budtenders, sans the pressure of a possibly judgy, crowded showroom. With a goal of carrying the best of the best Colorado inventory, Botanico now sources strain selections from 14'er in Boulder and Summit out of Denver. For a real treat, try Coda Signature's designer truffles or 100-milligram flavorful chocolate bars, while vapes default to local, quality products, from Ascend's High-Terpene Extract line to the multi-label, family-run Green Dot Labs. Those looking for a more concentrated high can grab full-plant extraction live resin by the gram from brands like Viola and 710 Labs (for $30 to $55), laced with tasty terpenes, and grams of shatter are priced out at $16 to $18 regularly. And, with $99 pre-weighed ounces on deck and nearly 20 rotating specials, even the most paranoid smokers can stock up -- in proper preparation for an imaginary Denver weed drought, of course.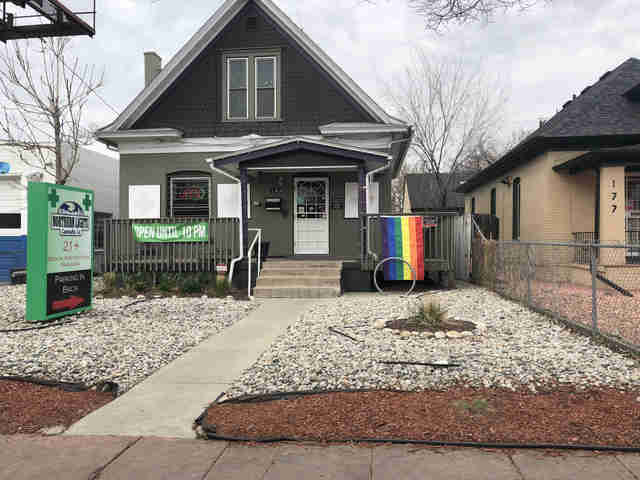 Baker/Edgewater
Concentrate grams by the hundreds… perhaps the largest inventory in the state
Shifting its gears in 2019, Northern Lights will no longer stock its shops with homegrown buds. Instead, the team plans to source from third-party grows, in an effort to offer more options, beyond the former household genetics. Flower fans can, instead, expect a more eclectic selection and a wider variety of strains. When it comes to concentrates, expect an array of 20 brands, along with one of the biggest selections of PAX pods in the city. In fact, on any given day, shoppers can find the largest inventory of individual grams of concentrate up for grabs, totaling into the hundreds. Having trouble hashing it out? Visit on Tuesdays and Fridays for deals on both concentrates and cartridges.
Broadway
Shop here enough, and you'll score great deals with TerraPoints
Self-grown flower from four cultivation sites is at the core of this multi-location, Boulder-born brand. Not sure which of the 25 to 30 rotating strains to sample? Hand-cured, high-quality buds to bookmark include: Hells OG, Grapefruit Durban, Starkiller, Lemon G and Sunset Sherbet. More recently, TCS launched its first small-batch reserve line, dubbed "The Woods," with THC potency recorded at 30%. TCS's own Double Bear Premium Concentrates line is produced in a state-of-the-art lab, and features wax, sugar and shatter ($19.50 per gram), live sugar ($29.50 per gram) and live sauce ($39.50 per gram), along with a newly released vape cart line with disposable options starting at $15. If you're a fan of this station's supply, join the TerraPoints program, where you can reach different point thresholds to unlock deals (100 points equals 10% off purchases, while 500 points unlocks a $69 ounce).
Park Hill Northeast
Where the greenest ganja grows in recycled soil and is fed a great diet
Hand-grown plants cultivated in living, recycled soil contribute to Verde Natural's unique and vibrant flavor profile. Whether it's Chemmy Jones, Papaya, Hazelnut Cream, OG No. 1 or Tropicana Cookies, these indoor buds are fed an all-organic diet, and have won awards for both taste and potency. Verde's smooth aftermath upon inhalation is a product of this mindful harvesting technique. To create concentrates, Verde's flower is extracted into solventless Dab Logic products, like Live SHO, Ice Oil, HT Cake Batter and cartridges. With four joints for $20 and buy 8 grams, pay for 6 on solventless items and BHO live resin, even premium product is available at a lower cost.
Southwest Denver
An upscale homage to a historical hemp honcho… with very potent strains available
Stunning interiors, Chihuly glass art, and a pet alligator named Diego aren't the only attractions at this top-notch joint. It's about the consumer journey at Diego Pellicer, with a strong focus on the shopping experience. Rotating vendors have a chance to share the center display case spotlight, while the inventory offers unique discounts and hard-to-find products. The namesake pays homage to an 1800s hemp entrepreneur, and the quality cannabis stems from two company grows, which regularly test with THC levels into the mid-30 and high-20 percentiles (that's really, really good). Highly regarded for potency and well-grown genetics, this upscale outpost carries brag-worthy strains such as Witches Weed, Critical Mass, and Lemon Skunk. As far as concentrates, Diego Pellicer offers 7-gram live resin and rosin "buckets," THCa crystals, solventless and freeze-dried concentrates and CBD isolate. Don't judge this dispensary by its decor, though -- grab $25 eighths, $8.50 grams, $115 ounces, $15 to $20 grams of wax and shatter, and $25 grams live resin every day of the week.
Northeast Denver/Aurora/Thornton/Longmont
Stock up on the dank without breaking the bank
A 40,000-square-foot cultivation facility anchors the operation at this four-branch dispensary. With up to 50 different strains growing at a time, there's plenty of variety when it comes to indica, sativa, hybrids, and CBD options. When not serving up the local flower, Wana gummies fly off the shelves daily. Third-party concentrates are aplenty at Medicine Man, including selections from Batch, Become, Green Dot Labs, Concentrate Supply Co. (CSC), Binske, Nomad, and Chronic Creations. A massive inventory of famed PAX pods also decorates the shelves. With specials every day of the week -- like Wildcard Wednesdays -- where you can choose any deal that suits your needs to promotions on top-shelf ounces, edibles, shatter, wax and live resin, you can fill your shelves for weeks to come.
University Hills/Uptown/Boulder
Introducing cannabis happy hour, where you can hand-pick your daily deal
The Health Center offers 20 to 30 varieties of award-winning strains. From Durban Poison to Strawberry Nightmare, it's more than just catchy bud monikers that will get your foot in these doors. Aside from a strong focus on ethical and local grows, to top potency and effectiveness, visitors can take advantage of deals seven days a week. Bookmark buy one, get one half-off edible Saturdays where The Health Center certainly keeps the traffic flowing. And, for the early bird stoners that can make it in for "happy hour," which ensues during the first hour of business each day, you can choose your own deal from the daily roster. 
Glendale
A hash paradise with an extremely knowledgeable staff
A self-proclaimed "hash lover's paradise," this spacious spot just over the Denver County line carries top-notch, local concentrates. Whether it's Green Dot Labs, Head of Honey, KAMA Extracts, or 710 Labs you seek, the dab- and vape-friendly inventory is vast. With well-informed consults around to advise, learn about hand-trimmed house favorites like Alien Rock Candy, which tests upward of 35% THC. Thinking about planting your own nursery? Trust in clean, high-quality clones and seeds with elite genetics including Sunset Sherbet, Purple Punch and dozens of OG strains. Best of all, this dispensary is open until midnight -- seven days a week!
Sign up here for our daily Denver email and be the first to get all the food/drink/fun in town.