Whether you're a professional weed reviewer or a recreational stoner, there are a LOT of Metro Denver rec shops to choose from: some are known for their selection, most for their quality, and a few just because they're cool as hell. Here are 13 of our favorites, in no particular order (and excluding medical-only shops).
Recommended Video
This Fanny Pack Gives You an Instant Dad Bod Beer Gut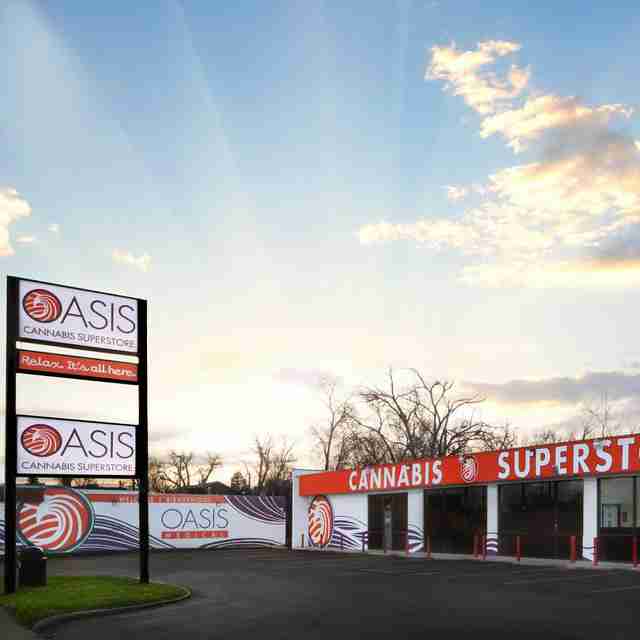 Mountain View
If you're ever in the mood to compare different varieties of the same strain, head to Oasis. This place really is a superstore, typically carrying five to 10 strains from three to six different growers, in addition to 15+ strains of the in-house flower. Most people will never see more weed in their lives than when they shop at Oasis -- seriously, if you've got the time, you can literally spend hours looking at and smelling every strain on the shelves and leafing through the THC % Library, a binder filled with test results for every strain on offer here. Overwhelmed by the selection of flower? Check out one of the 20+ brands of edibles and topicals.
South Broadway/Baker (SoBo)
One of the oldest dispensaries in Denver is located at the heart of the city in the Baker neighborhood. Like most stores, Denver Relief carries a variety of edibles and topicals, but there are also high-quality extracts made from its in-house flower -- many of the award-winning strains here are proprietary and unique to the store.
Berkeley
There are many options in this neck of the woods (including two others at the exact same intersection), but if you're looking to make an edibles pit stop on the Northside, you navigate your ass to The Giving Tree. Boasting one of the best selections of edibles on West 38th (and quite possibly the whole city), this place is packed floor-to-ceiling with tons of different products to choose from. Cheeba Chews? Got 'em. Groovy Granola Balls? Of course. Cherry Lemonade Grenades? You get the idea. After you pick up your precious edibles, head across the street to Buchi Cafe Cubano for a cortadito and a sandwich.
Capitol Hill
On top of the quality weed and low prices on offer here, each strain is marked with one or more of the following effects: Amplify, Relax, Relieve, and Sleep. Whether you're a first-time shopper or simply want to try something new, this labeling system takes the guesswork out of your decision. If you can make it to the bigger, newer location in Aurora, you're in for a treat -- it's one of the sexiest stores out there.
Cory - Merrill
If your mom were a consumer, this would be the type of store at which she would shop. Not only would she feel more comfortable in this spacious, elegantly designed store than most others, but she'd appreciate the emphasis on consumer education at this spot. If you (or your mom) are interested in learning, grab a terpene wheel while you pick up one of the quality strains or 20+ brands of extracted product on the shelves.
West Highland/Highland Square
Unlike Washington, Colorado is known for having a handful of chain dispensaries -- and The Clinic is one of only two that made this list. The quality product is air-sealed in 1g, 1/16oz, and 1/8oz ziplock sizes, which makes shopping a bit quicker, and you can even grab one of the proprietary Phish-themed strains like Fluffhead or Lemonwheel. In addition to good flower, this place has concentrates from its own facility, The Lab, and seeds from its own genetics company, The Bank. If you're lucky enough to be by the Highlands location in Highland Square, you'll find no shortage of local boutique stores, restaurants, and bars waiting for you once you're done shopping. Go on a Tuesday and walk up to El Camino Tavern for $1 tacos that'll demolish your munchies.
City Park
If you're looking for quality product, a solid CBD selection, and a patient-oriented experience, look no further than GroundSwell. Located just blocks from City Park, it's the perfect spot to stop by on a summer Sunday, grab some goodies, and enjoy some City Park Jazz. Any other time, you have your choice of just about every type of cuisine, a number of bars, and the popular Bluebird Theater for some live music within a couple blocks of the store.
Lower Highlands (LoHi)
If you're buying weed, edibles, or concentrates in LoHi, Simply Pure is the place to do it. Seriously, if Avanti and a dispensary had a love child, and that love child sold cannabis, it would look like this place. Throw in a loyalty reward program that offers discounts at Jezebel's, the Southern cuisine restaurant a block down the road, and seriously, who doesn't love this place? Grab your herb and go across the street to the speakeasy, Williams & Graham, where you will likely be rejected at the door before going to Occidental or Highland Tap & Burger.
Glendale
The layout and design here brings a whole new twist to the retail cannabis-buying experience. Custom built from the ground up, Smokin' Gun features tons of Prohibition motifs and commissioned artwork by Daniel Chavez, like the eagle on the floor and the mural behind the cashiers. And speaking of the cashiers, they sit behind an authentic bank teller window from a New Orleans bank in 1871 (before the beginning of cannabis prohibition), right next to a replica Mississippi jail cell from 1941.

And did we mention the store is technically in the city of Glendale, which means it's allowed to stay open 'til midnight (as opposed to the 7pm closing time in Denver)? Pick up some weed and head over to the sister business, Shotgun Willie's: the most notorious strip club in town.
Central Business District
Remember how we said there were two chain stores on this list? Visit any of the 15 Native Roots locations across Colorado and grab one of the same signature, artist-inspired strains that I would in Downtown Denver (like Griz Kush or Big Gigantic's Cookies n' Dream). There's also a nice selection of glass and swag, and even the shopping bags are badass -- granted, it's what's inside the bags that matters, but seriously, we defy you to find a cooler shopping bag anywhere else.
University Hills
Believe it or not, there are still some metro Denver cities that actually believe banning stores keeps weed out of their communities. Fortunately, The Health Center's University Hills location is only a few miles from seven of these dry cities, offering top-shelf flower, edibles, and even Julian Marley's line of flower and vape pens to all those would-be suburban stoners. For everyone else, the Uptown store offers the same selection at a more central location.
Lower Downtown (LoDo)/Union Station
There are only a few types of people that hang out at the 16th Street Mall in Downtown: tourists, and people who have the fortune (or misfortune) of working there. If you're in either of these boats and need some fire flower or concentrates, make your way to Natural Remedies on Market Street. Pro tip: Natty Rems' (as the locals call it) in-house brand of shatter and live resin, CRx, is on point.
Glendale
Plenty of shops have top-quality flower, but the real test is how good the resulting concentrates are. Most of my dab-head friends get their shatter at one of a select few stores, and Kind Love is one of them: it carries 20+ varieties of concentrates from Colorado's top extract manufacturers, and features its own extraction facility. And for all you Colorado residents that want to exercise your constitutional right to grow six plants at home, Kind Love sells clones from its own grow and seeds from The Bank (of The Clinic). Like Smokin' Gun, Kind Love's Glendale location allows you to shop until midnight (rec only).