Right off of I-70 and sandwiched between Keystone and Copper Mountain is the delightfully adventurous and particularly charming town of Frisco. From the heart of Denver, it's only about an hour and fifteen-minute drive, and regardless if you're venturing out in the dead of winter or height of summer, fun awaits. Frisco has never been a stranger to visitors, serving as one of Colorado's many mining towns from the late-1800s to the early 1900s. But today, more modern shops and restaurants stand in place of saloons, and those trekking into the mountains are in search of the best hiking and snowshoeing trails instead of ore. Though it serves as a resort town between ski mountains, Frisco also has plenty to see and do. Here's a list of eight of the best attractions and activities.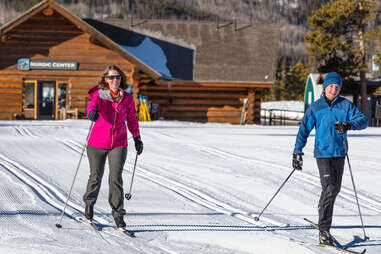 Find the best trails for snowy adventure via the Frisco Nordic Center
One of the area's main draws, the Frisco Nordic Center is the gateway to outdoor escapades in the area. Home to cross-country skiing and snowshoeing trails, rentals, and resources, the Center is your one-stop-shop whether you're seasoned at the sport or brand new. The trails surrounding the center span the vast public lands and around the pristine Dillon Reservoir, including the scenic Tenmile Range, which runs from Frisco to the Continental Divide. And for more experienced cross-country skiers, the Center offers skijoring clinics to participate in the sport while spending time with (and being pulled by) their dogs.
And in the summer, explore all the fun of Frisco Bay Marina
The Marina is a watersport enthusiast's paradise, playing host to all the fun to be had on Lake Dillon. Frisco Bay Marina is where you'll have access to various recreational activities as well as rentals and a boat launch for your own vessels, too. Visitors can enjoy kayaking, canoeing, paddle boarding, fishing, and pontoon boating, and the alpine waters are pretty popular for regattas. There are also several options for lessons and tours available, from learning to row, or sailing tours like Women and Wine on the Water.
There's something exciting at Frisco Adventure Park every day of the year
Next to the Nordic Center, the Adventure Park is another fan favorite in Frisco, boasting adventure and entertainment year-round. In the winter, it's especially popular for its family-friendly snow tubing as well as a beginner ski and ride hill, which are perfect for those looking to learn how to ski before heading to the big resorts. In the warmer weather, activities include hiking, biking, skateboarding, and disc golf—all of which are conveniently free, too.
Ride in style on a sleigh ride
Looking for an off-the-beaten-path (or perhaps, well-beaten) activity to take up an afternoon? Two Below Zero has you covered. The sleigh ride company offers a horse-drawn sleigh ride through Frisco's stunning landscape with two options. One is a 20-minute ride out with a stop to warm up with hot cocoa (spiked for willing adults), fresh-baked cookies, music, and a few moments to take in the views before heading back. The other option includes a three-course or five-course wild game and wine pairing dinner sleigh ride. Private ("one-horse open sleigh") rides are also available.
Get your shopping fix along Main Street
If you're feeling spent from physical activity (or were never really a fan in the first place), believe that you can easily kill time browsing the more than 50 locally owned shops, bookstores, and boutiques along Frisco's Main Street. The pedestrian-friendly strip has that beloved small-mountain-town vibe and is full of art galleries, clothing retailers, bookstores, and other niche or wide-ranging shopping options.
Of course, some of the best skiing and snowboarding is right around the corner
We can't get away with not mentioning the incredible mountains and resorts nearby that make Frisco a top basecamp destination. To the northeast are Keystone, Loveland, and A-Basin, and heading south and southwest are Copper Mountain and Breckenridge, and all are between a 10 and 20-minute drive from downtown Frisco.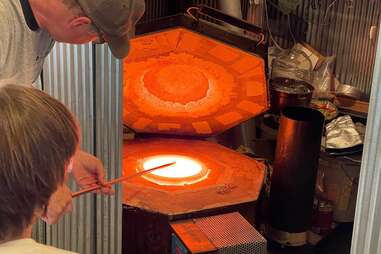 Try something new—like glass blowing
Sleigh rides not "unique" enough for you? How about glass blowing classes? That's right—Frisco's Gatherhouse is a local studio and gallery that offers three-house sessions for those looking to learn the art. Guests will learn basic glass blowing vocabulary and techniques, then create something original that they can take home as a souvenir.
No matter your craving, Main Street's got it
In addition to its array of shops, Main Street also has a number of diverse, high-quality restaurants, bars, and breweries. Whether you're craving Italian or German, Nepalese or Asian cuisine, there's a place in downtown Frisco where you'll be satisfied. Award-winning Outer Range Brewery has a home—with an excellent outdoor patio—in Frisco, and Bird Craft serves up hot, Thai(-ish) fried chicken, pigtail fried rice, poke, soup, and salad. The options are endless, from breakfast to dinner after a day at the slopes.
Sign up here for our daily Denver email and be the first to get all the food/drink/fun in town.
Erica Buehler
is a Denver-based freelance writer and editor. Follow her @e_buehler on Instagram and @e_buehler_ on Twitter for more updates on Denver food and other Mile High shenanigans.