Summit County, Colorado is surrounded by several jarring peaks known for their siren songs; belting out promises of fresh powder in the winter as well as adrenaline-pumping adventure in the summer. But, nestled in between the ski resorts and 14'ers sits a quaint mountain town called Frisco. Elevated at just over 9,000 feet with less than 3,000 residents, this 145-year-old mining town-turned-vacationer's haven offers breathtaking views, outdoor activities to keep you busy all day long, and charming restaurants to help you refuel to do it all over again. We're telling you where to get all that, plus where to find the best cup coffee, the crispest beers, and the best places to stay.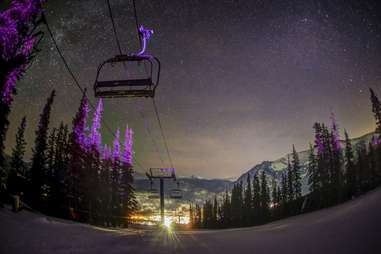 There's skiing and eating under the moonlight
Snowsports and fine dining sound about as weird as… well, snowsports and fine dining. But that's exactly what you'll get at Copper Mountain. Just a seven-minute drive from Frisco, the Moonlight Dine + Ski series is the way to go. Basically, you ride a lift up, ski down, and can keep doing laps until the sun sets over the Tenmile Range. After said sun sets, you'll be able to do some runs via just the light of your headlamp.
Post-ski, saunter up to Solitude Station set at 11,375 feet, where you'll be greeted with prosecco and/or hot cider. Mingle with locals and tourists alike while you sip a few cocktails in the dimly lit dining room. Indulge in a lavish buffet, which rotates by the day, but includes offerings like bacon-wrapped filet mignon, Mediterranean mac and cheese, and Moroccan pan-seared salmon, along with delectable desserts, like chocolate-covered strawberries assorted petit fours, French macarons, and chocolate pralines. After dinner, don't get too comfy. You'll need to gear up and ski back down to enjoy a complimentary après cocktail.
The lunch and happy hour at Uptown can't be missed
Here, the spacious dining room offers bar seating and a mix of low tables and booths. If you're in the mood for seafood, consider slurping some oysters on the half-shell (there's nothing like an afternoon aphrodisiac, amirite?!) or a basket of sesame fried shrimp to dunk into soy-ginger aioli and cocktail sauce. For something lighter, the Cobb salad is tossed with a mix of fresh greens, crumbled cheese, a hard-boiled egg, and thick bacon. Toast to the afternoon with a pair of classic margaritas. For you lunchtime stragglers, take advantage of a lengthy happy hour menu from 4 to 6pm daily.
Where else can you hike Quandary Peak?
Although the activity tends to dominate summer, you don't have to wait for the snow to melt to hike in Colorado. If you're seeking a thrill with a bit of a chill, there's a 14'er with your name on it less than 20 miles from the Town of Frisco. The highpoint of the stunningly scenic Tenmile Range, which unfolds from Frisco to the Continental Divide, ensures rewarding panoramics once your reach the summit. With routes aplenty, beginners should consider the East Ridge, the easiest route, while experts can take on the challenge via the West Ridge. And, for the bold, wintertime provides the options to glissade or ski down.
There's amazing snowshoeing
The Frisco Nordic Center is blanketed with almost 17 miles of Rocky Mountain champagne powder, providing a sparkling terrain for an adventurous trek. An activity accessible to all skill levels, the shoes may feel goofy on your feet at first, but you'll get used to it. Oh, and the views? They make the trip worth every step. At an active pace, complete the trail in just over an hour, or just around two if you're taking it easy. Definitely bring water and a camera (we can't stress this enough) and don't dress too warm -- even on a sunny 10-degree morning, snowshoeing can be one helluva workout.
Ever been ice fishing? Check that box.
With a snow cap resting atop its surface for six months out of the year, Lake Dillon is a prime setting for ice fishing. Trust in Alpine Fishing Adventures to guide you through, and choose from one of three skill levels. As a tribute to the surrounding ski country, trips are designated Green Circle (three hours), Blue Square (four hours) and Black Diamond (five to six hours), making it easy to select your excursion, based on your experience. Warming huts with heaters, along with all the gear, tackle, and ice fishing sonars will make this all-inclusive appointment both easy and awesome. For locavore eaters, you're cleared to keep a mix of eight rainbow trout (up to 14 inches) and Kokanee salmon (of any size), so you can fashion a lake-to-table feast for dinner.
There's award-winning food at Vinny's
Utilizing organic, local, and fresh ingredients to craft Euro-American fare, this award-winning outpost offers a variety of dishes for all palates with a relaxed and rustic vibe. For something sudsy, there's a whole slew of local hops to grab, and vino enthusiasts will rejoice in the extensive wine list. As for food, it's hard not to select the soup du jour (the seafood chowder is crammed with seaside finds, along with a creamy finish), while taking note of the many "Best Soup" award placards decorating the entryway.
And while every main course sounds equally enticing, from Maple Leaf Farms duck leg confit to Aspen Ridge braised boneless beef short rib, tactfully devouring the five-hour, slow-braised Superior Farms lamb shank with port reduction is THE ONLY way to go. If dinner's not in the cards, scoot up to the pub inside Vinny's for early happy hour (and a bowlful of mussels, trust us) from 2 to 5pm.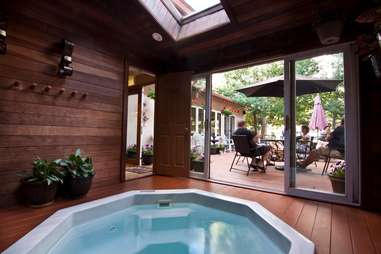 You can crash in some very comfortable digs
With just 15 guest rooms, the Frisco Inn on Galena is cozy bed and breakfast tucked off Main Street and offers a low-key ambiance with all the necessities. Upon check-in, drop your bags off and enjoy their complimentary happy hour with wine and cheese. Then make yourself at home in a guest room (there are seven styles available), where you can choose from king and queen beds, a private patio, cozy couches, and/or a bathtub. Fire pits -- and places -- throughout will elevate the vibe to warm and cozy while an evening soak in one of two hot tubs (an indoor accompanied by sauna, and an outdoor if you've feeling brave) will get you relaxed and revitalized before bed. In the morning, hit the complimentary breakfast before jetting out for the day.
Bread + Salt has a breakfast that'll bring you back from the dead
Natural light pours through the many windows in this snug, down-home morning nook. It's casual and easy, a place where you'll want to start the day with a classic cup of coffee or a chai tea. Are you an egg fan? Good! The truffle scramble infuses an earthy fanciness, accompanied by perfectly browned shredded hash browns and toast. Not an egg fan? No prob! There's the butternut squash scramble filled with egg whites, the star squash, a mess of other veggies, and queso fresco. And a short -- or tall -- stack of Nutella and blueberry pancakes is perfect for sharing.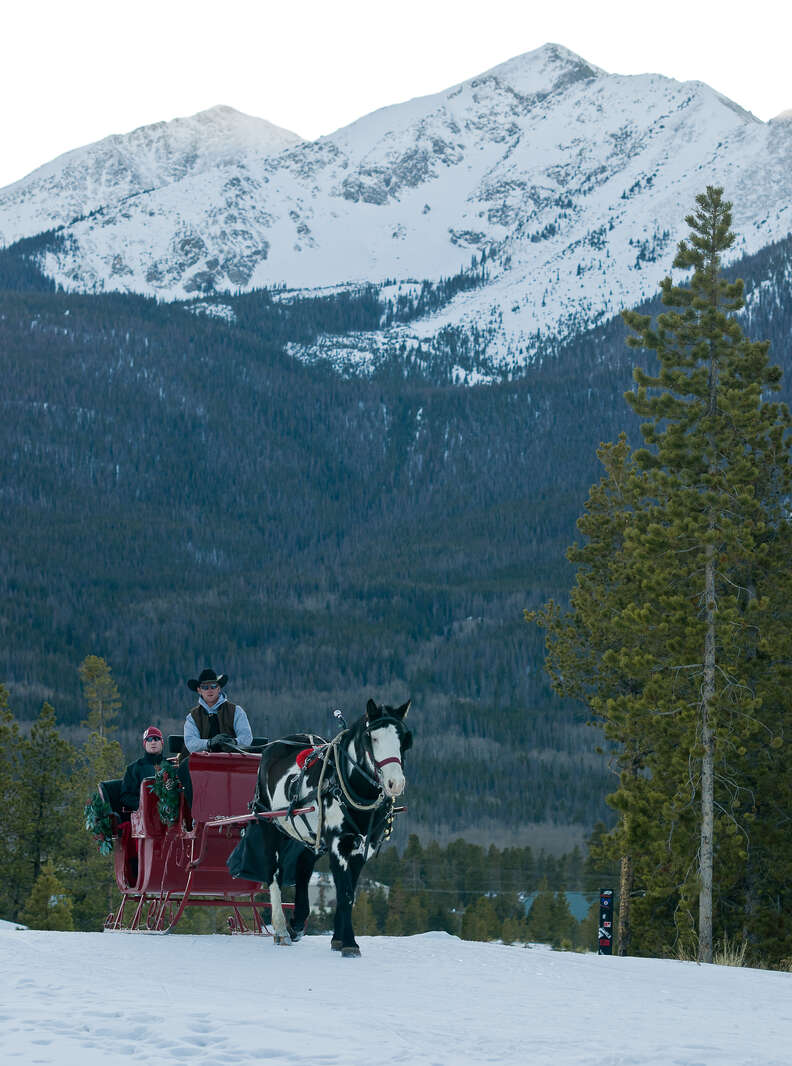 How about a private sleigh ride with spiked hot chocolate?
If you don't live in the mountains, you'll certainly want to be among them whenever they're around. But if the altitude is taking a toll (hey, sometimes it happens), kick back and relax for a private, 45-minute sleigh ride courtesy of 2BelowZero -- this one is high recommended for couples. The sleigh is driven by Moose, an affectionate, 15-year-old, 2,000-pound stallion who navigates the scenic trail while you stay toasty underneath a blanket in the back of the sleigh (gloves and scarves recommend if the wind is whipping). Halfway through the ride, get a taste of the good stuff: a cup of hot cocoa swirled with a shot of Peppermint Schnapps.
A midday jolt with a dash of old-school cool is always welcomed
Check out Rocky Mountain Coffee Roasters, a 16-year-old local coffee house. To the left, you'll find a dozen types of coffee beans to bag and purchase (from Ugandan and Sumatran, to Ethiopian and Costa Rican). To your right, couches, booths and tables. The house cold brew is robust and refreshing (though it may take a while to sip), while a breve latte offers a creaminess to tone down any bitterness in the espresso. For higher caffeine tolerances, grab their red eye, where you can choose your coffee selection from the house bar. Our tip: Go for the Black Dog Blend.
And you have to grab drinks at The ClubHouse
Apres ski drinks -- or just drink-drinks -- in Frisco are always a popular activity, especially when leather couches are involved. At The ClubHouse, you'll find a crowd of 20- and 30-somethings scattered about, sipping everything from craft cocktails to Colorado locals. If you're lucky, you'll catch some live music before the aux gets passed to the bartender. Catch up on the latest in sports via bordering flat screens, and if you have it in you, gear up for a round of golf on one of more than 80 digital courses. If you're looking for a drink specific to the region, try a Breckenridge Bourbon, neat, from just down the street at Breckenridge Distillery. A strong pour that's easy to sip with a lingering, buttery finish.
There's tons of adventure to be had
For the young at heart and those slightly terrified of skiing, Frisco Adventure Park provides its own version of snow fun. You can race through the Park on a pair of tubes on lanes totaling 1,200 feet. Then, take the surface lift back up for round two…and three and four and… you get the picture. Once you've had your fill, make your way over to the Tumble Bubbles, where you can collide, bounce, and roll wildly in these plastic, transparent 9-foot balls. Who needs skiing when you've got big ass human hamster balls gliding on fresh powder?
You like dancing? You got dancing.
So, you want music. That's great because 10 Mile Music Hall wants YOU to check our their new digs on Main Street. Outfitted with the small town's mining feel, this cozy, two-story hall plans to bill 100 musical acts per year… which is true Colorado fashion. Don't feel like missing the encore? They've got an optional drink-ordering app. Been Instagramming way too much? Dock your smartphone on the charging station and let loose. Beyond the tunes, you may even be able to catch a few laughs when the occasional comedy act rolls through.
Sign up here for our daily Denver email and be the first to get all the food/drink/fun in town.