The Things to Do in Jackson Hole You Won't See in a Guide Book
There are innumerable articles and outdated guide books out there dedicated to telling you about the best things to do in Jackson Hole during the summer. There are also great articles telling you it's one of the best vacation destinations in the US. However, more often than not, you'll peruse plenty of banal repeats (go for a hike, drive to Yellowstone, watch the Town Square Shootout, etc. etc.), because they all tend to lack one exceptionally crucial thing: actual local insight. So who better than a local -- who's lived here his whole live -- to tell you about where to find singles, the best late-night food spots, and the best place to go boot scootin'? No one. Now pony up at your own risk, partner, and get ready for an adventure of a lifetime.
Take a scenic float down Snake River
US Highway 89/191
Note: This is not a general suggestion, as there are stretches of the Snake that are extremely dangerous and should only be floated by professionals. However, the two miles between the South Park put-in and the Astoria Hot Springs bridge are mellow and incredibly fun to float with friends on a sunny summer day. Whether you're renting a raft or going down in inner tubes, personal floatation devices are always strongly recommended and encouraged. Drive seven miles south of Jackson on US 89/191 and turn left after the first bridge over the Snake. You'll want to leave a car down South at the Astoria bridge take out on US 89, so you don't have to walk all the way back, duh.
Pick up a staff pick from Valley Bookstore
125 N. Cache Street
This mom-and-pop shop has been around for close to 50 years, and it's one of the last independent bookstores left in Wyoming. The staff here are some of the kindest and most knowledgeable book folks you'll have the pleasure of meeting and their picks are scattered throughout the store from wall to wall. If you're looking to spend some time up in the parks and need maps, local tips, or a great novel to keep you busy, this is your place. Ask for Karilyn. She'll take care of you.
Summit Snow King. Take a million pictures.
400 E. Snow King Avenue
The behemoth that is Snow King Mountain towers over the little town of Jackson, and hiking to the top is a right of passage for anyone looking to call themselves a local. With nearly two miles of inclined trail, ascending over 1,500 feet, if this hike doesn't get you used to the altitude, then nothing will. We're friendly folk out here in Jackson, so make sure you greet your passing hikers and their mutts with a home-style smile. Even if that smile is dripping in sweat.
Set up camp on Shadow Mountain
Antelope Flats Road/Forest Road 30340
There's plenty of campgrounds around the valley, but there's something about waking up to the dawn-drenched Tetons that puts Shadow Mountain above the rest. Since it's such a prime and pristine spot for local campers, and just five or so miles from Jackson, make sure you get there early and scope out the good sites. If you're a mountain biker, there are some excellent trails through the area that may not be as popular as other spots. Just make sure you pack your bear spray... just in case.
Dance like nobody's watching at Bluegrass Night at the Silver Dollar
50 Glenwood Street
The Million Dollar Cowboy Bar is known for being Jackson's premiere dancing bar on the weekends for those that want to get their honky-tonk groove on, but if you're looking to rub elbows with the real locals, then no place is better than the Silver Dollar Bar on Tuesday nights. With a live band and a livelier dance floor, Bluegrass Night is the best way to showcase your Western swing skills. The men and women who come here are always up for a dance, so make sure you pluck one from their seat and show 'em a good time. But be warned: two left feet could get you a boot out the door.
Grab a late night, 2am slice at Pinky G's
50 W. Broadway
What better way to cap off your weekend partying than with a hot slice of New York style pizza? Open late, always busy, and the best place to exchange stories after a crazy night out, Pinky G's is the only true late-night spot in Jackson. If you get there close to last call, you'll only have the choice between cheese and pepperoni, but with how greasy and cheesy Pinky's is, you won't complain. And if you're lucky enough to roll five of a kind in shake-a-shift (a Yahtzee-style dice game), all that beer spending guilt will be cured by a nice fat wad of cash. No guarantees on the hangover, however.
Laugh your ass off with The Laff Staff
265 S. Cache Street
A local favorite for nearly a decade, The Laff Staff is Jackson's only improv comedy troupe. Specializing in short-form improv with constant surprises and loads of audience participation, the troupe is known for having sold-out, hilarious shows coupled with affordable tickets. They're seen mostly at the Center for the Arts, but do occasional pop-up shows around the valley. They're also family friendly.
Go hang out with a pack of dogs at Cache Creek
Cache Creek Drive
A good percentage of the Jackson population has at least one dog, and if you're traveling with your pooch, the Cache Creek trailhead is practically an amusement park. Most locals bring their Labs and retrievers up here, which means that your dog gets to meet some of the locals as well. However, it's important to mention that this place is teeming with wildlife and it's always recommended to keep your dog on the leash in case you run into any moose. And even though it's the wilderness, picking up after your dog is mandatory.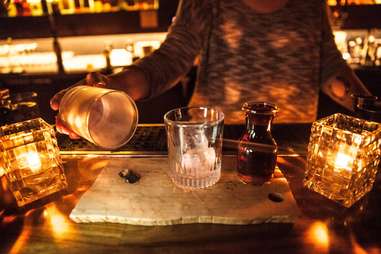 Find romance at The Rose
50 W. Broadway
The Rose is Jackson's premier cocktail lounge (with a phenomenal dinner menu to boot) and most bar-hopping exploits will culminate here. The young, fit, energetic population of Jackson is known to hang here on Fridays and Saturdays, especially if there's a show at the Pink Garter Theatre upstairs or a DJ spinning in the lobby. And since commitment has never been the Jackson Local's strong suit, a few right-swipes on Tinder might match you up with a swanky date for the night. Just don't be such a tourist about it.
Take a leap of faith off Jumping Rock at Phelps Lake
Moose-Wilson Road
Hiking up Death Canyon is a popular adventure for many tourists visiting Jackson Hole, but the only way to become a real local is to face your fears and jump from the "jumping rock" at Phelps Lake. If the frigid, glacial waters of the lake aren't enough to dissuade you, the 15-foot drop might. But if the pioneers can be courageous enough to settle here, then you can brave a big dumb rock. Just make sure you jump with friends you trust as it's an isolated spot.
Sign up here for our daily Denver email and be the first to get all the food/drink/fun in town.
Andrew Munz is a writer and actor from Jackson Hole, Wyoming. Follow him on Twitter.