A total solar eclipse is coming to the United States on August 21, 2017 -- the first one to sweep across the entire country since 1918. Still, only those in the path of totality (which is just 70 miles wide) will be able to witness the moon completely blocking out the sun. Thanks to its stunning, rugged landscapes, and lowest light pollution in the country, Wyoming will certainly be one of the most beautiful (and popular) places to watch this breathtaking event -- they're expecting around 100,000 people to show up. Here are 13 towns pulling out all of the stops for this incredible sky show.
Pro Tip: it's very dangerous to look at any part of the sun with the naked eye, so you'll need to wear special eclipse glasses (which are available at most -- if not all -- of the events listed below).
Casper
Totality start time: 11:42am
Duration of totality: 2 minutes, 26 seconds
Casper will be one of the best places in the country to watch the eclipse and is celebrating with a weeklong festival. The entire town is within totality, but you can watch with others at the Central Wyoming Fairgrounds, where there will be vendors and music; the Casper Events Center, which will be serving up beer and concessions; downtown Casper where there will be a festival with live music and outdoor vendors; the Backwards Distilling Company where there will be live music, a catered lunch, and tasty cocktails; as well as all of these places.
Riverton
Totality start time: 11:39am
Duration of totality: 2 minutes, 13 seconds
The Rendezvous City will have lots of events going on, but some of the best places to watch will be the historic site of the 1838 Mountain Man Rendezvous where you can camp out, swim, and enjoy live entertainment; the Fremont County Fairgrounds; Riverton City Park where there will be vendors and entertainment' and Castle Gardens, where you can also see prehistoric petroglyphs.
Jackson
Totality start time: 11:34am
Duration of totality: 2 minutes, 15 seconds
The Four Seasons will have state-of-the-art H-alpha solar telescopes and an astrophysicist to lead a discussion about the event, as well as food and an open bar. You can also take the scenic lift to the summit of Snow King Mountain, which also gets you access to unlimited rides (or see it for free from the base). If you're looking for something a little less crowded, head to Grand Teton National Park. It's expecting its busiest day ever, but if you hike to any of the peaks, you should be able to find some semblance of solitude.
Douglas
Totality start time: 11:44am
Duration of totality: 2 minutes 22 seconds
Bartling Park will have live music, concessions, and a beer garden, while Fort Fetterman Historic Site is offering mostly the same (but without the beer). The Wyoming State Fair & Rodeo is sticking around for an extra couple of days because of the eclipse, which makes the fairgrounds a fun place to watch. And, the Waterhole Bar & Grill is having a BBQ and party in its parking lot.
Wheatland
Totality start time: 11:46am
Duration of totality: 51 seconds
If you're in Northern Colorado, Wheatland is the shortest drive for you to see the eclipse. It's a pretty small town (population: 3,606), but there's a Best Western. And that Best Western is throwin' a party with food, drinks, and entertainment. There will also be a festival with live music in downtown Wheatland. But if you're looking for something quieter, head to one of the town's many parks.
Thermopolis
Totality start time: 11:40am
Duration of totality: 53 seconds
This gorgeous town is home to Hot Springs State Park where you can watch the eclipse, hike to mineral springs, see some bison, and soak in 104-degree water at the park's free bathhouse. There will also be activities all weekend, including a street dance, a demolition derby, and a breakfast at the Federated Community Church the morning of the eclipse.
Dubois
Totality start time: 11:36am
Duration of totality: 2 minutes, 18 seconds
First thing first. Dubois (DOW-boyz) rhymes with Cowboys. Now that you know that, you should also know this Old West town is going hog wild for the eclipse. There are tons of events leading up to the 21st, and on the day of the eclipse, you can join the viewing party at the Dubois Public Library, get a play-by-play of it from a NASA employee at the Chariot Race Track, or enjoy a BBQ at Dubois VFW.
Crowheart
Totality start time: 11:37am
Duration of totality: 2 minutes 22 seconds
There's really not a bad spot in this town to see the eclipse, but if you want to celebrate with everyone else, head to Grizzly Rock Ranch for the seventh annual Green Beret Wounded Warrior Charity Event where there will be four days of live music, barbecues, horseshoes, full bars, and camping.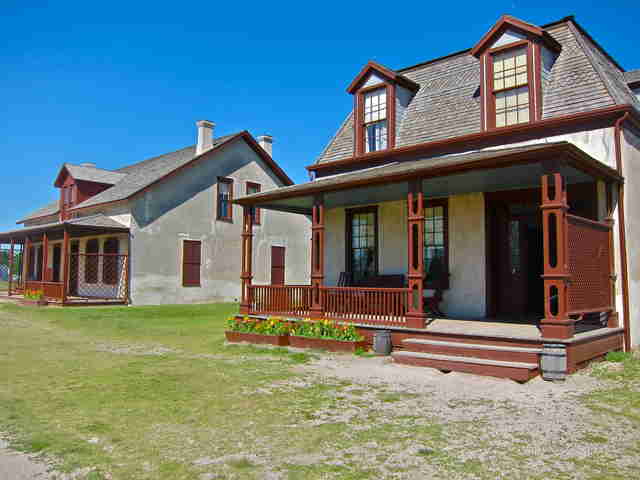 Fort Laramie
Totality start time: 11:46am
Duration of totality: 2 minutes, 14 seconds
This quaint, quirky town is right down the road from the historic Fort Laramie NHS, so when the eclipse is over, you can explore the park and its restored and refurbished historic structures. Or head to Table Mountain Vineyards for "Total Eclipse of the Farm," a two-day celebration that includes camping, concerts, and a viewing party with breakfast, Bloody Marys, and mimosas.
Glendo
Totality start time: 11:45am
Duration of totality: 2 minutes, 28 seconds
Glendo State Park is one of Wyoming's most popular boating parks, so if you want to watch from a boat, that's the place to go. For the landlocked, however, most of the town will be at the observing field at Thomas Memorial Airport.
Pavillion
Totality start time: 11:38am
Duration of totality: 2 minutes, 23 seconds
The Ocean Lake Wildlife Habitat Management Area is not only a breeding ground for Canada geese and other waterfowl: its picnic areas are the perfect plays to watch the eclipse.
Still not satisfied? Planning on being elsewhere for the big moment? Check out Thrillist's state-by-state viewing spot guides for the 2017 Total Solar Eclipse in Georgia, Idaho, Illinois, Kansas, Kentucky, Missouri, Nebraska, North Carolina, Oregon, South Carolina, and Tennessee.
Sign up here for our daily Denver email and be the first to get all the food/drink/fun in town.