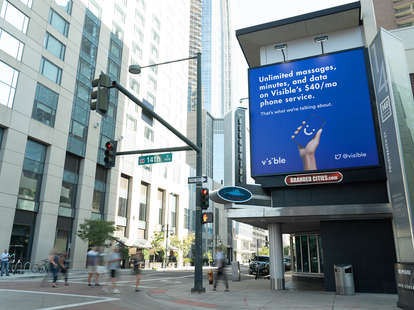 For the first time in probably ever, your knack for calling out someone's bad spelling will not be deemed loveably annoying, but worthy of a reward. And not just any reward -- we're talking about a sit-back, relax, and enjoy a nice, free massage reward.
Visible, the first all-digital phone service provider in the US, recently launched a series of billboards across Denver, their hometown, that didn't just tout their awesome service, but their offering customers "unlimited massages, minutes, and data."
Our editor brains cried foul immediately: "Didn't they mean 'messages'?" Maybe usually, sure. But not this time.
Instead of correcting their (honestly relatable) typo, Visible is staying true to their word by offering free massages on Saturday, September 21, from 2pm to 7pm, in Union Station in LoDo. That's right: spot a typo while cruising down the highway and get a free massage. Fair is fair, right?
This falls in line with Visible's dedication to their "what you see is what you get" offering: $40 all-in affordable pricing and unlimited everything. They're not just offering a no-stress cellular alternative, they're offering to ease your stress. Maybe next they can assist with your taxes or help you train for that triathlon you keep promising you'll complete one day. Who knows!
Sweetening the deal with the most Denver-y thing we've ever heard, Visible is also offering the option to enhance your massage with CBD oil. In other words, take whatever is on your calendar and hit delete as many times as you need to until this is the only thing you've got scheduled. Then call up your friends and have them do the same.
In addition to your free massage there will be towels, eye masks, essential oil bracelets, and more up for grabs as well as free kombucha and charging stations. After all, the only thing better than a free massage is a free massage with a swag bag to boot. And the best part: all you have to do is show up.
So come on out and learn more about Visible while getting rid of that lower back pain you've been yammering on about for weeks. Your back will thank you -- as will your next cell phone bill.