How to Volunteer in Denver This Earth Day
Get outside and do your part.
Denver has always been a place that outdoor-lovers flock to—and it's obvious why. With the Rocky Mountains as our playground, getting outside is a way of life here, especially this past year, as social distancing gave us even more appreciation for our easy access to the great outdoors. So with Earth Day coming up on April 22, it's the perfect opportunity to find ways to use your time and skills to make a difference in this year's Earth Day mission to Restore Our Earth. From webinars to clean-up events, there are a ton of ways for you to take action as we all come together to combat climate change and keep Colorado's outdoor spaces beautiful for generations to come.
For those that want to help clean up
Make an immediate impact this Earth Day by getting outside and helping to clean up litter at some of the area's most visited outdoor areas. On Saturday, April 17, The City of Wheat Ridge, Sustainable Wheat Ridge, Localworks, and Institute for Environmental Solutions are teaming up for a Clear Creek cleanup event. The Poudre River is a favorite for summer kayaking and tubing in Fort Collins and you can team up with the Coalition for the Poudre River Watershed & Odell Brewing to help get it looking pretty for the season at their cleanup event on Sunday, April 18. In Denver on Saturday, April 24, you can join other LoDo community members at the Downtown Children's Playground at Speer and Wynkoop for a cleanup day downtown.
You can also clean up greenspaces individually in your own neighborhood anytime—check out Keep Denver Beautiful's tips for how you can safely help get rid of litter in the Mile High City. Or, organize an event as part of the 23rd Annual Great American Cleanup anytime before June 20.
Several area schools have partnered with Tree-Plenish, a nonprofit that works to offset the amount of paper used in schools by planting trees in the surrounding neighborhoods. There are three ways to help: volunteer to plant trees with students at events like the one being organized by South High School on April 24, request a tree to be planted in your yard, or make a $5 donation to help fund these new neighborhood trees.
Beyond local tree planting efforts, check out The Green Team Academy's 3rd annual Earth Week Summit which is centered on the theme "Teams and Trees." Along with live workshops, Q&A's and more filled with information on how you can make a greater environmental impact, they've also teamed up with the Mabinju Power House Youth Group to fund planting trees in Kenya. For $39, you'll get access to two Climate Change Challenge ebooks and sponsor 20 trees toward their goal of 1,000 trees by April 30.
The Wildlife Sanctuary in Keenesburg is home to 520 large predators that roam the 10,500 acre property. It's a place that specializes in giving a safe, spacious home to animals in need of care and rehabilitation, and this Earth Day, they're hosting their own celebration, Wild Earth Day. Support this facility by visiting on Thursday, April 22 and bringing a tree or bush for donation and you'll get free entry to the elevated walkway where you can view the lions, tigers, bear (oh my!), and more that call this place home.
For anyone looking to learn more, virtually
The official Earth Day event this year includes three days of virtual summits from April 20 - 22 featuring world climate leaders, grassroots activists, nonprofit innovators, thought leaders, industry leaders, artists, musicians, influencers, and more which you can watch for free. Locally, check out the Golden Earth Week Festival where you can tune into online sessions on topics like going zero waste and renewable energy. The Longmont Earth Day Celebration will take place on April 24 with a day of virtual conversation focused on youth, education, and equitable climate action. You can also register for the Denver Museum of Nature and Science's free Earth Day webinar hosted by Denver 7 meteorologist Mike Nelson which will dive into the topic, Seeing Differently: The Art of Communicating Climate Change.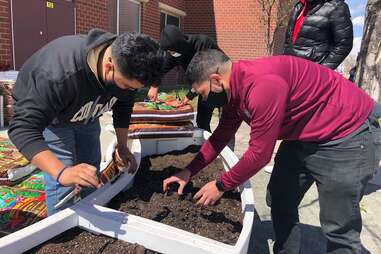 Did you know that in the United State, 30 soccer fields worth of fertile soil is lost every minute? You can help maintain fertile soil in the US starting in your own backyard. For $5, you can attend an April 23 online workshop hosted by Nick and Shannon from Arvada's Hugelrado Farms where you'll learn more about the science behind soil health and options for you to increase soil nutrients including composting techniques and land care practices. Not only will you be helping the earth, but you'll also get a major personal bonus: more, and healthier garden fresh produce to enjoy all summer long.
Even if you're not into home gardening, consider giving your green thumb a workout by volunteering at a local school garden. You can reach out to Chris Woodburn, Denver Public School's Gardens Specialist, to learn more about opportunities at schools near you.
For anyone who wants to shop smarter
As consumers, where we spend our money holds a lot of power, which is why you should consider supporting local companies that are really stepping it up when it comes to addressing climate change and the environmental impact of their businesses. Lakewood-based Natural Grocers is one example, with their 2021 Earth Day partnership with Beyond Pesticides for the "Ladybug Love Your Neighborhoods" campaign, which aims to convert local parks and public places to pesticide-free management. Along with their goal of raising $250,000 in April, they'll also be celebrating Earth Day in their stores with discounts on eco-friendly products, free limited-edition reusable shopping bags, and sweepstakes for prizes such as 40oz Hydro Flasks and Natural Grocers gift cards.
Based in Bellevue, just northwest of Fort Collins, Noosa Yoghurt is working to eliminate plastic lids from its line of single serve yoghurts, a move that will eliminate more than 70 tons of plastic annually. Along with this latest effort, the company also reclaims and reuses water at its farm, repurposes and recycles their cardboard packaging, supports honeybees with donations to the Bee Friendly Farming certification program and their work with the Pollinator Partnership, and is donating $20,000 (or 3,000 trees that will produce half a million peaches) to Talbott Farms who lost most of their 2020 harvest to spring frost. If you're going to spend money on things like groceries, it's companies like these that you should be supporting so they can keep doing good in the world.
For anyone that wants to travel smarter
Enjoying all of Colorado is one of the best things about being based in Denver, but we can all do more to reduce our impact when traveling away from the Mile High City. The Colorado Tourism Office is the first US state travel office to develop a plan focused on helping travelers reduce their carbon trail. Check out their Colo Road Trips microsite where they feature many ideas for lesser visited destinations across the state which include multi-day itineraries complete with sustainability activities for each destination. Both Aspen and Glenwood Springs are 100% powered by renewable energy, making them ideal destinations for anyone looking to get out of town with little carbon impact.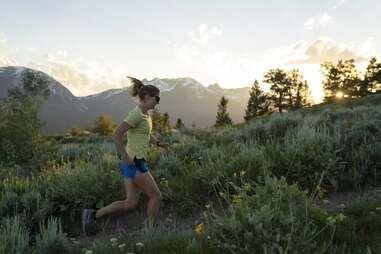 Since we're in Denver, it's pretty safe to assume we're all outdoor lovers. And no matter how careful you are when it comes to tenants like, "pack it in, pack it out," you're making an impact on the environment every time you head outside. Based in Boulder, Protect Our Winters was founded by professional snowboarder Jeremy Jones in 2007 and works to enact policies that will help their ultimate goal of achieving carbon neutrality by 2050 with a focus on recognizing your own impact and becoming a climate advocate. The organization has several volunteer opportunities available anytime of the year, from making phone calls and contacting public officials to sharing campaigns and more. Similarly, Boulder-based grassroots site Boulder.Earth works with over 100 environmental organizations in the Boulder area to collectively impact climate change and can connect you with volunteer opportunities with a variety of organizations.
Sign up here for our daily Denver email and be the first to get all the food/drink/fun in town.
Molly Martin is a Denver-based freelance writer. Follow her @mollydbu on Instagram and Twitter for more updates on life in the Mile High.