10 of the Weirdest Things to Ever Happen in Detroit
Robert Riger/Getty Images Sport/Getty Images
Perhaps more than any other American city, Detroit has been through its ups and downs, and when you're on that roller coaster, some weird things are inevitably going to happen. Well, here we touch on some of the flat-out strangest occurrences Motor City has ever known.
When Harry Houdini died of gangrene on Halloween
Year: 1926
As the story goes, master illusionist and escape artist Harry Houdini was on tour in Montreal when an adoring little sadist of a fan delivered several unexpected and powerful blows to Houdini's stomach in an effort to test the magician's alleged claim that punches to the stomach didn't hurt him. Whether the Canuck fan caused it or not, Houdini developed appendicitis and refused treatment for his symptoms before reaching Detroit where, with a fever of 104 degrees, he took the stage at the former Garrick Theatre. He completed the show and died a few days later at Detroit's Grace Hospital, the official cause was a ruptured appendix that had developed gangrene.
When the "largest public Satanic ceremony in history" happened here
Year: 2015
A crowd of more than 700 jeering devotees and simply curious cats welcomed the unveiling of what could be the world's largest Satanic-themed statue called Baphomet, a 9ft, one-ton bronze goat, in a secret warehouse location in Detroit. The idol was erected by Detroit's chapter of The Satanic Temple, and had originally been created to stand alongside a monument of the 10 Commandments, which had been donated to sit outside the Oklahoma State Capitol until the state's supreme court ruled that state property could not be used to benefit religion. Bummer for Oklahoma.
 
When Bobby Layne cursed the Lions and it WORKED
Year: 1958
Whether you believe in curses or think they are nothing but hogwash, the legendary hex on the Detroit Lions is hard to contest. When quarterback Bobby Layne was traded from the Lions in '58 after eight seasons, he reportedly cursed the team, saying it wouldn't win a championship for 50 years. Sure enough, between 1958-2008, the team had the worst winning percentage in the league -- culminating in what would be the absolute worst year for any team in NFL history when the Lions finished 2008 at 0-16. In comes the weird: in 2009 -- the first year post-curse -- the Lions drafted Matthew Stafford, a quarterback who had played high school football at the same Dallas, Texas school as Layne. With the exception of the 2015 season (which so far is enough to make you spew Honolulu blue), the team has experienced a steady upswing since the suspected curse was lifted.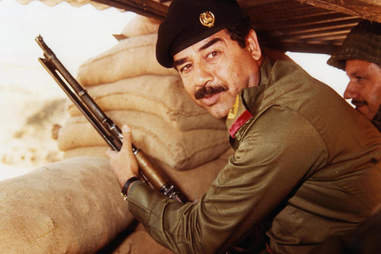 AFP/Getty Images
That one time Saddam Hussein was awarded a key to the city
Year: 1980
A solid decade before he was known Public Enemy #1 (oh, America and her "frenemies"), Saddam Hussein's rise to power in Iraq was championed by many in the United States: including the country's largest Chaldean population which happened to be in Detroit. Chaldean Catholic priest Jacob Yasso caught Hussein's attention by publicly congratulating the new leader and was invited along with other members of the city's Chaldean community to visit Baghdad. The trip resulted in a gift-sharing between the two men: Hussein donated more than $200,000 to Yasso's Detroit church and Yasso, with blessings of then-mayor Coleman A. Young, gave Hussein the key to the city of Detroit. (We have a feeling they secretly changed the lock right after.)
When a Kickstarter effort started the creation of a 13ft RoboCop statue
Year: 2011
A humorous tweet directed at former Detroit mayor Dave Bing sparked a unified, international effort on Kickstarter.com to erect a statue in Detroit to honor officer Alex Murphy's cybernetic alter-ego. According to more trustworthy news organizations than ours, the RoboCop statue is still in the works, though it was met by such obstacles as copyright issues and the fact that the $67k raised by the Kickstarter campaign over its four-day effort is nowhere near what it will actually take to complete the project.
When Devil's Night became a thing
Year: 1983
The phenomenon of Devil's Night had plagued the city in the form of relatively minor pre-Halloween juvenile vandalism and pranks for years before it caused major alarm in 1983 with more than 650 fires reported in the city over the three-day period of Oct 29-31. The arson peaked in 1984 (the same month the Tigers won the World Series) with a whopping 810 reported fires in the last three days of October, and continued to be a grave concern into the early '90s when serious efforts were made by then-mayor Dennis Archer to curb the destruction by creating Angel's Night, which sees tens of thousands of Detroiters patrolling the streets vigilante-style to keep the pyro-punks at bay. It would seem to be working: the city reported a record low of 52 fires this year.
When a tiger got loose in the Packard Plant
Year: 2015
Finding exotic and non-pet-grade animals in strange places in our city is not weird or unique in and of itself. But, having a tiger escape into a 3,500,000sqft abandoned auto plant during a professional photo shoot which also involved two wolves and a bobcat, is pretty out there even for the city that brought you Iggy Pop and raves.  
 
When two babies fell out of different windows and landed on the same dude
Year: 1937, 1938
In the days before cell phones and social media, it was hard to document a strange occurrence. Joseph Figlock, however, had two opportunities to have a similarly odd one. A street sweeper, Figlock was going about his daily work when a baby fell out of a window and landed on his head, both emerging relatively unscathed. That would be weird enough, but then it happened again -- different baby, different window, but same street sweeper and same benevolent outcome a year later.
When Metallica seized Belle Isle for the weekend
Year: 2013
Shortly before Belle Isle became state property, Metallica (with help from former council member and discreet headbanger Ken Cockrel Jr.) had it closed off for a weekend to all but foot traffic and attendees of its second Orion Music + More festival. Metalheads the world over were charioted in school buses from the city center over to the 987-acre Metallica Island, where they were greeted by a complete smorgasbord of 37 bands (including next-to-never performers Rocket from the Crypt and Infectious Grooves), a techno tent, a movie theater, a classic car and motorcycle show, and a Metallica museum (lots of Cliff Burton nerd-out moments). The festival was slated to return to Detroit for two more years, but it proved to be a financial calamity and thus faded to black in our memories.
 
When a guy threw a pie in a guru's face and got his head split open
Year: 1973
In the politically turbulent times of the Vietnam War era, there was no shortage of political demonstrations and apparently "throwing pie" was a popular way to express such dissension. Enter one Pat Halley who at the time wrote for the anarchist chronicle, Fifth Estate, and one Prem Pal Singh Rawat (then known as Guru Maharaj Ji) who called himself a "child god." The young guru visited the United States on a tour fueled by ticket sales to eager Westerners who believed claims that he could impart messages from the heavens. Halley was not a believer, and when the guru visited Detroit, he surprised him with a shaving cream pie to the face. Unfortunately for Halley, some of the guru's less-enlightened followers avenged the "pie-ing" and left Halley with a plastic plate in his skull.
Sign up here for our daily Detroit email and be the first to get all the food/drink/fun Motor City has to offer.
Megan Frye is a Detroit-based writer whose life is an entry on the expanded version of this list: "The 313 Weirdest Things That Have Ever Happened in Detroit." Tweet her your strangest Detroit experience at @fryechild.