Did you move to Detroit for the cheap rent, empty bars, and the exhilaration that comes with living somewhere that can be a little dangerous? Do you miss those days of being able to walk into any place like you owned it, and, since you were probably one of only a handful of patrons, you actually kind of did? Did you love it because you felt like it was your little secret? Did you escape to Detroit to get away from people? Are you outwardly "happy" that (at least part) of the city is no longer falling apart, but secretly wish you could have it all to yourself again? MAN, have we got a place for you: Flint!
Seriously, here are all the reason that the city, which people from the D look down on, is actually the new Detroit:
The rent is about what it used to be in Detroit
If your mind balks at the idea of paying New Detroit rates for the same Old Detroit services, shortcomings, and general clusterf*ckiness, consider Flint: all the same post-industrial left-for-dead DIY grit at a fraction of the price!
In Downtown Detroit's much-ballyhooed Broderick Tower, for example, a 605sqft 1 bed/1 bath unit on the tenth floor overlooking Comerica Park will set you back a cool $2330 a month. By comparison, a 2-bed/1-bath high-rise in One East Delaware in Chicago's Gold Coast overlooking the downtown skyline and Lake Michigan costs $2335-2425 per month. We're making this comparison to underscore the point that the amount of money people are paying to live in downtown Detroit is just f*cking absurd.
Want luxury loft living in a murder capital that is not Chicago without paying Chicago/Detroit prices? May we present to you Flint, where a 1455sqft two-level loft inside the converted former Flint Journal Building, now the home of the MSU College of Human Medicine, costs just $1150 per month. A little further away, another historic preservation luxury apartment renovation project called The Durant has 994sqft 2-bed/1-bath units for only $955. Same dysfunctional BS with way more space at less than half the price -- that's value!  
It's not the cultural backwater Detroit pretends it is
All your Detroit culture chauvinists who sneer at Flint need to check yourselves, because once upon a time -- and that time was barely a decade ago -- people all across the country felt the same about Detroit. "It's a dying city, it's the Pit of Despair, they just need to burn the whole thing to the ground and start over," etc., etc.
But once upon a time, Flint was a pretty popular place with the wealthy automotive mogul set -- just like Detroit! -- and those people pumped some cash into making the place a bit more civilized for posterity. And so Flint has the "Flint Cultural Center" campus, a cultural and museum district with enviable institutions including the Flint Institute of Arts, the Flint Children's Museum, the Sloan Museum, the Longway Planetarium, The Whiting performing arts center, the Applewood Estate, and the Flint School of Performing Arts, which is the largest community school of the arts in Michigan and one of the largest in the country.
There is also plenty of free public art, including the recently restored Grand Fountain, a concrete installation with water flowing over a network of cliffs and steps, installations from the Flint Public Art Project, and the Greater Flint Arts Council's Second Friday Art Walk.
Oh, and don't forget the Flint Institute of Music, located in the Flint Cultural Center campus, which is home to the Flint Symphony Orchestra, so you can keep pretending to care about having a symphony that you'll still never go to.
There are still crappy, but awesome, music venues
Back in The Day, Detroit was nationally renowned for its music scene, if for nothing else: folks on the scene back then might have fond memories of catching The White Stripes at the Gold Dollar, Derrick May at Motor Lounge, or Funk Night in whatever sh*tty warehouse it was in that month. CityFest was one of the best annual showcases of local talent from all genres, the Hamtramck Blowout was still an independent venture, and techno was still techno, not goddamn EDM.
Sadly, everything is a bit cleaner, more sanitized, and more corporate now. There's nothing inherently wrong with that -- Detroit's music scene still rivals that of any other major city -- but if you're looking for that down and dirty feel that has largely been displaced, look no further than Flint.
The Machine Shop is a rock, metal, and non-Swiftian country institution, and while it's relatively new as far as legendary music clubs go -- it opened in 2002 -- it is already on par with Harpo's as one of the premiere heavy metal venues in the Midwest (bonus: they've also got a great Michigan beer selection). Flint Local 432 is an all-ages, nonprofit, substance-free music and performing arts venue located downtown, and while you might read "substance-free" as "fun-free," try to remember being a teenager and not being able to see some of your favorite bands, and how you had nothing to do but sit around and smoke cigarettes and get into trouble. And then also remember how you can't even smoke anywhere now and everything is terrible, and be happy for the kids who have the Local 432 to hang out at instead of some lame community center.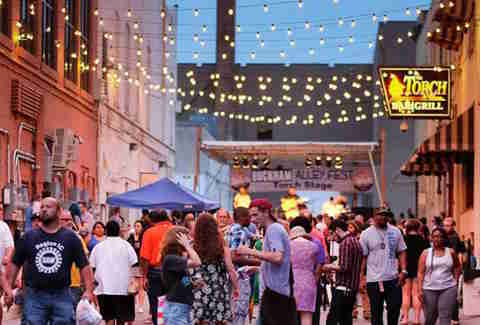 The food -- and beer -- doesn't actually suck
Keep in mind that Detroit's food scene has only got interesting in the last eight years, and it really only became something worth talking about in the last two. Flint is basically Detroit circa 2009 -- people are trying to make it happen, and while it's still not quite there yet, they deserve a pat on the head. The Freakin' Unbelievable Burgers chain -- which has landed on all sorts of "best burgers" lists, including a few national ones -- is based here, and the Torch Bar and Grill is a must for one of Michigan's best burgers. Also best-in-Michigan musts: Luigi's Restaurant for pizza and Krystal Jo's for breakfast.
The trendy barbecue train that metro Detroit has been riding the last several years has found its way up to Flint, so check out Table & Tap for barbecue, bourbon, and 30 Michigan beers and ciders. Not only does Redwood Steakhouse and Brewery have some great steaks, but their beer has taken home several medals from the Great American Beer Festival in the past -- no small feat, considering this is the Academy Awards of beer, and every brewery worth its wort submits suds in search of the coveted medals (it really wasn't until Batch Brewing opened that Detroit had a truly worthwhile brewery that can compete on a national level, and yes, we are aware of the existence of Atwater).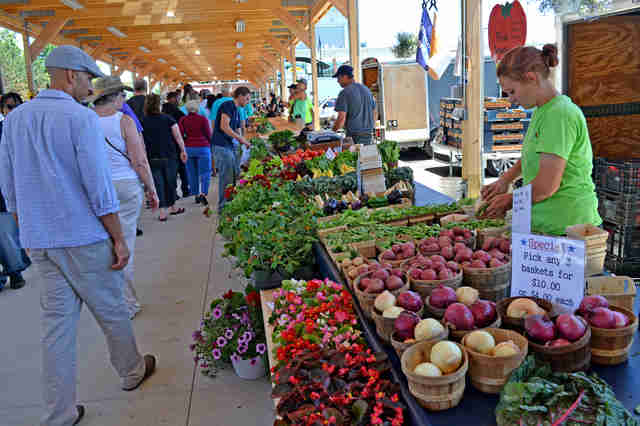 The Flint Farmers' Market is open year-round Tuesdays and Thursdays, and the market's brand-new building is earning it some national attention: the American Planning Association put it on their annual "Great Places in America" list for 2015. This project -- managed by the Uptown Reinvestment Corporation (URC), which is overseeing quite a bit of downtown redevelopment in Flint, including the MSU College of Human Medicine building and lofts mentioned earlier -- marks the market's return to the downtown area after more than 70 years. The 109-year-old market has over 100 vendors and supports small farms both urban and rural. The market also has a wine shop, art gallery, café, Middle Eastern and Mexican groceries, local artists and crafters, live music and storytellers in the summer, a commercial kitchen for food entrepreneurs, market chefs, food justice, and urban agriculture programs, and beautiful community spaces like the rooftop terrace. We won't say, "Take THAT, Eastern Market," but... OK, we'll totally say that.
For more totally civilized, non-chain, non-depressing eats, also check out: Flint Crepe Company, 501 Bar and Grill, Cork on Saginaw, the Lunch Studio, and Soggy Bottom Bar.
You can still actually be a part of something!
Soooooooooooooo many people ostensibly moved to Detroit to be "a part of something" that now there just aren't all that many things left to be some part of. The Detroit train is already running full speed ahead, and we're past the point of one person being able to make a monumental impact all on their own. (Unless you're the next Dan Gilbert, but most of us don't have that kind of money or clout or brazen ability to act like the city's savior after playing no small role in the collapse of Michigan's housing market that got us into this mess in the first place.) You know where one person can still make a difference, though? Flint. For example: the Grand Fountain was brought back to life by the efforts of one man, Dave Johnson, who was a consultant for the Flint DDA. YOU can be the next Dave Johnson. YOU can buy a block of dilapidated houses, fix them all up, inject new life into the adjacent commercial corridor, and re-christen yourself a Cooley brother from another mother of the north. You want a city that's a blank slate? Flint is handing you a box of chalk.
Sign up here for our daily Detroit email and be the first to get all the food/drink/fun Motor City has to offer.
Nicole Rupersburg moved to Detroit two minutes before it was cool and now splits her time between there and Las Vegas, which is still acceptably underpopulated and kind of gross. You can follow her search for a city not yet ruined by other people on Instagram at @eatsdrinksandleaves.