Michigan's Most Fascinating Abandoned Places
The Great Lake State's most strange and creepy relics of the past.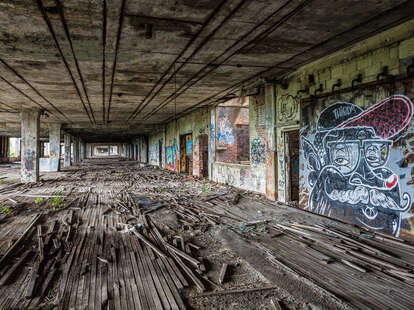 Packard Automotive Plant

| John Getchel/Flickr
Packard Automotive Plant

| John Getchel/Flickr
Michigan, in all its post-industrial and forested glory, has its fair share of ghosts. Yet many of the state's most well-known icons of the past have been either demolished (as is the case with the ever-creepy Northville Regional Psychiatric Hospital, which drew local teenagers on dare missions for decades) or renovated (like much of Traverse City's Northern Michigan Asylum, which has been reimagined as a series of chic cafes and shops).
In Detroit, tens of thousands of abandoned structures are being torn down or renovated at a rate not previously seen. For decades, these "ruins" ignited the imaginations of urban explorers and bewildered European tourists alike. Arguably the most famous was Michigan Central Station, a looming presence in Detroit's skyline that has been defaced, smashed up, scavenged, and passed between owners over the years.
The train station is now being rehabbed after Ford Motor Company purchased it in 2018, as part of a $740 million campus project in Corktown. While COVID-19 has stalled construction on a number of such projects this year, it's clear the city is ready to move forward.
But strange and creepy abandoned relics can still be admired elsewhere throughout the state, usually because the cost of demolition is just too high. Here are 12 Michigan sites that have long been left to the wild.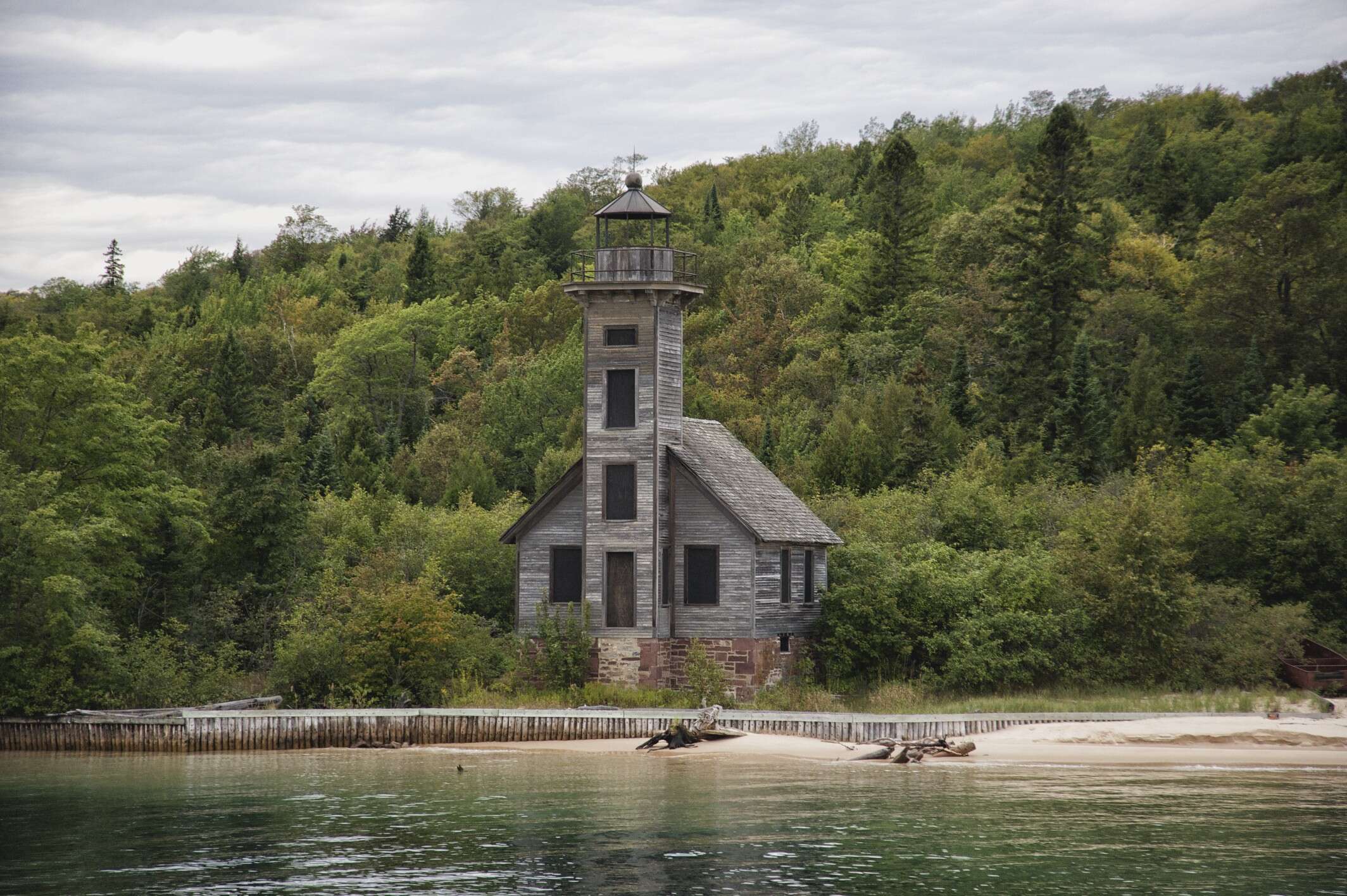 Grand Island East Channel Light
Munising
This lighthouse first shone over the icy waters of Lake Superior in 1868, but due to low visibility, its duties were relinquished to newer lighthouses and it was officially retired just 40 years later. The wooden construction appears to have stood the test of time and still serves as a point of interest for tourists who can pass by its aging frame via sea kayak or boat.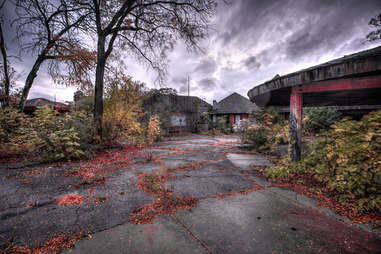 Belle Isle Zoo
Detroit
The outdoor Belle Isle Zoo (later the Children's Zoo) was open for 107 years before being shuttered in 2002 by then- mayor and soon-to-be-released federal inmate Kwame Kilpatrick so he could save $700,000... and open another zoo, a Michigan-themed Nature Zoo at the north end of the island (which we LOVE!) During its heyday, BIZ was home to polar bears, kangaroos, elephants, etc., though now it feels like an ancient jungle ruin (albeit slightly boarded up). Big changes for the zoo are rumored to be happening since the island became a state park in 2013, but for now it remains a place of mystery and echoes of the past.
Prehistoric Forest Amusement Park
Onsted
Hidden in the Irish Hills south of Ann Arbor are 15 acres of what is the ideal habitat for fiberglass dinosaurs, which are pretty much all that's left of this former roadside attraction that drew tourists from 1963 until its closure in 1999. Today, despite talk that a new owner plans to bring the park back to life, the dinosaurs still lurk (albeit a little worse for wear) amidst the unkempt vegetation and eerily quiet woods.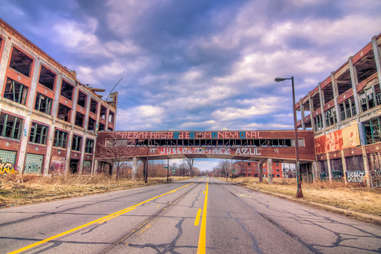 Packard Automotive Plant
Detroit
It took more than eight years to construct this 3.5 million square-foot auto-manufacturing plant, which sits on 40 acres of land, that was designed by famed architect Albert Kahn and completed in 1911. (If you're not so good with numbers on the first take, sacrifice a second and read that sentence again; the place is mind blowingly huge).
The majority of the factory closed in 1958, with some businesses using the property through the 1990s and dwindling to the final tenant who packed up in 2010. The crumbling behemoth has been a scrapper's paradise, a home for vagrants, a canvas for installation artists, and even the site of at least one tiger escape. Purchased in 2013 for $405,000, a $1.4 million demolition project was set to begin in 2019, but as of now it remains a hazard (that bridge in the photo above? It collapsed into this).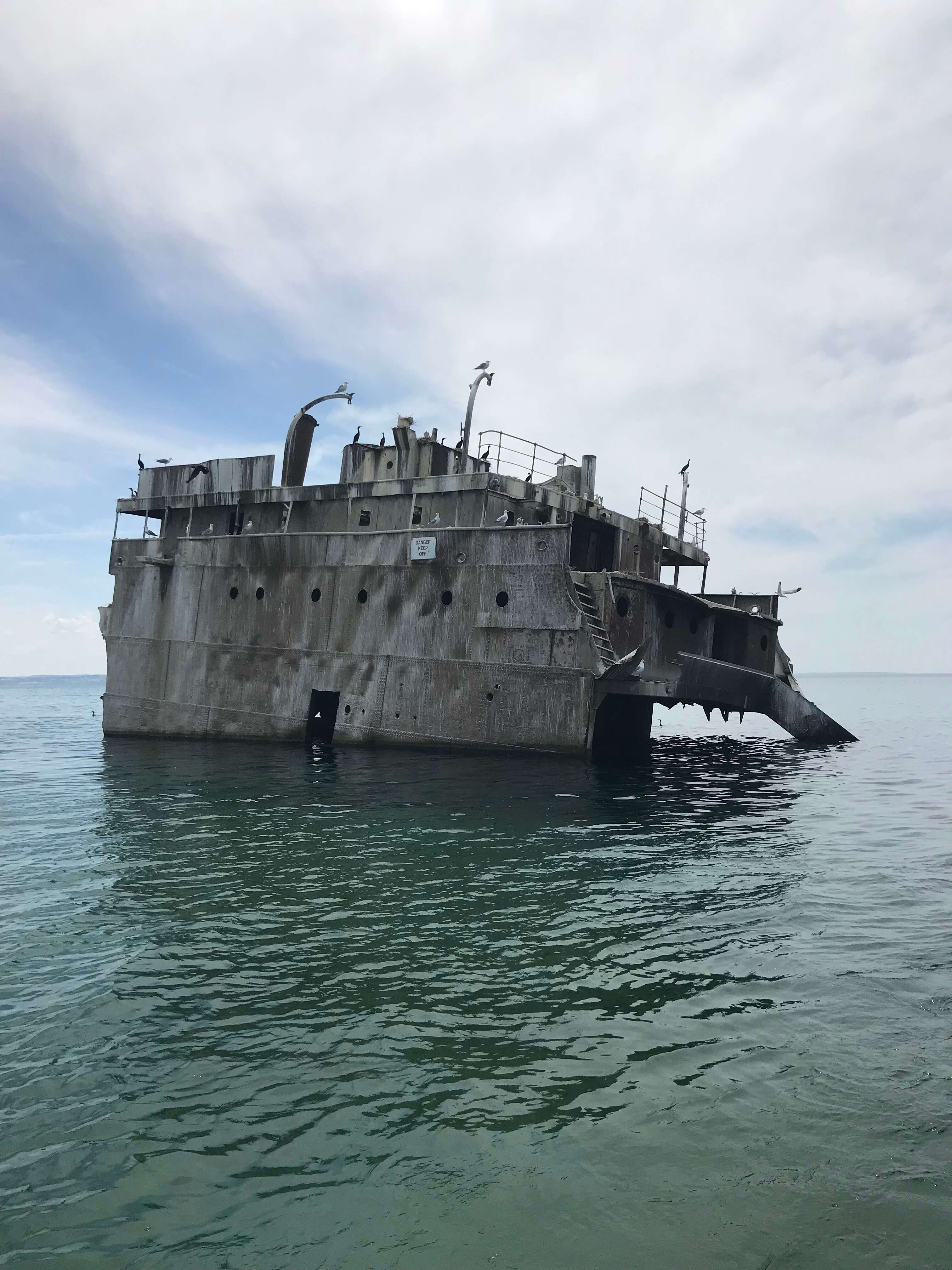 Wreck of the Francisco Morazan
South Manitou Island
The Great Lakes hold plenty of shipwrecks, but none are as visible to the naked eye as the Francisco Morazan, a 234-foot-long German-built cargo ship that ran aground on South Manitou Island during a snowstorm on Lake Michigan in 1960. Following the loss, a private company was hired to salvage the cargo but only came out with five tons of canned chicken (though islanders were able to salvage more in later years), and today the wreck is state property, guarded by a battalion of vocal and foul-smelling cormorants.
Holy Family Orphanage
Marquette
This gargantuan edifice once accommodated 200 children, classrooms, dormitories, playrooms, a dining hall, and other facilities. Erected in 1915, it closed in 1965 after hosting its last group of children -- refugees from Fidel Castro's Cuba. Located on many "most haunted" lists, there is no shortage of urban legends and stories surrounding the mistreatment and demise of some of the children housed here over the years. Renovation efforts have been underway since the summer of 2016, so it's only a matter of time before this place reopens as a modern apartment building, but ask yourself this question: can a fresh coat of paint really overwrite that much spooky history?
Waugoshance Light
Emmet County
Built in 1851, this lighthouse has been deactivated since 1912, and is considered a "nautical gravestone" for the slew of shipwrecks that lie in the shallow waters (only 12-feet deep) nearby, which make the straits of Mackinac one of the most perilous parts of any ship's journey between Chicago and all points east. Used by the US Navy for bombing practice during World War II, it is now considered an endangered lighthouse due to lack of upkeep and ownership.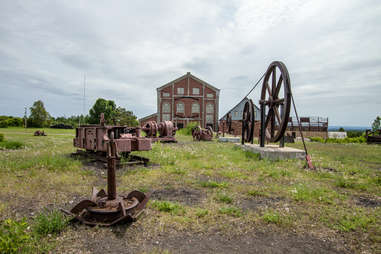 Ghost towns of Copper Country
Keweenaw Peninsula
Michigan's Copper Rush is said to have yielded 10 times the fortune of California's Gold Rush in the mid-1800s. At the very top of Michigan's cold Upper Peninsula, mining companies built dozens of towns to shelter and feed the miners and immigrant families that flooded the Keweenaw area. Most of these communities relocated about 70 years later; while not all the towns are abandoned, they are indeed under inhabited. Check out the Keweenaw Time Traveler on your next trip for a map of the various buildings and mining sites.

Eloise mental institution
Westland
It's all fun and games until somebody gets a lobotomy, and you can be sure they doled those out at this 50-acre complex. Though more is missing than remains at the grounds of Eloise, the leftovers are still touted by paranormal experts as one of the most haunted locations in Michigan. Eloise served as a mental institution (also a tuberculosis sanitarium and a poorhouse at some point) for more than 150 years. Knowing what we know about the history of mental health treatment in the country of the freedom eagle, you can imagine a series of unfortunate events occurred behind these walls.
Fayette ghost town
Garden
"Easy come, easy go" could be the motto for any "rush" kind of ghost town -- in Fayette's case, it was the iron rush that gave it life in 1867, and the lack thereof that made it a ghost town in the early 20th century. Now a state park along the Upper Peninsula's southern, limestone-bluffed shores, many of the town's buildings still remain intact and provide a glimpse into the North Country's past.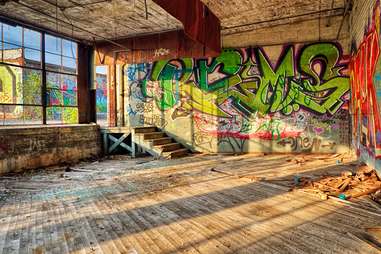 Fisher Body Plant 21
Detroit
Now that the Packard Plant has been bought and sits in varied stages of demolition, crumbling and planned renovation, Fisher Body Plant 21 may well be the reigning king of Detroit's abandoned factories. At the corner of Piquette and Antoine, this factory for Fisher vehicles (which was eventually dissolved into General Motors) was designed by famed architect Albert Kahn and built in 1919, and was in service until 1974. The neglected space has been utilized as a canvas for graffiti artists, and even installation artists who have created some pretty unique happenings inside.
Grand Trunk Railroad coal loader
Lansing
Large enough to fill four trains with coal, this bridge sits over two tracks that still function out of the four that ran in Grand Trunk Railroad's heyday. Built in 1925, it served its purpose for about 30 years before being closed up. Yet, it still remains, with its foundation said to be buried more than 20 feet underground. As with most of Michigan's abandoned bridges and buildings, it's cheaper to leave the structure than to bother with demolishing it.
Megan Frye is a Michigan-born writer and pyramid enthusiast, currently living, loving and social distancing in Mexico. She spent a few nights being haunted on South Manitou Island some years ago and hasn't slept unsedated since. Tweet her your favorite unoccupied places to explore @Fryechild.