We at Thrillist exist to provide our readers with well-considered ways to spend their time and hard-earned money in the Motor City (and nearby non-sucky hamlets). But we never said we were the be-all and end-all of advice and wit. So we contacted local comedienne, Bad Advice Alice, to see what kinds of inappropriate suggestions she had on how best to enjoy the city's finer sides, be it neighborhoods, hot trends, or prodigal sons. Among other things, she is known for giving unsolicited advice at bars around town -- both onstage and from a bar stool -- specializing in aggravating your relationship and work-related troubles. She also offers her services on a "Don't call us, we'll call you" basis. Give her your number, and expect a phone call at an odd hour with the worst possible advice ever! Nice!
On Hamtramck
If you're hanging out in Hamtramck, chances are you're looking to save on cash. How do you stretch that dollar for a little extra somethin'-somethin'?
Alice says... "Looking for a good time in Hamtramck? A dollar at Tight Fittin Jeans on Monday night can get you a Black Label. And if you tip, you might just get 'the tip,' or at least a good spankin'!"
On Jack White

One of Detroit's most beloved hometown boys -- or hated, depending on how jaded of a musician your conversation partner is -- has brought his Nashville powerhouse record store and production studio to the city's rapidly changing Midtown neighborhood.
Alice says... "Excited about Third Man Records being in town? Are you secretly hoping to meet Jack White? Word on the street is that he visits often. May I suggest wearing very skimpy clothing and walking back and forth on Canfield for a few hours after dark? I am sure that will get his attention!"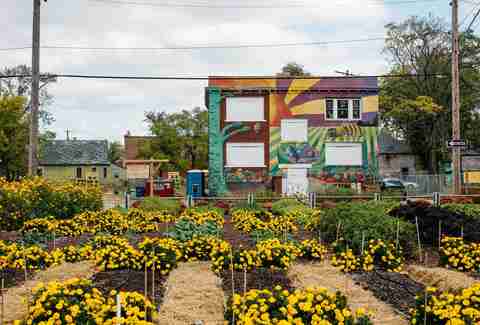 On urban farms
Organic kale will be the savior of Detroit; it's already been decided.
Alice says... "Hate farming, but love millennials? Make your own urban farm sales stand on an empty lot in Corktown by using day-old veggies from Walmart and crafting your stand from DIY pallet projects on Pinterest... don't forget the beard and bandana!"
On Corktown
Detroit's most decidedly hip neighborhood is also one of its oldest and now one of its most expensive.
Alice says... "Tired of not having enough to talk about while enjoying your overpriced coffee and $30 meals? Try the Pixmaven Instant Art Critique Phrase Generator... which can be accessed easily on your brand-new iPhone! Here, I found your first talking point for you: 'I find this work menacing/playful because of the way the optical suggestions of the fracture notates the remarkable handling of light.' Genius!"
 
On Southwest
We love our decent Mexican restaurants here in Detroit. So much so that celebrating the most bastardized of holidays draws the biggest crowds every year, giving gringos a chance to pretend they know something about culture!
Alice says... "On Cinco de Mayo, celebrate diversity by consuming massive amounts of tequila in Mexicantown and then pee on the locals' lawns. It's a time-honored tradition!"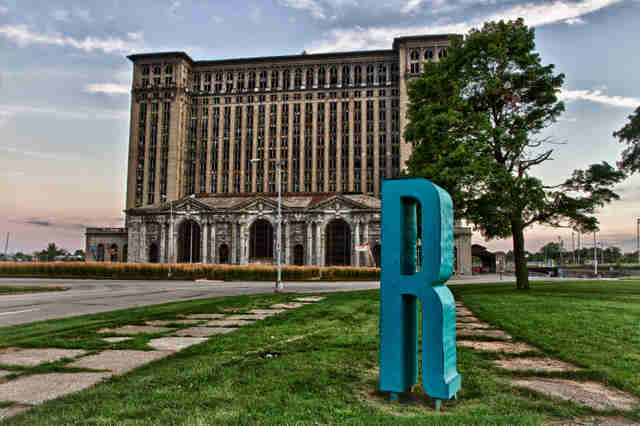 On Roosevelt Park
This neighborhood park sits in the shadows of the vacant Michigan Central Station, steps away from all your favorite Corktown restaurants!
Alice says... "Tired of tan lines? Try nude sunbathing at Roosevelt Park!"
On Belle Isle
This newly inaugurated state park has a plethora of outdoor activities!
Alice says... "Start a nudist colony on Belle Isle! Strip down to your skivvies, and begin the fun with a three-legged race on the main beach! If you are approached by police officers, just claim you are practicing your religious freedoms as part of Detroit's new Rising Dong sect!"
 
On Pewabic Pottery
Many tourists head straight to this studio built in 1903 to purchase their clay whatchamacallits with every manner of Detroit pride reflected in the glaze.
Alice says... "Finally ready to admit to having an affair? Why not pick a place that spouses will have to behave themselves? May I suggest the main gallery at Pewabic Pottery... what's the worst that could happen?"
On the DIA
Easily one of the city's most lauded jewels, the DIA contains murals by Diego Rivera and Van Gogh's self portrait, amidst a vast array of other noteworthy artifacts.
Alice says... "Fellas, shy about sex? Try looking at all the nudes at the Detroit Institute of Arts in one day, which ought to cure ya! Besides, ladies love a guy that is not afraid to point at a nipple and raise an eyebrow at the same time!"
 
On the recycle center
Created by environmentally conscious Detroiters in 2005, the recycle center serves as a dropping off point for residents in all corners of the city.
Alice says... "Ladies, tired of the same ol', same ol'? Try picking up guys at the Recycle Here! recycle center. After all, one woman's trash is another woman's treasure!"
On the Slow Roll
This weekly event draws thousands of bike riders who meet at a common point and cruise the city during the more temperate months.
Alice says... "Want to meet people with common interests and like minds? Try joining the pretentious assholes at the Slow Roll! Not only are they obnoxious and a step backwards in the evolutionary chain, but they are also exciting! Just think of all the places you can stick a flashing light!"
 
On Midtown
When Whole Foods announced its plans to open a store in Detroit's city limits, people went bonkers. Now that, three years later, Detroit is not quite the food desert it was in 2013, how does Whole Foods keep attracting so many customers?
Alice says... "Ladies, want to make your man happy? Try practicing fellatio on the vegetables at Whole Foods Market next time you shop for organic produce together!"
Sign up here for our daily Detroit email and be the first to get all the food/drink/fun Motor City has to offer.
For really, really awful, do-not-follow-by-any-means advice, tweet Bad Advice Alice at @BadAdvice_Alice.
Megan Frye is a writer based in Detroit and Mexico City. Tweet her your worst ideas @fryechild.