There's nothing quite like the magic of summer in Michigan, when you can actually venture out after a dreary stretch of clouds and exorbitant home heating costs. While our beloved cities have some ridiculously entertaining goings-on in the summer, you can't beat heading out into the countryside and exploring the small towns that make up our massive state (seriously, it's the biggest east of the Mississippi). To save you from accidentally wandering into a scene from Deliverance, we've thoroughly reviewed the following quaint villages and deemed them safe for our readers to get out and explore.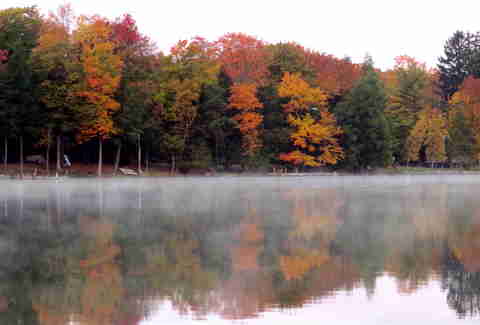 Alden
Why it's so great: Michigan has a lot of lakes, and they're all beautiful, but none are quite as jaw-droppingly stunning as Torch Lake. Alden is one of a few small towns that line the 19-mile-long lake, whose turquoise colors have garnered it recognition around the world, and on whose shores you could purchase a modest home for a cool $1 million. The spring-fed, clear-as-glass lake reaches 285 feet at its maximum depth, making it a popular vacation spot for Michigan's cultural elite (think Kid Rock and Eminem). Despite this notoriety, Alden remains a small town with a lot of flavor, where lifelong residents fish the glacial lake and wander into the local bar for some brews.
Must-eat foods: Meat Lovers Special pie at the Blue Water Bistro & Pizzeria; ice cream at Higgins Store.
Dexter
Why it's so great: Getting into the countryside doesn't necessarily have to mean a four-hour trip from downstate. Just outside Ann Arbor sits this quiet little village, which feels light-years away from city life. Set out for a kayak trip on the Huron River early in the day, and wind up here just in time for an après canoe cocktail and snack. We love that this little town feels like someplace way Up North, despite being close enough to metro Detroit to feel like you haven't left the real world.
Must-eat foods: Fried pickles at Dexter's Pub; brisket and pulled pork at Hotel Hickman Chuck Wagon BBQ; craft beer and beef pepper sticks at Null Tap House.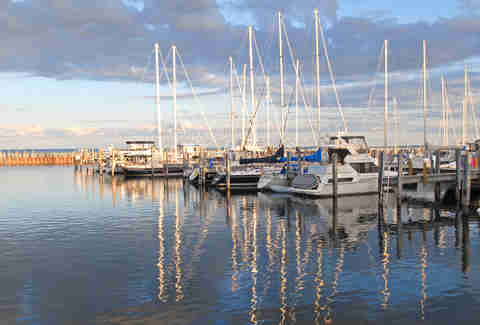 Northport
Why it's so great: With its sweeping sand dunes along Lake Michigan, thick birch forests, and rolling hills perfect for growing grapes, it's hard to deny the charm of Michigan's Leelanau Peninsula. Heading north of Traverse City on the iconic M-22, you'll find the tiny town of Northport situated toward the very tip of the "Little Finger"; it's full of quaint attractions like the Grand Traverse Lighthouse Museum, and the Frank Lloyd Wright-designed Amy Alpaugh House. Swing by Leelanau Wine Cellars for a tasting of the region's finest grapes, or for some cherry wine if you have a sweet tooth, then kick back on the often-empty and always-gorgeous beaches of Leelanau State Park.
Must-eat foods: Fresh mozzarella panini at The North End Eatery; 420 burger at Garage Bar & Grill.
Calumet
Why it's so great: The Keweenaw Peninsula juts out into Lake Superior and is one of the most remarkable natural retreats in the Upper Peninsula. The scenic majesty ratchets up as you approach Calumet, a small mining town about halfway through the peninsula; it's a nice mix between the comforts of the city (there's at least one café that'll have almond milk for your latte) and being reminded just how far you are from civilization (the starry nights are unbelievable). Meander through art galleries and take your pick of the numerous deserted beaches and hiking opportunities that surround you in this forested refuge.
Must-eat foods: Whitefish, ribs, and pasties at the Hut Inn; tasty artisanal beers and hefty, "Yooper" portions of meat and fish at the Michigan House Cafe & Brew Pub.
Mio
Why it's so great: It's right in the heart of Au Sable River country, an entire region of idyllic splendor for outdoorsmen and weekend warriors alike. Mio is a major launch or pick-up point for tubers, canoers, and kayakers on the wide and mighty river, so if you're even the least bit interested in getting on the water, this is the place to do it. If, on the other hand, you're in the market for handcrafted furniture or other goodies, the Amish population in the area has you covered. At just three hours north of Detroit, you'd have to actively come up with reasons not to make this a regular vacation spot all summer long.
Must-eat foods: Homemade breads, cheeses, butter, and cured meats at Amish Country Natural Products; the prime rib at the Paddle Inn (a local favorite).
Lexington
Why it's so great: Located on Michigan's "sunrise side," Lexington is a hop, skip, and a jump from metro Detroit, and yet it remains an remarkably tranquil getaway. Check out the Thumb's various wineries, and pack a lunch to enjoy at the nearby state park. In Lexington, you'll get a lake vacation at a fraction of the price you'd expect on Michigan's west coast, and with far less attitude. Come here to enjoy the slow pace of life and the cool, fresh waters of Lake Huron.
Must-eat foods: Giant breakfast omelets and down-home bacon at Bush's Restaurant; try the bloody mary bar at The Windjammer and watch the freighters forge along the horizon.
Beaver Island
Why it's so great: You're on an island in the middle of one of the largest bodies of fresh water on the planet; add to that the plethora of local bars and restaurants, and you've got a recipe for a memorable summer getaway. Beaver Island is a quick plane trip or a smooth boat ride from Charlevoix, and has plenty of camping options if you're more about solitude than socializing; originally settled by Irish immigrants, the island has been dubbed "America's Emerald Isle." Fun fact: The island was once home to a "Mormon Kingdom," the history of which you can read all about at the old Mormon Print Shop.
Must-eat foods: Bison burger at the Shamrock Bar & Restaurant; one of the massive hot dogs (with all the fixin's) at Daddy Frank's.
Caseville
Why it's so great: Located on the tip of Michigan's Thumb, Caseville has a beautiful beach where you can see the sunrise and the sunset over Lake Huron. There's always a party going on in Caseville in the summer, and the mood on the beach reflects that; bring a cooler and stay the entire day, soaking in the sun's rays and jumping into the chilly water when you feel appropriately toasted. If you're up for camping, Port Crescent State Park is a divine spot to soak in the natural world; or, if you'd rather keep moving, rent a kayak and explore the Pinnebog River.
Must-eat foods: Homemade cinnamon rolls at Walt's Restaurant; an entire summer's worth of burgers at the annual Cheeseburger in Caseville festival in August.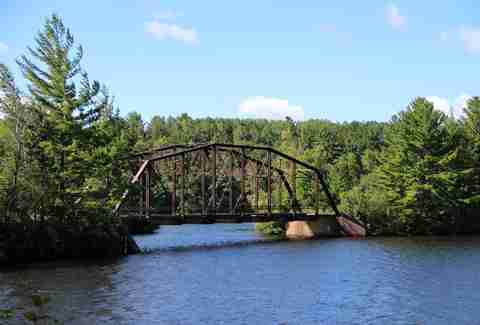 Iron Mountain
Why it's so great: This little old mining town is one of the most remote areas of Michigan, nestled in the rolling hills and thick forests of the western Upper Peninsula. Possibly one of the biggest surprises to out-of-towners will be the plethora of authentic Italian food here; you can thank the folks who came here to work in the mines for that. Iron Mountain's a perfect basecamp from which to explore the Western UP -- it's a sportsman's paradise up there in the summer months. Just beware; they're Packers fans.
Must-eat foods: Fresh pasta at Damian's Pasta Works; pizza at Antonio's; baked goods and cold cuts at Crispigna's Italian Market.  
East Jordan
Why it's so great: Sitting on the South Arm of massive and picturesque Lake Charlevoix, East Jordan is perfectly located to take advantage of the beauty of Michigan's northwest Lower Peninsula. It's a great place for a long bike ride, boating, mountain biking -- basically any outdoor activity that involves motion. You're also well positioned to explore the entire northwest of Michigan's Lower Peninsula from East Jordan, including knowing that you'll be greeted by some great Michigan brews and some great eats when you finish your day, watching the sunset over Lake Charlevoix.
Must-eat foods: Start your day with a massive breakfast skillet at Darlene's; try the gratuitous desserts at The Tilted Skillet (and a meal too, if you're into that sort of thing).
Sign up here for our daily Detroit email and be the first to get all the food/drink/fun the Motor City has to offer.