Michigan has more State Forest land than any other state in the eastern US, most of which is in the state's northern peninsula. Meaning: there are so many good woodland places to get lost in that you can get to in a mere few hours. Actually, getting lost in the Upper Peninsula is very easy, so you may want to make sure you have a functioning compass or at least check in with your spirit animal before embarking on any of these UP camping trips.
Marquette, MI
You can find your own quiet corner in this campground which is not lacking on shorefront. It's secluded and off the beaten path -- which goes for most of the UP, to be honest -- but this is really a place to go to get away from it all, even if you are just a short trip from refilling your growler at one of Marquette's famous breweries.
Wilson, MI
If you decide to make the trek down to Summer Island, stop for a night or two in this state forest with primitive camping near the northern shore of Lake Michigan. There's an abundance of hiking trails and the Escanaba River is well-known for producing some monster trout.
Lake Superior
The mack daddy of camping areas north of the Mighty Mac is also Michigan's only national park. As the name suggests, it is indeed an island, and to get there, you'll need to plan ahead. Take a boat affectionately known as the "vomit comet" from Houghton (about five hours), Copper Harbor (about three hours), or Grand Portage, Minnesota (about an hour and a half). For the moneyed adventurer, taking a seaplane is the quicker, more pain-free option. Reasons to go to Isle Royale include a chance to see the Northern Lights, wolves, and moose, as well as testing your will against black flies and mosquitos.
Summer Island
Garden, MI
Almost as remote as Isle Royale, this atoll is located at the southern tip of the Garden Peninsula, a little-visited plot within the UP. There's a former Native American and European American settlement on the island which was excavated decades ago, but primarily, you'll find yourself one of few people who can claim to have visited this unique spot.
Ontonagon, MI
The Porkies are filled with hiking trails in Northern Michigan's small but beautiful mountains. Along the southern shore of Lake Superior, you'll find state-sanctioned cabins for rent and campgrounds to pitch your own tent on, all with access to incredible hiking in the vast wilderness of the north woods.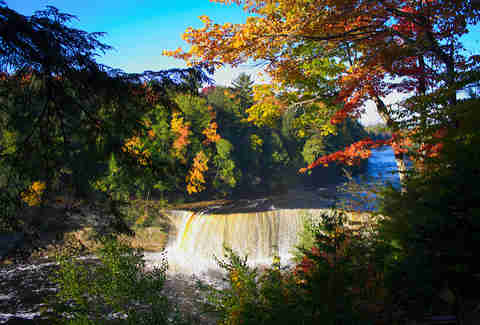 Paradise, MI
Tahquamenon Falls, Michigan's most touted set of waterfalls, is one of the largest east of the Mississippi River, tumbling with about 7,000 gallons of water per second (with a maximum flow recorded at 50,000 gallons per second, which is, like, a lot of freakin' water), with a drop of about 50ft. It's a glorious place to tent up for a few days. We recommend the Lower Falls campground for its proximity to a series of smaller falls which flow around an island.
Copper Harbor, MI
While it's the most plugged-in camping location on this list, it's also one of the loveliest, right at the northern tip of the Keweenaw Peninsula. There are opportunities for hiking and prime sunrise/set watching from this popular campground nestled in the historic mining region of Copper Harbor.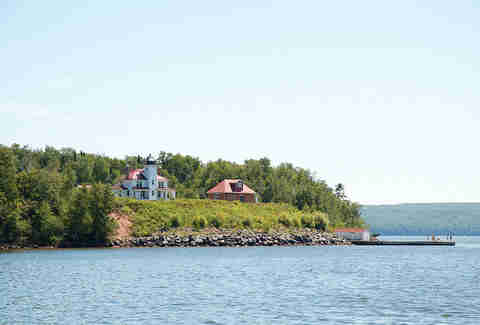 Bayfield, WI
Sorry, Wisconsin, we're going to steal your islands for the purposes of this article. Since the UP probably should be yours anyway, we're going to honor your state by including this archipelago which lies on Lake Superior's southern shore. This national lakeshore comprises 21 islands jutting out in the near-freezing depths of one of the largest lakes in the world. With nearly 70,000 acres of natural wonders like sandstone cliffs and man-made landmarks like historic lighthouses, there's plenty to explore. And some of the more interesting campsites are so remote that you'll feel like you're on another planet.
Les Cheneaux Islands, MI
Don't worry, there aren't any suits or red tape to go through to get to this island in the straits of Mackinac -- you just need a boat. This uninhabited chunk of land is federally owned (hence the name), and you don't need to pay fees or acquire any permits to camp here. There are two pit toilets, a communal fire pit, and a picnic table; the rest is up to you to pack in and, of course, pack out.
Munising, MI
One of the most beautiful spots in all of Michigan, this region is also one of the biggest tourist spots in the UP. That'll happen when it's as pretty and easy to get to from the lower peninsula as it is. The region's gorgeous beaches will be some of the best swims of your life, as long as you can handle the water temperature: just think of it as a baptism in ice water. To get away from some of the crowds, there are backcountry camping sites that take you along the entire lakeshore for that secluded experience.
Grand Marais, MI
Truly a heavenly spot located near the Pictured Rocks, Twelvemile Beach has an undisclosed number of miles of pure lakeshore beach with some of the most stunning, painted sunsets you can imagine.
Sidnaw, MI
With mountains to hike and waterfalls to explore, this camping area is remote and full of adventure. You may well be the only people here, so bring everything you'll need for a few days, including plenty of bug spray, firewood, and of course, Michigan-brewed beer. Be prepared to lose yourself in the starry night sky.
Bessemer, MI
At press time, this campground was still closed for ongoing renovations, but we're told that it's expected to open back up sometime in July. With gushing waterfalls, pleasant hiking, and a Lake Superior beachfront, there's little more you can ask for from a camping experience.
Sault Ste. Marie, MI
The original home of the Anishinaabeg is a heavily forest island of nearly 50sqmi between Michigan and Ontario, Canada, east of Sault Ste. Marie. Today, it's full of hiking opportunities and camping for visitors to the lightly inhabited land mass.
Sign up here for our daily Detroit email and be the first to get all the food/drink/fun the Motor City has to offer.