Sure, summer in Southeast Michigan is beautiful and all, but fall is when we really shine. It's the season of vividly red forests, cider mills, hearty food, and the odd outdoor festival in the refreshingly cool breeze. And, of course, there are still a ton of concerts and events rolling into town, catering to fans of everything from Beach Boys chill to New Orleans bounce. Here are our recommendations for the season, leading you all the way to the first inklings of winter.
Grab fresh donuts and cider at a cider mill
All season long
Around the greater Detroit area
This is less of a specific event than general advice, but seriously, we're in one of the best states in the country for apples and cider. And absolutely nothing beats sitting outside, eating a fresh-baked donut and sipping locally-made cider on a sunny fall day. Many area cider mills also offer extra fun like hay rides. Blake Farms, Yates Cider Mill, and Franklin Cider Mill are all great places to start.
Cost: Varies (usually free entry)
Now through Sunday, September 29
12600 Dixie Hwy (Holly)
In many ways, Detroit's incredibly lucky to have a renaissance festival that takes place after the heat wave of the summer -- otherwise, you'd be working up quite the sweat under all that armor. Head over to cruise the market, watch knights fight each other, take up falconry and, of course, eat a turkey leg as big as your face.
Cost: $23
Friday, September 20 - Sunday, September 22
Downtown Ferndale
The DIY Street Fair is the last big three-day outdoor festival of the Detroit calendar, so it makes sense that it would offer a little bit of everything. The streets of downtown Ferndale become flooded with a huge art fair, a whole lot of food trucks, beer galore, and several stages featuring live music.
Cost: Free
Tuesday, September 24
Masonic Temple
Brian Wilson, the primary force and songwriter behind The Beach Boys, has had a fascinating yet bumpy life. But he's very much still the musical genius that gifted the world with Pet Sounds and, later, Smile. Opening for Wilson is the original lineup of another famous rock band from the '60s, The Zombies, who are best known for their timeless hit "She's Not There." Ask your parents.
Cost: $39.50 and up
Friday, September 27
The Fillmore
Eric Andre and his brilliant, deliciously awkward Adult Swim talk show are the stuff of legend. If you're familiar with Andre's work, the opportunity to see what the heck happens when he goes on a stage by himself for an hour or so is way too enticing to pass up. Like, way too enticing.
Cost: $35-$49.50
Ongoing
Worldwide
Getting treated like a VIP takes any beer festival, barbecue showdown, or sporting event to epic levels, and as a Marriott Bonvoy member, you'll be able to cash in on luxury experiences across the globe with points. Marriott Bonvoy offers benefits and endless experiences at more than 7,000 hotels worldwide, so whether you're into live music, Michelin-star restaurants, or box seats, you're bound to find a perk that fits your lifestyle. Of course, they have you covered on where to stay if you want to make a weekend of it, too. 
Cost: Free to join
Saturday, September 28
Founders Detroit Taproom
At this point, Founders is second only to Bells in achieving national infamy for Michigan's explosive craft beer scene. The Grand Rapids-based brewer opened their Detroit tap room a couple years ago, so they figured they'd try throwing a giant BBQ in their parking lot. There will also be live music and, of course, specialty beers on tap.
Cost: $20
Thursday, October 3
Royal Oak Music Theatre
Stereolab is back after a nine-year hiatus, and they're going on a giant tour to celebrate the re-release of a bunch of their back catalogue. The seminal '90s post-rock/avant-pop outfit existed simultaneously with the Blur/Oasis-fueled Britpop movement, yet their music was of a different enough breed to give them a more hipster-credible sense of fame. 
Cost: $29.50 advance or $35 day of show
Saturday, October 5
Tangent Gallery
Even though Mad Max: Fury Road is emblazoned in all of our brains with its sheer awesomeness, the first Mad Max movie came out exactly 40 years ago. To celebrate, head to one of the largest and most theatrical Mad Max cosplay events around. A night of "lights, fights, and primal rage" is promised. And yes, there will be those sweet war wagons.
Cost: $15
Friday, October 11 - Saturday, October 12 & Friday, October 18 - Saturday, October 19
Masonic Temple
Theatre Bizarre has been called "the world's most spectacular masquerade party" for incredibly good reason. The highly immersive experience, which delights in the "decadent and depraved," spreads across eight floors, six stages, 19 other performance spaces, and a grand ballroom. It truly has to be seen to be believed. Friday nights are the more intimate gala, whereas Saturday is the full-on experience.
Cost: $105 for Theatre Bizarre; $260 for the gala
Friday, October 11 - Sunday, October 27
Detroit Zoo
Did you know we have an excellent zoo? There's freaking red pandas! And a wolverine! If you've never been, Zoo Boo is an excellent time to go. For weekend afternoons and evenings in October, the zoo will be decked out with Halloween decorations, aerialists, mimes, and more to delight adults and children alike. Plus, there's a corn maze.
Cost: $10
Friday, October 25 - Saturday, October 26
Eastern Market
Many would argue that Michigan is the best state for craft beer in the country. As such, we've got a lot to celebrate. The Detroit Fall Beer Festival is one of the largest all-Michigan beer festivals around, showcasing more than 800 beers from around 180 breweries. There will also be the other classic trappings of an outdoor festival, such as live music.
Cost: $45-$55 per day
Wednesday, October 30
The Pike Room (Pontiac)
Last year, JPEGMAFIA was a guest at Danny Brown's fifth annual Bruiser Thanksgiving, and Detroiters experienced for the first time exactly how jaw-dropping his performances can be. A year later, JPEGMAFIA is returning to promote his new album, All My Heroes Are Cornballs, whose promotional campaign consisted of prominent musicians saying how disappointed they are in the album.
Cost: $20
Thursday, October 31 - Sunday, November 3
TCF Center & Renaissance Center
Youmacon is the biggest anime and video game expo in Michigan. This year, in a beautiful twist of fate, it coincides with Halloween. So now that your cosplay can double as your Halloween costume, you can really go all-out. Youmacon features celebrity guests, panels, and its unique central event: live action Mario Kart.
Cost: 3-day passes $65-$155
Tuesday, November 5
Saint Andrew's Hall
Big Freedia is known as the Queen of Bounce, as she single-handedly took a local New Orleans subgenre of hip hop (which features, in her words, "a lightning-speed booty-shaking dance") and rocketed it towards an international audience. As such, Big Freedia's live show ain't nothing to miss. Her incredible energy and her background dancers, The Divas, make sure of that.
Cost: $25
Sunday, November 22
Campus Martius
Okay, so it definitely feels a little weird to light up a giant tree before Thanksgiving is even over with. But if you can shove the calendar discomfort aside, the tree lighting ceremony in Campus Martius is gorgeous and truly a blast. There will be figure skaters, hot cocoa, musical performances, and a holiday market.
Cost: Free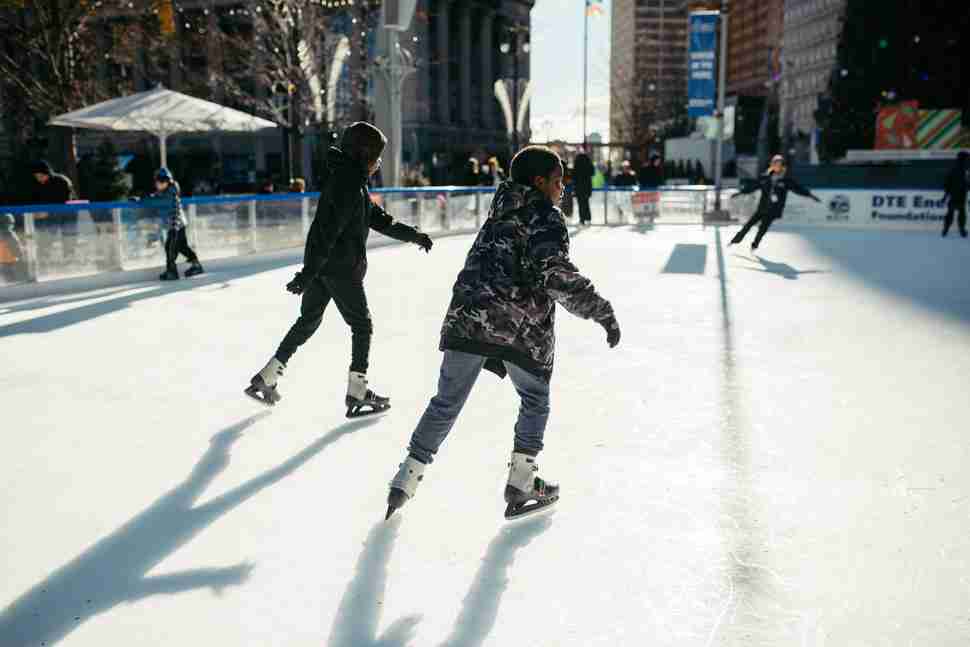 Sunday, November 22 - March 2020
Campus Martius
There's another reason the Tree Lighting ceremony is something to look forward to: it marks the opening of the ice skating rink at Campus Martius for the season! The rink will be open all the way into March, but the best time to go is definitely when you can skate around right under the lights of the giant tree.
Cost: $5
Thursday, November 28
Woodward Ave. (Downtown Detroit)
Detroit's Thanksgiving Parade is no small production...heck, its website is theparade.org. Thousands will travel downtown to see the spectacle make its way from the DIA to Campus Martius. For the industrious among us, directly beforehand is the annual Turkey Trot marathon, also known as "the parade before the Parade."
Cost: Free
Friday, December 6 - Sunday, December 8
Masonic Temple
December marks the unequivocal end of fall and subsequent beginning of the holiday season, so you'll need to start thinking about gifts for your loved ones. The Detroit Urban Craft Fair is a great place to knock out your shopping. They bring in more than 100 crafters and indie artists, and you'll be able to get them something that's truly one-of-a-kind.
Cost: $10 on Friday for opening night; $1 on Saturday & Sunday
Sign up here for our daily Detroit email and be the first to get all the food/drink/fun the Motor City has to offer.