Forget the QLine & Cadillac Place: Detroiters Want to Keep Our Old Names
<strong>General Motors Headquarters, 2004 |&nbsp;</strong><a href="http://www.shutterstock.com/gallery-978674p1.html?cr=00&amp;pl=edit-00">Joseph Sohm</a> / <a href="http://www.shutterstock.com/editorial?cr=00&amp;pl=edit-00">Shutterstock.com</a>
Detroiters are stubborn. When we get used to something, it ain't gonna change. Sometimes that's not always a good thing -- we just got used to that old train station not having windows up until now, didn't we? -- but oftentimes, it's healthy for us to be stagnant. It helps us preserve our history.
Let me explain: my great-grandmother lived to be 96, and was sharp until the end, but she was stubborn about keeping up with the times when it came to some of her terminology. She referred to refrigerators as iceboxes, pantyhose as stockings, and, even though it's been awhile, Kmart as Kresge's.
Although S.S. Kresge's line of discount stores became Kmart decades ago, this was one of those curious habits she wouldn't let go. It's common amongst all of us Detroiters to call something by its original or colloquial name rather than whatever name it's been most recently officially christened as. Whether it's sticking to tradition or refusing to give into corporatization -- try as he might, Dan Gilbert's attempt to brand the M-1 rail line as "QLine" under the Quicken family of weird nomenclature is going to fail hard around these parts -- there are plenty of things around Metro Detroit we're just going to call by another name.
<strong>Cadillac Place, 2004 |</strong>&nbsp;<a href="http://www.shutterstock.com/gallery-978674p1.html?cr=00&amp;pl=edit-00">Joseph Sohm</a> / <a href="http://www.shutterstock.com/editorial?cr=00&amp;pl=edit-00">Shutterstock.com</a>
I still refer to Cadillac Place as "the old GM building," and I'm certain I'm not alone. My mom would take me there just to see the new cars on the first floor, so in my heart, it's still the headquarters for General Motors. But even though the state-owned building in New Center has been officially known as Cadillac Place for more than a decade, we all remember the big GENERAL MOTORS sign on top of the building. It'll always be "the old GM building," no matter how many times we renew our tags at the Secretary of State.
A few years ago, I saw Aretha Franklin in concert at DTE Energy Music Theatre. About halfway through her set, she sat at the piano and said she had to put her good shoes on "'cause I'm going to Pine Knob." The crowd went out of control, roaring with pride. This place was called Pine Knob from 1972 to 2001. You don't argue with the Queen. And she's not the only one; no amount of corporate sponsorship will keep an old-time Detroiter from calling it Pine Knob.
And speaking of concert venues -- no matter how many times I bring my mom Downtown, she'll always refer to The Fillmore as State Theatre. Some of her best concert memories were there, just like how Detroiters of another generation's best shows were played at Majestic Theater, and not friggin' Populux.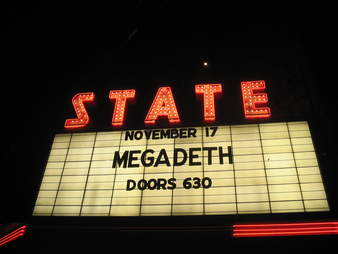 <strong>The State Theater, 1980 |</strong> <a href="https://flic.kr/p/9aon" target="_blank">Flickr/Charles Plater</a>
Sometimes it's more than just memories, though. Is the real reason some residents are defiant about calling Cass Corridor "Midtown" a strike against gentrification, a preservation of the culture of the neighborhood, or both? And why do we pick and choose depending on the news? We call it Midtown when a bougie macaroni and cheese place opens, but it's Cass Corridor when someone is stabbed and carjacked.
Still, the lines of where Cass Corridor ends and where Midtown begins are blurry for many, one of the many reasons (that, and the wholesale rebranding thing) there's still a divide. We'll revisit this conversation in a few years when we're deciding between Midtown, Cass Corridor, and "the Arena District."
The Midtown/Cass Corridor debate may never end, but I'll tell you what: a swift, verbal smackdown to whomever is trying to rename parts of Mexicantown and Southwest Detroit. Springwells Village? The Garment District? I guarantee we'll keep calling it whatever the neighbors want to call it, no matter how much developer-friendly nomenclature is forced upon the area.
We Detroiters are indeed stubborn about our traditions. Like the rest of Michiganders, we put unnecessary 's-es on store names (see you guys at the 8 Mile Meijers?). Six Mile is six Mile, even if the sign says McNichols. We'll always call things by the original name. Now if you'll excuse me, I have to pick out some fuzzy boots for Movement -- er, make that DEMF.
Sign up here for our daily Detroit email and be the first to get all the food/drink/fun the Motor City has to offer.
Aaron Foley is the author of How to Live in Detroit Without Being a Jackass, editor of BLAC Detroit magazine, and probably knows more about Detroit than you.