The weather outside is frightful AF, and no one wants to go anywhere, or do anything, or even leave the house for the next several months and everything is terrible. So, what does one do for a date during the winter deep freeze? Actually, plenty. (No, really!) Here are a few Detroit date ideas to pull you out of those dreary winter doldrums.
Go fowling!
Is there anything more fun than fowling? Sure, but fowling is still pretty fun, and what better way to warm up a date and do all the getting-to-know-yous than by participating in a sport invented in Detroit? The Fowling Warehouse in Hamtramck has a full bar and all of the football-bowling hybrid action you can shake a pin at. Start out with dinner and cocktails at Rock City Eatery -- at least until they relocate to Midtown in early 2016. If you're not yet ready to end the night post-fowling, head to Bumbo's for one final Ferrari (that's Fernet + Campari) shot.
Go on a self-guided beer tour
You could make a whole day out of exploring the DIA then hitting up Chartreuse in the Park Shelton next door for an exceptional dinner, and that would be a pretty fantastic day. Alternatively you could go on a self-guided beer tour of Midtown, hitting up all the brewpubs, taprooms, and beer bars that are fast making Midtown a legitimate destination for craft beer enthusiasts far and wide -- HopCat, Great Lakes, 8 Degrees Plato, Jolly Pumpkin, Motor City Brewing Works, and Traffic Jam & Snug, namely.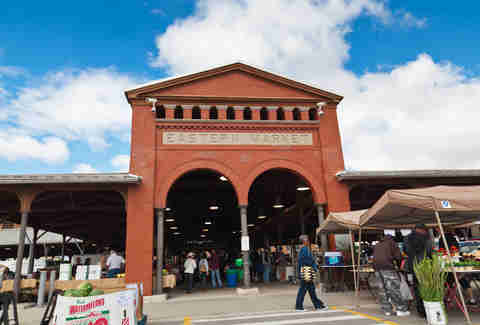 Explore the Eastern Market, and beyond
Saturday shopping at Eastern Market is great, but the Eastern Market District has sooooooooo much more than just the Market itself to explore, and explore it you most certainly should. Make it an evening outing and catch the latest exhibit opening at Inner State Gallery after grabbing some drinks at Detroit City Distillery. Or start with coffee and brunch at Trinosophes, take a peek inside Inner State, hit up the Market as part of your mandatory duties as a Detroiter, then drinks at DCD. OR drinks at DCD, dinner at the newly opened La Rondinella, and live music at Trinosophes. Or, really, any combination thereof.
Hit the tour at the Motown Museum
If you've never been through the tour at the Motown Museum, do your life a favor and book one immediately. While the museum itself is hardly expansive, the tour itself is a singular -- and singularly Detroit -- experience, and pretty much begs for couples both new and established to come through arm-in-arm. If you're on an early tour, grab coffee and lunch at the gorgeously modern Café Con Leche Nord. If it's a later tour, grab a bite and play a little table shuffleboard at Northern Lights Lounge, then hit the fantastic new Marble Bar for some live music.
Heat up at the Belle Isle Conservatory
For a great daytime date, head to Belle Isle -- yes, even in the middle of winter. The Anna Scripps Whitcomb Conservatory on Belle Isle is open year-round Wednesdays through Sundays, and admission is free. The collection of greenhouses and botanical gardens include the Palm House and the Tropical House, where the indoor weather is balmy enough to almost make you forget about how cold and miserable it is outside (but for the layers of sweaters and scarves and coats and gloves and boots you'll then want to strip off). Don't miss the chance to also hit the recently reopened Belle Isle Aquarium (open Saturdays and Sundays). Start your date with coffee and life-affirming pie at Sister Pie in West Village, and afterwards maybe hit up Tarot & Tea for a couples tarot reading. Hey, it can't hurt to know what you're in for!
Do a Corktown bar & restaurant hop
With so many food and drink options in Corktown to choose from, it's hard to pick any one or two or three places. But to mix things up a bit, we suggest straying a bit from Michigan Ave and heading to the corner of Corktown where Batch Brewing, Mudgie's Deli, and Brew Detroit form a beermuda triangle of fun. Start with a warm-up pint at Batch, grab dinner and cocktails inside the cozy new bar at Mudgie's, then wrap up the night at Brew Detroit where the large tasting room with plenty of different seating areas allows a little more privacy for your conversation.
Take in a show at the Redford Theatre
Another one of Detroit's more unique experiences can be found in Old Redford, where the Redford Theatre, dating back to 1928, still has an original Barton Theatre Pipe Organ that plays before each showing of their classic film series. Before hitting the theatre, spend some time getting cozy over coffee at Motor City Java House, a neighborhood staple, and take a moment to walk over to the impressive "Temple of the American Dream" pavilion and public art park across the street.
Go ice skating, get cocktails
Sure, the ice rink at Campus Martius is on pretty much every single "things to do in Detroit" list ever. And so it is also on this one. You know why? Because it's pretty, and it's kind of New Detroit iconic, and it's a thing to do in the winter that attempts to make the most of a less-than-ideal situation -- i.e., winter. And since you're already downtown, you can his Standby for some transcendent cocktails, then Cliff Bell's for some live jazz in a stunning art deco environment.
Go ice skating on an OUTDOOR rink, hilariously fall over together
If ice skating in Campus Martius feels just a bit too grossly corporate for you (no judgment), head to Clark Park in Southwest Detroit instead, home to Southeast Michigan's only regulation-sized outdoor ice rink where you can skate or play a pick-up game of hockey. Afterwards grab a chocolate a la taza, a thick Spanish drinking chocolate served hot, at Café Con Leche. And while you're in the area, be sure to take selfies in front of the Yorba Hotel, made famous by the White Stripes (especially now since Detroiters like Jack White again), then go for a taste of the Great Lakes at the newly opened Huron Room. Yes, we know, in Southwest it's all "tacos, tacos, tacos," but dare to be different, we say.
Sign up here for our daily Detroit email and be the first to get all the food/drink/fun Motor City has to offer.
Nicole Rupersburg stands by these selections as solid date ideas, but is herself unconvinced that they can make the experience of winter any less terrible. Follow her at @Ruperstarski.