A Tour of Detroit's Most Incredible Street Art With Artist Scott Hocking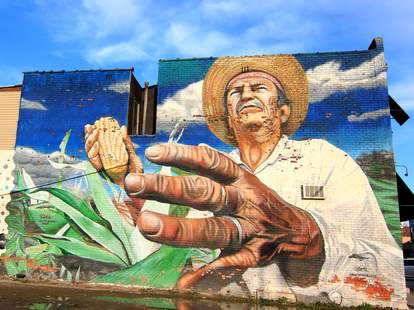 Thrillist recently linked up with Detroit artist Scott Hocking (famed for, among other things, chronicling the city's "bad" graffiti) for a tour of Detroit's best street art, graffiti, ghost signs, and murals. Knowing the city like he does, we convinced the artist to show us what he considers to be the BEST wall ink in town. 
Hocking took us on a trip through time and space (Honda Elements are the new Deloreans) with stops at his favorite pieces: some incredible and eye-catching, some aging and meaningful, and some so bad they are good. Afterwards, Thrillist sat down with Hocking at Supino Pizzeria for a pointed interview, and a few laughs.
 
So, what the hell did you take me to? Was it street art? Was it graffiti? Was it murals?
Yeah, we took a couple of drives around Detroit, tried to cover some of my favorite spots while navigating through favorite routes and neighborhoods. It's such a sprawling city, it's impossible to show you everything in six hours -- and I have a real hard time picking favorites -- but I think we saw a nice mix of old and new, off-the-beaten-track wall art: a mix of graffiti, murals, street art, ghost signs, paintings, all of the above.
 
All the kids the world over have hard-ons for "street art" these days. What sets Detroit's apart?
Well, I guess what sets Detroit apart is the city itself. Detroit is a unique place, and it's experiencing a real renaissance in some areas, while other areas feel like they did since I was a child -- and I'm old! The layers of old and new, the juxtaposition between neighborhoods, the divisions across freeways and railroads: you can really see cycles of nature and time in Detroit. There are brand-spanking -new murals by world-famous graffiti artists, and down the street a demo'd building reveals a ghost sign painted 100 years ago. I think of Detroit as a city always in transition, and that kind of transformative energy draws people in -- and gives artists giant hard-ons.
 
We saw everything from ghost signs, to African-American history murals, to newly commissioned pieces. What's the common theme here?
The common theme is me and my inability to narrow in and choose a select few favorites. I love so many different pieces all over the city -- and the city is so huge -- and I love them for different reasons. Of course, there were dozens of works that I didn't get to show you -- like interior and walking-tour locations -- it would have taken us a couple more days. Shit, we never made it out of the Eastside during our first trip. But the common theme for me is usually my interest in history, and wanting to connect our time with the past. I'm especially interested in hidden history, and works on the verge of extinction, about to be lost. I've been documenting old murals and what I'd call urban folk art throughout the city for years in a photo series called Signs, as well as poorly scrawled underdog tags in a series called Bad Graffiti -- and one of my main interests is that I know these things have a time limit, an expiration date. Most of the photos in both series show murals, signage, and graffiti that is now gone. So, yeah, the common theme here is Detroit, always in transition, and me, trying to bridge all those juxtapositions of space and time. No biggie.
The following is a sample of some of the best art lining the streets of the Motor City. For detailed information on some of the projects seen in these photos, visit Murals in the Market, The Alley Project, Grand River Creative Corridor, Power House Productions, and Lincoln Street Art Park.
<strong>Scott Hocking</strong> | Megan Frye/Thrillist
Scott Hocking tricks Thrillist staff into trudging through thick urban grassland to document this vintage Peanuts homage.
Megan Frye/Thrillist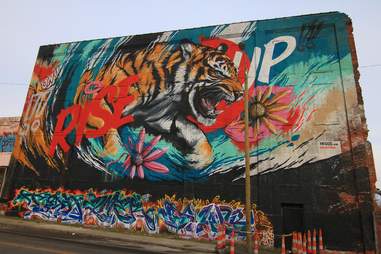 Megan Frye/Thrillist
Los Angeles-based Meggs gives a fierce message of optimism to an under-traversed stretch of Russell St, north of Eastern Market.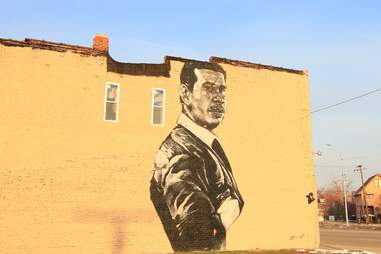 Megan Frye/Thrillist
Fallen graffiti writer Nekst was beloved in his worldwide community, and immortalized on the side of a liquor store on Gratiot Ave by New Zealand artist Askew One.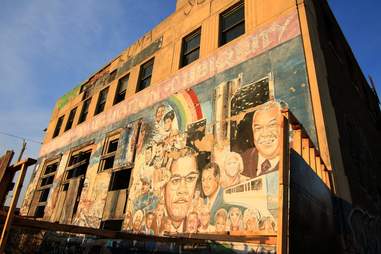 Megan Frye/Thrillist
Curtis Lewis painted the African Amalgamation of Ubiquity, in 1985, alongside a former drug rehab center. Today, the mural which honors African-American political and cultural leaders is badly damaged and a barrier prevents onlookers from getting too close to the crumbling building. 
Megan Frye/Thrillist
Artist Katie Craig's 100-by-125ft mural splashes the side of an old industrial building just east of New Center.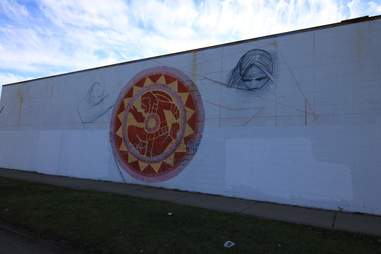 Megan Frye/Thrillist
Vito Valdez and Katie Yamasaki received a grant recently to create the Shield of Peace and Non-Violence which is currently being worked on in Southwest Detroit. The wall had previously been claimed by gangs marking their territory around the pre-existing emblem of a Mesoamerican warrior. Today it is taking on new life and stands to honor Hispanic culture.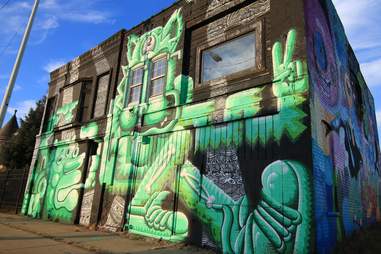 Megan Frye/Thrillist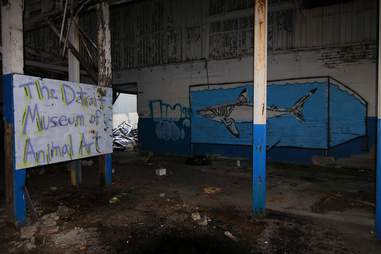 Megan Frye/Thrillist
The Detroit Museum of Animal Art can be found in a crumbling facade not far from the Packard Plant.
Megan Frye/Thrillist
Pheasants may actually outnumber people in North Corktown, and who doesn't want something to look at while they're pumping gas?
Megan Frye/Thrillist
Detroit art-printing company 1xRUN and Inner State Gallery have helped make Eastern Market even flashier by bringing in more than 30 world-class artists over the past four years to spice up walls of meat-packers and empty facades. Now, Los Angeles artist Shark Toof's giant, well, shark, overlooks the extension of the city's premier repurposed urban green space, the Dequindre Cut. 
Megan Frye/Thrillist
It's a real place! For all your nipple-related needs.
Megan Frye/Thrillist
Kobie "RIFT" Solomon's HAMTRAMCK PRIDE all but screeches at passersby along Joseph Campau St.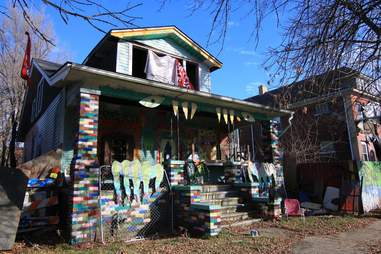 Megan Frye/Thrillist
"The Monster House" is one of many curiosities which make up the Power House Productions neighborhood north of Hamtramck.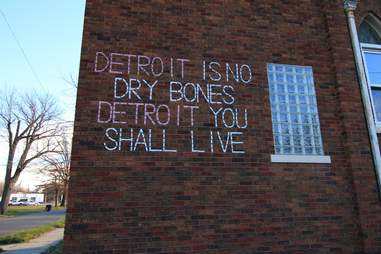 Megan Frye/Thrillist
Lining the side of an eastside church, these poignant words were painted by three urban planners visiting Detroit from the Netherlands who happened to stop in for a service and felt so moved by the sermon that they asked for permission to paint this on the church.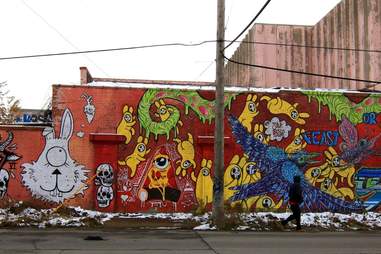 Megan Frye/Thrillist
This collaboration by artists RSK, The Yok, Sheryo, and PHYBR splashes a grey industrial strip with oddities.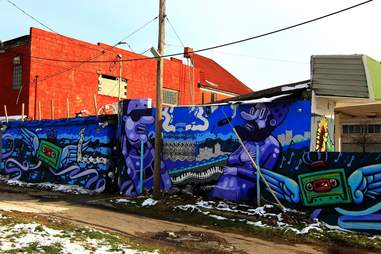 Megan Frye/Thrillist
This mural lines the back of a a former gas station, now called The Grass Station (yay for decriminalization!), along West Grand Blvd.
Megan Frye/Thrillist
Detroit's The Alley Project, in the city's farthest southwest corner, aims to draw the community together by creating a number of murals lining the garages and fences of an alley in the Springwells neighborhood.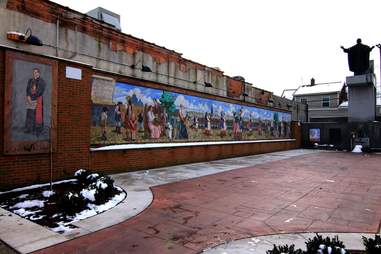 Megan Frye/Thrillist
Pope Park was created in 1982 to commemorate Pope John Paul II, the first pope of Polish descent, who would visit the Polish neighborhood Hamtramck in 1987.
Megan Frye/Thrillist
Multicolored hand prints represent the number of people involved in this community-created mural in South Hamtramck, begun after the 9/11 attacks.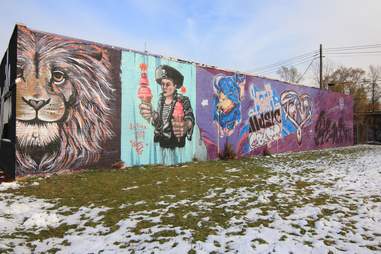 Megan Frye/Thrillist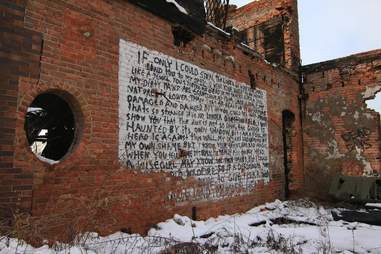 Megan Frye/Thrillist
"This one is so interesting to me -- it's very deliberate," Scott Hocking says. "The building is in such bad shape, that it could be gone very soon. I try to catch these things before they are gone forever."
Megan Frye/Thrillist
The Detroit Lives! mural, designed by Philip Lauri, features pink martians jumping around on a newly discovered Detroit. It provokes the question, "What would martians think if they landed in Detroit?" We think they would be pretty stoked to mow down some coney dogs.
Megan Frye/Thrillist
Bright and bustling, Eastern Market is not to be missed.
Megan Frye/Thrillist
Marka27's mystic mural on the side of El Asador Steakhouse is exactly the kind of thing that screams, "This place has the best fajitas in town!"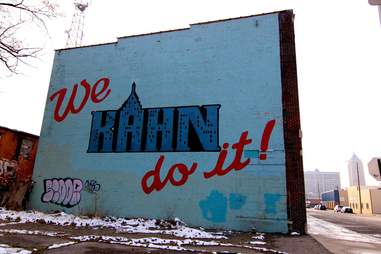 Megan Frye/Thrillist
In honor of Albert Kahn, the man who basically built Detroit.
Megan Frye/Thrillist
Detroit son and late rapper J. Dilla is commemorated by artist Ashley Worden in the Milwaukee Junction neighborhood.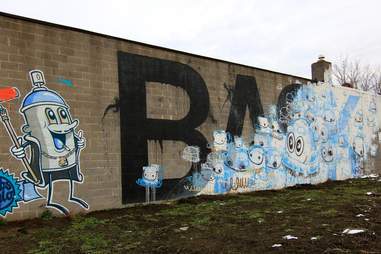 Megan Frye/Thrillist
Australian couple Dabs and Myla showered Hamtramck with Scrubbing Bubbles.
Please note: Our tour completely evaded Downtown due to congestion. We did not walk along the Dequindre Cut, where you are sure to find plenty of pieces. We also did not reach the distant lands of Brightmoor and the far east side, which offer plenty to look at. The locations are purposely vague. This stuff is meant to be discovered for yourself, lazybones.
Sign up here for our daily Detroit email and be the first to get all the food/drink/fun Motor City has to offer.
    
Megan Frye is a Detroit-based writer who may or may not consider bathroom graffiti to be the finest form of public art. Tweet her to confirm her ignorance at @fryechild.