They say the best things in life are free, and Coneys (which are almost free) aside, they're pretty much right. In fact, here are 61 sweet things to do in The D that'll cost you the grand total of zero dollars...
Visit the home, shop, and outdoor exhibit of visual artist Olayami Dabls, who created the space to honor the cultures and art of Mother Africa within the city.
Admission to this incredible museum is miraculously free of charge for Oakland, Wayne, and Macomb county residents. Make sure you check out the free entertainment and films on Friday nights.
Learn about this city's never-boring past -- be it French fur trappers, Civil War forts, rum running, or sports heroes.
4. Wave "hi" to Canada
No really, they love it!
Or skate, or jog, or line dance. Just get out and enjoy this beautiful 1.35-mile path of green space in the city!
Someone had the brilliant idea of creating a giant adult sandbox in the middle of Downtown, complete with adult beverages and smooth jazz. 
Stories upon stories within stories upon stories.
8. Do a group bike ride
Join dozens, hundreds, or even thousands of other city boosters on bike rides through the city's wide and open streets. Check out Slow Roll, Critical Mass, and Fender Bender collective -- just to name a few -- for upcoming rides.
This green oasis in New Center is a great place to catch a film and admire the lights of the towering Fisher Building.
Run the bases on this legendary corner in Detroit with the spirits of Mark Fidrych and Sparky Anderson cheering you on.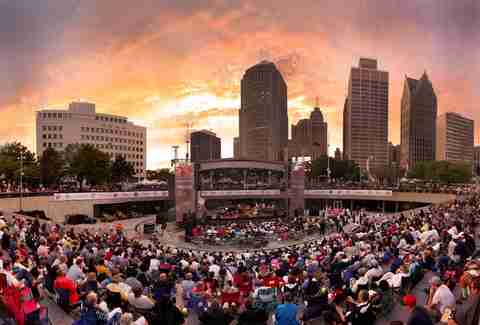 11. Go to a free festival
From the Detroit Jazz Festival to Dally in the Alley to Meridian Winter Blast and a wildly high number more, there's always free entertainment options in the city.
There's always something going on, either within the market or in the bustling shops and restaurants that surround it.
13. Visit a cider mill
As the nation's third-most prolific apple-growing state, Michigan has this awesome combo that not every state gets to enjoy. Cider and donuts in Florida? Yeah right.
Wander around the cacti, palms, and all manner of exotics housed within this historic greenhouse.
Climbing the up 72 stories and watching the view of Windsor and the Detroit River through the glass also provides a you with a sweet chance for the aforementioned wave at Canada.
Rearrange the house number tiles they sell there so they spell "boobs" (80085!) and giggle to yourself as you peruse this historic ceramics studio.
Detroit's riviera is just as beautiful as that of any other town. Err... any other Midwestern town.
18. Get a museum adventure pass
Visit your local library to pick up a Detroit Museum Adventure Pass, which can help you get in free to museums that charge pesky old admission fees.
It's now operating under the name of Morley Candy Makers, but you can still see how they make their chocolates, and if you're lucky, maybe you'll have hit your head and wake up thinking you're in Willy Wonka's lair.
20. Go see live music
Absolutely available, all the time, almost all over the city, and often for free. Just make sure to tip the bands.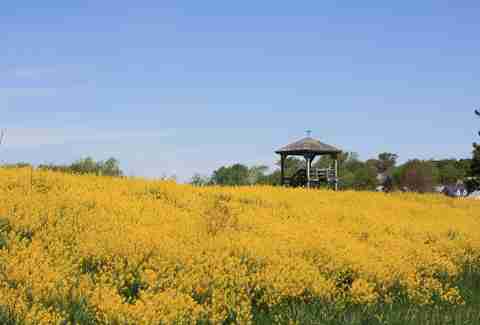 If you don't have the $10 yearly fee to enter the island, get on for free on two feet or two wheels.
22. ... And once you're there: go swimming...
Many a great city lies on the bank of some body of water, but would you ever swim in New Orleans' Mississippi River? How about the San Francisco Bay? The Detroit River may not win any cleanliness awards, but by all counts, it's safe to baptize yourself in the river of rock.
While you're out adventuring on Belle Isle, you may as well toss a disc around. Just don't forget your mosquito repellant. 
24. Sing karaoke
One of Detroit's favorite sports is karaoke. Granted, the bartenders would appreciate you purchase a drink, but the actual singing is free.
25. Wander around in antique stores
Lose yourself for an afternoon as you browse through rows and rows of useless junk. Just kidding! There are always some gems and lots of Detroit memorabilia at Detroit Antique Mall, The Detroit Mercantile Co., and Eastern Market Antiques, among others. And hey, just because you aren't looking for a cardboard cutout of Chuck Berry to put in your bathroom doesn't mean someone else isn't.
All libraries are great (books are good, mmmkay), but the main branch on Woodward is particularly exquisite. Peruse through the historic building and imagine the city in its heyday.
One of the liveliest parts of town, always bouncing with odd and delicious smells and behavior.
Let your freak flag fly in the city's waterfront central park.
29. Visit art galleries
See what your creative sistren and brethren are up to and maybe even get inspired.
Explore forests, gardens, and even a lake or two within this art academy's 319-acre campus.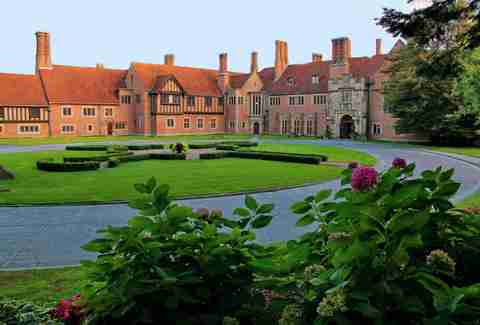 A beautiful spot north of the city.
Let your inner child run free (literally, there's no admission fee) at this arcade that doubles as a historical museum. Bring some spare change or return bottles if you want to play some vintage games.
For when you want to go agro but don't have a reason. We'll give you one!
The most diverse city in Michigan -- representing humanity across the seven seas.
35. Cruise Jefferson Ave along the water
See many sides of the city by bike, by car, by... um, pony?
36. Browse by Michigan Central Station
Detroit Artifactry is within eyeballing distance of the famed ex-train station. You can check out a massive elk mount there ($2,000 gets you a lot of elk head), then take the obligatory blight selfie afterward -- though the station's new windows and the growing investment in Cortktown make it pretty likely that the building has a better future than being a backdrop for moody Instagram pics.
This gem designed by legendary Detroit architect Alfred Kahn is undergoing a facelift as part of New Center's renaissance. Visitors today can see the extreme-sports half-pipe newly installed in the building's fabulous main concourse.
Every year in August, a fleet of thousands of immaculately maintained and modified classic cars makes its way down historic Woodward Ave in the largest one-day automotive event in the world, regularly drawing upwards of a million spectators. If you can't make it, settle for cruising down Woodward in your own non-hotrodded family sedan.
Seriously, posting up in the green space outside the aforementioned forsaken landmark is a pretty romantic idea for many Detroiters -- and wayyy better than it would have been before the parks revival.
40. Track down famous graves
Son House, Rob Tyner, Fred "Sonic" Smith, Hiram Walker, etc., are all buried around our fair city. Go pay your respects to these important figures in Detroit history.
Go get creeped out and simultaneously informed as you wander through the freakishly high number of rooms in this, the largest of all Free Mason buildings in the world.
Visit a neighborhood in Hamtramck that's been transformed house by house into art spaces and even a skate park.
43. Ride bikes along Hamilton Ave
One of Detroit's straightest shots and a nearly deserted strip, take it up to Palmer Park and enjoy the city's peace and quiet.
It could be considered the most bizarre place in Detroit, if Detroit didn't have so many bizarre places.
Stroll around this outdoor art exhibit and marvel at the combination of visual art, community, and the beautifully weird that makes this place uniquely Detroit.
One of the best views of the city!
47. Volunteer with a local organization
Lord knows the city needs help, and there is a multitude of organizations that will help you help others. Donate your free time to a worthy cause, and have fun doing it.
48. Go wildlife watching
Pheasants, coyote, deer, bald eagles, peregrine falcons... who knows what else?! Our urban prairie is home to many unexpected animals.
49. Bust a move
And now for something completely different: learn how to salsa dance on Fridays and Saturdays at Vicente's Cuban Cuisine or even make the trek out to Diamondback Saloon to learn how to line dance.
50. Run around with your pooch at a dog park
Or, go by yourself and run around with someone else's pooch, since most owners will let you pet their dogs for free.
51. Stop at Ghost Light inside Hamtramck's Planet Ant Hall
The local improv troupe that gave us Keegan-Michael Key and Tim and Sam of Detroiters fame is home to a cool new bar with low-key service and atmosphere. If you want to spend a princely $5, you can catch improv on Monday after you've had a PBR or two.
When you need to walk off the bottomless mimosas from a Grand Trunk Sunday brunch, just cross Woodward and stroll the lobby at the Guardian. You can see the famed wall-sized map of Michigan, and the facade sculptures by Corrado Parducci are city treasures in and of themselves.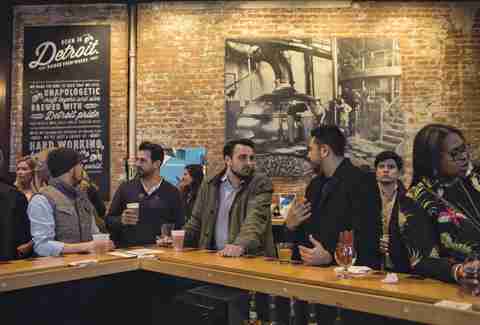 The Detroit Design Festival keeps the party going year-round with these gatherings of creatives and designers. Past venues for these monthly Thursday night affairs have included the Fisher Building and Pewabic Pottery.
Local storyteller Cornetta Lane, founder of Core City Stories and Pedal to Porch, has plans for Islandview and Woodbridge events combining bike riding with stops at neighborhood homes to hear residents tell tales. Her work just netted $30,000 from the Knight Foundation and the project is spreading to DC, Toronto, and Baton Rouge this summer.
55. Camp out for an hour in Will Leather's teepee
The massive leather goods flagship takes up two floors of what used to be an old grocery store. Detroit native and Will Leather founder Will Adler added a free art gallery to the store, plus a coffee bar that might be the only spot in Detroit where you can get cinnamon toast. And then there's the teepee, that huge leather structure dominates the main floor. While you might not have the $10,000 you'd need to take it home, you can still lounge in it gratis, perhaps while having toast and tea.
56. Get cultured at MOCAD
The Museum of Contemporary Art Detroit offers a wide range of fabulous new pieces, and its facade has one of the prettiest murals in town -- and that's saying a lot, given the town.
57. Take it to church
Detroit has a wealth of fabulous old churches. Detroit Mass Mob fills some of these glorious places of worship, but you can wander in in a more low-key way. The Mariners' Church has a special place in Detroiters' hearts and was even made famous in Gordon Lightfoot's insanely long pop song about the Edmund Fitzgerald tragedy.
58. Win cash at trivia
You don't have to pay to play. You can hit up Quizzo, Sporcle Live, and Geeks Who Drink events at venues all over the city. We recommend Checker Bar on a Tuesday, or Atwater on a Monday, where Detroit's official story guy, newly appointed Duggan pick Aaron Foley, runs the game. Winnings in the form of gift cards can even make any incidental booze or food you buy free.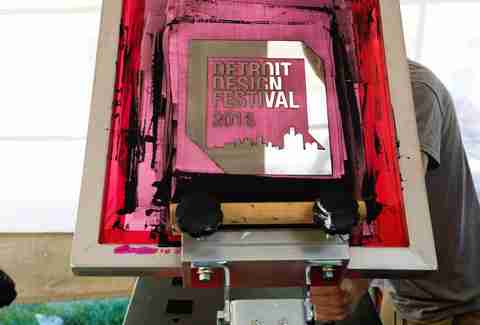 59. Peep some murals in the market
Speaking of murals, Eastern Market started adding fabulous ones as part of the Detroit Design Festival. There you can still see gorgeous work by Freddy Diaz, Hebru Brantley, and Nicole Macdonald. Heidelberg Project founding artist Tyree Guyton's mural is actually under visitors' feet and is anchored, appropriately, by a new shoe repair stall. If you've seen Heidelberg, you know why shoes are totally a thing.
60. Do yoga outside
The city is home to countless one-off yoga sessions, but Yoga + Summer Solstice on Belle Isle (June 22) will celebrate the alignments that go beyond your spine. This one takes place at 7 pm, so no need to rise with the roosters this time.
61. Parades, parades, and more parades
Whether it's Thanksgiving or Christmas, we know how to throw an outside party in Detroit. Hamtramck goes several steps further, including events like the Paczki Run in the mix: It's a 5K that rewards runners with pastries and beer. You can also attend the annual Marche du Nain Rouge, helping throw that mythic trickster out of your life for another year, or see what happens when amateurs tackle (green) beer on St. Patrick's Day in Corktown.
Sign up here for our daily Detroit email and be the first to get all the food/drink/fun the Motor City has to offer.